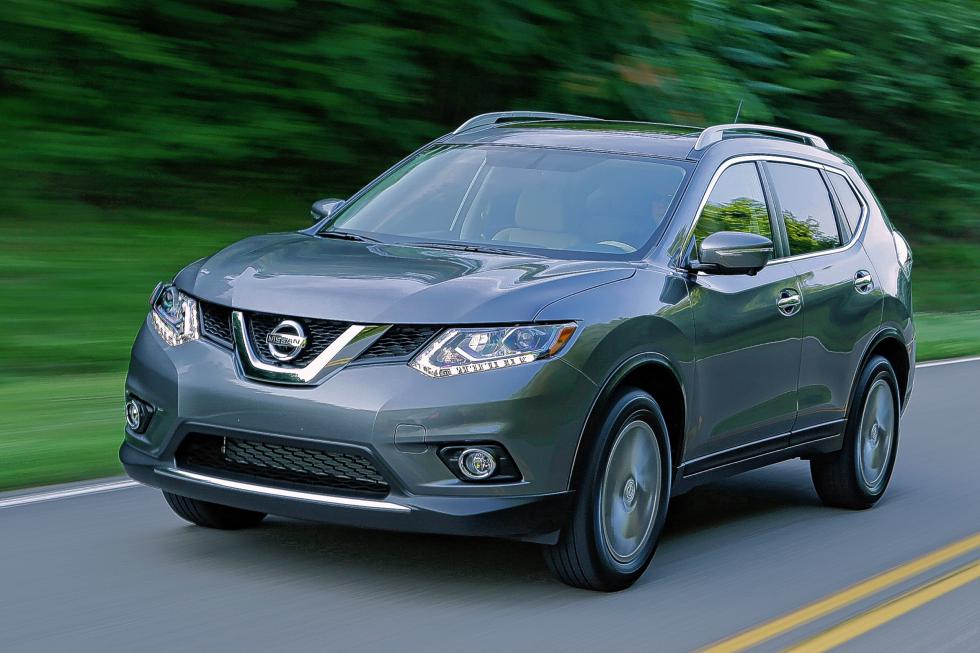 The Nissan Rogue has a name that's the antithesis of its look. There's nothing rogue about it. And that's a good thing. Or at least consumers think so.
Since the vehicle's launch in 2007, annual sales have climbed from 73,000 to more than 200,000. That trend has continued, according to the latest numbers, with June sales up 54.3 percent compared to June 2014. Annual sales are up 36.3 percent.
So what do drivers find so fetching about this Rogue?
Well, for starters, it's quite handsome.
Avoiding the oddball styling touches that afflict some of the biggest sellers in the compact crossover utility class, the Rogue possesses an air of sophistication. That's especially true once you climb inside, where the cabin is blessed with a look that belies its price.
The test vehicle boasted a two-tone interior with quality leather, adding to its upscale feel. The front seats are roomy, comfortable and supportive. Rear seat space is equally impressive, with high seating that proves comfortable for adults, which is unusual in most CUVs.
Need a third row? Opt for the Family Package. But beware: It reduces the Rogue's impressive cargo capacity from 32 cubic feet to 9.4 cubic feet when all seats are in use.
No matter which trim level that you choose — the base-level S, mid-level SV or premium SL — you get the same driveline: a 2.5-liter four-cylinder engine and continuously variable automatic transmission with a choice of front-wheel drive or all-wheel drive.
The test model, a 2015, proved responsive, with the engine providing more than sufficient power to move the metal. But the CVT transmission, while certainly the best transmission of its type on the market, hesitated like its brethren when a quick burst of power was required. Steering is accurate, although on-center position had an artificial feel.
Yet the Rogue feels easy to maneuver and had a light, nimble feel to it. Body lean is modest, and bump absorption is on-par for the class. Road noise, however, is pronounced, especially at highway speeds, and proves to be this vehicle's weakest trait.
And while the Rogue is not devilishly fun to drive, it's more than suited for the daily cut and thrust of commuting.
It's competent but not memorable. For some that's no sin; others will want their CUV to be a bit more involving to drive.Standard safety gear includes four-wheel disc brakes with anti-lock brakes, stability control, traction control and hill start assist.
The Rogue is a fine choice, even if there's no single feature, aside from its handsome styling and premium cabin, that make it stand apart from the pack.
For 2016, look for Nissan to add Forward Emergency Braking, a motion-activated power tailgate, Siri Eyes Free and new telematics services.
Despite its name, there is nothing sinister lurking in this Rogue. It is a stylish compact crossover with room for five or seven, a budget-friendly price, good fuel economy and all of the expected options.
There's no doubt that this is one Rogue worth getting to know, but don't expect any mischief unless you make it yourself.