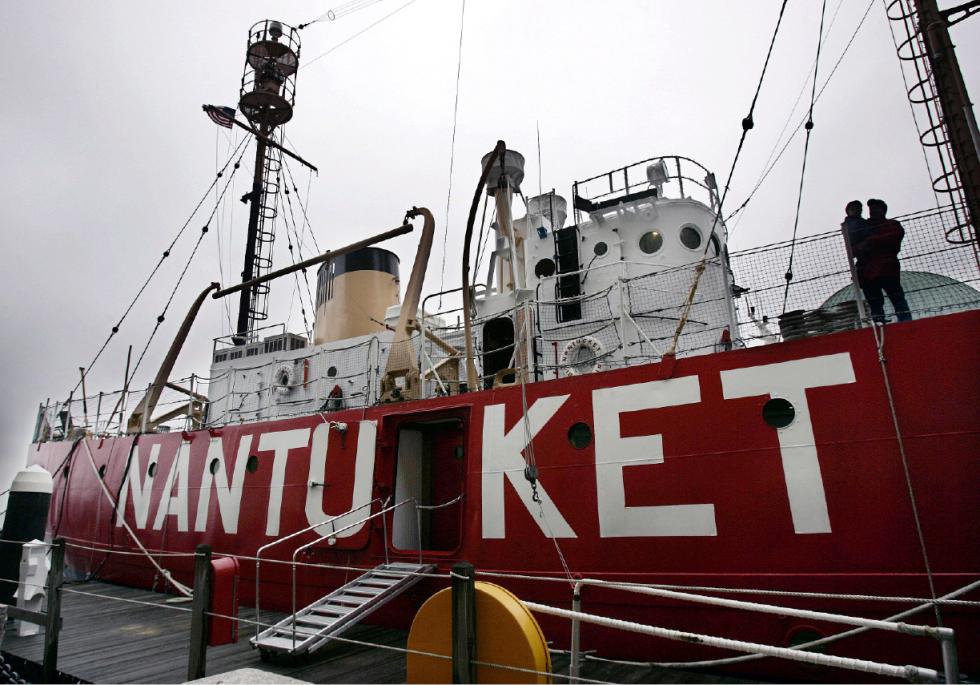 Boston — Two beacons that guided New England mariners past treacherous shoals for generations are back in the spotlight.
The Nantucket Lightship, billed as America's oldest and largest floating lighthouse, switches on its powerful beacon for the first time in 40 years in Boston Harbor on Friday evening.
Iconic Gay Head Light on Martha's Vineyard is expected to follow suit Tuesday, with supporters holding a ceremony after the 160-year-old light completed its painstaking move from the edge of eroding cliff on May 30.
"It's always exciting to hear about the relighting of a lighthouse," said James Hyland, president of the New Hampshire-based advocacy group the Lighthouse Preservation Society. "To relight a darkened lighthouse tower is rather like breathing life into a human body that needs to be resuscitated. The glow comes back, and once again, all is well."
Friday's lighting in Boston Harbor is expected to be brief. The beacon is to be lit for about two minutes and the foghorn sounded before it's all powered down again. The ship's 500,000-candlepower main beam is designed to be seen for 23 miles and affects nearby Logan International Airport.
Robert Mannino Jr., head of the nonprofit that's restoring the Nantucket Lightship, says the lightship, which is no longer a navigational aid and operates as a museum, received special permission for the one-time event, which marks a $250,000 investment by American Express to bring the ship's light, foghorn and radio beacon back to working order.
Built in 1936 and decommissioned in 1975, the Nantucket Lightship stood sentry about 100 miles off mainland Massachusetts, warning ships of the treacherous shoals off Nantucket island.
Mannino said the lightship, which was one of a dozen that served along Nantucket Shoals over the years, was nicknamed the "Statue of Liberty of the Sea" because it was the first landmark seen by ships coming from Europe to the east coast of the United States.
It was one of 179 lightships the U.S. Coast Guard stationed in places it was impractical or infeasible to build a permanent beacon. Lightships operated from 1820 to 1983 and were eventually replaced by more basic navigational aids as onboard ship technology improved. Just 17 remain in existence; nine of them operate as museums, like the Nantucket Lightship.
Mannino's all-volunteer nonprofit took ownership in 2009 and has been restoring the over 1,000-ton ship since. The restoration is about 50 percent done, he said, but will require another $1.2 million to complete.
In contrast to Friday's brief illumination, Tuesday's lighting on Martha's Vineyard is hoped to be permanent.
The Gay Head lighthouse, which remains an important navigational tool along the resort island's famous coastline, had been considered one of the most endangered historic sites in the country because it sat just 46 feet from the cliff's edge.
Local advocates raised over $3 million to move the 52-foot-high, 400-ton structure, about 135 feet back. The process involved raising the structure a few feet off the ground and pushing it along steel rails using powerful hydraulic pistons. The inch-by-inch move took three days.
Tuesday's celebration features live music and speeches from local dignitaries.