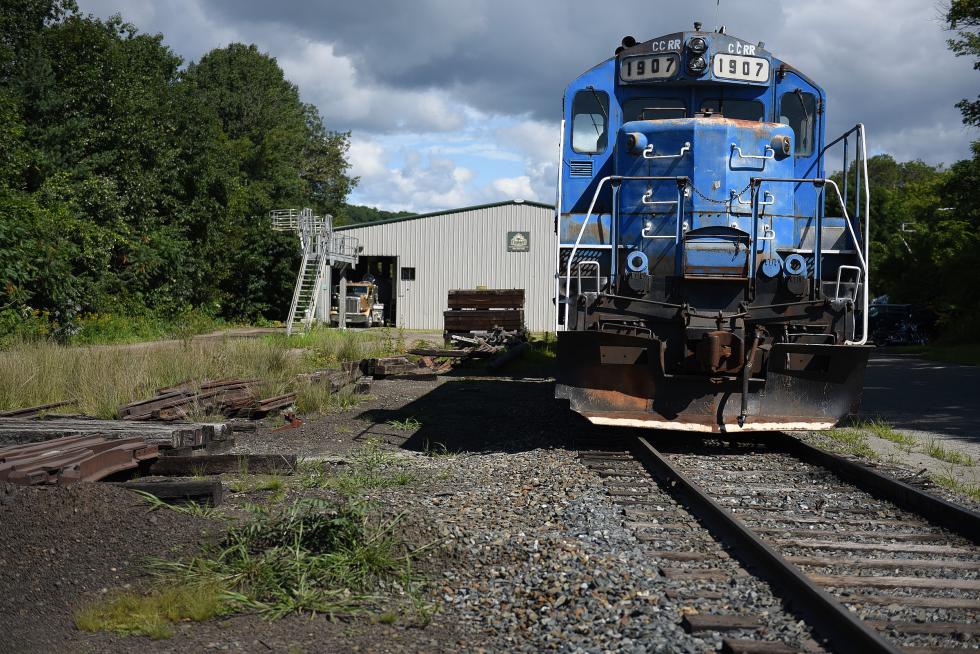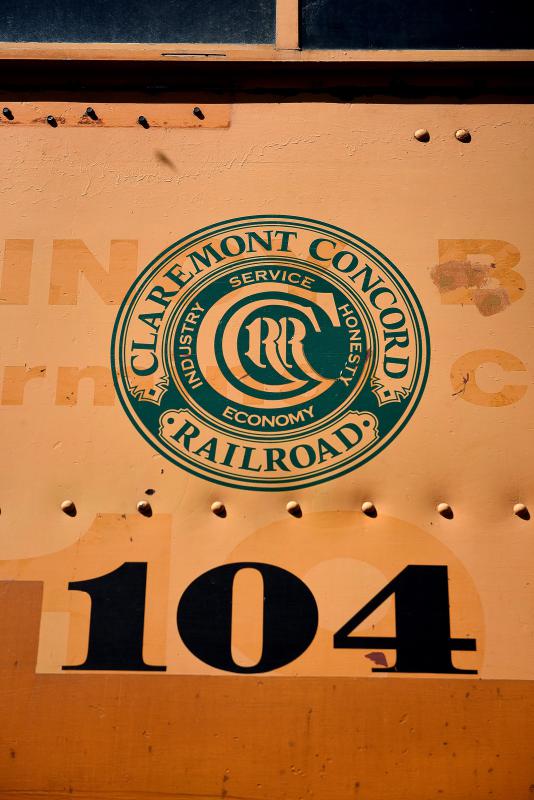 White River Junction — The Claremont Concord Railroad, one of the smallest railroad lines in the country, is getting hitched to one of the world's biggest rail carriers.
The Upper Valley short line that shuttles freight over the Connecticut River between White River Junction and West Lebanon and over a stretch of track in Claremont is being acquired by Genesee & Wyoming, the Dar ien, Conn.-based railroad giant that owns or leases 120 freight railroads around the world.
Genesee & Wyoming's subsidiary New England Central Railroad on Thursday filed a notice with the federal Surface Transportation Board that it had reached an asset purchase agreement with Claremont Concord Railroad to acquire the railroad's line in Claremont and lease to operate over a state-owned line in West Lebanon.
Michael Williams, a spokesman for Genesee & Wyoming, confirmed via email earlier that the company is buying the Claremont Concord Railroad, but declined to elaborate.
"When we've met with customers and when the transaction is finalized, we'll be in a position to comment further," he wrote.
Genesee & Wyoming's New England Central Railroad is a regional freight carrier that operates a 394-mile rail line between New London, Conn., and the Vermont/Quebec border. Claremont and White River Junction are interchange points along the line.
Christopher Freed, the owner of the Claremont Concord Railroad, did not respond last week to emails or phone calls for comment. Word had been circulating for more than a year among area rail industry workers and watchers that Freed had his railroad up for sale, although no definitive word surfaced until last month when New England Central Railroad informed the Surface Transportation Board in a filing that a notice had been posted in the workplaces of the Claremont Concord Railroad of NECR's intent to buy the Upper Valley railroad and that "as a result of the transaction" two engineer-conductor jobs paying between $18.34 and $24.45 an hour were expected to be available to workers.
Freed, who owns a Pennsylvania-based locomotive services company, acquired the Claremont Concord Railroad in 2002 from LaValley Building Supply, which in turn had bought the railroad from Pinsly Corp. in 1989, said Steven LaValley, comptroller at the New Hampshire-based construction materials supply firm. He said LaValley Building Supply stepped in to buy the struggling railroad, which it depended on to help convey large building materials to its Claremont store, when Pinsly threatened to abandon the line. Prior to Pinsly, the railroad was owned by the Boston & Maine line.
The Claremont Concord Railroad's origins date back to the mid-19th century as a line to connect its two namesake cities. Over the following 100 years, the company passed through numerous mergers and consolidations before being absorbed by Boston & Maine. But as the Northern New England rail industry declined along with the region's manufacturing, sections of the line began to be abandoned around 1960 until it had shrunk to its current remnants by the late 1980s.
Claremont Concord Railroad's customers include Rymes Propane & Oil and Twin State Sand & Gravel in West Lebanon, fertilizer wholesaler Beaudry Enterprises and LaValley Building Supply in Claremont, and New York State-based rock salt miner and distributor American Rock Salt, according to the company's website. A sister company, Eagle Leaf Transload, also provides bulk transfer services between railcar and trucks for commodities such as salt, cement, fertilizer, pipes, rebar, structural steel and brick at Westboro Rail Yard in West Lebanon and Claremont Junction in Claremont.
For example, Rymes uses the short line to haul propane tank cars from White River Junction, where it arrives on rail from suppliers around the country, to West Lebanon, said John Rymes, vice president of the company. He welcomed the sale since he ships propane on New England Central's rail cars and "it means I'll now be dealing with one company instead of two."
Warren "Bud" Ames, president and co-owner of Twin State Sand & Gravel, said he utilizes the Claremont Concord Railroad between November and March to bring 250 to 300 carloads a year of rock salt, which he sources in New York State, to his West Lebanon plant. And Steven LaValley said his company still contracts with Claremont Concord Railroad's trains to transfer lumber and other supplies from the Claremont Junction rail yard to the LaValley outlet on Pleasant Street.
"Railroads don't play nice with each other," Ames said about the frequently testy relations among carriers when it comes to negotiating and prioritizing movement of cars over tracks and between interchanges. "If it's under one roof, they'll play nice," he said.
New England Central's rationale for the takeover of the Claremont Concord Railroad was partially spelled out in its filing on Thursday, explaining "the acquisition will give NECR direct access to transload locations and other customers served by CCRR. Eliminating a carrier from the route should increase the efficiency of operations and benefit CCRR's shippers."
New England Central Railroad, added the company, "believes it will be able to use its greater resources to grow the business on the lines."
As a tiny short line with only a handful of steady customers, the Claremont Concord Railroad is no longer as busy as it was in White River Junction's glory days as a Northern New England rail hub. The company today has four operating train engines, according to Christopher Parker, executive director of the Vermont Rail Action Network, including a General Motors-made 1,750-horsepower GP9 and three 1,000-horsepower American Locomotive Co. "switch engines."
Parker estimates the value of the 1950s-era GP9 to be about $100,000 and the value of each of the ALC switch engines at between $10,000 and $60,000 "depending upon condition." In addition, the company owns two 380-horsepower General Electric-made engines known as "forty-four tonners" that are meant to haul only a couple of cars, although Parker's not sure they are still in operation. The railroad also owns the one mile length of track that runs from Claremont Junction east to the LaValley Building Supply store between Mulberry Street and Pleasant Street.
Genesee & Wyoming's plan for the Claremont Concord is unknown beyond what it said in its filing. But White River Junction resident Kevin Burkholder, who first reported the news of the railroad's sale on his Eastern Railroad News website in March, said that Genesee & Wyoming's New England Central Railroad, in addition to the advantages in serving customers, could also have its eye on Claremont Concord Railroad's locomotive repair shop at its Claremont site. He noted that at present New England Central Railroad either has to run trains down to its Palmer, Mass., substation or a facility in St. Albans, Vt., for quartely inspections.
"Strategically it gives New England Central access to shop facilities that otherwise would take a day to run trains up and back," Burkholder noted, thereby saving the company valuable time and expense.
Burkholder said the advantage for New England Central to own the Claremont spur was clear given Concord Claremont Railroad's ownership and control of its track in the city. But he said access to the tracks in White River Junction is potentially complicated because it is controlled by Burlington-based Vermont Rail System, a major carrier in the state that owns several regional lines and operates more than 350 miles of track. New England Central needs permission for use of Vermont Rail's track in White River Junction, which puts the privately owned midsize railroad in an advantageous position in dealing with New England Central. Indeed, area rail industry watchers have long speculated that Vermont Rail System was the logical buyer for the White River Junction-West Lebanon portion of the short line.
Nonetheless, Parker, of Vermont Rail Action Network, observed that Claremont Concord Railroad "integrates nicely" with New England Central Railroad. The acquisition would "streamline operations" and there is a "substantial opportunity for at the terminals to transfer freight from rail to truck. … Its proximity to the interstate in West Lebanon makes it an excellent property for freight growth and freight development."
The northern spur of the Claremont Concord Railroad — which is now owned by the state of New Hampshire — runs along 4.6 miles of track extending from White River Junction, over the Connecticut River into West Lebanon and then southwestward to parallel the Mascoma River before terminating between the river and Glen Road just short of the Miracle Mile shopping corridor. Earlier this year, the Claremont Concord Railroad was granted approval to discontinue nearly one mile of track in Lebanon that is to be rehabilitated as part of the city's rail trail.
"From our experience (the Claremont Concord Railroad) really wasn't profitable," LaValley said. "If it is, it's marginally so." He estimated that the company's total assets, including the locomotives, would be valued today at about $500,000, although LaValley said it could be higher depending on the property's use potential. He said at the time LaValley Building Supply owned the Claremont Concord Railroad it had about 10 employees.