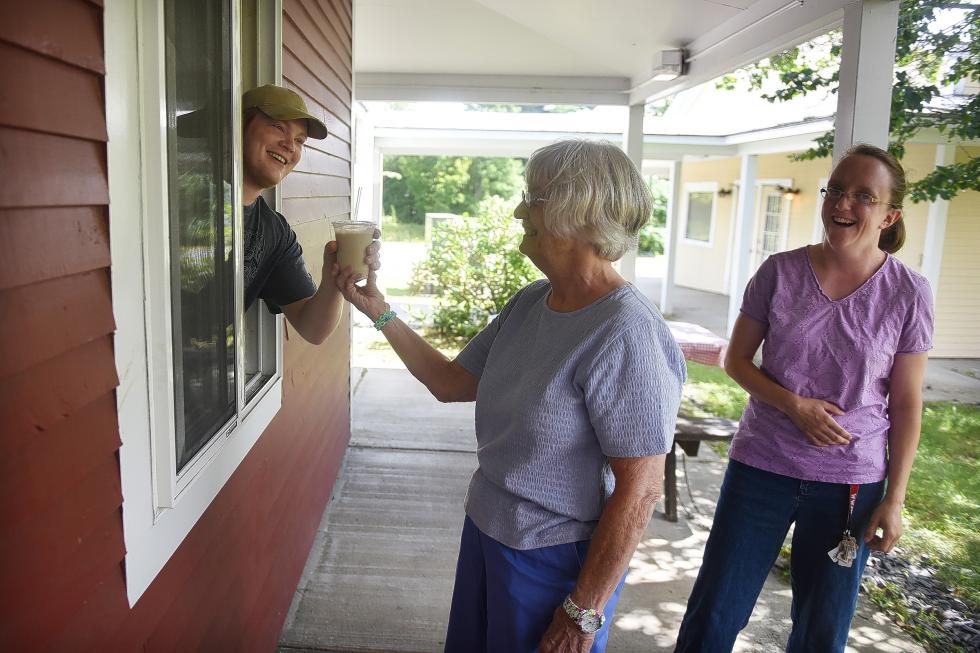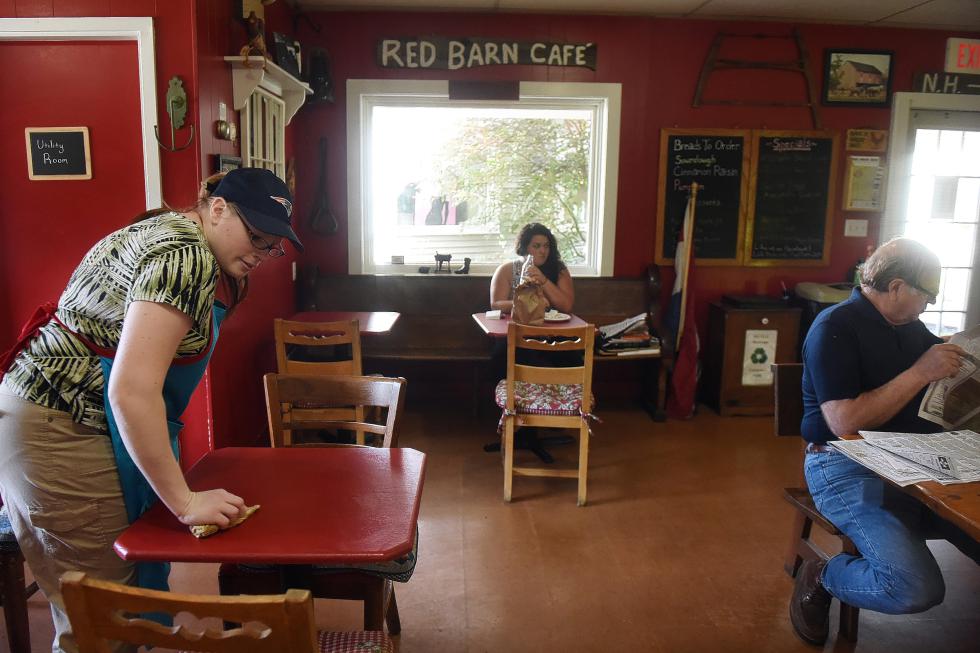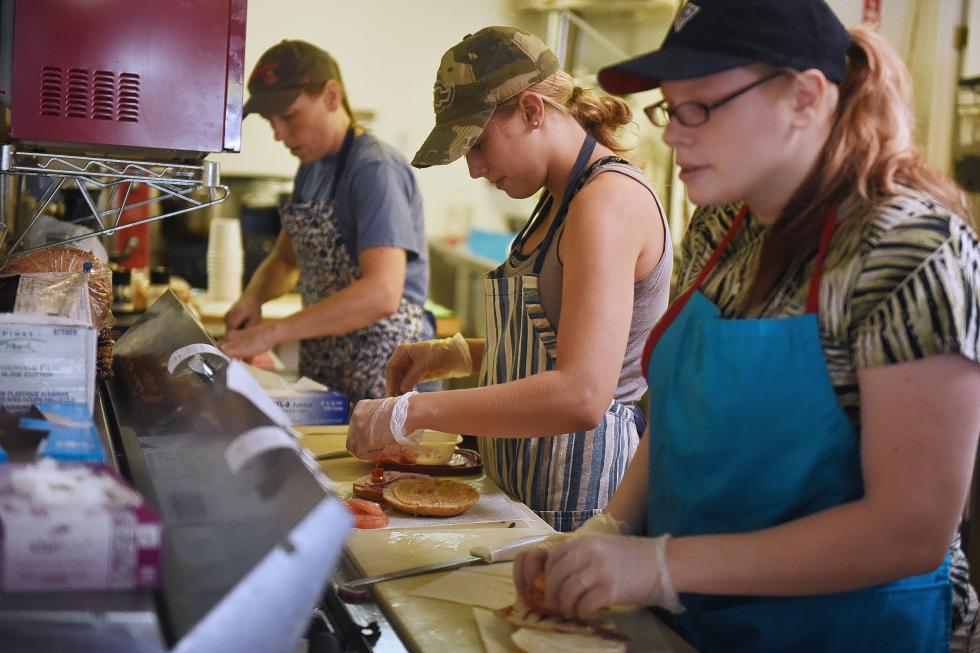 Ascutney — Life hasn't been easy for the Savage family. A broken marriage of the parents, the loss of their home to foreclosure, repeated moves, the early death of one of the sons, have all challenged Bev Savage and her seven children.
Where other families might despair and fall apart, however, the Savages pulled together, found hope, made friends and won loyal customers through their homemade pumpkin bread, bacon muffins with apple glaze and butter crumble apple pie. Yet despite wide praise for the family's comfort food skills and their reputation for offering a warm welcome when hungry people walk through their door, business realities are forcing them to close their Red Barn Bakery Cafe in Ascutney.
"Our goal was to create a place where people could come and have a meal, be accepted and loved," Bev Savage reflected last week sitting at the table in the restaurant's small eating area with her co-owner and son, Josh, by her side. "We created that atmosphere and were successful."
Josh Savage agreed. "There's nothing we'd take back. We loved it that much," he said.
And although the family's restaurant venture lasted only 13 months and barely squeezed out a profit, Bev Savage affirmed there was a richer reward. "We touched some people," she said.
More than some apparently.
In the days since Aug. 4, when Josh Savage posted on the Red Barn's Facebook page that the restaurant would be closing at the end of the month, comments from stunned patrons have poured in — 55 on the first day alone — along with thanksgiving from customers far away as Rhode Island, Connecticut and Florida.
"I truly feel like there's been a death in the family," wrote one. "Must have muffins before I move to Alabama!," hastened another. "The food (was) superb, and all of you personally made me feel like part of a family," a grateful customer confided. Many offered simple condolences: "so sorry," "very sad," and "oh, no." A bereft fan summed up her reaction with a succinct: "Damn!"
The restaurant business is notoriously difficult and the failure rate high, particularly among small restaurants that don't have the capital to weather the time it takes to build up a good reputation through word of mouth.
Within the past year in the Upper Valley, family-style eateries such as Shepard's Pie in Quechee, 3 Guys Basement BBQ in Hanover, the Polka Dot diner in White River Junction, and the Friendly's franchise in West Lebanon have all closed. It's no different in the Upper Valley than anywhere else: The Bureau of Labor Statistics reported that 32 percent of new restaurants that opened in 2005 were closed three years later, and 52 percent were closed within eight years.
And, despite its seemingly ideal location at the crossroads of Route 5 and Route 131 in Ascutney, less than mile off Exit 8 on Interstate 91, the Red Barn Bakery Cafe has shuffled through four different owners in 10 years, a telling indicator of the industry's high turnover rate.
Bev and Josh Savage said taking over the Red Barn last year was more a situation of an opportunity that presented itself than the realization of a long-sought plan. "We saw a door open for us," Bev Savage said.
In the spring of 2014, Bev Savage said, funding was cut for her job as intensive-needs paraeducator at the Elm Hill School in Springfield, Vt., and she was looking for something to do.
"When I don't have something to do, I find something to do," she said.
At nearly the same time, her son Josh's fiancee was having breakfast at the Stone Arch Bakery in Claremont when she overheard that the Red Barn Bakery and Cafe had closed a couple of days earlier. She shot Josh a text message with the news. Josh, who knew Red Barn well, responded, "WHAT?"
"I went there for years with her and her dad," Josh Savage said. "It was always busy."
He called his mom. He knew this could be an opportunity for the family to work together and make money by taking advantage of Bev Savage's skills as a baker.
The Savages have always been a tight-knit clan. When her kids were young, Bev Savage ran a home-baked goods business out of the kitchen of their home in Perkinsville to bring in extra money. Later, she had a cap-knitting business. And as a mother who home schooled her children, she often was preparing meals for twice as many when their friends with robust appetites came dropping in for dinner or just snacks.
The following day, Josh and his younger sister Joanna drove over to the Red Barn to "look in the windows," Josh Savage recalled. He contacted the restaurant's owners, Carole Light and her son, Erik Light, to inquire about the business that they had closed in March 2014. The Lights had owned the Red Barn for 81/2 years . They had purchased it from a "local lady" who had run it for about a year, who in turn had bought it from the owners who had started it in 2003, according to the restaurant's website.
Josh Savage quit his job as a field manager of Upper Valley telecommunications service provider WaveComm and, on June 3, 2014, Bev and Josh Savage closed on the purchase of the Red Barn's equipment and furnishings from the Lights and entered into lease agreement with the building's landlord.
Bev Savage said Carole Light expressed concern over whether the new owners knew what they were getting into — running a restaurant is nearly a 24-hour, seven-day-a-week job between opening the doors in the morning, food preparation before the noon lunch rush, ringing up orders, closing in the afternoon, cleaning up afterward and purchasing supplies on days off.
"It's going to be like feeding 20 people at a time," Bev Savage recalled being warned.
Given Bev Savage's crowded dinner table of family and friends, "that's not a problem," she laughed.
The next several weeks were busy getting the Red Barn in order. The family redecorated the interior, hanging pictures on the walls of horses the they once owned. The kitchen area was repainted white from a fading yellow (the sitting area's red walls were left unchanged). Menu chalkboards were added inside and outside to advertise the daily specials.
Of course, there were the unplanned small catastrophes that come with opening any new business: The freezer quit and had to be replaced. Refrigeration units in deli case and sandwich bar weren't working properly and a repairman had to be called in.
Less than four weeks after closing on the purchase, the Savages re-opened the Red Barn on July 1, 2014, expanding the hours and breakfast menu to open at 6 a.m. Siblings Joanna Savage, 16, was enlisted to make sandwiches and Leah, 18, and Joanna, 28, came in to help with the baking and work behind the counter.
Josh Savage, who had worked in both the office and field at WaveComm, took on the business side responsibilities, making purchases from suppliers, keeping the books, managing the Facebook page and putting to use his personable manner as floor manager and frontman for the operation.
Business was humming. Regulars would pop in and order "The Vermonter," a "killer breakfast sandwich" comprised of fried egg, candied bacon, green apple, and cheddar cheese and served on homemade cinnamon raisin bread — at $7.50, one of the most popular items on the menu. Then there were the rotating weekly lunch specials, such as bruschetta on a ciabatta roll with pesto; pulled chicken sandwich with Sweet Baby Ray's barbecue sauce; caramelized onion and maple bacon grilled cheese; fresh mozzarella BLT with pesto, to name a few; plus freshly baked quiches, homemade soups and a parade of ever-changing desserts such as mini cheesecakes covered with dark chocolate sauce and lemon whipped cream and "trifles," cup-size strawberry or chocolate creams with an Oreo planted on top.
Stephy Sumner, who writes the southern Vermont-focused food and product review blog Steph's Cheers and Jeers, visited the Red Barn this past spring and raved about the restaurant in an April post. Sumner praised The Vermonter as the "ultimate Vermont breakfast sandwich" and was "super impressed with the food and staff," noting "I ADORE the atmosphere, it screams rustic Vermont" and she told readers she would be making the Red Barn her "go-to spot for breakfast and lunch."
Not everything on the menu was a hit, Josh Savage acknowledged, with the cold chicken breast sandwich never catching on. "Most people who like chicken breast want it hot," he said. As evidence, he cites the heated version of the sandwich, which is selling well.
But despite the solid customer base — the restaurant served between 100 and 200 people a day — it was not enough to overcome the small restaurant's nemesis of the rising cost of food and supplies and the fixed cost of overhead and fuel, Josh Savage explained.
"The biggest misconception in the restaurant business is that buying food in bulk is cheaper off the truck," Josh Savage said, referring to the suppliers from whom restaurants typically purchase their food. He pointed out that eggs — he would buy a case of 15 dozen a week — would cost $3 a dozen from a supplier but $2.69 a dozen at Market Basket in Claremont. And butter, for which the supplier would charge $2.79 a pound, could be purchased at Market Basket for $2.59 a pound.
It doesn't sound like much, but "it adds up," Bev Savage said.
So why the difference ?
As every student learns in his or her introductory economics course, the middleman adds a layer of costs: Savage said the supplier's price includes the cost of delivering to the restaurant's door.
In total, the food vendor tab was running between $600 and $1,000 a month, and Savage would spend $400 more per month buying food on his own at local markets. Other fixed monthly costs included $600 to $700 for electricity, nearly $900 in building rent, $130 to $200 for propane fuel, and $400 for paper products such as plates, napkins and paper towels. Insurance ran $1,200 annually.
Add it up, Savage said, and fixed costs ran between $4,000 and $6,000 a month, depending on the time of the year.
Nor did raising prices, the usual fix to cover higher costs, solve the problem, Savage said.
Six months into business, Savage said, he raised the price of soups and quiches by $1 and 75 cents on all pastries, pies and cakes. "It didn't have much of an effect," he said. "Food prices continue to rise, but I can only pass on so much of that to my customers."
After the first six months in business, at the end of 2014, Josh and Bev Savage had only about $6,000 in profits, according to a copy of the restaurant's tax filing.
Savage said he consulted several business people, including one person with deep experience in the restaurant business, and opened to them his books to find out if he was doing something wrong. One adviser, he said, observed that $6,000 in net profit on a small restaurant wasn't too bad, given the profit came after he and his mother paid themselves.
" 'No,' " Josh Savage remembers replying. " 'We didn't pay ourselves. That's all the money we made.' "
After going over his financial worksheets, Josh Savage said, his adviser told him, " 'You did everything right. I couldn't have done better.' "
The message: There wasn't anything they could do to make to make it come out differently. They had no choice but to close the business.
"We were pretty much done," Josh Savage said.
Neither he nor his mother are bitter from the experience, and both said they have no regrets. As a family that long ago learned how to make adjustments and bounce back from adversity, Bev Savage said, she is not worried about what she or her son will be doing next.
"When we came in here we felt this was a steppingstone," she said.
What that will lead to she does not know. But, she said, as a person of faith, she believes "God provides."

John Lippman can be reached at 603-727-3219 or jlippman@vnews.com.