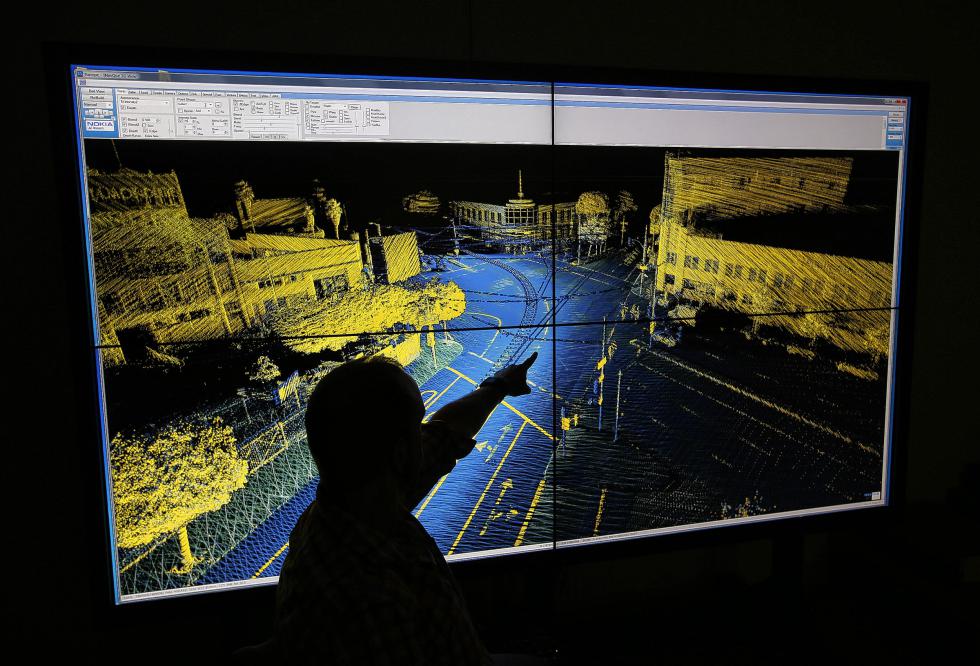 Berkeley, Calif. — Somewhere lies a mythical city where the cars drive themselves, and the people walk around with wearable guides that know what they want and where to find it. To make this city work requires the most detailed map ever created.
Google wants that map. So do Apple and Uber. And a consortium of German luxury carmakers just bought their way into Silicon Valley's simmering map-making race, announcing earlier this month they will spend $3.1 billion to acquire Nokia's mapping division, dubbed HERE.
"They know this is going to be the brains of our cars," said Eric Gundersen, CEO of San Francisco startup Mapbox, one of many Bay Area firms riding a wave of market interest in next-generation cartography. "Mapping is core to everything mobile and everything about being able to move around a city."
Whichever company can draw the best digital atlas, update it at lightning speeds and control who can use it has an edge on future industries from robot taxi and package delivery fleets to personalized shopping apps.
By taking over Nokia's 6,000-person maps team, the German trio showed that they won't let Google, the incumbent leader in digital maps, or Apple, which is trying to catch up, control the destiny of location-based technology.
Mapping innovation is no longer just about designing the best turn-by-turn navigation software or the most beautiful consumer interface. Some maps will become so integrated into smartphone apps that they will know when and where a user might want to shop or eat, Gundersen said.
Engineers who are tracing the world's urban contours with greater detail than ever before are also creating the foundation for vehicle-to-vehicle communications that warn of hazards and traffic congestion, and "smart cities" where every bus line and taxicab is connected to an efficient, pulsating municipal control room.
"The trend is being able to optimize every mile," said Shiva Shivakumar, a former Google executive who co-founded Urban Engines, which contracts with cities such as Singapore and Sao Paulo to track buses and other public transit vehicles. Nokia's map system already powers about 80 percent of cars with embedded navigation in North America and Europe.
"High-precision digital maps are a crucial component of the mobility of the future," said Dieter Zetsche, chairman of Daimler AG, in a statement about the Nokia deal. "With the joint acquisition of HERE, we want to secure the independence of this central service for all vehicle manufacturers, suppliers and customers in other industries."
Like Google, Nokia has been managing a global fleet of vehicles capturing highly detailed street-level images from Bangkok to Brazil.
Atop each mapping car is a 5-foot rig with accelerometers and gyroscopes that record hills and turns; a panoramic camera that captures images; a global positioning system tracking satellite-based coordinates; and a fast-rotating laser scanner that can pinpoint the edges of lanes, curbs and tree branches.
On a recent visit to his Berkeley office, John Ristevski, the Finnish firm's head of reality capture and processing, showed how the vehicles mapped San Francisco's famous Lombard Street to capture its curvy topography in minute detail.
Such precision mapping is a building block for driver assistance products and especially for fully autonomous vehicles, which will use the internal mapping software to know where to drive.
Hoping to fend off Google before it controls the market, the German auto companies are making a long-term investment in autonomous driving, said Marc Prioleau, whose consulting firm specializes in location services. "You have to invest a lot of money in very expensive sensors and cars and tools to build the maps, and right now there's no market for it. It's a 2020 market," Prioleau said. "It's a market that takes a lot of investment today for something out in the future. I think that's something they want to make sure they controlled."
Other companies are also in the race. Dutch mapping firm TomTom, known for its in-car navigation devices, has partnered with Germany's Bosch to map freeways for self-driving cars — its first project was Silicon Valley's Interstate 280.
Apple this summer began deploying street-mapping minivans across U.S. cities, but has a lot of catching up to do. So does Uber, which bought mapping pioneer deCarta in March in what could be a long-term goal to wean its dependence on Google Maps and one day create its own efficient self-driving taxi service.
Though the telecommunication company is based in Finland, Nokia's mapping division has its roots in a Silicon Valley firm, Karlin & Collins, that was founded 30 years ago after one of its co-founders struggled to read an unwieldy paper map while driving around the Bay Area. The company helped launch the turn-by-turn computer navigation craze that took off in the 1990s. It moved to Chicago and changed its name to Navteq, which Nokia bought for $8.1 billion in 2007. The Finnish firm added Ristevski's Earthmine, a Berkeley-based firm, in 2012.
Players in Map Wars
Nokia: After mapping 27 million miles around the world, the Finnish firm is selling off HERE, its maps division, for $3.1 billion to German carmakers BMW, Daimler and Audi.
Google: Its popular Maps product celebrated its 10th anniversary this year, but Google is now perfecting and collecting more detailed, internal maps for its self-driving cars.
TomTom: The Dutch company, which has an office in Lebanon, is known for its in-car navigation devices. It has partnered with Germany's Bosch to map freeways for self-driving cars – its first project was Silicon Valley's Interstate 280.
Uber: Good maps are key to the San Francisco firm's mission to build an efficient ride-hailing service. Moving to lessen its dependence on Google Maps, Uber bought deCarta in March and is pursuing self-driving car technology.
Apple: The consumer giant began deploying image-collecting mapping minivans throughout U.S. cities this summer.
OpenStreetMap: As tech and auto companies fight to control commercial mapping technology, this collaborative, open-source project remains free to all. Some call it the "Wikipedia of Maps."