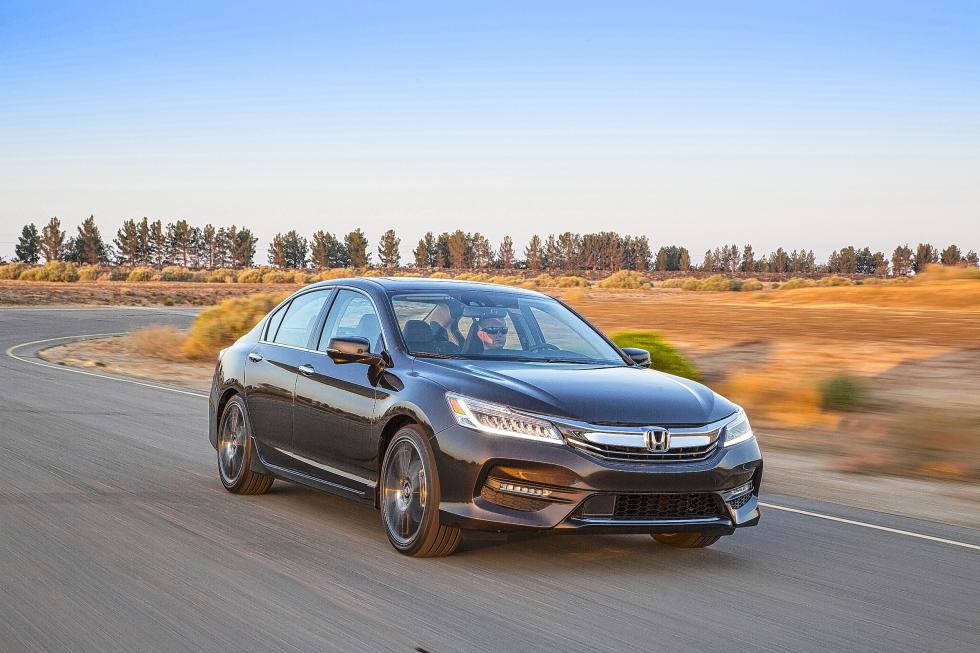 If you want to stand out in the marketplace, take something ordinary, give it a twist and you'll wind up with something perceived as quite different.
For instance, if you renovated Kmart stores and stocked them with items that are stylish yet reasonably priced, you'd have Target. Or consider Mr. Coffee. Instead of making a large pot to be shared by everyone, filter your thinking though the selfish "me decade," baby boomer cultural strainer, and you'd have Keurig, with its single serve coffee pods that will be cluttering up landfills for millennia.
And so it goes with midsize sedans.
If you'd take a reasonably sized, attractive sedan or coupe and then add a bit of the joie de vie largely absent in this segment, you'd have the Honda Accord.
Or at least that has largely been the case outside a bloated 2008 redesign that cost the Accord some of its elan. But since overhauling the model in 2012, Honda has been endowing the Accord with the qualities that has long made it a favorite among Americans. That effort continues in the 2016 model with a major freshening that concentrates on technology but also reinvigorates the wardrobe.
For most buyers, the first change they'll notice is a restyled frontend that incorporates a revised bumper, lighting and a grille that — smartly — pays homage to its pricier Acura siblings. While both sedans and coupes get the facelift, sedans will also get an aluminum hood.
As before, the front-wheel-drive Accord is offered in six trim levels, starting with the LX and rising to the Sport, EX, EX-L, EX-L V-6 and Touring grades. The first four trim levels have four-cylinder engines, while the other two have V-6s. Like its available trims, the Accord's power is also unchanged, but Honda is hoping that other engineering changes will bump their Environmental Protection Agency rated mileage numbers.
The base engine is a 2.4-liter double overhead-cam four-cylinder that provides 185 horsepower and 181 pound-feet of torque, although Sport models get slightly more: 189 horsepower and 182 pound-feet of torque. The four-cylinder is paired with a continuously variable transmission or a six-speed manual transmission. Accord EX-L V-6 and Touring models get a single overhead-cam V-6 rated at 278 horsepower and 252 pound-feet of torque matched with a six-speed manual or automatic transmission.
The bigger changes are smaller but make a difference. Sport and Touring trim levels get larger, 19-inch wheels and bigger front brakes. Electric power steering has retuned, and the suspension dampers have been revised, lending the car more a responsive feel.
Certainly all of this adds up to a driving experience that's superior to the 2015 model, with a more involving feel that makes the Accord the standard in this class against which all others are judged.
Its composure is admirable and doesn't come at the expense of handling when the road starts to bend. The electric power steering is nicely weighted even if, as with many such units, there's not an abundance of road feel. Braking, too, is good, and the overall cabin ambience is what you'd expect from Honda: a bit louder than the competition but not unreasonable.
None of this is surprising, as it's the sort of thing you'd expect of any automaker revising its product. What makes this redo important is the pile of technology that Accord lovers can opt for.
It starts with Honda Sensing, a new suite of safety and driver-assist features that includes lane departure warning, forward collision warning, lane-keeping assist system, road departure mitigation and adaptive cruise control. The new system is standard on the Touring model; optional on all others. All Accords get a rearview camera as standard equipment.
But it's the addition of Apple CarPlay and Android Auto that's the big headline, allowing for access to your smartphone's features through the lower 7-inch touchscreen. While not all apps are compatible, that should change in the future, making this an option worth considering if you plan to keep your car longer than 36 months.
The changes for 2016 may seem small but they add up to a car that's clearly better than the previous model and continue to enhance the Accord's position as being just a bit different than most of its blander kin.