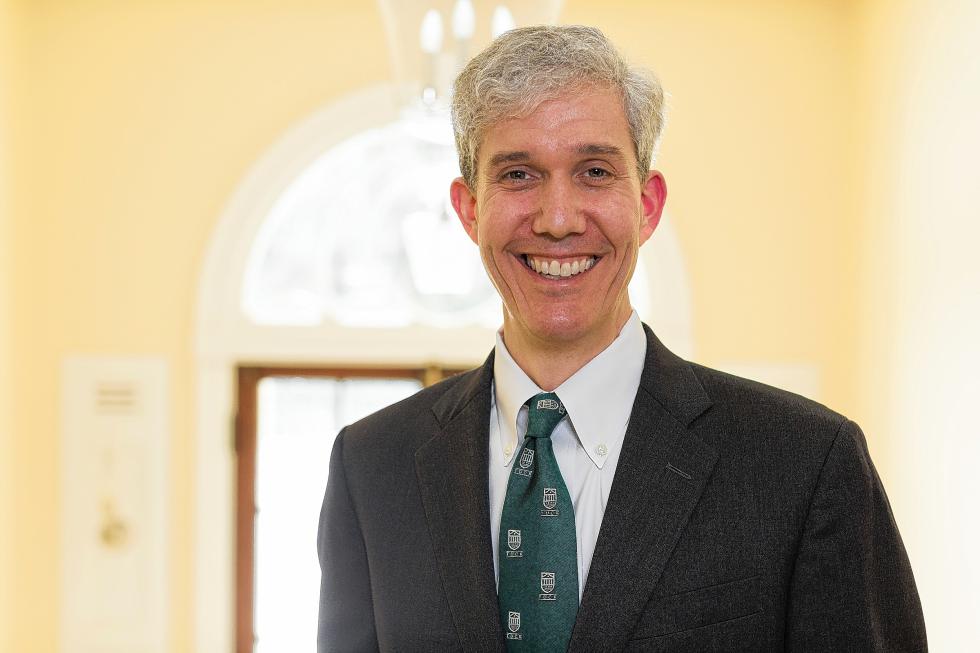 Over a dinner of grilled shrimp salad and a beer, the new dean of the Tuck School of Business at Dartmouth discusses taking a fresh look at his institution's mission and goals, and how the Upper Valley's economic health is increasingly linked to trade with the fast-growing countries of Asia.
Matt Slaughter, dean of the Tuck School of Business at Dartmouth, is one busy executive, with a schedule that changes as rapidly as the Wall Street ticker. Fortunately, he has some of the most efficient help I've encountered. Without the tenacious work of Anne Linge, Tuck's associate director of media relations, this column may well have been pushed into next year.
Our planned Power Lunch devolved into a Power Breakfast, and then quickly morphed into a Power Dinner, but only if it could be slotted for the hour between a business conference call and a trip to Washington. Slaughter and I made it to the Canoe Club at the appointed hour, and the efficient server at this Hanover restaurant made sure we ended our dinner as my guest's car service to the airport pulled up outside.
Tuck is the oldest business school in the country, with an enviable record of producing chieftains in business and finance. I asked Slaughter, who took over as dean on July 1, to tell me the value he hoped to add to this stellar institution.
"I'd like to help the Tuck community, all of us, give voice to the question, "Why does Tuck exist? What value does it bring to business education?" he said. "Getting a crisper answer to that question is the one thing I'd like to do."
I want to understand why this question is so important, but our server comes up to take our orders, and he has been alerted to our tight schedule. Slaughter picks the grilled shrimp salad and a Stella Artois, while I order the salmon and the spicy Reed's Extra Ginger Brew. Hot rolls arrive, and Slaughter continues.
"When Tuck was set up over 115 years ago, the United States was itself an emerging economy. And a Dartmouth undergraduate alumnus, Ed Tuck, had the brilliance to recognize that America had this booming market but was not producing enough business leaders to fill the expanding positions. Thanks to his insight and initiative, we became the first school in America to offer a graduate business degree," Slaughter said. The two-year Tuck MBA has been a benchmark for business education ever since.
"That is still at the heart of what we do, and we do it better than most schools in the world," Slaughter said. "Yet, when you look at where in the world there is growing demand for business education today, it is in China, India and other fast-growing markets. They are now the countries with a growing need for business leaders."
It's a changed world: Communications, interconnectedness and global business practices mean Tuck must adapt. And the Internet provides alternatives to residential colleges. "So having us re-examine the purpose and goals of Tuck … is something I'd like to do," Slaughter said.
To help calibrate Tuck for today's global business environment, Slaughter helped create the Tuck Global Opportunities initiative, or Tuck GO.
"Beginning with the Class of 2017, to get a Tuck degree, every student will have to take one course somewhere else in the world," he said. "What we do in the Tuck community is terrific, but we want you to have an opportunity to make the Tuck experience even more dynamic, to make this lovely campus more of a base camp from which to stretch and challenge yourself in different directions."
It is an initiative that could easily describe Slaughter's own career. He has been stretching and challenging himself throughout his working life.
Slaughter grew up in Minnetonka, a suburb of Minneapolis. "Tonka Trucks were invented there, and so were Minnetonka moccasins," Slaughter noted. There, he was exposed to Cargill Inc., one of the world's largest privately held conglomerates, which got him thinking about economics and trade. After graduating from Minnetonka High School, Slaughter attended the University of Notre Dame, where he majored in economics. He went on to MIT for a doctorate in economics, where he met his wife, Lindsey. "I asked her to marry me while we were ice skating" on Occom Pond he tells me proudly. They have two sons.
A longtime political independent, Slaughter took two years off from Dartmouth, from 2005-2007, to serve on President George W. Bush's Council of Economic Advisers. There, he was exposed to decision-making Washington-style, in which multiple departments vie for power. "Good training for dealing with university politics," he said with a smile.
Much of Slaughter's work there involved multinational firms and international business policy. He worked with many of the international institutions that frame the world's economic order, such as the International Monetary Fund and the World Bank. So I asked him what he thought about trade pacts such as the Trans-Pacific Partnership and NAFTA. Do they cost American jobs?
"Is it always true that every company or worker benefits from open global trade? Absolutely not," he said. "But it is clear that, on average — and this is quantifiable — America has gained tremendously from these agreements as companies have opened themselves up to the world."
The trade policy conversation, he said, must move to ways to strengthen and expand the social safety nets, to help those who are affected by this globalized business environment. But we have not made much progress on this, according to Slaughter, nor on many equally important issues, such as the country's crumbling infrastructure, that affect the well-being of Americans.
And, seven years after the financial collapse, Slaughter said he cannot believe Washington decision-making on these critical issues still is stuck in neutral.
So, I ask, why should policy-makers in the Upper Valley care about trade pacts with far-away countries?
"The way the United States, and even the idyllic Upper Valley, are going to heal their damaged labor markets is to have more jobs connected to the world economy," Slaughter said. "Academic research is very clear: Companies that are capable of entering and selling into world markets tend to be the most successful companies with higher wages. Ideally we will have companies in the Upper Valley that, while they may not directly have customers overseas, are still part of the supply chain of a company that does."
Our server comes over and reminds us the hour is over. It is the first time I've ever been asked to leave a restaurant.
The world has indeed changed!