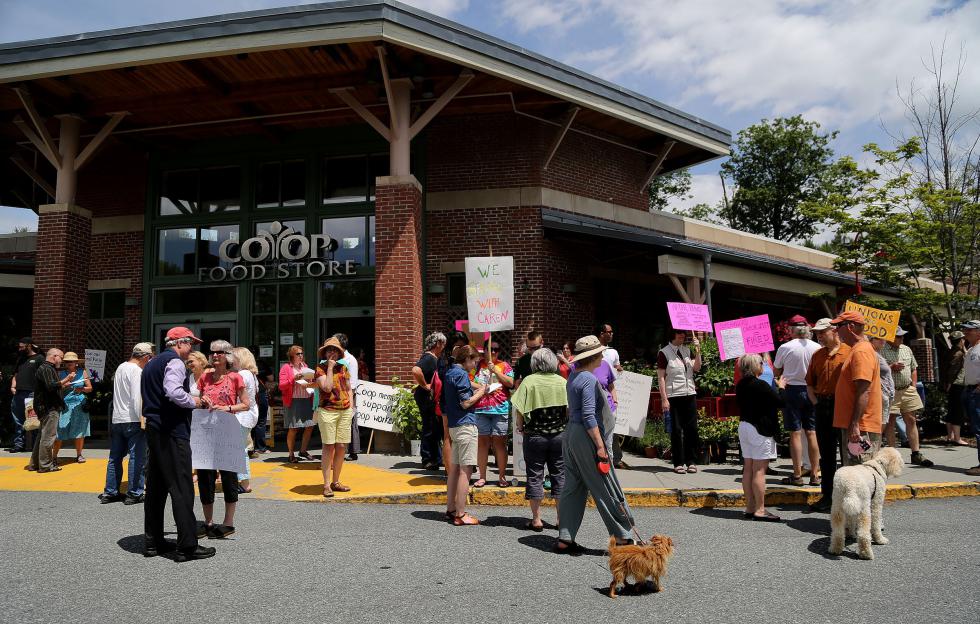 Full disclosure: I've been a member of the Hanover Consumer Cooperative Society for decades. I have shopped at all of its locations and know some of the employees, managers and board members. I also am not an attorney (all my lawyer friends are now saying "Amen"), so nothing in this column should be considered legal advice.
As a human resources professional for the past 20 years or so, I have had a hand in letting employees go far too many times for my liking. We're talking dozens of people. I've written termination procedures, materials and documents, given the message to employees and arranged outplacement services. I have watched shaken men and women pack boxes and led them out the door. I've seen employees sit in stunned silence, angrily vent, threaten legal action, cry and faint. I also have received those same documents myself when my company decided it was my time to be included in a layoff.
Whatever the circumstances, for any feeling human being, it is traumatic — and that includes the HR professionals and managers involved in the situation, who often are unfairly painted as heartless.
The main point of this column, without being privy to the full circumstances of the Co-op situation but using it as an example, is to give some thought to the act of terminating an employee and the general public's perception of that act, should it become contentious and public.
First, there are right ways and wrong ways to fire or lay off someone. Second, laws regulating privacy and "at-will" employment can and do trump some of those considerations. Sometimes doing it the right way still ends up badly, or even in court. More often, everyone involved is shown respect throughout the process, the support and assistance they need to move on, and the dignity a compassionate company should display toward employees who are having their lives disrupted.
It doesn't always happen that way, of course (and in some circumstances it can't), but respect, dignity and compassion always should be important goals. And if it is done with those goals in mind, the process can end well: The employee gets another job, maybe a better one, the company survives, allowing other employees to keep their jobs, and everyone keeps their dignity intact.
When it is done right, former employees have been known to send thank-you notes and greet former supervisors or HR managers on the street with genuine friendliness.
That is when an HR professional feels like a true professional who brings value to all sides.
So what is the right way to terminate an employee? The goal is to treat the employee fairly and in a dignified way, and also to protect the company from litigation. It can be a balancing act — saying just enough to the departing employee about why he or she is being let go, without saying too much.
It is my opinion that, if at all possible, the employee should be given a basic reason for being let go. If the layoff or firing must happen in order for the company to survive, saying that should be easy and straightforward. Taking the action is allowing others to keep their jobs and the company to survive and, with hope, prosper in the long run. If it is for disciplinary or performance reasons, that should be easy to document using the performance reviews, warnings, disciplinary actions, etc., that the company should have been compiling and communicating all along.
In neither case should it be a surprise to the employee that such an action is a possibility.
So what is "at-will" employment? Generally speaking, "at-will" means employees are not under contract (there are exceptions) and can be let go, or can leave on their own, without any reason given.
It's a two-way street in which both employer and employee can terminate the relationship without notice, assuming there is no discrimination or retaliation on the part of the company. Both federal law and New Hampshire and Vermont state law support this basic employment foundation, as do most states. About a dozen states have exemptions limiting companies' rights to terminate employees without just cause.
Why use at-will terminations? Attorneys will say, based on decades of experience, that it gives some protection to the company and its shareholders (that would be people like me in the Co-op situation), from costly wrongful-discharge lawsuits. That is a reasonable protection for companies acting for legitimate business reasons — assuming, that is, the company's actions are not against the law.
And speaking of legitimate business reasons, it is interesting that, even with new Co-op board members — who ran for the board on the platform of bringing more transparency to Co-op actions — no more transparency has been evidenced concerning the original terminations. This could tell us that the original at-will argument at the board level has continued to carry the day, that the terminations may have been justified and had nothing to do with union activity — reasons the general public has no right or need to know. Of course, the pending lawsuit could explain the silence, as well.
And the wrong way to let an employee go?
The termination of the two Co-op employees, as described in public accounts, seems to me to have been heavy-handed and lacking in the compassion and dignity I would hope to see. Aside from the at-will argument, those last moments appear to have been handled in a way I would not recommend to any company. I emphasize, however, that I do not have enough information to judge the Co-op management or its board, and there are times when such actions must be taken in the way they were reportedly handled.
I do know that, as someone who has been through this situation many times before, neither I nor any other member of the general public should have the right or expectation to know the inner workings of each termination. Individual cases are for a court to decide. If the Co-op is in the wrong, that eventually will come out. However, the people I do know on the Co-op board are people I respect and I must assume that they are getting sound legal advice and have sound reasons for having done what has been done.
In the end, even though I do have issues with the way the Co-op appears to have handled the terminations that prompted the recent controversy, I do not have an argument with at-will employment, if it is used properly and legally. And despite being a Co-op member, I do not feel I have the right to know the reasons behind the terminations unless and until all the proper steps have been taken and a court decision is made. Until then, I'll wait with the personal understanding that there are good people at the Co-op, from its employees up through management and the board.
Good luck to everyone involved, and good luck learning the lessons that have been offered.