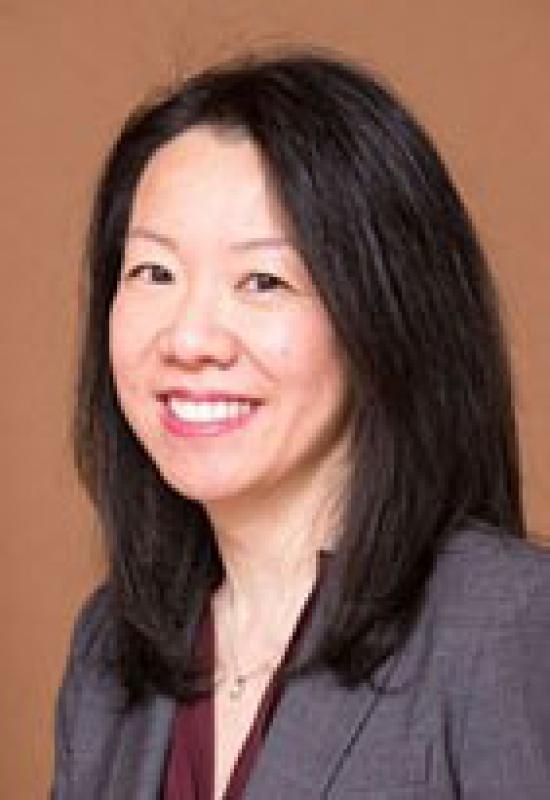 Dartmouth-Hitchcock and Geisel Name Surgery Chair
Lebanon — Dr. Sandra L. Wong, the William W. Coon Professor of Surgical Oncology and associate chairwoman of clinical affairs at the University of Michigan Health System, has been named chairwoman of surgery and senior vice president of the surgical service line at Dartmouth-Hitchcock and chairwoman of surgery at the Geisel School of Medicine at Dartmouth. Her term begins Oct. 26.
Wong will oversee 13 specialty sections within the Department of Surgery at Dartmouth-Hitchcock Medical Center, taking responsibility for all aspects of research, education and clinical operations, Dartmouth-Hitchcock said in a news release. She will also be responsible for surgical care delivery across D-H's practice locations, regional affiliates and partner accountable care organizations.
"We're delighted to have Dr. Wong join us at Dartmouth-Hitchcock," said Dr. James Weinstein, the health system's CEO and president. "Her accomplishments at the University of Michigan, including her outstanding record as a surgeon, health services researcher, educator and quality improvement leader, make her a perfect fit for D-H as we work to create a sustainable health system, improving the lives of the people and communities we serve for generations to come."
In addition to her leadership roles, Wong served as associate chief of staff for the University of Michigan Health System. She graduated from the University of California at Berkeley and received her medical degree from Northwestern University. Wong completed her general surgery residency at the University of Louisville and a clinical fellowship in surgical oncology at Memorial Sloan-Kettering Cancer Center, where she was chief administrative fellow.
Wong is a nationally recognized authority in the management of soft tissue sarcomas, melanoma, Merkel Cell carcinoma and gastrointestinal cancers, Dartmouth-Hitchcock said. She received medical student teaching awards in 2009 and 2011 and the resident teaching award from the University of Michigan in 2011.
With over 100 peer-reviewed studies in the scientific literature, Wong is among the widely recognized health services researchers in academic surgery, Dartmouth-Hitchcock said.
Her current work is examining variation in treatment intensity for poor prognosis cancers. She also studies prognostic modeling for melanoma, socioeconomic disparities and factors related to the quality of cancer care. Wong has expertise in the development and implementation of clinical practice guidelines and advises on health policy and technology evaluation nationally.
Wong serves on the editorial board of Annals of Surgical Oncology and Journal of Surgical Oncology and is an associate editor for the Journal of Oncology Practice. She holds or has held leadership positions in several national professional societies, including the American Society of Clinical Oncology, the Association for Academic Surgery and the Society of Surgical Oncology.
Dartmouth-Hitchcock Employees Tapped for Cancer Collaboration Board
Lebanon — A Dartmouth-Hitchcock nurse practitioner and administrator were among eight New England residents recently elected to the New Hampshire Comprehensive Cancer Collaboration's board of directors.
An initiative of the Foundation for Healthy Communities, the cancer collaboration developed the state's 2015-2020 Comprehensive Cancer Control Plan and works with its partners to reduce the burden of cancer, which is the leading cause of death in New Hampshire, the foundation said in a news release.
Advanced Practice Nurse Elizabeth McGrath, of Manchester Center, Vt., is a nurse practitioner in the gastrointestinal program in Dartmouth-Hitchcock's Norris Cotton Cancer Center. She co-chairs Norris Cotton's survivorship steering committee and leads the distress subcommittee. She has more than 30 years of oncology experience in a variety of practice settings, including radiation therapy and medical oncology. Her certifications include adult geriatric acute care nurse practitioner, advanced oncology nurse practitioner, and advanced certified hospice and palliative care nurse. She recently served in the Cancer Collaboration's palliative care work group. McGrath has been very involved in advocacy issues through active membership in organizations such as the Northern New England Clinical Oncology Society, American Nurses Association and Oncology Nursing Society.
David Nalepinski, of Sharon, is the director of the oncology service line and business operations for Norris Cotton. He has been in health care administration since 1999, primarily with surgical sections at academic medical centers. He joined Norris Cotton in 2009 to focus on further development of comprehensive and well-coordinated patient care, the foundation said. Nalepinski holds leadership roles in number of areas, including interdisciplinary care, tumor boards, survivorship, supportive services, tumor registry and system level value metrics. He was a 2012 Dartmouth-Hitchcock Board of Trustees scholarship recipient for The Dartmouth Institute at the Geisel School of Medicine and co-leads the shared decision making task force for cancer screening for the cancer collaboration.
"We are excited and appreciative of the commitment these new board members bring to our mission of reducing the burden of cancer in New Hampshire," said Robert Gerlach, chairman of the cancer collaboration board and associate director for administration and scientific affairs at Norris Cotton Cancer Center. "Their respective skills, experiences, and interests will enhance our ability to meet successfully the challenges of our mission."
Reeves Will Leabd New London Hospital Board
New London — The New London Hospital Board of Trustees elected officers and a new member at its regular meeting last month.
Trustee Susan Reeves, who heads the Department of Nursing at Colby-Sawyer College, was elected board chairwoman. Trustee Doug Lyon was elected vice chairman. Lyon, who is retired, was the college's treasurer.
Treasurer David Marshall and Secretary Stanley "Chris" Cundey were elected to continue in those offices.
The new trustee is Carol Majewski, a registered nurse who directs the Office of Patient Experience at Dartmouth-Hitchcock. Majewski holds a master's degree in health care delivery science from Dartmouth College, a master's degree in health care management from Rensselaer Hartford Graduate Center Inc. and a bachelor's degree in nursing from Niagara University.
"A critical access hospital with services in New London and Newport, New London Hospital depends on the talented and dedicated leadership of its board of trustees," the hospital said in a news release.
At its meeting, the board "expressed hearty thanks" to outgoing members Anne Holmes and Celeste Cook.
Vermont Health Centers Receive Federal Money
Vermont's 11 community health centers recently received federal funding totaling $493,860, according to a news release from the office of Sen. Bernie Sanders, I-Vt.
Locally they include Gifford Health Care in Randolph, which received $65,773; Little Rivers Health Care in Bradford, $42,580; and Springfield Medical Care System, $42,438.
The awards recognize the centers' achievements providing high quality health care, according to the release. They represent Vermont's share of $63.3 million in nationwide grants for 1,153 health centers, which will be used to expand access to high quality primary care. The funds were made possible by a Sanders-authored provision in the Affordable Care Act that included $11 billion for community health centers.
Community health centers provide primary medical, dental, and mental health care services and access to low-cost prescription drugs to nearly 23 million Americans. This year, a quarter of Vermonters are expected to receive care through community health centers at more than 50 sites across the state.
APD Joins Walking Challenge
Lebanon — Alice Peck Day Memorial Hospital is among four organizations taking part in a friendly fitness competition.
Organized by Ledyard National Bank, the Ledyard Live Well Walking Challenge is set for Sept. 14-Oct. 12.
It aims to foster opportunities to create healthier community and working environments and give interested organizations a chance to move toward being a fit-friendly workplace, APD said in a news release.
The American Heart Association's Fit-Friendly Worksite designation recognizes employers "who go above and beyond when it comes to their employees' health," according to the national organization's website.
Individuals and teams taking part in the local challenge walk or run on their own, using pedometers to log their steps. They're encouraged to wear their pedometers all day "so that they can develop a healthy routine of wearing one and be consciously aware of how many steps per day they take," APD said.
In addition to the bank and hospital, Hypertherm and King Arthur Flour are also taking part.
"We're excited to join Ledyard, Hypertherm, and King Arthur Flour in demonstrating that walking is good for employees and Upper Valley employers," said Peggy Cooper, coordinator of community relations and volunteers at APD.
In an announcement to APD staff about the hospital's participation, Shana Fowler outlined the benefits of the exercise.
"Walking prevents type 2 diabetes, strengthens the heart, is good for the brain and bones, alleviates symptoms of depression, reduces the risk of breast and colon cancer, and improves fitness and physical function," said Fowler, APD's employee health and safety specialist.
Paid Family, Medical Leave Subject of Vermont Forums
Woodstock — A free community forum on Oct. 14 from 8-9:30 a.m. at Woodstock Town Hall Theatre will focus on long-term paid family and medical leave. The event is one of five being held across Vermont this fall.
Hosted by Vermont Commission on Women and Main Street Alliance of Vermont, the forums will examine the possibility of creating a state-run temporary disability and caregiver insurance program in Vermont as a funding mechanism for leave. They will include a brief presentation, followed by a discussion with business owners and community members. Participants will explore the need for the temporary disability and caregiver insurance program, how similar programs have been implemented in other states, and what a successful program might look like for Vermont.
Forums will also be held in Brattleboro, Manchester, St. Albans and Burlington. For more information, or to RSVP, contact Ashley Moore at ashley@mainstreetalliance.org. — Compiled by Aimee Caruso