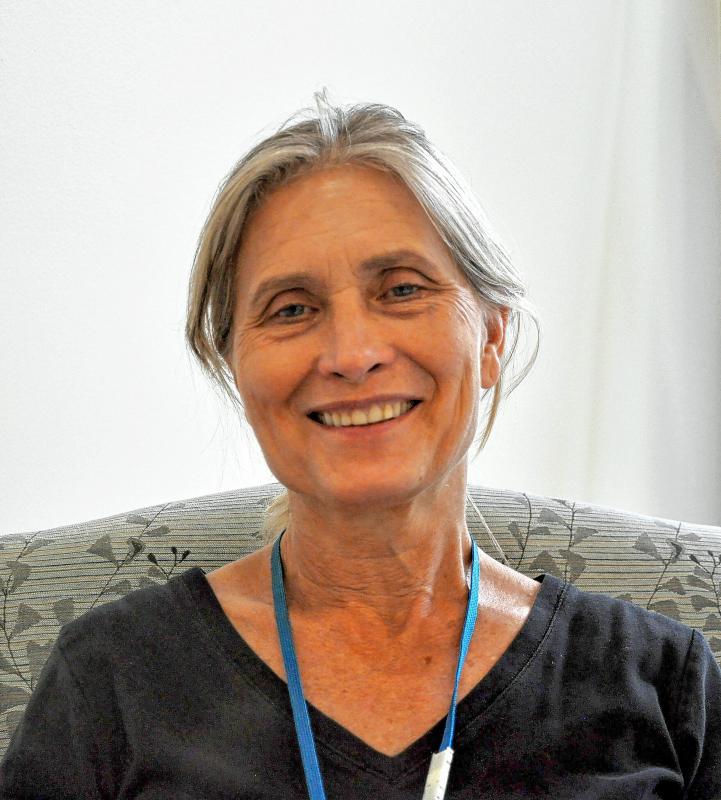 Cottage Hospital to Receive $10,000 For New Health Center
Woodsville — Cottage Hospital will receive $10,000 this week from its auxiliary organization for the building fund of Rowe Health Center.
The money includes proceeds from Cottage Hospital Auxiliary's 13th annual golf tournament and other fundraisers.
The new 16,000-square-foot facility is nearing completion and is expected to open in October, the hospital said in a news release. A major expansion for the hospital, it "will help strengthen the health of the communities it serves by providing accessible, compassionate quality health care."
The center is named for the late Dr. Harry Rowe, who practiced medicine for decades at a Wells River clinic he founded. Rowe dedicated more than 60 years to his profession, patients and community, the hospital said.
Addressing Dementia-Related Behavior Is The Focus of Woodstock Class
Woodstock — The Alzheimer's Association will offer Understanding and Responding to Dementia-Related Behavior on Sept. 15 at 1 p.m. at the Thompson Center. The free class is designed to help caregivers decipher behaviors and determine how best to respond.
Addressing dementia-related behaviors can be one of the biggest challenges caregivers face, the senior center said in a news release. "During the middle stage of dementia, the person with the disease often starts to exhibit new behaviors that can be confusing for a caregiver. These behaviors are a form of communication and are essential to understanding the needs of the person with dementia."
The class will include information, resources and interviews with experts. It will cover common triggers for behaviors associated with dementia, a process for assessing challenging behaviors, and strategies for addressing common dementia-related behaviors.
The program is not appropriate for anyone who has received a diagnosis of Alzheimer's disease or a related disorder, Thompson said.
Presenter Susan Moor is a Woodstock resident with 10 years of experience in the field of dementia. She previously was social services manager for an adult day health program in Massachusetts and served as the early stage program coordinator with the Massachusetts and New Hampshire chapters of the Alzheimer's Association. She has facilitated a variety of support groups.
Physical Therapists Earn Doctor Degrees
New London — Two New London Hospital physical therapists each recently earned a doctor of physical therapy degree with assistance from the hospital's employee education scholarship fund.
Glorie Galpin earned her degree from the University of Montana. Galpin has been part of the hospital's physical therapy department for eight years.
Sara Goulette has worked as a physical therapist at the hospital since 2002. She earned her degree from the University of New England in Biddeford, Maine, where she also completed her undergraduate work.
The scholarship fund "provides much needed support for staff to further their professional development and enhance their credentials, an investment in New London Hospital and in the community it serves," the hospital said in a news release.
Radiology Technologists Earn CT Scanning Certification
Windsor — Five radiology technologists at Mt. Ascutney Hospital and Health Center recently were certified in computed tomography scanning by the American Registry of Radiologic Technologists.
Also, the hospital's mammography program was recently recertified in accordance with the Mammography Quality Standards Act. The program has been accredited by the American College of Radiology since 1994.
Sara Gosselin, Leslee Glidden, Christine Desjardins, Christie Leary and Seth Chase earned the CT scanning credential from the American Registry of Radiologic Technologists. Now, each of the hospital's nine radiology technologists is certified in CT scanning, the hospital said in a news release.
To earn the certification, employees were required to perform a variety of exams under a licensed CT technologist and then pass the American Registry of Radiologic Technologists' CT registry exam. The certification requires annual continuing education hours.
Hazard is Employee of the Month At Mt. Ascutney Hospital
Windsor — Linda Hazard, a registered physical therapist, has been named employee of the month at Mt. Ascutney Hospital and Health Center.
Hazard serves inpatients of the hospital's acute rehabilitation center. She is being recognized for her commitment to patient and staff safety, particularly related to injury prevention that may result from lifting and moving patients, the hospital said in a news release. "Most recently, Hazard served as a champion in the hospital's Safe Patient Lifting Task Force. Her insight and experience guided the development of a policy designed to keep patients safe and well-cared for, while preventing staff injury."
Hazard regularly teaches staff proper techniques for lifting and use of equipment.
CHaD Receives $1,800
Lebanon — Children's Hospital at Dartmouth recently received more than $1,800 from a shooting fundraiser held last month in Effingham, N.H.
Nearly 40 members and guests of the New Hampshire Timberland Owners Association and the New Hampshire Timber Harvesting Council took part in the Fun Shoot at the Green Mountain Shooting Preserve. The event was part of the national Log-a-Load for Kids program, in which loggers and wood-supplying businesses raise money to support children's hospitals to provide medical care to kids in need, the association said in a news release. The top finishers received trophies.
"Loggers and lumber mill operators are outdoors enthusiasts by nature, and support for our first annual sporting clays trap-shooting event was strong from the get-go," said Jasen Stock, the timberland association's executive director. "The fact that the Fun Shoot benefited CHaD, one of the best children's hospitals in New England, encouraged great participation."
Plans are already underway for next year's Fun Shoot.
New Employees Join HCRS
Springfield, Vt. — Several new employees have joined Health Care and Rehabilitation Services.
Autumn Nall, residential specialist, and Jillian Hill, crisis intervention specialist, have joined the nonprofit's home office in Springfield.
Tiffany Leno and Noel Woolf, Behavioral Interventionists, have joined HCRS' Hartford office. Catherine Haley, team leader II, has joined the Woodstock office.
A community mental health agency, HCRS serves residents of Windham and Windsor counties.
— Compiled by Aimee Caruso