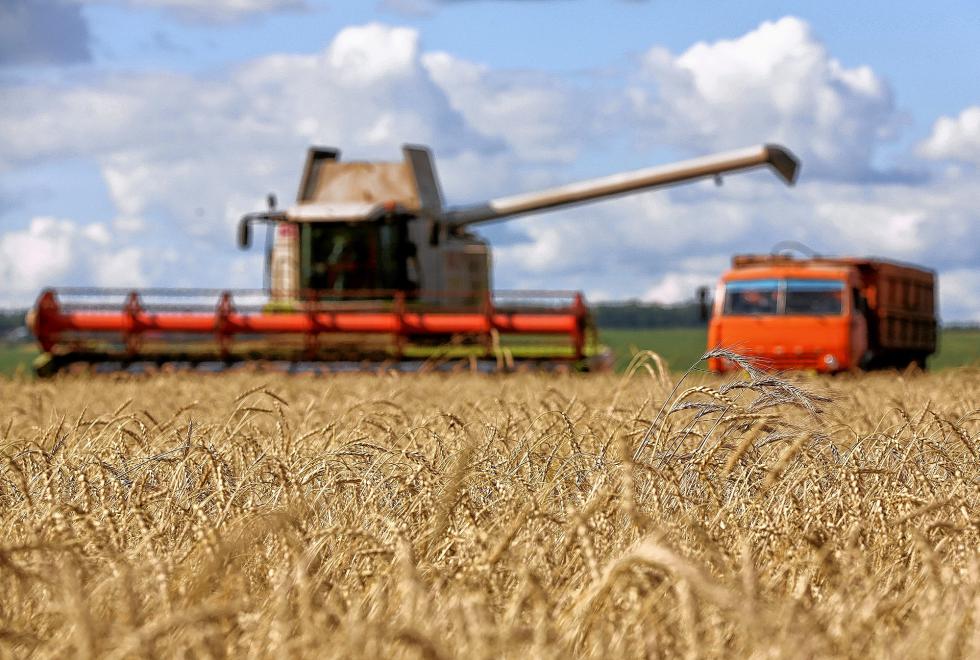 Oil isn't the only commodity where the largest producers are fighting for market share in a world awash with supply.
Russia and the United States, two of the biggest wheat exporters, are going head-to-head in a battle for customers. Russian shippers, with the advantage of a weak currency and falling freight rates, can undercut most competitors, selling their grain about 16 percent cheaper than cargoes from the U.S.
While American dominance in the global market has been shrinking for two decades as output expanded from the Black Sea region, long-standing buyers of supplies from the U.S. are shifting more purchases to Russia. The plunge in oil prices ravaged Russia's economy and pushed the ruble down 45 percent in the past year, the biggest drop of any currency. That helped make the country's exports more competitive and eroded the buying power of energy-rich grain importers like Nigeria and Mexico.
"Russian wheat is far cheaper," said Gafai Ibrahim Usman, charge d'affaires at Nigeria's embassy in Moscow. "There will be more and more wheat imported from Russia. Nigeria's mostly rural society can barely afford to buy products made from American wheat."
Competition for market share is intensifying after back-to-back bumper harvests worldwide left silos bursting. The largest stockpiles in almost 30 years, according to the International Grains Council, are pressuring wheat prices from Chicago to Paris and Russia's port city of Novorossiysk. Wheat entered a bear market last month and fell to as low as $4.63 a bushel on Friday, the weakest level since May 5, on the Chicago Board of Trade.
Nigeria, Africa's largest economy and once the top U.S. wheat customer, has cut purchases by almost half in the past five years. The Black Sea region including Russia and Ukraine now contributes 17 percent of its imports, from 1 percent two years ago, according to the U.S. Department of Agriculture.
Mexico reduced wheat imports from its North American neighbor 7.5 percent last season, and sales are down 29 percent since the current marketing year began June 1, USDA data show. The Black Sea region has increased market share in Mexico to 12 percent from zero in the past two years, the department says. The Baltic Dry Index, a gauge of freight costs, is down 22 percent in the past year, signaling lower costs for shipping Russia's crop.
Russian wheat has maintained a discount to competitors, with prices about $34 a metric ton less than U.S. supply, according to data from the IGC and the Moscow-based Institute for Agricultural Market Studies.
"It's clearly a price issue as much as anything," said Amy Reynolds, a senior economist at the IGC in London. "The Black Sea region has good-quality grain at a good price, and prices in the U.S. do appear to be too high to be justified."
Both U.S. and Russian shipments have gotten off to a slow start this season, with traders in Russia grappling with an export tax that went into force July 1. Still, the USDA forecasts Russia will ship a record 23 million tons this season. That's just below the 25.2 million that the USDA expects will be shipped by the U.S., which has seen its share of global exports drop to 16 percent from almost 30 percent in 2008, USDA data show.
Even as it loses market share, U.S. shippers maintain a geographical advantage in their own backyard. The wheat trade is divided roughly by region, with the Black Sea and Europe supplying most of the grain for major buyers in the Middle East and North Africa, the U.S. and Canada dominating in Latin America, and Australia supplying much of Asia.
While Mexico has cut purchases, it remained the No. 2 buyer of U.S. wheat last year after Japan. Cheap Russian wheat makes sense now, but Mexico is unlikely to make a long-term shift away from U.S. grain, said Vince Peterson, vice president for overseas operations at the U.S. Wheat Associates lobby.
The countries share a 2,000-mile-long border and free-trade status, with U.S. wheat shipped south by rail.
Nigeria, however, has become a "competitive crossroads" for the U.S. and Russia because it's a similar nautical distance from both suppliers, Peterson said.
Shipments from Russia to Nigeria more than doubled last season to 721,000 tons, according to researcher OOO ProZerno.
"We're still maintaining a good market there, but no question it's been eroded," Peterson said by phone Aug. 21 from Arlington, Va. "Probably more Russian wheat is going to find its home in Africa."
The U.S. has seen its market share eroded before as Russia became a more dominant exporter during the past 15 years. Egypt's state-run grain buyer once sourced 90 percent of its imported wheat from the U.S. That had dropped to 7 percent by last season, while Russia accounted for 25 percent, according to Egypt's General Authority for Supply Commodities. The North African country is the world's largest wheat importer.
Big crops worldwide, including record production in France and a looming harvest in Australia, mean global competition is unlikely to let up any time soon. The wheat trade will total 148 million tons this season, according to the IGC.
"Competitiveness so far has favored Russia," Stefan Vogel, head of agricultural commodity research at Rabobank International in London, said by phone Aug. 25. "I don't see the U.S. as the prime origin right now to supply the world market."