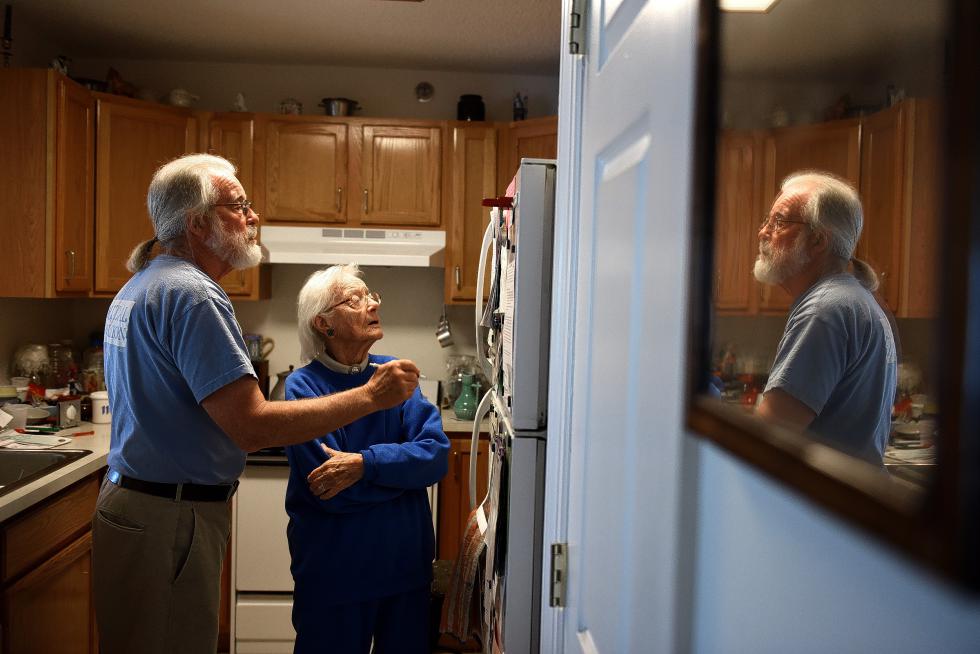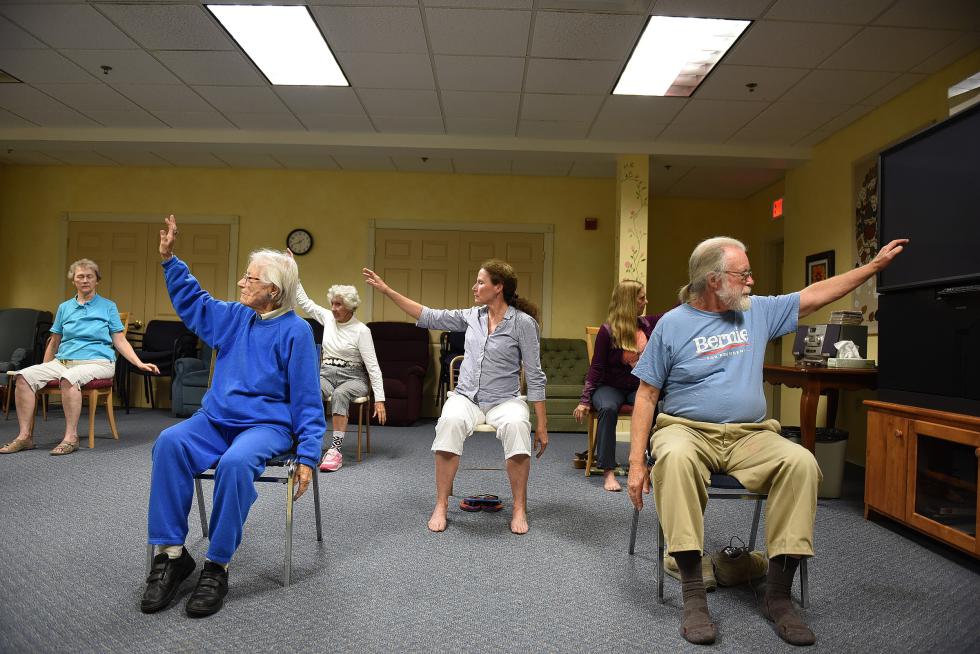 Lebanon — The pending absorption of Alice Peck Day Memorial Hospital into the sprawling medical care system operated by Dartmouth-Hitchcock will leave a nonprofit owner of housing for affluent Upper Valley seniors standing on its own in an increasingly competitive marketplace.
That could be challenging for Alice Peck Day Lifecare Center Inc., the financially strapped affiliate of the hospital with the same name. APD Lifecare, with an inventory of 142 independent- and assisted-living housing units, posted a $433,000 operating loss in the fiscal year that ended Sept. 30, 2014.
And a change in accounting rules will require that APD Lifecare restate its results to boost its fiscal 2014 loss by $1 million more, to $1.4 million, according to Evalie Crosby, the chief financial officer of all three nonprofit entities that carry the Alice Peck Day name.
Early reaction after the Aug. 28 announcement of the deal between D-H and APD focused on the changes it would make to the institutional landscape of medical care in the Upper Valley. APD's 25-bed hospital along Mascoma Street would become the fourth satellite hospital in a system that already includes New London Hospital, Mt. Ascutney Hospital in Windsor and Cheshire Medical Center in Keene. Dartmouth-Hitchcock's flagship facility remains the 396-bed Mary Hitchcock Memorial Hospital in Lebanon.
But the transaction would also leave APD Lifecare standing on the outside, with properties that include the 19-year-old Harvest Hill facility, which offers assisted-living apartments, and the five-year-old Woodlands at Harvest Hill, which is for those still able to live independently.
That would mean that if APD Lifecare needed to borrow money in the future to finance expansion, renovation or other items, it would do so as a housing enterprise, and wouldn't be able to rely on assets or cash flow from health care operations to reassure lenders or creditors.
The opening of Harvest Hill added a very viable option for local residents who could afford it, said Lee Hammond, a former state representative from Lebanon whose 104-year-old mother has lived in Harvest Hill since before its official opening date. "I just am hopeful that it will continue to function much as it has," he said.
Todd Miller, the chief executive of APD Lifecare, said that the "board of trustees … is committed to ensuring the long-term future" of the housing enterprise.
That's important, according to Hammond. "For local residents, it's offered a very viable place for them to go if they can afford it," Hammond said. Not everyone can, he added: "I couldn't afford to go there as a retired teacher."
This year Harvest Hill shifted its business model to match norms in the assisted-living sector. New residents no longer pay an upfront occupancy fee, but monthly fees were increased substantially, and now range from $2,927 to $9,620, according to a price sheet provided by Miller.
The changeover at Harvest Hill temporarily exacerbated financial pressures at APD Lifecare, and the enterprise is expected to face continuing challenges for about three years, according to Crosby. At that point, operating and cash flow projections show that APD Lifecare should be back on solid ground, she said.
The surface has been a little slippery recently. APD Lifecare posted $1.3 million in operating losses over the past three years: $433,000 in the fiscal year that ended Sept. 30, 2014, $216,000 the previous year and $727,000 in fiscal 2011. The housing properties posted a $68,000 operating profit in fiscal 2012. The accounting restatement will push total losses during that period well over $2 million. In fiscal 2014 alone, cash flow was in the red to the tune of $867,000.
Those are pretty strong financial headwinds for a nonprofit that posted $7.6 million in revenue in fiscal 2014 and finished the year with $5.5 million in cash but only $1.1 million in net assets.
And the market looks to be getting more challenging. The Morgan Orchards Senior Living Community on the grounds of the Gifford Medical Center in Randolph hopes to break ground this spring on a building with 50 independent-living units for seniors, according to Linda Minsinger, the executive director. Gifford's 30-bed Menig Extended Care Facility, a nursing home, relocated to the Morgan community in May.
A building with 50 assisted-living units is also contemplated at Morgan Orchards, as is a second independent-living facility with another 50 units, Minsinger said. "The market is getting a little crowded," she said.
Entry fees for the new Randolph-area units range from $162,000 to $325,000, and monthly fees for services that include one meal a day and housekeeping will range from $1,680 to about $2,800 for a couple, she said.
That could put some price pressure on Woodlands, where a 1,090-square-foot apartment requires an upfront payment of $304,500 and a monthly fee of $3,445, while a 2,180-square-foot unit with two bedrooms, two baths and a den has an upfront fee of $468,500 and a monthly fee, for a couple, of $5,535.
Filling the units at Woodlands, which opened just after a nationwide bubble in real estate valuations burst and the country plunged into the Great Recession, has already proved challenging. Currently, there is a 17 percent vacancy rate, said Peter Glenshaw, an APD spokesman. That's an improvement from two years ago, when 19 of the 66 units in the new facility, which was dubbed Woodlands at Harvest Hill, were vacant.
Financing construction of Woodlands, a 133,000-square-foot facility, was the main object of a 2008 bond issue by APD. At that time, the original Harvest Hill facility's 72 units were fully occupied and there were 125 "potential residents" on its waiting list. Currently, there are "dozens" of people on that waiting list, Miller said.
The obligation to repay the 2008 bond issue was by all three nonprofts — hospital, housing and holding company — operating under the APD banner, according to the offering memorandum.
That remains a substantial obligation. Altogether, the three APD entities had about $27.5 million in long-term debt outstanding at the end of the 2014 fiscal year. During that year, they made about $1.4 million in debt payments including a $587,000 principal repayment plus $849,000 in interest.
The debt taken on to build Woodlands, as well as some obligations incurred to build Harvest Hill and to finance a two-phase renovation project at the hospital, were subsumed in a $30-million "bank qualified debt issuance" that was completed in 2010, according to Glenshaw. That obligation will continue to be shared by the Alice Peck Day holding company, housing enterprise and hospital, according to Glenshaw.
But D-H won't be on the hook for the obligation of its new subsidiary, said Rick Adams, a D-H spokesman. "Dartmouth-Hitchcock is not taking on any of the bond obligation associated with the Woodlands," he said.
The financial health of the standalone housing enterprise is an issue that could surface at a community meeting scheduled for Sept. 22, at 5:30 p.m., in the Dwinell Room at Alice Peck Day.
That meeting has been called to discuss a plan to formalize ties between D-H and APD, the two Lebanon hospitals that stand within five miles of each other, that was crafted during about 20 months of negotiations and still needs approval from state regulators. The APD website says, "We hope to have the affiliation approved and finalized by the end of the year."
The need for the Alice Peck Day hospital to "become a subsidiary of Dartmouth-Hitchcock" had been identified by two strategic planning task forces that were established in 2013 to consider the smaller hospital's future, according to the APD website. That effort began as a reaction to "the threat of losing our (critical access hospital) status," according to that posting.
Critical access hospitals get paid extra by Medicare, the federal insurance program for seniors and people with disabilities, in a program designed to ensure that medical care remains available in rural areas. In fiscal 2011, Medicare paid $8.5 billion to provide care to 2.3 million patients in the nation's 1,300 critical access hospitals, according to a report by the inspector general of the U.S. Department of Health and Human Services.
But more than two-thirds of those hospitals did not meet a Medicare requirement that limits eligibility to hospitals located in rural areas at least 35 miles — or 15 miles in mountainous areas unserved by interstate highways — away from other hospitals. Until 2006, states could waive the distance requirement, and follow-up reviews were rarely done, the inspector general found.
Payments tied to APD's critical access status boosted its revenue by $7.5 million in the fiscal year that ended Sept. 30, 2013, according to the hospital's annual report. That year, the hospital and its affiliates posted total revenue of $52.4 million, and Medicare accounted for 28 percent of the hospital's net patient service revenue, according to its audited financial statements.
Details of the hospital deal are still emerging. Financial results for Alice Peck Day Memorial Hospital will be consolidated into the reports of Dartmouth-Hitchcock, said Adams, the D-H spokesman.
The future alignment of obstetrical services between the Lebanon hospitals remains uncertain. Resolution of outstanding questions, including whether APD will offer birthing services in some simple cases, "will take considerable effort by both parties involving complex clinical, regulatory, and financial issues that will require time to address," according to a joint news release issued Aug. 28.
APD Chief Executive Sue Mooney said in the release that she would "personally be involved in overseeing the obstetric integration process." In an August interview, Mooney said D-H and APD would "have to figure out some way to keep (obstetrics services at APD) in a responsible way." The smaller hospital, she said would "not completely get out of (obstetrics services) altogether."
Emergency services and in-hospital doctors' care will also be integrated.
Rick Jurgens can be reached at rjurgens@vnews.com or 603-727-3229.