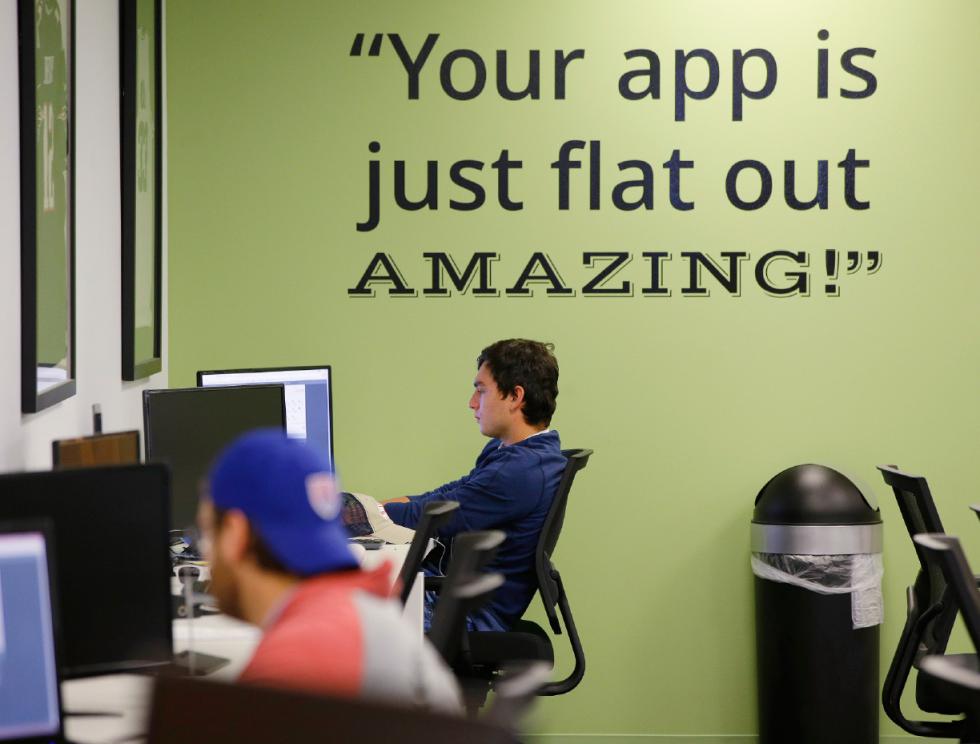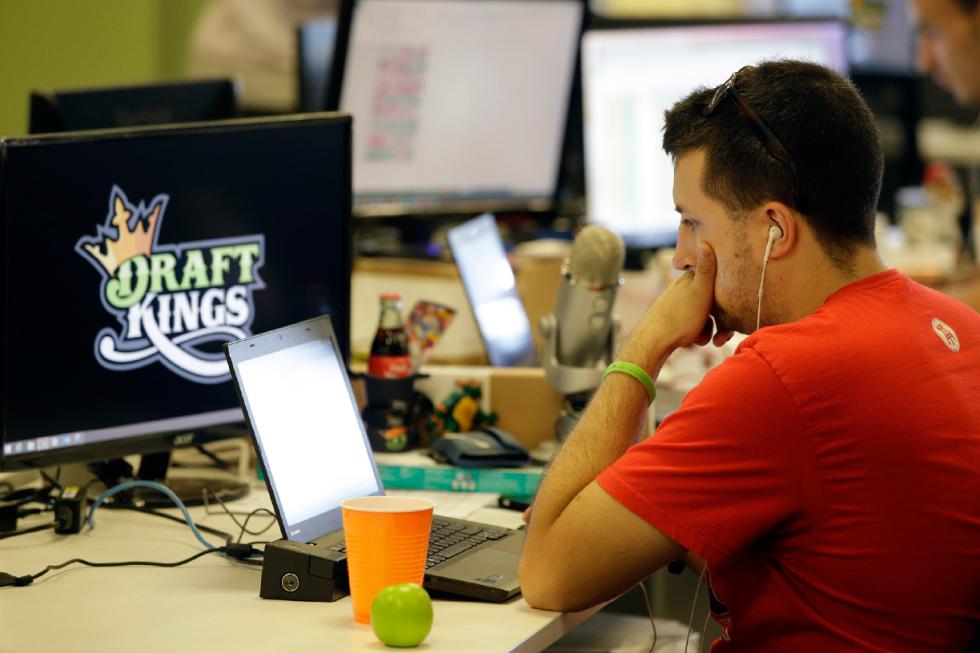 Boston — The daily fantasy sports industry is eyeing a breakout season as NFL games begin.
And its two dominant companies, DraftKings and FanDuel, are touting lucrative opening week prizes to try to draw more customers as more competitors pop up.
Major tech and media companies, including Yahoo and CBS, are entering the fray, signaling a potential sea change in the still-evolving market.
DraftKings CEO Jason Robins says he doesn't view the new rivals as a threat, so long as his three-year old company based in Boston continues to succeed.
"Having a company like Yahoo or CBS join the industry helps if it makes games more mainstream and introduces new players," he says.
Flush with $575 million in combined new investor capital collected this summer, DraftKings and New York-based FanDuel have been in a marketing and promotional duel, each heavily promoting get-rich-quick competitions through slick ads ahead of the season.
DraftKings is offering $25 million in guaranteed prize money for opening week, including a $2 million top prize and a $1 million second prize as part of its marquee contest, the "$10 Million Guaranteed Millionaire Maker."
FanDuel, meanwhile, has guaranteed $12 million in prizes opening week, including a $1 million top prize for a "Sunday Million" contest that it will offer every week of the NFL season.
The hefty prizes, Robins says, show how far the daily fantasy genre has come in just a few short years. The games involve picking teams of real-life athletes who score fantasy points based on what they accomplish on the field. Unlike season-long leagues, daily fantasy players win or lose immediately each week based on a single performance by each athlete they pick.
"Right now, you're seeing an unbelievably explosive period of growth," Robins said. "No one can really predict where this is heading. It's exciting."
Cal Spears, CEO of RotoGrinders, a community forum that's developed a ranking system for daily fantasy players, says the attention-getting campaigns during opening week highlight the most important single week for drawing in new customers.
"Acquiring more customers enables the sites to have bigger tournaments and more liquidity, which in turn helps them acquire and retain more customers," Spears said.
Daily fantasy companies make money by taking a slice — usually around 10 percent — from entry fees, which range from $1 for low stakes contests to thousands of dollars. FanDuel's "Sunday Million" competition costs $25 to enter, while a few head-to-head contests were available on the site this week for entries of $10,600 by each player (the winner netting $9,400 in profit).
Major players coming online this NFL season could eventually challenge the dominance of DraftKings and FanDuel, who claim as much as 90 percent of market share right now, according to industry experts.
Yahoo rolled out its daily fantasy products in July, about midway through the baseball season.
Kenneth Fuchs, a vice president at Yahoo Sports, says the Sunnyvale, Calif.-based company has an obvious advantage: as one of the biggest players in traditional, season-long fantasy sports competitions, it has ready access to a sizeable customer base.
"We've been in the space as a leader for a long, long time," he said.
Elsewhere, CBS Sports is offering its own daily fantasy competitions under the revived Sportsline brand. But Jeff Gerttula, general manager at CBS Sports Digital, says the company is not trying to go toe-to-toe with DraftKings or FanDuel, for now.
Sportsline competitions will generally involve smaller groups of people, offer more modest prizes and require low or no entry fees, he said.
"We look at it more as a way to introduce a traditional fantasy audience to daily fantasy," Gerttula said, noting CBS is in the second year of a promotional partnership with FanDuel (DraftKings has similar arrangements with ESPN and Fox Sports).
Industry observers are also closely watching the entry of Amaya, a Montreal-area online gambling company that owns the popular PokerStars and Full Tilt poker websites.
Like Yahoo, experts say Amaya's daily fantasy offering, StarsDraft, will have an advantage because of a readily available pool of online poker customers.
The company is also the first licensed gambling enterprise to wade into daily fantasy sports, which has tried mightily to distance itself from the traditional gambling world and even the word "gambling," based on legal definitions.
Daily fantasy sports are legal in every state except five — Arizona, Iowa, Louisiana, Montana and Washington — where they're either explicitly banned or the law is so unclear that companies generally stay away.
But traditional sports betting is legal only in four states — Nevada, Oregon, Delaware and Montana, according to the American Gaming Association.
"Regulation is a major issue, as (daily fantasy sports) appears to be on a collision course with the commercial casino industry," said Chris Grove, editor of the Las Vegas-based Legal Sports Report, which focuses on sports wagering.
In the meantime, daily fantasy remains on sound legal footing and continues to draw seasoned gamblers and novice sports fans.
Anjon Roy, a digital marketing consultant in Mankato, Minn., plans to test the daily fantasy waters the first time this NFL season. He admits he isn't the most avid football fan.
But the onetime online poker player believes there's money to be made, so he's studying up on strategy and game play.
"There are far more recreational players right now," he says. "I don't think people who play fantasy have that much understanding of the math of the game. I'm not saying I do yet. But there's definitely edge to be had for players that do the research."