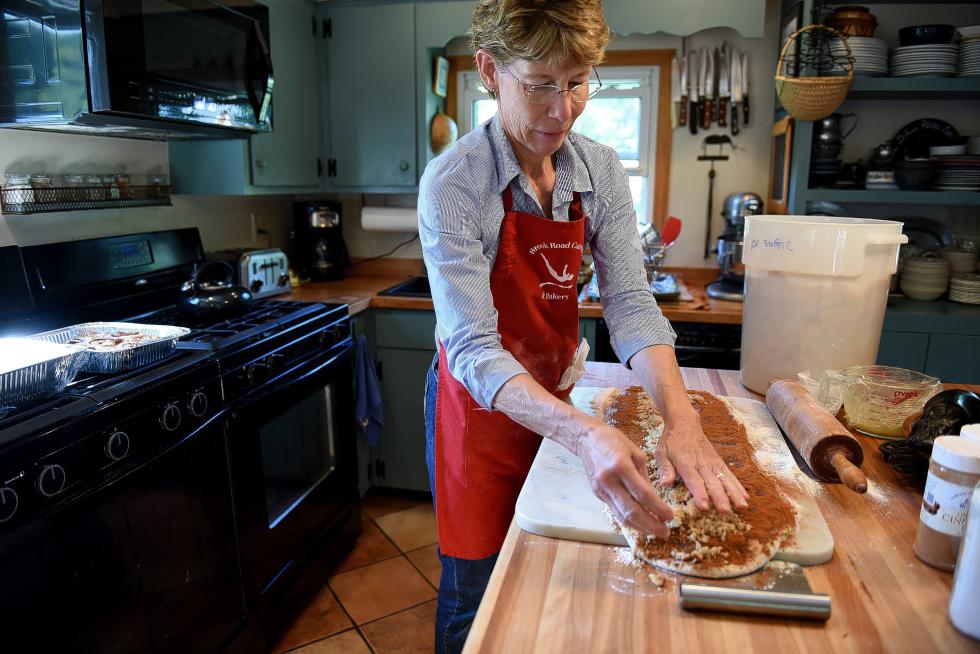 After decades of working for other people, Meredith Jo Henning-Dyer was ready to make a splash of her own. But first, she waded. "Here I am, 57 years old and starting my own business," she said in a recent interview in her Strafford kitchen. "That's nuts."
Friends made her believe in herself, telling her not to fear her own destiny, said Henning-Dyer, an avid walker and swimmer. "They pushed me off the diving board," she said. A year later, she's glad they did. "I love being my own boss."
Henning-Dyer, who goes by Jo, sold baked goods and catered for years before turning her love of cooking into a career. She formed Brook Road Catering and Bakery in January 2014, but before taking the dive into her new business, she checked in with the friends and neighbors she'd cooked for, gauging whether she'd have enough orders, and support, to stay afloat. They were enthusiastic, and last September she left her job as a concierge.
So far, things are going swimmingly.
Slow Simmer
On a recent Thursday afternoon, Henning-Dyer was finishing an order of English muffins; she sells about 100 each week to individual customers and the Killdeer Farm stand. The cherry-red apron she wore featured her logo, a silhouette of a woman mid-swan dive. While starting her own company meant taking a leap, it was also part of a natural progression.
"I've always loved people," said Henning-Dyer, a slim, cheerful woman with short brown hair. "I think that's why I gravitated toward the service industry."
Henning-Dyer started cooking when she was tall enough to reach the stove. She and her older sister teamed up in the kitchen, "just a natural and comfortable place for us to be," cooking for their parents' dinner parties. "They'd give us accolades for a great meal," said Henning-Dyer, who is grateful for her mother's encouragement. "We were just 14 or 15 years old."
In college, she supported herself by waitressing and then moved up the ranks to manager. She later became a concierge, working in the field for more than two decades, at the Woodstock Inn and Resort and most recently at the real estate firm Coldwell Banker Redpath and Co.
"What do you do for people who are buying or selling a house?" she asked. "You give them an ear, greet them with a great big smile, and you help them any way you can."
When her children were grown, Henning-Dyer found a new audience for her baking, "pawning it off on the farmworkers (at the farm up the street) because we couldn't eat it all." Noting what disappeared first, she'd poll the employees on their preferences and tweak her recipes accordingly.
"I learned, basically, to test the waters," she said. Eventually, the farm owners asked her to cater their adult riding camp.
Season to Taste
From cleaning up after people who left messes in their hotel rooms to becoming a widow at 39 and raising her children by herself, all of her experiences have brought her to where she is today, said Henning-Dyer, who is remarried. They've also helped her focus her efforts.
"Everybody in the world is a good cook," and she doesn't intend to become the next Julia Child, Henning-Dyer said. Her goals reflect the skills she honed as a concierge: connecting with customers, finding out what they want and making sure they get it.
"Every request represents an individual's need or what they crave," she said in an email. From an order of pies to "super-soft butter rolls" to a vat of pulled pork, each day is a "delightfully wonderful and appreciative surprise."
A Strafford customer who favors herbs frequently spends $25 for one of her customized quiches. "Everyone can make a quiche," said Henning-Dyer, who describes her food as "very Americana." "It's what you put in it. I love to do that creative side."
Customer Carol Burnham, of Sharon, called Henning-Dyer's enthusiasm "a huge draw." In her Listserv postings, she throws out ideas like, "How does a pan of hot croissants sound?" Burnham said in a telephone interview. "Hello?"
Burnham has ordered food from Henning-Dyer for a number of events, such as her daughters' birthdays and a dinner party. "It was just really nice to have everything delivered, and it was good to go and delicious," she said. "It's very easy to do business with her, which is very nice."
Henning-Dyer figured her clients would be busy young families, but "there is less of that and more of the elderly who are sick and tired of cooking," she said. Most of her orders are "drop and go," but for an extra charge she will stay and serve the food.
Through Listservs, Facebook and word of mouth, she's found a niche in Strafford and has customers in other Upper Valley towns and beyond. She drops off the food in her own dishware and collects the dishes the next day. A meal for four costs anywhere from $40 to $200, depending on the menu.
Deborah Reese, of South Strafford, looks to Henning-Dyer when she's having a family event or inviting friends over. They work out a menu and she brings it over in "lovely dishes, trays and baskets," Reese said. Her favorites include herbed lamb served with fruit pastes that are "to die for."
Ordering the food is less expensive than taking everyone out to dinner, she said. "You don't have to cook, and you can have your (own) wine. You can make it as elegant as you want."
Up to Temperature
It's been a busy year for Henning-Dyer, who's averaged four jobs a week since January. When she isn't cooking, she's doing the books, shopping, driving, and being a wife and mother. This summer, it all caught up with her.
"I was exhausted, and the orders were getting bigger instead of smaller," she said. Then, her plate really filled up — a dinner party, picnic and a weeklong catering job converged, all on the heels of baking for her youngest daughter's wedding.
"I thought I was going to split into pieces," Henning-Dyer said. She called in backup, hiring another daughter for the week and asking her husband to make deliveries.
"When it was over, we were all high-fiving each other," she said. "I suppose it's like crossing a finish line. I had a deadline, and I had that clock in front of me, challenging me, and I had to beat it."
Overall, she's happy with the size of the business, which is manageable in her roughly 320-square-foot kitchen. "I'm not making any money, but we're paying the bills."
She loves being able to cook every day, even though some days stretch on well into the night.
Her customers make it worthwhile, she said. "I just love them."
Key Ingredients
Ask for Help: Before opening Brook Road Catering and Bakery, Henning-Dyer sought advice from other people in the business and talked with friends and family members. To develop a business plan, she looked to websites for prospective business owners. At her father's suggestion, she spoke with the IRS to figure out how to do her taxes. She's still reaching out: When she's unsure about whether to take on a gig, she and her husband, Malcolm, have "board meetings."
Practice Practicality: A conservative approach allowed Henning-Dyer to avoid business loans. Instead of buying fancy new gadgets, she pulled together equipment she already owned. Thanks to a few tweaks by Malcolm, the metal base of an old baby crib became a sturdy rack for hanging pots and pans. She started off using her regular kitchen oven and then added another similar oven, which enabled her to make two meals at once. Rather than buy a delivery van, she used her 2012 Kia SUV to transport orders in strategically arranged boxes and racks. She uses as many locally sourced ingredients as possible, from her husband's garden and farmers markets, and chats with customers about local foods and how certain items, such as a cheese board, will affect their bill. In some cases, though, buying local simply is too expensive. "You have to compromise," she said.
Say No: For a new business owner, saying "no" to a potential client can feel strange. She's done larger parties, but kitchen size and limited refrigerator space mean her catering comfort zone is between two and 50 people. And she needs to know she can deliver."My goal as a cook is to create the food the customer is envisioning," she said. "If I can't see that vision, then I will refer them out."