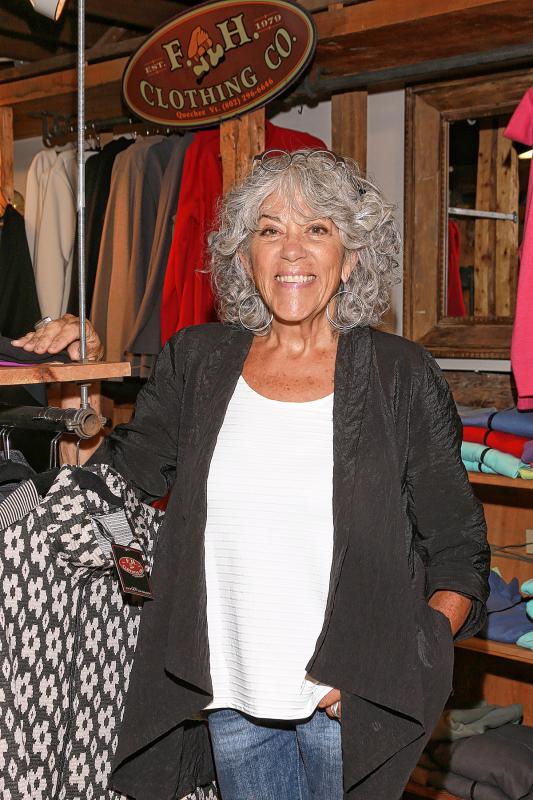 F.H. Clothing Co., known far and wide as Fat Hat Clothing Co., started in the late 1970s as a whim born of necessity. Joan Ecker built the business from scratch and still presides over the operation from its landmark barn at 1 Quechee Main St., just off Route 4 in Quechee. Over a lunch of salmon and apple cider, Ecker discusses her company's history, its approach to selling clothes and why she doesn't put a lot of stock in being "liked" on Facebook .
Retail business founders have to be a hardy breed: More than half of new retail businesses will fail within four years of opening.
Which makes my luncheon companion a very special businesswoman.
Joan Ecker, founder and CEO of F.H. Clothing Co., has been in business now for more than 34 years. It doesn't take too long to realize why: She understands her customers, her business model, and doesn't waste a lot of time on nonsense.
Take, for instance, the belief prevalent today that if a business does not have an online store and a robust social media presence it is losing sales — and money.
"Not true in my business," Ecker said emphatically. "Buying online is a hobby for many people. If they don't like what they buy, they just send it back. The return rate for online businesses is enormous. If you are a giant retailer, such as L.L. Bean or J. Crew, that may not hurt you. But for me, a small business, I've already spent the money you paid to buy our clothes."
To be sure, Ecker's business has a Facebook page and a website (www.fathat.com). But instead of just clicking and shipping, F.H. Clothing's online customers are asked to call the store to talk with a customer service representative when placing an order.
"We want you to tell us how tall you are, what kind of a fit suits you, do you like dresses that are loose at the top, and so on," she said. "In this way, we build long-term relationships and cut down on returns enormously."
Ecker said she is not convinced that online interest and social media activity translates into sales for a company like hers. "I don't want you to 'like' me on Facebook or Instagram," she said. "I want you to buy my clothes."
Ecker and I are talking at the Simon Pearce Restaurant, not far from F.H. Clothing's store in Quechee. We've just ordered lunch — a salmon dish for her, and a large salad for me, with some of the restaurant's excellent nonalcoholic, fresh apple cider — and I am fascinated with this hands-on executive.
"We manufacture about 25,000 pieces of clothing a year, all of them by a company in New York," Ecker said. "I decided long ago that manufacturing overseas was not for us." That's because, in addition to the Vermont-based business niche, Ecker said she wants F.H. Clothing to be known as a "Made in America" company. At a recent show in New York, she said, people would stick their heads in her showroom and ask, "Made in the U.S.A.?"
"I say 'yes,' and they walk right in," she said.
F.H. Clothing's sales are evenly divided between retail and wholesale. The Quechee store and craft shows are the retail side of the business. The wholesale operation is conducted by three sales representatives, one each for New England, Chicago and the Pacific Northwest.
That alone shows how far Ecker and F.H. Clothing have come from the days nearly 40 years ago when she and her young daughters drove from craft show to craft show selling her hats out of a barrel that doubled as a display stand.
After going through a divorce, Ecker said, she had to find a way to support herself. Her mother sent her pieces of wool and asked her to make something out of them. With no pattern, no experience and "not much talent," as the company's website describes it, Ecker decided to make a hat: "a foldable, rollable, shapeable, fit-any-size, hat." Her mother, a copywriter in New York, wrote instructions for wearing it.
A reporter for The New York Times saw Ecker wearing one of her hats at a show, thought the instructions were funny, and wrote an article. That was the turning point. Ecker, who had never dreamed she would one day start her own company, was on the way toward building a successful business. At the start, Ecker recalled, she'd attend a craft show and sell a hat for $16. Today, F.H. Clothing Co. can sell $20,000 worth of goods during the course of a weekend show.
Fat Hat Clothing Co. eventually became F.H. Clothing Co., and the company now sells much more than just hats (which still go for $16) — everything from simple dresses and sweaters to jackets, shirts and "Spantaloons," which are leggings attached at the waist to a skirt, all made of "delicious fabrics" at prices that range from about $75 to about $140.
We've been enjoying our food and the scenery. The window near our perch gives us a sweeping view of the Ottauquechee River. We skip dessert and order coffee. I ask our server whether most of her customers have dessert at lunch. No, she said. "They save it for the weekend."
I ask Ecker what her life is like after business hours. She thinks it's funny that I think a small-business owner has a life besides the business. But now that her two daughters officially have joined the company — one manages the wholesale side, the other the retail business — she has more time. Ecker walks 3 to 4 miles a day, reads fiction, and kayaks. She enjoys her grandchildren and still is energized by the conversations with shoppers at her store.
So what's next for her, and for F.H. Clothing?
"The stores we sell through are changing hands as younger owners take over," she said. "How do I stay modern enough to still appeal to those established stores with new owners?"
To get economies of scale, a small store like F.H. Clothing has to buy its fabric before receiving orders. "That's a real challenge," she said.
Another challenge: Storing all that fabric. In the past, the shops in New York would be able to handle it. But as city property gets snapped up and turned into hotels, for example, the shops no longer have storage space. That means F.H. Clothing has to store the fabric here and ship it to New York every week.
And then there's the job of keeping the company's name in the public eye. After all these years, she asked, "can you believe only a small percentage of people in the Upper Valley know F.H. Clothing sells anything other than hats?" To remedy that, Ecker has decided to open a small store opposite Northern Stage's new theater on Gates Street in White River Junction.
"You have to be a marketer, you have to be an advertiser (and you have to be) a clothing designer," she said. "I am lucky I've got my two daughters who work for me."
Is Vermont a harder place in which to do business now?
"I don't think of the state of Vermont when I think of why my business is harder than ever before," she said. "I think of the state of the economy, the aging population of baby boomers who are our customers. Those are much more relevant to me. I committed myself to Vermont because of the culture and its niche name. I don't know if I'd be me if I was in Pennsylvania."