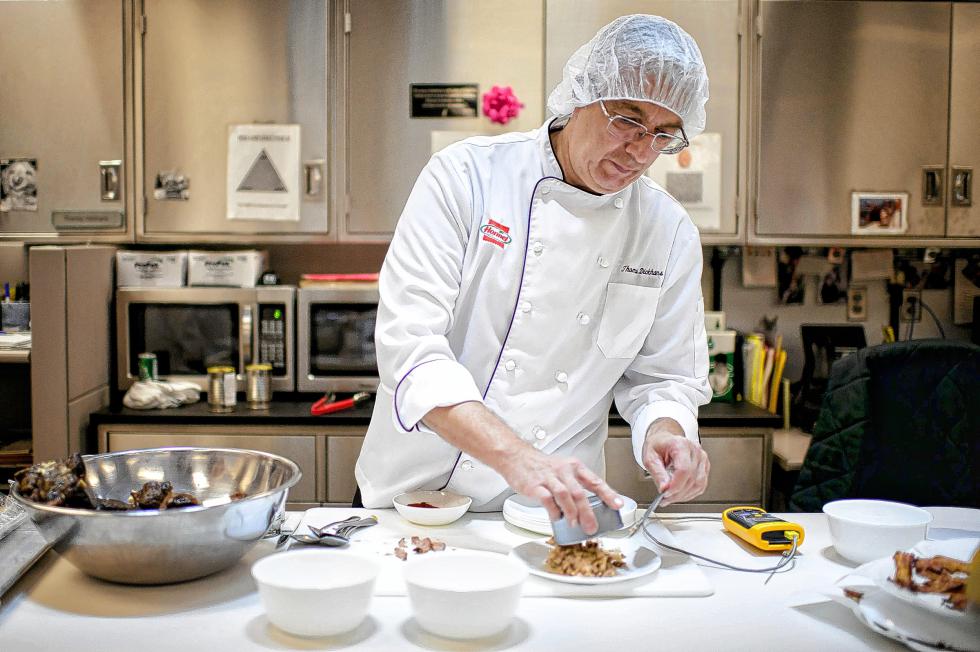 Austin, Minn. — Consumers are becoming more leery of processed foods, yet Spam is still plugging along. Hormel Foods Corp. is even introducing a dried, bite-size snack version of the 78-year-old paragon of processing.
At the same time, Hormel is crossing a new meat frontier — organic and natural — with its recent $775 million purchase of Applegate Farms.
While Spam Snacks is a small bet and Applegate Farms a big one, they represent Hormel's unique position in packaged food, which has kept it mostly free of the industry's malaise. Protein is in high demand from consumers, and the company, based in this city about 90 miles south of Minneapolis, specializes in it, from pork and turkey to peanut butter.
Hormel has bolstered its protein offerings by making three big acquisitions in the past three years: Skippy, Applegate and sports drink maker CytoSport.
Plus, the company continues to maintain its reputation for coming up with new products, including Spam Snacks and a new peanut butter snack called Skippy P.B. Bites.
"They have probably done a better job than any other food company in reading trends," said Brian Yarbrough, a stock analyst at Edward Jones. "What is hot right now in food is organic and protein."
Protein's Power
This year has been marked by a disaster of sorts in Hormel's Jennie-O turkey business. The avian flu that swept across Minnesota in the spring killed 9 million turkeys and chickens, wiping out a big chunk of Jennie-O's bird supply.
But the company is restocking its barns and doesn't expect the bird flu to cause its fiscal-year profits to fall below forecasts.
Despite the turkey woes, Hormel's shares have held up well, outperforming food industry peers this year and over the last five years for that matter.
And Hormel, which generates more than $9 billion in annual revenue, hasn't experienced the sales malaise of many other U.S. packaged foods companies, including fellow Minnesota company General Mills.
The industry's problem lies in the supermarket's "center store," home to more processed foods that are losing favor with some consumers. "Hormel is not as dependent on the center of the store as the likes of General Mills, Kellogg and Kraft," said Erin Lash, a stock analyst at Morningstar.
Notwithstanding its canned product lineup, Hormel has a stronger presence on the faster growing perimeter of the store, where meat, produce and dairy products reign.
Applegate's Appeal
New Jersey-based Applegate will not only add to that placement, but will allow Hormel to better tap the fast-growing organic and natural market. Applegate, whose products include hot dogs, deli meat and fresh pork, is the largest U.S. organic and natural meat purveyor with about $340 million in annual revenue.
Hormel's biggest challenge is preserving Applegate's brand — in other words, not mucking up a good thing with corporate dictates.
The minute Hormel announced the Applegate deal, it was suspect in the minds of some Applegate consumers, who see the company as part of Big Meat, antithetical to Applegate's mission.
Even now, more than two months after the deal closed, Applegate's Facebook page sports a few posts from customers slamming Hormel.
Last month, Hormel appointed two of its longtime executives, Steve Lykken and Eldon Quam, respectively as Applegate's chief operating officer and chief financial officer. Lykken is expected to become Applegate's CEO next spring.
But Applegate will largely operate as it has, said Hormel CEO Jeffrey Ettinger.
"We expect the team in New Jersey to run the business," he said. "They are the ones who have developed this great bond with their customers."
The Applegate deal also gives Hormel more exposure to younger consumers, as does its $450 million acquisition last year of northern California-based CytoSport, producer of Muscle Milk and other nutritional supplements made from whey protein.
Applegate and Muscle Milk — along with the Wholly Guacamole brand of Mexican foods Hormel obtained in 2011 — mark a significant demographic shift for Hormel, Ettinger said.
"It's a much younger profile than our core portfolio," he said.
Boosting Brands
Muscle Milk may seem out of Hormel's meaty comfort zone. But Hormel's Century Foods subsidiary in the southwestern Wisconsin town of Sparta was CytoSport's largest supplier for over 15 years. Muscle Milk is now produced in Sparta.
CytoSport had suffered from a lack of innovation, which Hormel has countered with new products, including an organic version of Muscle Milk. Hormel has also relaunched CytoSport's "Monster" brand of protein supplements.
Hormel also faced a dearth of innovation with Skippy — which it bought from Unilever in 2013 for $700 million.
Plus, it was a neglected brand.
Hormel last year began national advertising for Skippy for the first time since 2009. The company also beefed up Skippy's distribution to retailers.
"There were some markets where the distribution was very spotty," Ettinger said.
While Skippy is still a distant second to Jif peanut butter, data from Chicago-based food market researcher IRI show it has gained about 1 percentage point of market share since the end of 2013.
Ettinger said the Skippy acquisition has exceeded Hormel's expectations.
Hormel is capitalizing on the hot market for snacks by launching this month Skippy P.B. Bites, essentially peanut butter balls. The idea was to create a portable peanut butter product.
"People love the flavor of peanut butter," said James Splinter, Hormel's group vice president for grocery products. But on-the-go consumption is tough. "It's putting a spoon in a jar of peanut butter and carrying it around and eating it."
Hormel expects Skippy P.B. Bites to be available in half of the country by the end of this month, and a full rollout is expected in 2016. A national ad campaign is slated to begin in February.
Spam Snacks are in a similar vein to Skippy snacks, though packaged in single servings. Made with what Hormel calls a "proprietary dried meat technology," Spam snacks come in "classic," bacon and teriyaki varieties. They're rolling out now in Spam's strongest U.S. markets: the West Coast, Hawaii and the Southeast.
If bite-size dried Spam seems a stretch, consider this: The U.S. meat snack market is booming — think of beef jerky's rise to fame. And Hormel has a long track record of transforming basic stuff — turkey, pepperoni, and even crackers and cheese — into successful new items.
"Hormel is the best at developing value-added, convenience-based protein products," said Rob Moskow, a stock analyst at Credit Suisse. Spam Snacks and Skippy P.B.
Bites "are very much on trend with what consumers are looking for. There's a high probability that they will work."