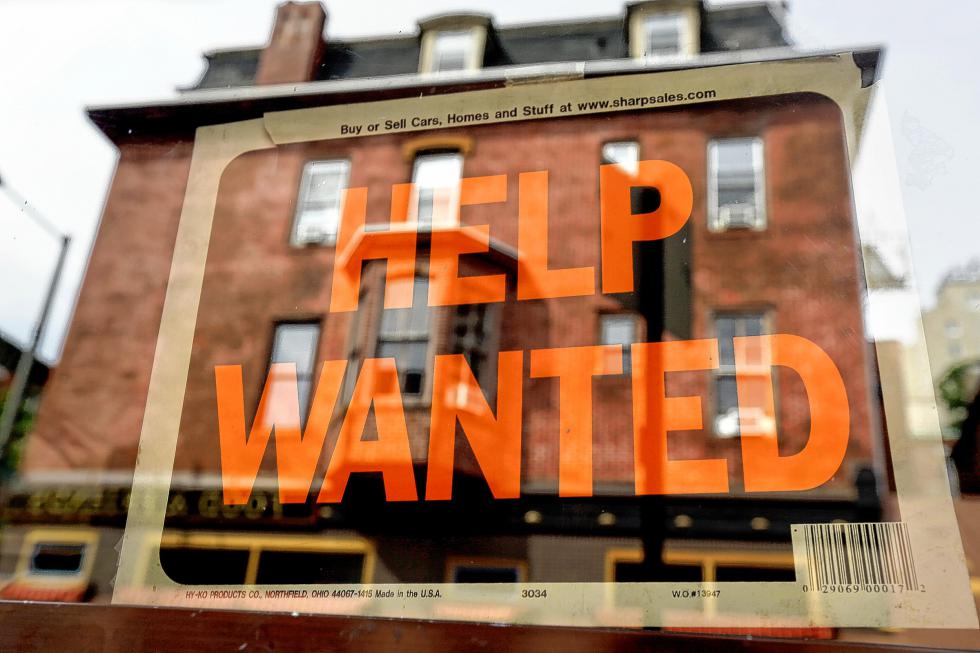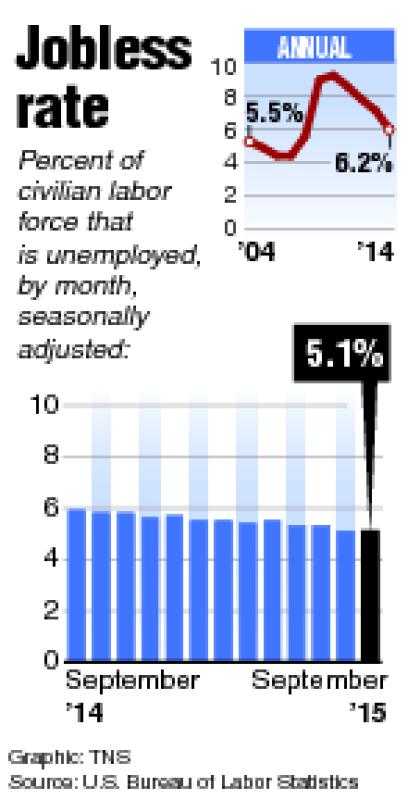 Washington — The U.S. job market no longer looks quite so robust.
Employers added a meager 142,000 jobs in September, the government said Friday. And the average job gain for each of the past three months — 167,000 — is well below the 231,000 average for the previous three.
All of which renews doubts about a job market in which steady hiring and the consumer spending it drives were expected to fuel continued healthy economic growth. But JPMorgan Chase now estimates that the economy grew at a mere 1.5 percent annual rate in the July-September quarter.
The economy occupies a sensitive spot as the Federal Reserve considers whether to raise interest rates for the first time in nearly a decade. Vulnerabilities in U.S. manufacturing reflect a struggling global economy. Wages still aren't growing much.
Still, some signs of strength remain. Unemployment is just 5.1 percent, down steeply from the 10 percent it reached after the Great Recession. The construction and sale of new homes have advanced this year, supporting evidence of solid consumer confidence.
Here are seven factors that explain the state of the job market:
Global Squeeze Tightens
For months, the U.S. job market cruised as the rest of the world struggled. Not so much anymore. Employers appear to be responding to some of the fears gripping the rest of the globe.
Demand for energy and commodities has slid as China's growth prospects have dimmed. Europe is struggling to sustain its growth. Emerging economies like Brazil are slumping. Fears of a worldwide slowdown, which shook the U.S. stock market in August, appear to have now spilled into the job market.
Oil prices have plunged, leading energy companies to cut jobs. The mining sector, which includes energy drillers, cut 10,300 jobs last month. Refiners of coal and petroleum lost 1,100.
The dollar has also risen in value against foreign currencies, thereby making U.S. goods costlier overseas and hurting U.S. manufacturers. Producers of metal products, machinery and computers — all key drivers of exports — shed a combined 10,800 jobs in September.
Global pressures infected other sectors last month, too, with job losses in wholesale trade and transportation.
Solid Gains for College Grads
The numbers show that employers want people with college degrees. The demand is part of a larger shift in the composition of the workforce: Nearly 35 percent of jobs now belong to college grads, up from 30 percent right before the recession began in December 2007 — an increase of 8.6 million jobs for the college educated. College grads also enjoy a scant unemployment rate of 2.5 percent, less than half the overall 5.1 percent rate.
Losses for the Less Educated
It's a brutal job market for people with only a high school diploma or no diploma at all. Employers have cut these workers over the past year. Unemployment for high school dropouts rose last month to 7.9 percent, putting it substantially above the overall rate. And the percentage of high school graduates who either have a job or are looking for one — their labor force participation rate — is at just 56.9 percent.
The participation rate for Americans as a whole is 62.4 percent, the lowest since 1977. The exodus of less educated workers — due either to retirement or discouragement — accounts for much of that drop.
Job Growth Slows
A hot streak in hiring appears to have ended. Friday's report downgraded estimated job growth for July and August by a combined 59,000. The July-August-September average gain of 167,000 compares with 324,333 in the final three months of 2014.
Some economists note that a decline in the pace of job growth was inevitable because it had been exceeding population growth.
"The question is whether wage growth can pick up the baton," said Gregory Daco, head of U.S. Macroeconomics at Oxford Economics.
Weak Incomes
Pay growth has been close to stalling. A result is that many consumers are hesitant to spend more of their paychecks, thereby preventing the economy from accelerating.
The pattern of tepid earnings growth defies what should normally happen when unemployment falls. Lower unemployment tends to reflect a competitive job market, and companies must usually raise pay to draw enough qualified workers.
But average hourly wages have risen a subpar 2.2 percent over the past 12 months. In September, workers earned an average of $25.09 an hour.
"The bottom line is you've got less spending power from the American consumer," said John Silvia, chief economist at the bank Wells Fargo.
Few Layoffs
Despite high-profile layoff announcements by Caterpillar and Wal-Mart, most employers aren't panicking by slashing jobs. Applications for unemployment benefits — which reflect the pace of layoffs — totaled just 277,000 last week. That level remains near historic lows, evidence that many businesses expect their customer demand to remain stable and the U.S. economy to expand for a seventh straight year.
More Full-Time Workers
All the net job growth over the past 12 months came from full-time workers.
Their ranks have swelled by 2.8 million. Conversely, there are 630,000 fewer part-time employees now.
The decline in the proportion of part-time jobs has occurred because more Americans have managed to work 35 hours or more each week, meeting the definition of a full-time employee.
The additional full-time workers represent a source of strength because they have more income to spend.
The rise in their ranks is helping mend some of the lingering damage from the Great Recession, which forced a historically high proportion of workers into part-time positions.