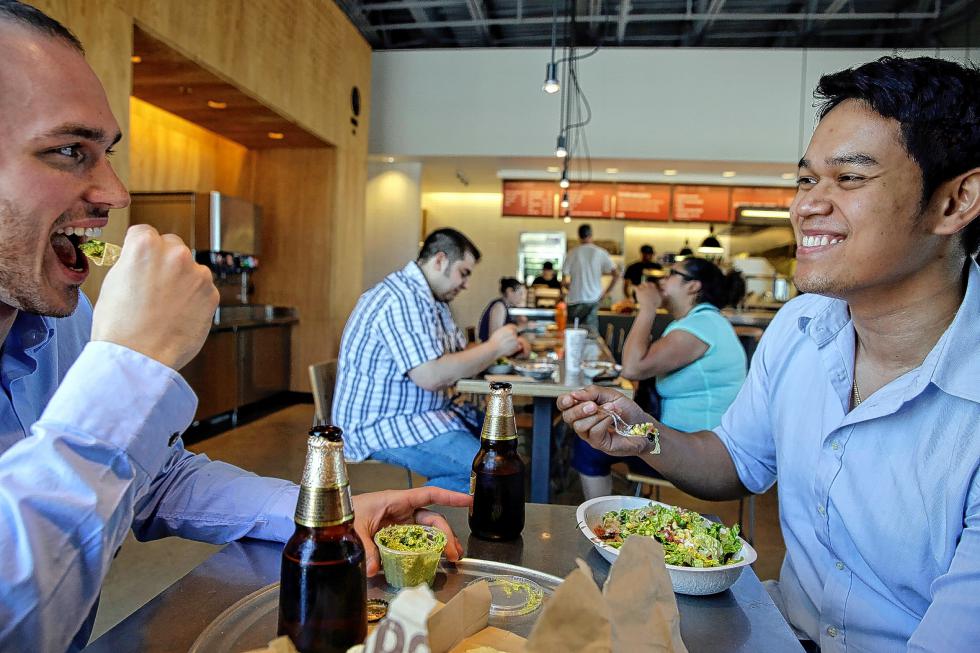 Dallas — They're adding exotic sauces and electrical outlets, donning Twitter handles and serving shareable plates.
Restaurateurs have gone a-courtin'. The target that chains across the spectrum are wooing? Millennials, the 83.1 million Americans born between 1982 and 2000 who now represent the largest single age group in the U.S.
While some studies show this demographic (also described as 18- to 34-year-olds) dramatically cut back on restaurant visits during the recession, they are now making a dining room comeback.
Which chains prove the most alluring in the short term will impact sales far into the future.
"The millennials are a big part of where we are today, and they're a growing piece," said Rich Hicks, chief executive of the Mooyah Burgers, Fries & Shakes chain, based in suburban Dallas. Millennials make up about 35 percent of his customer base, up from 25 percent a few years ago.
"I think it's important to understand them today," Hicks added, "in an effort to grow with them, or for them to grow with us, through the years."
On a sunswept Saturday, toting a half-full bottle of Powerade, Gladstone Tucker entered a Dallas-area Chipotle and joined a line that stretched to the door.
Flashing a broad grin, the 30-year-old said he would "eat here every day if possible. I'm not kidding."
Like many of the millennials in the nearly full dining room, Tucker said he's drawn by the freshness of the food — a key lure for that demographic.
"There's nothing fried," Tucker added. "I feel it's healthier. As millennials, we like to know what we're getting."
Chipotle spokesman Chris Arnold said he did not have stats on what portion of the customer base falls into the millennial camp but added, "it's a sizable percentage."
"Our business operates around a set of values that just resonates with that demographic," he said.
That demographic has an estimated $200 billion in annual buying power, according to Forbes. (Although the U.S. Census Bureau describes millennials as born between 1982 and 2000, other definitions stretch the category from the late 1970s to 2000.)
Chipotle a Favorite
Technomic, a Chicago-based restaurant research firm, surveyed nearly 135,000 restaurant consumers and found that among patrons who reported visiting Chipotle at least once a month, 49.1 percent were what it counts as millennials — those born 1977-1992.
Based in part on its appeal to millennials, Chipotle is the darling of Wall Street, with a stock price of more than $700 a share and a store count that's grown to nearly 1,900. Chipotle's U.S. 2014 sales grew nearly 28 percent to more than $4 billion, according to Technomic.
The limited-service chain on the Technomic survey with the highest concentration of millennials (not including sit-down restaurants) was Dallas-based Pollo Campero.
Nearly 70 percent of Pollo Campero's monthly diners are millennials, the survey found.
"This is a great place to be because obviously this is the consumer group of the future," said Tim Pulido, president and chief executive of Pollo Campero International. "As they embrace your brand, that bodes well for our future growth."
Pulido estimates that nearly 60 percent of his customers are millennials.
That's partly due to the heritage of the Latin-theme chain, which offers grilled and fried chicken with sauces such as creamy cilantro lime and guava barbecue. The brand was born in 1971 in Guatemala. Fully half of the customer base is Hispanic, according to Pulido. That demographic tends to skew younger.
In addition, Pulido thinks millennials like the brand's authenticity, moveable seats that facilitate large gatherings and the freshness of the food.
"We literally are boiling the beans in the back," he said.
To raise the brand's appeal, the company is updating the restaurants' appearance to give them a "brighter, more vibrant (look) that moves the brand into the 21st century," he said.
Many of the locations have added free Wi-Fi, and the company is looking into offering online ordering and providing more electrical outlets to power up millennials' electronics.
Bitter Recession
So far, popularity among millennials doesn't automatically mean a chain is rolling in dough.
Pulido acknowledged that Pollo Campero went through a "retrenchment" in 2007-09 and closed a number of underperforming stores. At least part of the sales decline, he said, was from millennials cutting back during the recession.
"Prior to the Great Recession, they were the heaviest users of restaurants," said Bonnie Riggs, a restaurant industry analyst with research firm NPD Group. "They got hit hardest by the recession with high unemployment (and) student debt. From 2008 to 2015, millennials have cut back per person (by) 50 visits."
Considering the size of the group, she said, "that's a lot of lost volume."
The cutbacks were felt most acutely at traditional fast-food restaurants, a group that includes McDonald's and Burger King, and at traditional casual dining restaurants, a segment that includes chains such as Chili's Grill & Bar and TGI Fridays.
"While they cut back tremendously on visiting traditional fast-food restaurants … they've increased their visits" to fast casual restaurants, Riggs said.
That rapidly growing segment includes Mooyah, Pollo Campero and Chipotle.
In 2014, Pollo Campero's sales gained 17 percent.
Traditional fast-food companies, including Yum Brands, the parent of Pizza Hut, have experimented with launching fast-casual concepts and adding higher-end items to their menus.
Arnold, the Chipotle spokesman, said that chain has not tailored the menu or the design of the restaurant specifically to millennials.