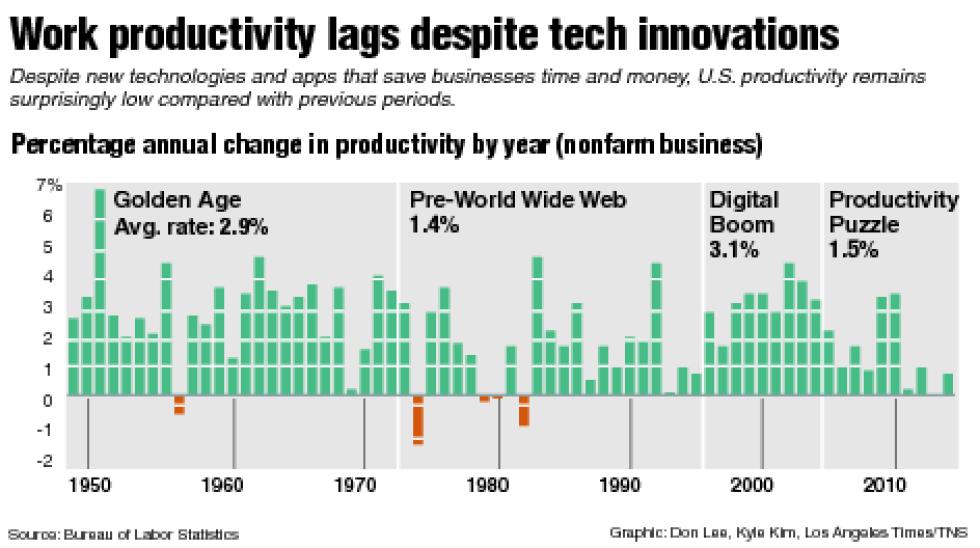 Washington — Leroy and Lauri Dixon used to plow $40,000 a year into promoting their party-supply business in a dozen telephone books. Today they spend $4,000 less and reach a lot more people by advertising on Google, Yahoo and Bing.
Also gone are the house calls to potential customers; the Dixons and their staff of 15 at Party Plus Tents & Events now get leads through Facebook, Instagram and other social media.
Technology has changed the back office too. Leroy Dixon deposits checks from his desk with a scanner. Specialized software enables the firm to track every canopy and chandelier it owns, while also emailing purchase contracts instantly to clients. Deliveries are more reliable now that company drivers have GPS devices.
Yet sales this year at Party Plus won't quite reach the $2 million hit in 2007, when the Baltimore-area business wasn't using most of these time- and money-saving systems, and had two fewer employees.
That's partly due to the slow recovery, but the Dixons' predicament reflects a phenomenon that's afflicted the broader U.S. economy: Despite impressive innovations, new gadgets and applications that have transformed the way people do business and consume goods and services, the nation's productivity gains have been paltry over the last decade.
Economists call this the productivity puzzle, and it has sparked sharp debate between those who see the trend as more or less permanent and others who are more optimistic. Raising productivity — or output per work hour — is generally the key to lifting wages and living standards over the long term. Sluggish productivity growth helps explain the long-stagnating incomes of most Americans. It's also partly behind many analysts' projections for mediocre economic growth and expectations that the Federal Reserve will keep interest rates below historical levels for years to come.
"The U.S. productivity slump is the No. 1 economic problem," said Paul Ashworth, chief U.S. economist for research firm Capital Economics.
America had a golden age of productivity from 1948 to about 1973. During that quarter of a century, U.S. productivity on average rose at a robust rate of about 3 percent a year, thanks to a wide array of technological advances and innovations, some rooted in wartime activities. These included the development of the transistor and semiconductor, new polymers and synthetics that boosted production of chemicals and medicines, the completion of the interstate highway system and major improvements in air and rail transportation.
But since then, except for a relatively short period between 1996 and 2003, productivity in the U.S. has grown by just half that pace a year, on average. The difference is huge: Annual productivity increases averaging 3 percent mean the U.S. standard of living would double in 24 years. At 1.5 percent growth a year, it would take 47 years.
Some of the low gains in recent years may stem from the Great Recession. The severe economic downturn led to a credit crunch, hampering startups and innovations. Many firms also cut back on spending for new equipment and software, as well as for worker training — all factors affecting output and efficiency.
But the productivity slowdown began well before the Great Recession in 2008 and 2009, said John Fernald, an economist at the Federal Reserve Bank of San Francisco and a leading expert on the subject. Fernald research's found that the falloff in productivity growth was concentrated in producers of information technology and those industries that make heavy use of it, including telecommunications and wholesale trade.
What that suggests, he said, is that although the digital revolution brought sweeping changes in the way wholesalers, for example, manage supplies and organize their operations, the big gains in output petered out after a few years.
"By the mid-2000s, the low-hanging fruit of IT-based innovation had been plucked," he said.
Leroy Dixon's experience generally line ups with this pattern. The 54-year-old started Party Plus in 1994 with one full-time employee and two part-timers. He remembers how much business improved in those early years, after the couple was able to computerize orders and inventory and expense management. "What it allowed us to do was to take on more work and grow the business," he said.
But in more recent years, the Dixons have found it harder to wring productivity improvements even with the massive computing power they now possess in their laptops and iPhones. And they've learned that harnessing new technologies also brings new challenges.
For example, one of Party Plus' fastest-growing services is setting up wedding parties, largely because of Instagram, where people can flip through photos of the company's reception decor and table settings. But there's a catch: Customers booking on the Internet are requesting increasingly shorter lead times, which makes it harder for the Dixons to plan ahead and prepare the supplies and labor needed for each job.
"Some of the changes that at the same time seemed to make you more productive actually cut from it," Leroy Dixon said. He noted that it took Lauri about a year to work out the kinks in new software the company bought for $40,000 in 2008 — and it's not much better than the earlier-generation program. Then there's today's workforce, which the Dixons, like many small business owners, say needs to be better trained and more committed before U.S. productivity can return to its glory days.
"It's probably going to take time, but the productivity increases will come," he said.
Robert Gordon, an economics professor at Northwestern University, has a more pessimistic view of things. He argues that the development of the computer and Internet hasn't been the game-changer seen during America's two industrial revolutions in prior centuries — the first powered by the steam engine and cotton gin, and the second by electricity, the internal combustion engine and indoor plumbing. Meanwhile, today's rising economic inequality and large private and public debts are tamping down growth in the economy and productivity, he said.
But there are also reasons to be more hopeful. The percentage of adults with four or more years of college has continued to tick higher over the last decade. Despite federal budget cuts, total U.S. spending on research and development has rebounded in the last three years. And a wave of innovations and technological advances — machine learning, driverless cars, nanotechnology and 3-D manufacturing, to name a few — offer promise of significant productivity-enhancing changes in the years to come.
Some economists suspect the problem lies in measurement, and that perhaps productivity is improving in ways that are not being reflected in the statistics. The value of social media and the digital economy aren't captured well in output measures based on a decades-old economy driven by manufacturing.
Even so, most analysts doubt that better measuring tools would dramatically change the overall story line of sluggish productivity.
Future productivity will depend on what happens with new-business formation, government spending for infrastructure and business investment in machinery and software, all of which have been relatively weak in recent years. "Labor has been so cheap that businesses didn't have incentive to invest in labor-saving technologies," said Mark Zandi, chief economist at Moody's Analytics.
There are signs that's starting to change.
A little more than two years ago, Iddo Benzeevi's firm, Highland Fairview, built and installed advanced warehouse equipment at a 1.8-million-square-foot Skechers facility in Moreno Valley, Calif. Previously, the shoe company had 1,100 year-round distribution workers who, driving down aisles with forklifts, picked up and stacked 7,000 boxes an hour. Today, dozens of robotic cranes in the new Skechers warehouse make it possible to move triple the number of products with 400 fewer workers.
Benzeevi said he thinks it's only a matter of time before more companies make such investments — and that when that happens, what had been trickles of improvements in productivity will turn into bursts of growth.
"It's all coming together, but not in one day," he said, noting that before e-commerce took off, people had to wait for the Internet to spread, for greater bandwidth, for secure websites, for software for banks and merchants to handle transactions. "You need to have all the incremental gains first."
One of the advances that Benzeevi thinks could be transforming for his industry are driverless, or autonomous, trucks, the first of which have been approved in Nevada. "Or maybe, there'll be Uber for distribution, to transport goods," he said, referring to smartphone riding-sharing app.
"It's not always predictable," he said.