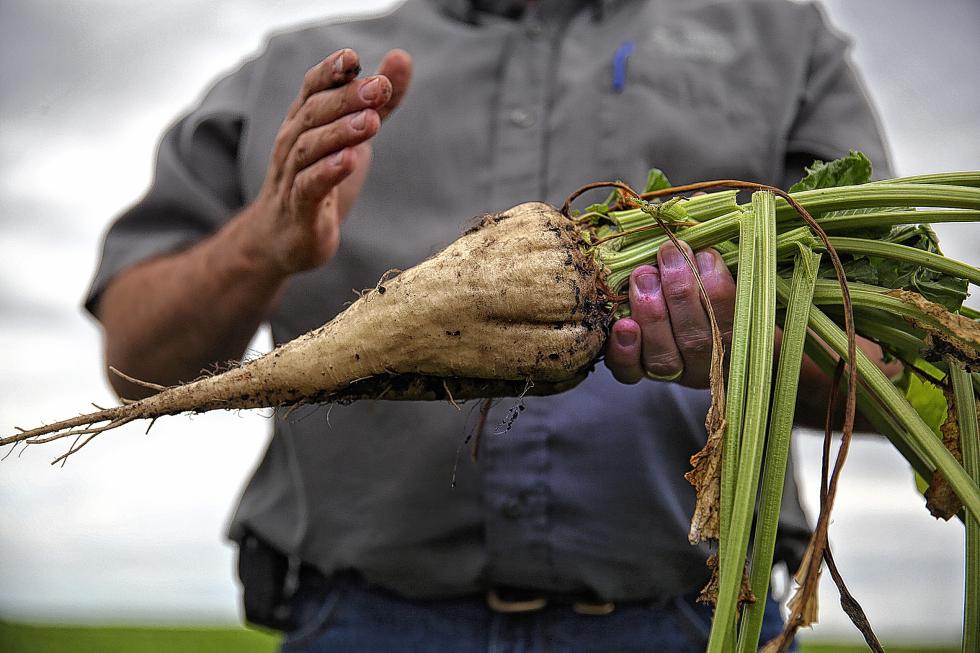 Minneapolis — Minnesota sugar beet growers are looking at one of their best crops ever this fall, and they may even need to leave some of the harvest in the ground because of its abundance.
Success for the farmers means more delight for your sweet tooth because the sugar in ice cream, cereal, soda and thousands of other food products comes from sugar beets, not sugar cane. More than half the sugar produced in the United States comes from sugar beets, and Minnesota is by far the nation's leading producer of the homely but valuable tuber.
October marks the frenetic harvest of the beet on about 635,000 acres in Minnesota and eastern North Dakota, as growers work through the day and into the night to pluck the beets out of the ground and get them onto trucks headed to factories. Once there, the beets, which are typically 2 pounds but range to the size of small melons, will sit in stockpiles more than 20 feet high and hundreds of feet long for weeks or even months, waiting to be processed into granulated sugar.
"It's a lot of movement, a lot of people and a lot of labor," said Tom Knudsen, vice president of agriculture at Minn-Dak Farmers Cooperative in Wahpeton, N.D. "It's crunch time."
Sugar beet growers this year are heartened that their crops are among the best in recent years, thanks largely to an early start to the growing season and adequate rains during the summer, said Mohamed Khan, professor and extension sugar beet specialist for North Dakota State University and the University of Minnesota.
"Right now, most of the factories are processing at full capacity," Khan said. "Word is we'll have one of the top three crops in terms of tonnage." Also key is the sugar content of the beets, he said, which is often between 16 and 18 percent.
Success Could Trickle Down
As of last week, federal officials estimated that the state's sugar beet harvest was 52 percent complete, one week ahead of average, and rated the crop's condition as 85 percent good to excellent.
A healthy crop would be a welcome relief for growers, who had unprofitable seasons in 2013 and 2014. The beet sugar industry generates nearly $5 billion in total economic activity in Minnesota and North Dakota, according to a 2012 study by North Dakota State University. North Dakota ranked third in the nation for sugar beet production last year, following Minnesota and Idaho.
Beets Could Cause Bottleneck
The prospect of a bumper crop of sugar beets in 2015 is a mixed blessing for the three farmer cooperatives that grow and process sugar beets in Minnesota and eastern North Dakota.
"This is the first year where we've run into this problem where we're concerned that we'll have more beets than we can process," said Todd Geselius, vice president of agriculture at the Southern Minnesota Beet Sugar Cooperative near Renville, about 95 miles west of Minneapolis.
The co-op's 500 shareholders grow sugar beets on about 120,000 acres in Minnesota, and this year they were warned that they may need to set aside a portion of the crop and leave beets in the field. Whether all of the crop is harvested will depend on how many tons of beets per acre are part of this year's crop, Geselius said.
"We're going to work very hard to try and be able to harvest all of the beets," he said. "If we leave any, it won't be much at all."
The reason too many sugar beets can be a problem is that they continue growing until harvested and are only valuable for their sugar content.
"It's not like raising wheat or corn or soybeans where you deliver to the elevator and whether the market is in Indonesia or California or just up the street, it'll find its home," said David Berg, president and CEO of American Crystal Sugar in Moorhead, just outside Fargo, N.D. "For sugar beets, you have to have a processing infrastructure to make it something that you can move and create value in, and that's located close to the fields."
Crystal Sugar's 2,800 shareholders are growing about 400,000 acres of sugar beets on 700 farms this year, Berg said.
The Southern Minnesota co-op started processing beets on Aug. 10, the earliest date ever, said Geselius, because of the earlier-than-normal planting and the large crop. Around the clock, trucks deliver 650 tons of beets per hour from the beet piles to the immense processing plant. A series of machines tumble, wash and slice the beets into narrow strips before using hot water to diffuse the sugar out of them. The weak sugar water is purified and filtered in several steps, before boiling and evaporation concentrate it into a progressively thicker juice that's transformed into about 3 million pounds of crystallized sugar every day.
"It's a very energy-intensive business," said Kelvin Thompsen, president and CEO of the Southern Minnesota Beet Sugar Co-op. "We have to handle 24 ounces of water to get 4 ounces of sugar out of every beet, on average."
'Hold Your Breath' Until Sold
Good crops are one thing, Berg said, but prices are another.
"We're not sitting with wonderful prices, but we're sitting with prices that are dramatically better than they were just about two years ago," he said.
Whether sugar prices remain relatively stable could depend partly on the final outcome of a trade dispute, Berg said. The U.S. sugar industry has charged that Mexico illegally dumped sugar into the U.S. market.
Dave Schwerin, who grows sugar beets, corn and soybeans in Yellow Medicine County about 30 miles southwest of Renville, said that if this year's beet crop is profitable, it may help defray expected losses that he and others are expecting because of low corn and soybean prices.
As vice chairman of the Southern Minnesota Co-op's board and a sugar beet grower since 1999, Schwerin said he's learned to be cautious about finances.
"We've had the best sugar beet growing season virtually ever seen, but until the factory gets them processed into granulated sugar and it gets sold, you just hold your breath," he said.