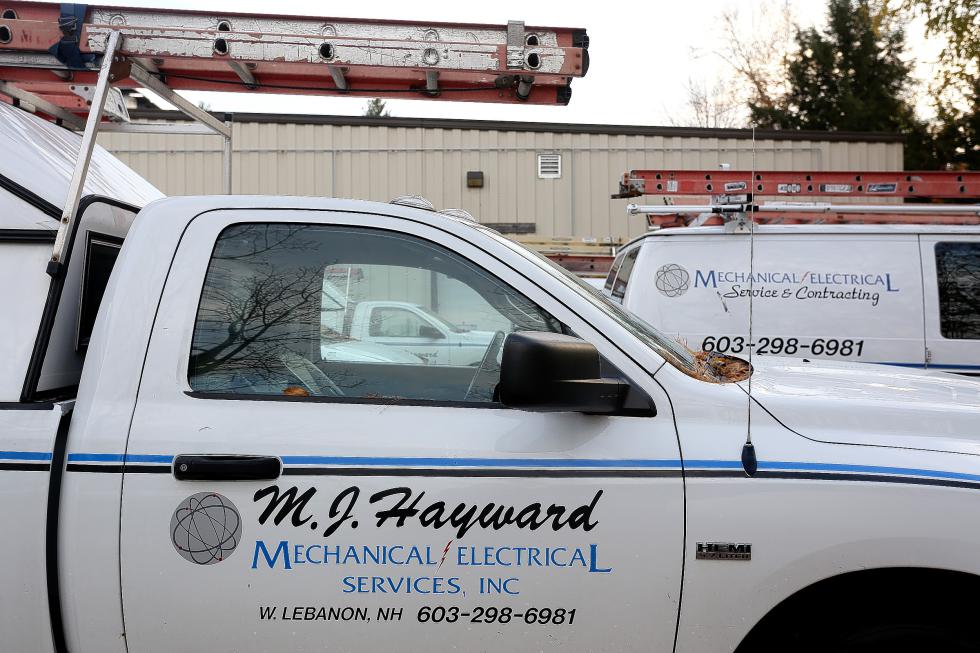 West Lebanon — One of the Upper Valley's best-known heating, ventilation and air conditioning contractors filed for bankruptcy Thursday after the contractor's bank account was frozen as a vendor sought to recover money owed for the purchase of supplies.
M.J. Hayward Mechanical/Electrical Services Inc., which has serviced a long list of the area's businesses, institutions and homes, filed for Chapter 7 relief after showing steadily declining revenues over the past three years. The company's owners, Michael and Alison Hayward, of Grantham, also filed for personal bankruptcy on Thursday under a Chapter 13 proceeding.
Both filings show that Blodgett Supply Co. in September obtained a $175,000 lien on the Haywards' business and Grantham home.
The setbacks come at a vulnerable time for the West Lebanon HVAC company, which last year experienced a severe loss when Michael Hayward Jr., who had been assuming an increasingly key role in management, took his own life. He went missing in February 2014; his body was found in April of that year in Hartland.
Overt signs that the business might be in trouble became apparent earlier in the month when M.J. Hayward closed its doors without warning and vacated its offices on Commerce Avenue near the Lebanon Municipal Airport. Since then there has been no answer at the company's telephone number and no information has been posted on its website or Facebook page. Multiple efforts to reach the company's president, Michael Hayward Sr., for comment have been unsuccessful.
Granite Group Wholesalers, a Concord-based wholesaler of plumbing, heating, cooling and water supplies, filed a complaint in New Hampshire Circuit Court in Concord on Oct. 19 alleging that M.J. Hayward owes Granite Group about $19,000 for the sale of "various goods." On the same day, Granite Group was also granted a petition to freeze $24,000 in M.J. Hayward's account at Lake Sunapee Bank in Newport, N.H.
In its complaint, Granite Group Wholesalers alleged that M.J. Hayward entered into a credit agreement with the wholesaler in 2013, took delivery of more than $19,000 worth of goods on credit during 2014 and 2015, and failed to pay for them.
A spokesman for Granite Group declined to comment. Its petition is now moot since M.J. Hayward's assets are now tied up in the federal bankruptcy court.
News of M.J. Hayward's closing has been circulating over the past 10 days among Upper Valley HVAC contractors and equipment suppliers. Most said they had only limited information.
"Yeah, I heard about a week ago that on (Oct. 8 Hayward) told employees to 'collect your personal stuff and return the trucks at the end of the day,' " said Jody Perkins, president of ARC Mechanical Contractors in Bradford, Vt.
Some former M.J. Hayward employees have since applied for work at ARC Mechanical, Perkins said.
Eleven company trucks remained parked behind the loading dock in an undisturbed lot strewn with wet leaves last week at M.J. Hayward's Commerce Avenue offices. The company's sign rests inside a darkened lobby. The offices have been largely cleared of contents. Window shades are drawn.
In the corporate bankruptcy filing, M.J. Hayward listed a total of about $1 million in liabilities and about $187,000 in assets. Liabilities included about $631,000 in secured claims, of which about $422,000 is loans owed to Mascoma Savings Bank and $175,000 is the lien judgment secured by Blodgett Supply Co. About $395,000 was listed in unsecured claims.
The filing also showed that M.J. Hayward's revenues fell from about $1.8 million in 2013 to about $1.6 million in 2014 to about $988,000 so far for 2015.
In the Haywards' personal bankruptcy filing, the couple listed assets of about $1.1 million and total liabilities of about $1 million. The filing also showed a nearly 50 percent drop in personal income during the past year.
According to the company's website, Hayward operated the business, which was founded in 1997, with his wife, Alison, who served as treasurer and corporate secretary, handled the books and managed the office; and his son Justin, the service manager and vice president.
The family together had more than 85 years of experience in the heating, air conditioning and ventilation industry.
M.J. Hayward operated out of an 11,000-square-foot facility at the Lebanon Business Park, where the company was able to undertake custom sheet metal fabrication and conduct "one-stop shopping" for resident, commercial and industrial design, sales and maintenance of HVAC and refrigeration systems, the company's website said.
Over the years, the company served as an HVAC contractor for a long list of Upper Valley businesses and institutions, including Hypertherm, Colby-Sawyer College. Cardigan Mountain School, Wal-Mart, TJ Maxx, Panera Bread, Staples, Decato Law Office, Dartmouth-Hitchcock Medical Center, CRREL, Dartmouth College's Geisel School of Medicine, Eastman Community Association, Town Fair Tire Center, Kleen Laundry, Lebanon College, Jiffy Mart and the Center for Cartoon Studies, according to the company's Facebook page .
The West Lebanon company even received worldwide recognition in April 2012 when it appeared in the cover photograph of the trade journal Plumbing & Hydronic Contractor News for a story about the work it did on the geothermal heat pump system at the Eastman Community Association's South Cove Activity Center.
Former employees said M.J. Hayward's business has tapered off in recent years — the company's website notes it has "at least 20 vehicles," as compared with the 11 parked at its site last week — and that Michael Hayward appeared to be preparing to hand the business over to his sons, Michael Jr. and Justin. But the Hayward family and business suffered a deep loss last year when Michael Jr. died, people familiar with the family said. The death was followed by a sharp falloff in the regular news updates about M.J. Hayward's business on the company's blog and Facebook page during the year.
"We were the largest in the area," said John Chaloux, who retired as service manager from M.J. Hayward last fall after working at the company for "some 30 years." He said that by the time he left the firm was down to about 15 employees compared with "40 or 50" at its peak.
Despite the setbacks, however, signs were pointing that M.J. Hayward planned to continue operating.
On Nov. 4, 2014, M.J. Hayward posted on its Facebook news feed that "we are under new management and wanted to let everyone know that we are still here. M.J. Hayward wants to thank all of our supporters as this year has (posed) its challenges. New pictures and updates of what we are doing will (be) coming up soon."
The company's last Facebook page update was about a project it completed at the Lethbridge Lodge dining hall at Colby-Sawyer College in New London. It was posted on Dec. 31, 2014.

John Lippman can be reached at 603-727-3219 or jlippman@vnews.com.