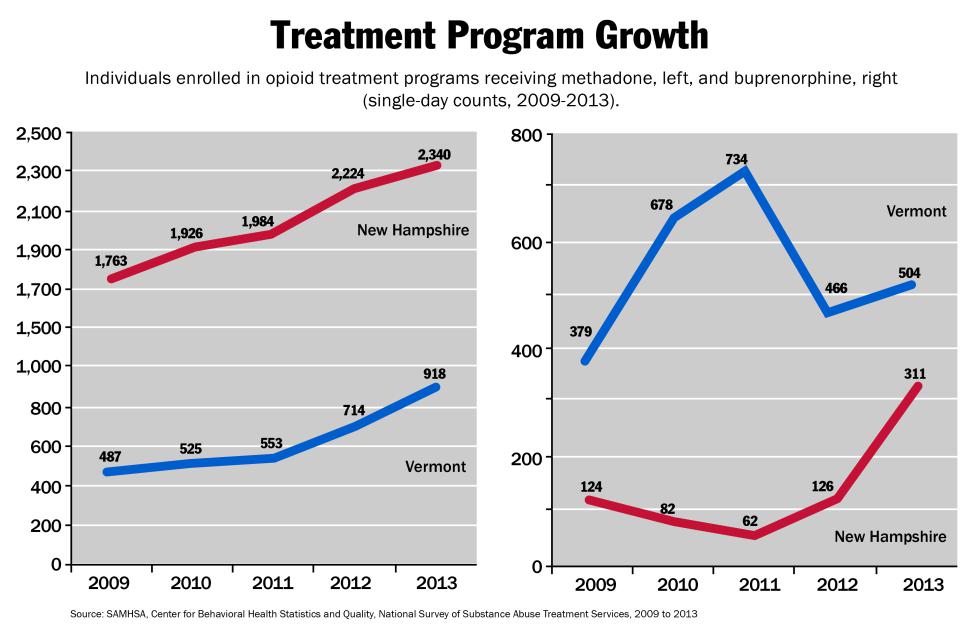 Long touted as a great place to live, the Upper Valley, like many New England communities, continues to struggle with what experts unanimously agree is an epidemic of logic-defying proportions: heroin addiction. However, unlike the last major epidemic of 50 years ago, today's addicts aren't inner-city junkies. Rather, they are all of us: moms and dads, friends and neighbors, teenagers and young adults from loving families and small, close-knit communities.
For our community, the result is this: More people are addicted to drugs, more people are dying from drugs, and our communities are seeing an increase in crime related to drugs, whether perpetrated by addicts trying to find money for their next hit or a dealer teaching a hard-up customer a lesson.
Though he'd never given the justice system much thought, Anibal Sepulveda, who leads the North American marketing team for Hypertherm, found himself at the Southern State Correctional Facility in Springfield a little less than four years after arriving in the Upper Valley. Fortunately for Sepulveda, he wasn't there for a drug offense, but instead as part of the Leadership Upper Valley program from Vital Communities, the White River Junction-based nonprofit that brings people and organizations together to address regional opportunities in the areas of agriculture, energy, transportation, economy and community leadership.
The program, which gives current and emerging Upper Valley business and community leaders an up-close look at regional issues, was at the prison for Justice Day, a day designed to give participants a better understanding of the region's justice system.
"We added Justice Day in 2013, the year Anibal participated in Leadership Upper Valley, and it has been one of the most profound days for everyone. It is eye-opening to understand how people in our community are struggling with these issues," said Stacey Glazer, who manages the Leadership Upper Valley program. "We can't just turn a blind eye because it's uncomfortable. It's important for business and community leaders to know what's happening and find ways to work together toward solutions."
A 'Skeleton in the Closet'
Sepulveda and his fellow Leadership Upper Valley participants spent the day touring the correctional facility and even talking to inmates. He was shocked by what he saw and heard.
"We all have this Hollywood picture of what addiction is, but it has nothing to do with that," Sepulveda said. "It's white-collar professionals, regular people like you and me. They have an accident, are over-prescribed painkillers, and before you know it, they're addicted."
"When you hear about the Upper Valley you hear about this wholesome life — skiing, hiking, it being such a great place to raise your children," he said. "But there is this great big skeleton in the closet."
After getting over his initial shock, Sepulveda began to ask another question: What are we doing about it?
The Leadership Upper Valley participants "all felt horrible at what we were seeing, but companies and people outside the core (the courts, prisons, and addiction centers) weren't doing anything. That's when I pretty much decided that if we were going to turn this experience into anything, we needed to start with Hypertherm."
Sepulveda said he didn't want to be alarmist or make his fellow associates uncomfortable. Instead, he wanted to help people understand the gravity of the situation and, at the very least, equip them to have a conversation about it. "Opiate use escalates to heroin, and then stealing, lying, prostituting, and finally death, so it's not a happy subject by any means," he said.
Assembling a Team
After Justice Day, Sepulveda returned to Hypertherm and formed a project team with 11 of his co-workers. That team then got to work planning events to educate about and increase awareness of the problem and providing resources for associates who wanted to do more. The team arranged "lunch and learns" during Hypertherm's different work shifts. Associates were invited to listen to drug experts and interact with counselors who discussed ways of starting a conversation about drugs with their children. "It's amazing how early the experimentation phase kicks in. We're talking 11- and 12-year-old kids — preteens, really," Sepulveda said. "Before you know it, they're having pill parties."
Sepulveda also assembled a presentation about the problem and then toured the company, working with team leaders to get in front of as many associates as he could. Sepulveda and his team's efforts culminated in June 2014 with a screening of The Hungry Heart, a documentary film shot in St. Johnsbury about Vermont pediatrician Fred Holmes and his work with patients struggling with addiction. After screening the film at Hypertherm, Sepulveda brought in people involved in the making of the film to speak with associates.
During this journey, Sepulveda heard from fellow associates who had been affected in one way or another by drug addiction. He knows there are many others and hopes to help bring similar efforts to other Upper Valley employers. He envisions a coalition in which employers all work together to increase awareness of the problem and support employees who need it.
"One thing that became clear on Justice Day is that our solution of putting people in jail is never going to fix anything," he said.
"As issues of fairness in the criminal justice system garner more national and statewide attention, truly understanding the system as a whole becomes critical," said Robert Sand, the Vermont governor's liaison to criminal justice programs, former Windsor County state's attorney, and organizer and host for Leadership Upper Valley's Justice Day. "Leaders cannot make informed decisions about just punishment and the need for incarceration without a clear sense of what it means to incarcerate a citizen. Spending a whole day looking at the criminal justice system from within a correctional center provides Leadership Upper Valley participants a unique perspective on this important and costly segment of society."
As for Leadership Upper Valley, which set him down this path, Sepulveda said it gave him "a good 360 of Upper Valley reality."
"I felt a sense of responsibility to both Hypertherm and the community and thought I should at least try to do something," he said.
Sepulveda is one of seven Hypertherm associates to go through the program, which requires a 10-month commitment, since it began in 2007. "Hypertherm supports the Leadership Upper Valley program and its work to develop community leaders because we believe participating associates will be more engaged with the many nonprofit resources in our community," said Stacey Chiocchio, Hypertherm's corporate citizenship manager. "They will be inspired to be more involved and better equipped to help solve the problems our rural community faces."
Editor's note: Applications for the Leadership Upper Valley Class of 2017 will be accepted starting in early 2016 at VitalCommunities.org/LeadershipUpperValley.