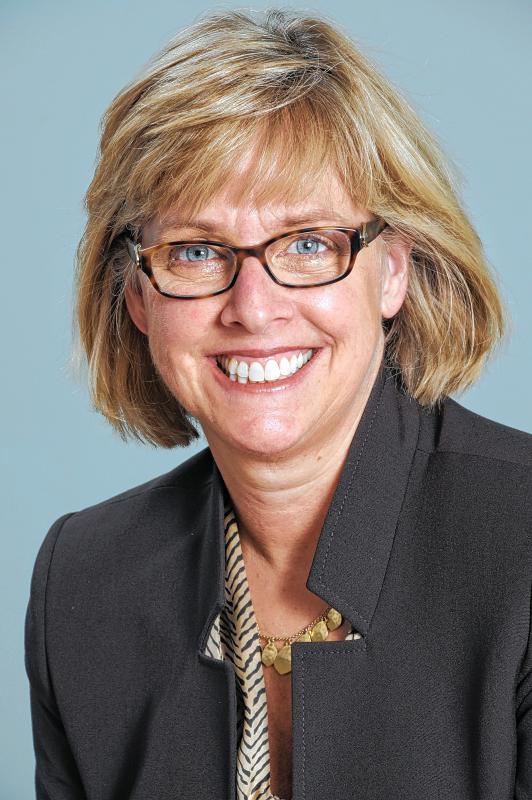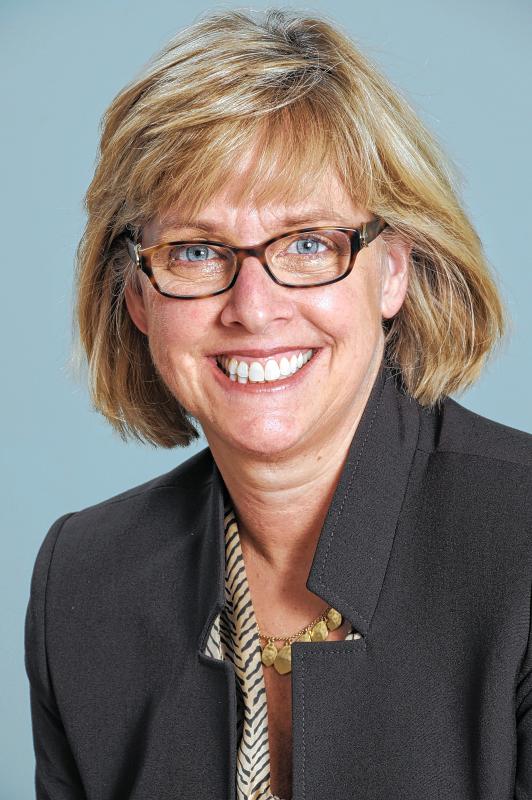 Over an arugula salad and coffee, the president and chief executive officer of Ledyard National Bank discusses how she started as a part-time teller, her work on the advisory board of the Consumer Financial Protection Bureau, and why she recently walked 18,000 steps in Washington, many of them in her hotel room.
Impressive and irreverent is how I'd describe Kathy Underwood, one of the Upper Valley's most prominent bankers.
"You did not come to my 10th work anniversary party last week," she says crossly as I join her at a table in the Hanover Inn Dartmouth's busy Pine Restaurant.
But I wasn't invited, I protest.
"Just pulling your leg," she says gaily. " It was a small celebration at our board meeting."
The celebration was richly deserved: Under her stewardship as president and CEO of Ledyard National Bank, the bank's wealth management division — Underwood's specialty — grew almost 50 percent, ending 2014 with $1.1 billion in assets under management. In 2014, the bank's revenue grew by $2.1 million to $22.6 million, a new high and the largest revenue increase in Ledyard's history. The bank's net income grew to $3.9 million, also a record high, while dividends more than doubled in a decade, as did total assets.
As I peruse the menu, one of Pine's courteous helpers trots up and asks if we are ready to order. Underwood selects the arugula salad. I ask guardedly about the restaurant's fried avocado salad, a new dish for me. Noticing my skepticism, the helper says it is one of her favorites and I should order it. I do.
Underwood, who recently was named the New Hampshire Bankers Association's Community Banker of the Year for 2015, came to her CEO position the old-fashioned way: She worked for it. Her father was an international banking consultant and the family moved frequently — Maine, Connecticut, New York, back to Maine — because of his job. She studied economics at the University of Southern Maine and took a part-time job in a grocery store. One day, her accounting professor told her she ought to be doing something that would advance her career — and working in a grocery store would not do that.
He personally arranged an interview with a local bank and Underwood was hired as a part-time teller. ("Make sure you put that in your column," she said, "because we are looking for tellers at the bank.")
By the time she graduated from college, she had grown to love banking and took a job as a loan and collateral clerk. She wound up in Key Bank's Wealth Management Department, then became the bank's district president.
After 25 years with Key Bank in Maine, Underwood moved to Ledyard because she wanted to run a smaller organization where the emphasis is more on clients than on shareholders. "At community banks, we know our communities, we know the people that work in our communities, we know the businesses, and we make decisions on lending locally," she said.
A March 2015 report by the Federal Reserve Bank of Richmond shows the number of community banks fell by 41 percent between 2007 and 2013. Even so, it turns out that most small-business lending in the country — 51 percent, according to a February report from the Kennedy School of Government at Harvard University — continues to be done by community banks.
"I love the fact that we have a role in keeping communities vibrant," she said.
I ask if the Upper Valley is economically vibrant. "Our area is in better shape than you'd think, as is our unemployment rate," Underwood said. "Area employers have jobs open right now, if they could find people with the right skills."
I notice the health tracker bracelet around her wrist. It's part of a healthy heart walking competition that her bank put together. "One of Ledyard's missions is promoting a healthier community through a focus on heart care," she said. The bank challenged three other area businesses — Hypertherm, King Arthur Flour and Alice Peck Day Memorial Hospital — to join a competition based on steps walked by participants.
"Our bank's marketing person found this cool website, and these bracelets automatically download our steps into that website every day. Competitors don't have to do anything but put it on and walk," she said.
And walk she does.
During a recent business trip to Washington, Underwood marched back and forth in her hotel room to keep the step total climbing while on a conference call. She had the phone on mute, and when someone asked her a question she found herself winded. "Excuse me, I need to catch my breath," she recalled saying. "I am getting my steps in, jogging up and down my hotel room."
"They thought I'd lost my mind," she said with a laugh.
But at the end of the day, she said, she'd chalked up 18,000 steps.
Her rising profile as a successful community bank CEO has put Underwood on the national radar. She just finished a six-year term on the Federal Reserve Bank of Boston, where she also chaired the audit committee. Underwood now represents community banks on the 18-member advisory board of the Consumer Financial Protection Bureau, which was created by the Dodd-Frank Act. "The CFPB is charged with protecting consumers. Our responsibility is to comment on the unintended consequences for the banks' clients of new regulations initiated by the CFPB," she explained.
Our server returns and discreetly asks what I thought of the fried avocado salad. It was excellent, I tell her. Underwood is equally pleased with her salad. In spite of strenuous arm twisting by the server, we skip dessert and order coffee.
The Consumer Financial Protection Bureau, signed into law in 2010, has had a controversial life in Washington, and I ask Underwood why.
"This is a large agency handling multiple issues," she said, "and for many reasons I believe there should be an oversight board, not unlike other government agencies, banks and independent corporations."
Besides the CFPB, Underwood serves on Vital Communities' Corporate Council; the founders affiliate board of the American Heart Association; The Independent Community Bankers of America, where she is a board member of its security arm; and on the nominating committee for the Federal Reserve Bank of Boston. Under her leadership, and with Ledyard's support, "Go Red for Women," the American Heart Association's initiative designed to encourage women to take charge of their heart health, has become a part of the Upper Valley scene.
Our conversation drifts to women in leadership positions. I mention that it is impossible to walk into almost any bank today and not notice the number of female employees. So, have women broken through the "glass ceiling" in banking?
"Not quite yet. We have some ways to go," she said. "When I check in to national banking shows, I'm still often given a spouse package." More often than not, she said, the spousal events are cooking classes.
"But John (her husband of 35 years) doesn't mind," she laughs. "He loves hopping on a bus with 50 women."
Then, regretfully, it's time for Underwood — still impressive and still irreverent — to get back to work.