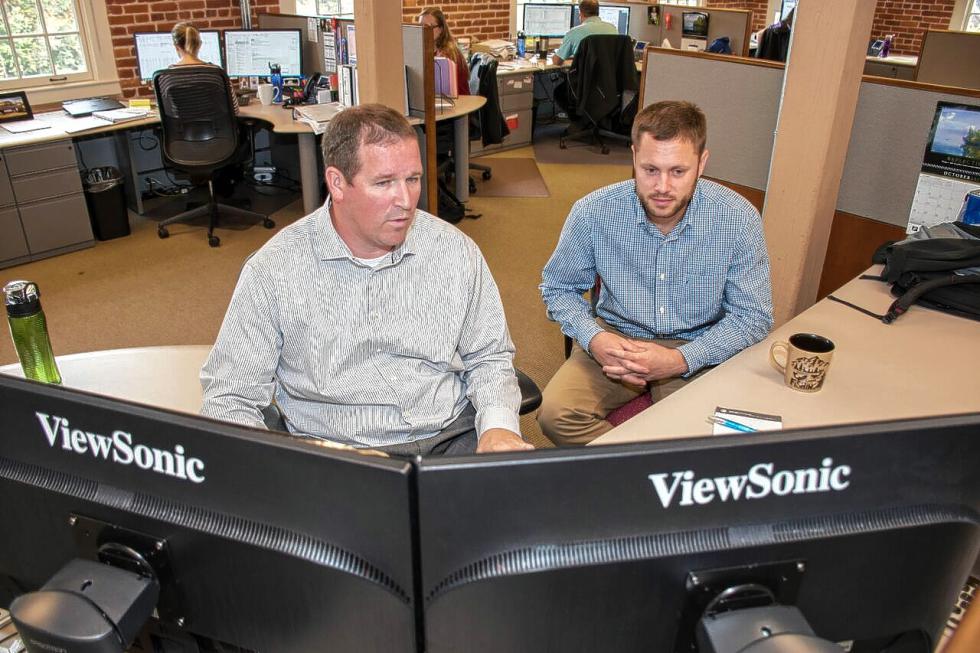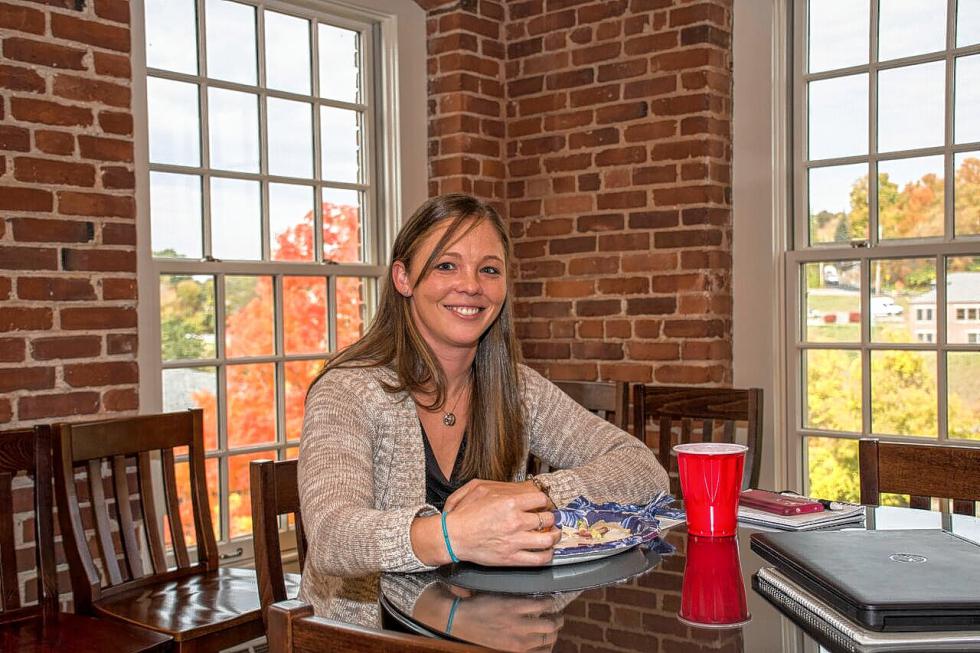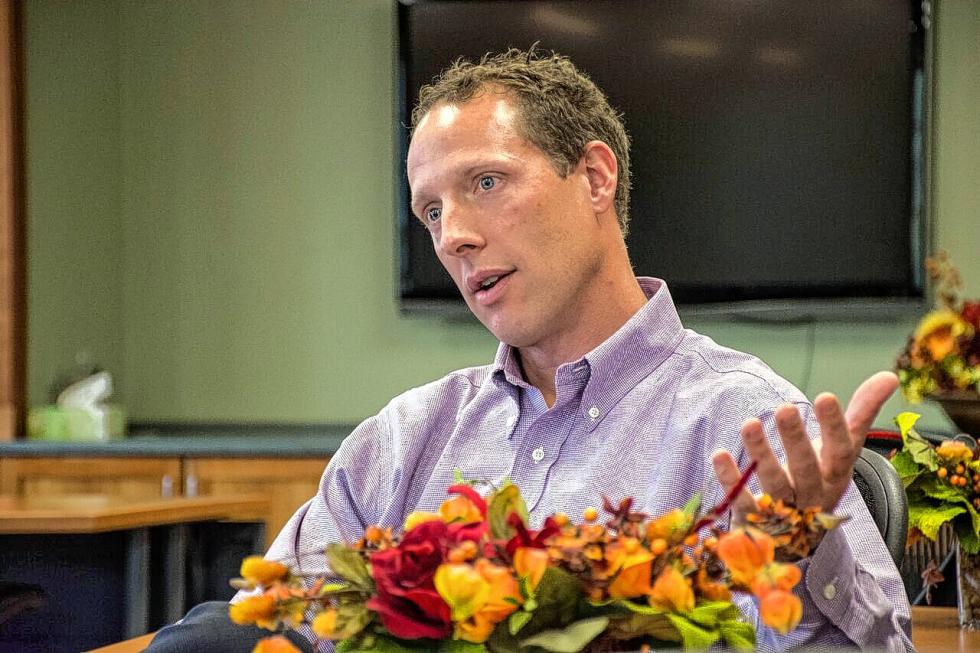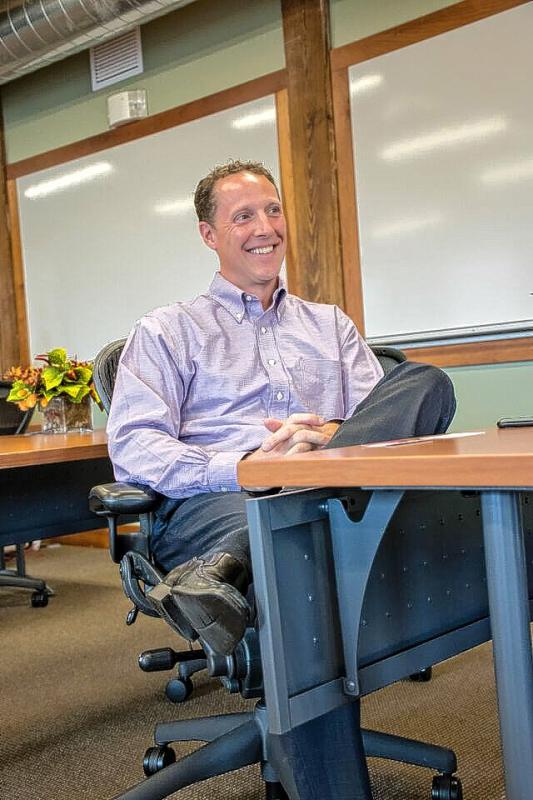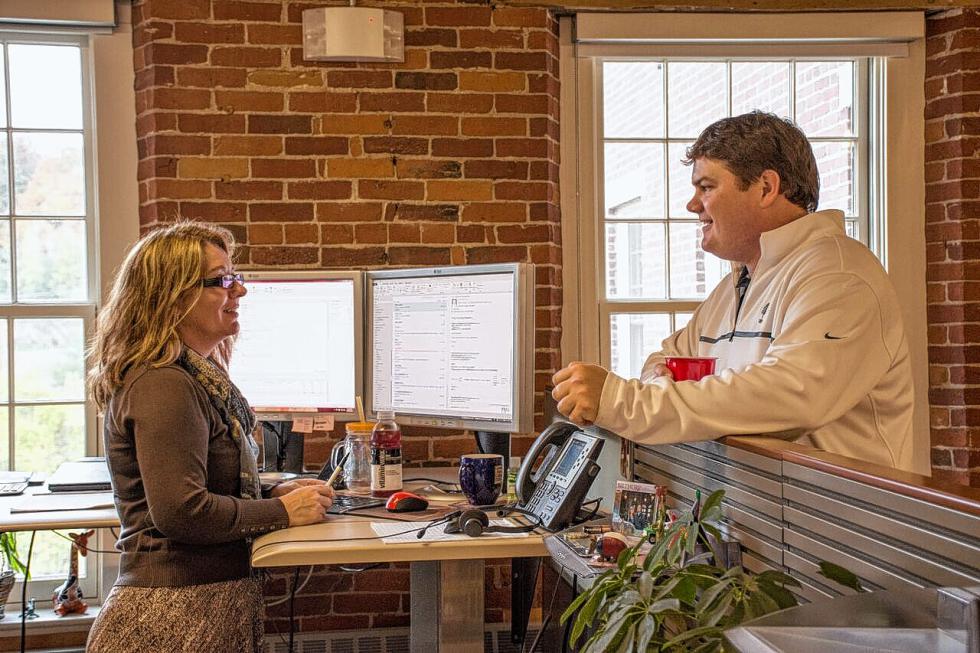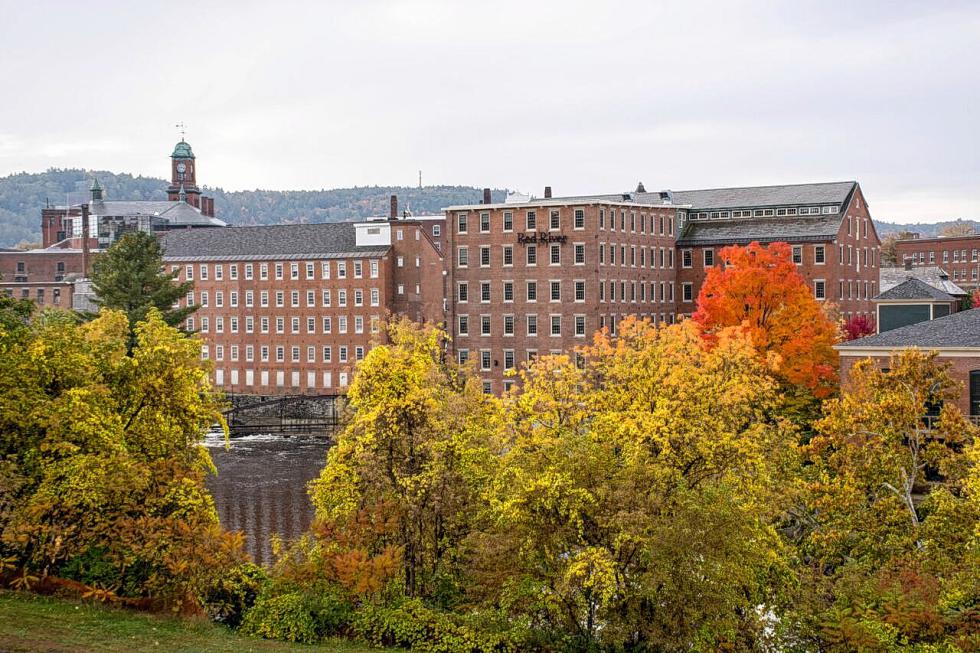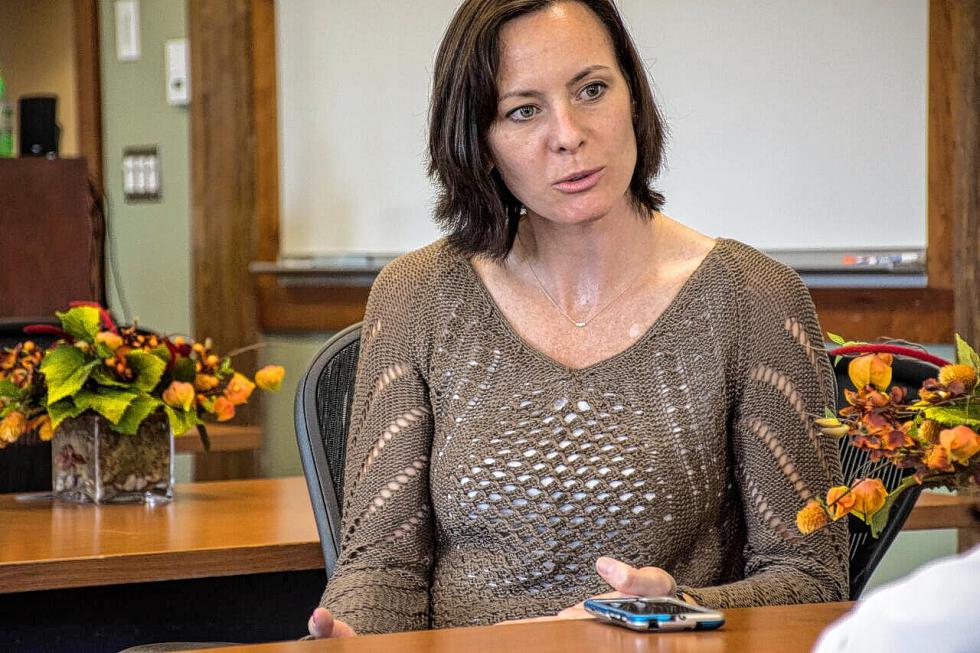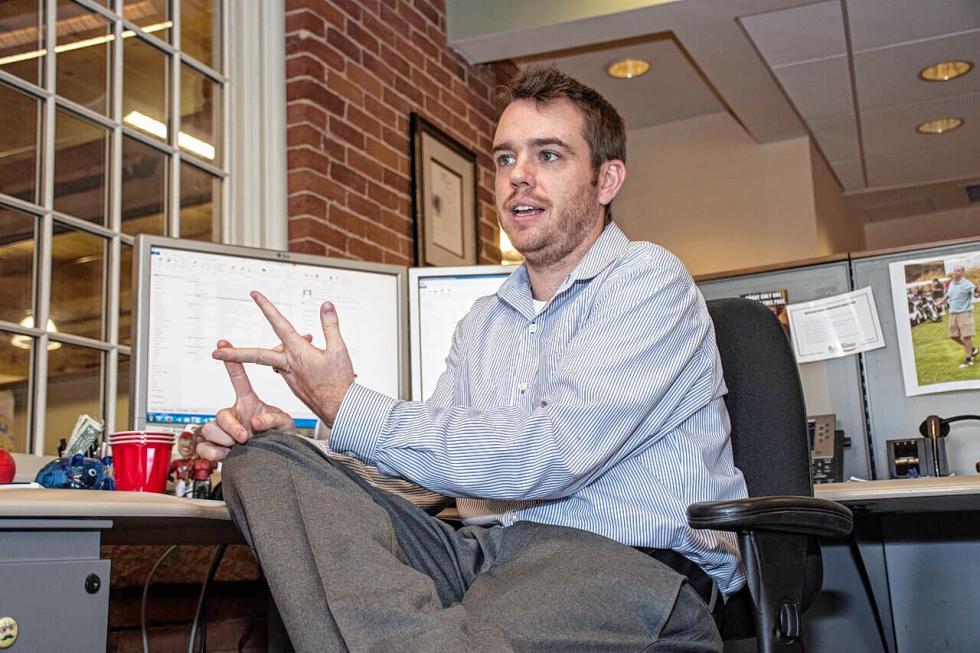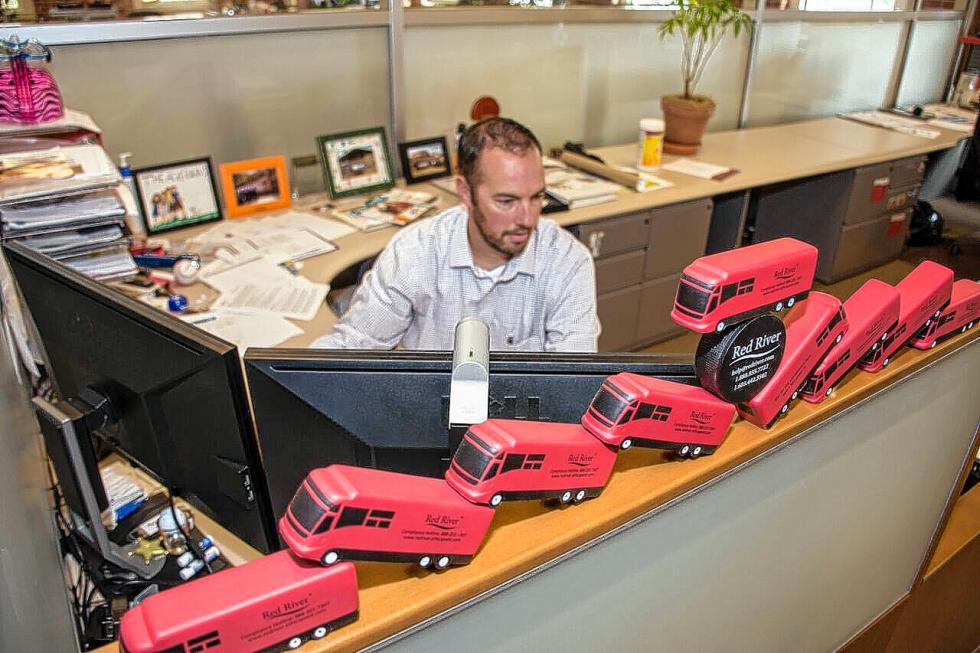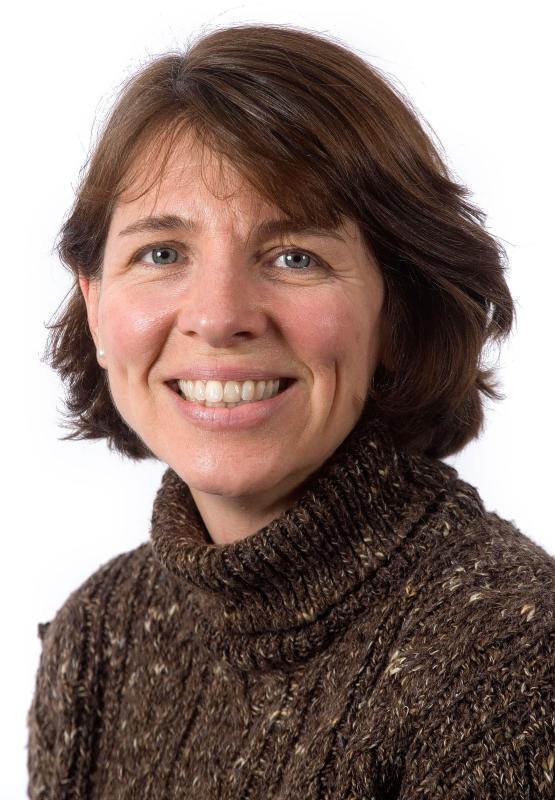 When Jon Nicholas was looking for a job after college, his baseball pitching coach at Colby-Sawyer College — then a Red River Computer Co. employee — suggested he apply there. But in Nicholas' 22-year-old eyes, the company, which provides information technology products and services mainly to the U.S government, had three strikes against it.
Government? Boring. Sales? Bad connotations. The company also is "a middleman."
Yet during what he'd written off as a "practice interview," Nicholas realized that, unlike his summer gigs, Red River offered a career he could build on.
"I bought in on it," he said.
For the next two weeks, Nicholas "begged and pleaded" for a second chance, and this time he did his homework. Now, 91/2 years later, he's glad he did.
"We're providing a service to people, which is rewarding," and he appreciates how the company helps employees grow, said Nicholas, who started off as a sales apprentice and worked his way up to director of sales operations.
"Our CEO (Rick Bolduc) always says, 'We don't make anything. Our employees are our biggest asset,' " he said. "You make your own path here. … Every day I'm challenged and pushed to do better."
He's not the only young person with a positive take on the Claremont company, which also has an office in Reston, Va. Of 165 employees, about half of whom work in Claremont, 57 percent are under the age of 40 — no small feat in New Hampshire, which is known for its aging population. And last month, it was among two businesses named "Coolest Companies for Young Professionals" by Stay Work Play New Hampshire, a Manchester-based nonprofit that encourages young people to make the Granite State their home.
Red River long has attracted younger employees who tend to embrace change, said Dan McGee, the company's senior vice president of operations.
Both the technology industry and the company always are changing, which appeals to new college graduates, McGee said. And the demographic has been good for business.
"They talk the talk and walk the walk almost better than some of us that have been in technology for 20 years because it's just completely intrinsic and inherent in their being," he said. And for millennials, technology and tenacity often go hand in hand.
"There are times when they'll ask a question of you through email, but before you can respond to it they have texted you and they've also chatted you and now they've maybe called you on the phone," an amused McGee said. " 'I'm going to get my answer quickly and I'm going to keep moving because I want to be productive and I want reinforcement.' … As a manager, it can drive you crazy, but I know that the customers are being taken care of."
New Talent Search
The company looks for a mix of ages and experiences, said Hillary Halleck, Red River's human resources manager. Seasoned workers bring experience that younger people don't have, and younger workers can provide a fresh perspective.
"Why do we do it that way? Why can't we do it this way?" Halleck said. "You can really have more opportunities, new ways of doing things."
Not being near a big city makes attracting new talent difficult, but the company's emphasis on personal and professional development appeals to younger workers who, in addition to asking about benefits and pay, also want to know what their "growth path" is. And that makes them a good fit.
Initially, Red River's business primarily was IT hardware resales, moving products from manufacturers to customers, but it quickly expanded. Now, it also designs, installs and supports IT infrastructure, such as network systems and data centers.
"We're constantly looking at what's our niche, what fits for us as a company to grow," she said.
Red River helps people expand to their capabilities, Halleck said, quoting Bolduc: "You want to blow up the balloon (so it stretches) just enough but doesn't pop."
The majority of the company's young hires either attended college nearby or grew up in the Upper Valley, and Red River works with area universities and colleges to connect with students through work studies and other programs. In the past six or seven years, the company's foundation has awarded $80,000 in scholarships. In addition to supporting the study of technology, it also plants a seed, McGee said.
"When you graduate, hopefully this is a place you've thought about. You don't have to go to Boston or New York City or Providence. You can come back to the Upper Valley and have a great technology job," he said.
Like other area employers, Red River also emphasizes quality of life as a draw.
"If somebody is looking for being out until 2 in the morning, that's a different lifestyle and you're not going to get that here," McGee said. "But if you want great amenities and a pretty good little social scene, then I think Claremont is starting to bubble up."
But hiring is just the first step.
Treat 'Em Right
"As soon as we lose somebody, that is a backfill challenge," McGee said. "You really have to work at it to get the right people in your company."
As with recruiting, the focus on employee growth goes a long way. Those who want to try something different are encouraged to do so, which can make for an "interesting" dynamic, McGee said.
"It takes managers challenging each other and saying, 'Is that person really growing or succeeding?' … 'Or can they succeed more if they were over here with my group?' " he said. "I may choose to grab somebody, and somebody may grab somebody from me. As long as we feel like that's in the best interest of the employee and in the best interest of the company, then divisionally we'll handle it."
A 10-year employee, Sera Gray started out as a general ledger accountant, got promoted to senior accountant and then branched out even further, becoming corporate programs manager and later director of business operations, a position created to suit her knack for solving problems and developing efficiencies. She's now senior director of business operations and analytics: The department uses automation, collaboration and "data transparency" to make the business more productive.
Before joining Red River, she never even knew such a job existed.
"I've been lucky to be able to evolve with the company," the 33-year-old Gray said. "I love what I do. I feel like I get to solve a different puzzle every day."
Red River also offers what Halleck calls the "little niceties that make people want to come here," hosting happy hours at area restaurants and providing lunches, games and snacks in the busy weeks leading up to Sept. 30, the end of the government's fiscal year.
"If we expect them to work a lot of hours during that month, (we might as well) make it a little more doable, more enjoyable," the HR manager said.
Last month, the company celebrated its 20th anniversary by taking employees to the Omni Mount Washington Resort in Bretton Woods, N.H., with entertainment, golf, spa time and hiking on the schedule.
Other perks include an informal mentoring program that can kick in as needed, an employee development program and money for classes.
"There's a heavy push to continue your education," said Nicholas, who, with financial help from Red River, is working toward a master's degree in operations and project management.
Employees can take off two days a year to volunteer, and they work shoulder to shoulder on companywide volunteer projects.
Red River's foundation emphasizes science and technology and helping veterans, and last year the entire company spent a day at the White River Junction VA Medical Center, installing exercise equipment, sprucing up the gardens and planting trees.
Volunteer projects undertaken at a national sales conference have included helping rebuild a school after Hurricane Katrina. The work is "very rewarding," McGee said. "It makes you feel like you're making an impact beyond selling technology."
While it wasn't their intention, such efforts appeal to prospective young employees, McGee said. "That's what they want to talk about in the interview."
Growth Chart
Founded in 1995, Red River Computer Co. started out in Hanover with seven or eight employees, and in 1999 moved to a 5,000-square-foot space in the Rivermill Complex in Lebanon, where it later expanded to about 15,000 square feet.
By the time the company needed more room, Centerra was growing, but the site was cost-prohibitive and the company didn't need a storefront, McGee said.
In a 19th-century factory building on Claremont's Water Street, the company found the historic mill feeling it has come to love. (See related story.)
In 2009, Red River moved into its 30,000-square-foot space — three floors in the renovated Wainshal building, which also is home to The Common Man Inn and an office of National Field Representatives.
"The economic development folks in Claremont were visionary in terms of how they wanted to start a revitalization and how certain companies might help (with) that," McGee said. "They saw an opportunity and made a great pitch."
The location has "just worked," he said. "(Claremont) has got great infrastructure, so we feel very fortunate we were able to get in early on."
Red River primarily works with federal government agencies, including the Navy, the Department of Homeland Security, and the Department of Veterans Affairs, its biggest client. It recently installed wireless guest services in 192 VA hospitals across the country.
It also provides technology and services to private companies, as well as commercial industries in the Twin States and Massachusetts, a growing part of its business.
Yet the company has had its challenges.
In 2011, Red River paid $2.3 million to settle charges it violated the False Claims Act by failing to provide products to federal agencies it had contracted with. Red River co-founder and former President Breck Taylor pleaded guilty to charges of defrauding federal agencies of more than $1 million and was sentenced to three years in prison. Taylor had left the company in 2008.
McGee called it an isolated incident that has no relevance to where the company is today.
Red River recently was ranked 46th on the Washington Technology 2015 Top 100 list, and by winning new government contracts, the company nearly has doubled its revenue in the past two years.
This year, it was 49th on The Channel Company's CRN Fast Growth 150 list.
Claremont Cool
With its view of the Sugar River, clean lines and rich earth tones, Red River's digs have a chic, big-city feel.
The space is bright and airy, its open floor plan designed to encourage collaboration. People commonly stand up in their low-walled cubicles to toss a question out to anyone within earshot, and closed doors are unusual, employees said.
Rather than setting an appointment to meet with a colleague, "the culture is … 'I'm going to come over there and talk to you because I need to get something done,' " McGee said. Whiteboards installed throughout the place are an invitation to "scribble down an idea and share it with the folks you're working with."
Coffee is provided, and on a recent morning, its aroma wafted out of the fully equipped kitchen. Tall cafe tables in an attractive break room offer a spot for lunch and impromptu meetings. Bowls of M&Ms are scattered throughout the office, and employees working late can help themselves to a cold beer.
Yet, except for an oft-quoted CEO, a toy basketball hoop and some quirky desk ornaments, the place bears little resemblance to the hip IT companies of West Coast lore.
Red River has come a long way since its days of folding chairs and old metal tables with plastic tops. But even the start up was grown up — no beanbag chairs, no pingpong tables.
"We had an owner who would bring his dogs in once in a while," said McGee, who's been with the company since 1997. "But for the most part it was, 'We're all here to work. We will play and we'll have fun, too, but in between the lines, it's work time.' "
The hardworking-yet-flexible culture persists.
People are encouraged to take off during the day to volunteer, as long as they get their work done, and the company likes for employees to spend time in the city. Stores, the Claremont Opera House and a gym are just up the street, along with several places to eat.
Having five or six restaurants within walking distance is a "super perk" of coming to Claremont, said Gray, the business operations director.
City officials say it's a good fit, too.
"They have really such a young and enthusiastic workforce, and it's great seeing everyone that works there in town," said Nancy Merrill, the city's director of planning and development. "We're very excited that they're here in Claremont."
It seems they have something in common.
Claremont is always working to better itself, asking "What are people looking for? And (what) are companies looking for?" Gray said. "I admire them for that."