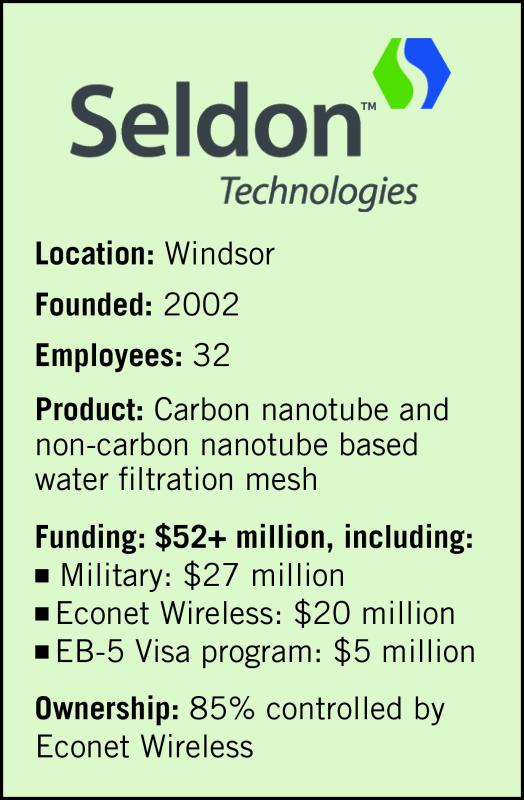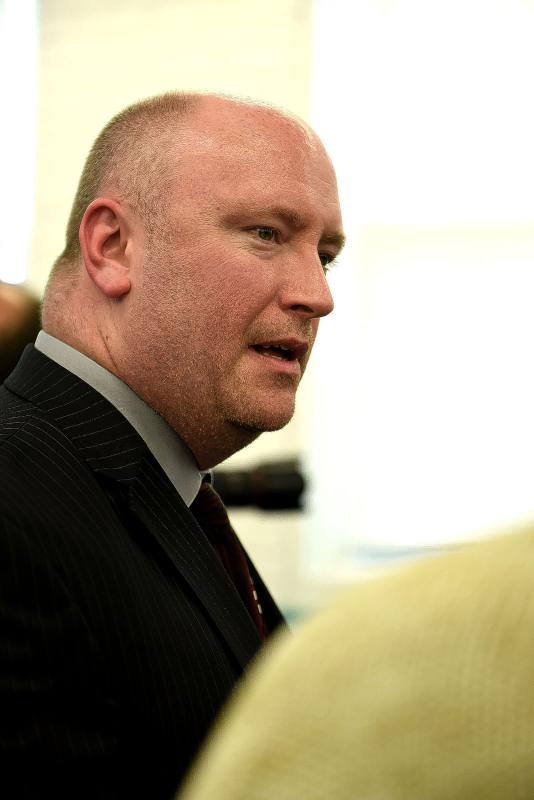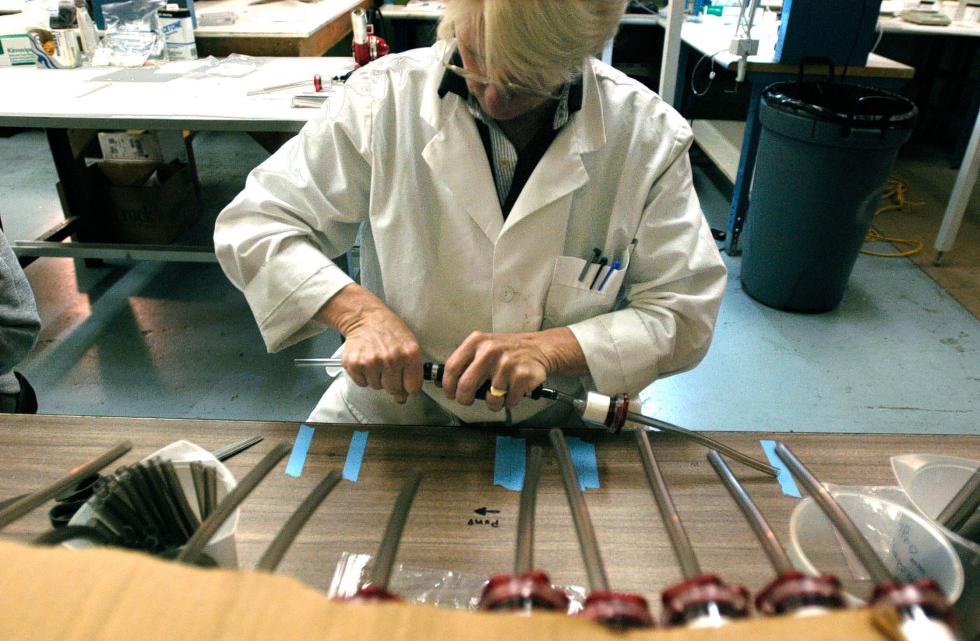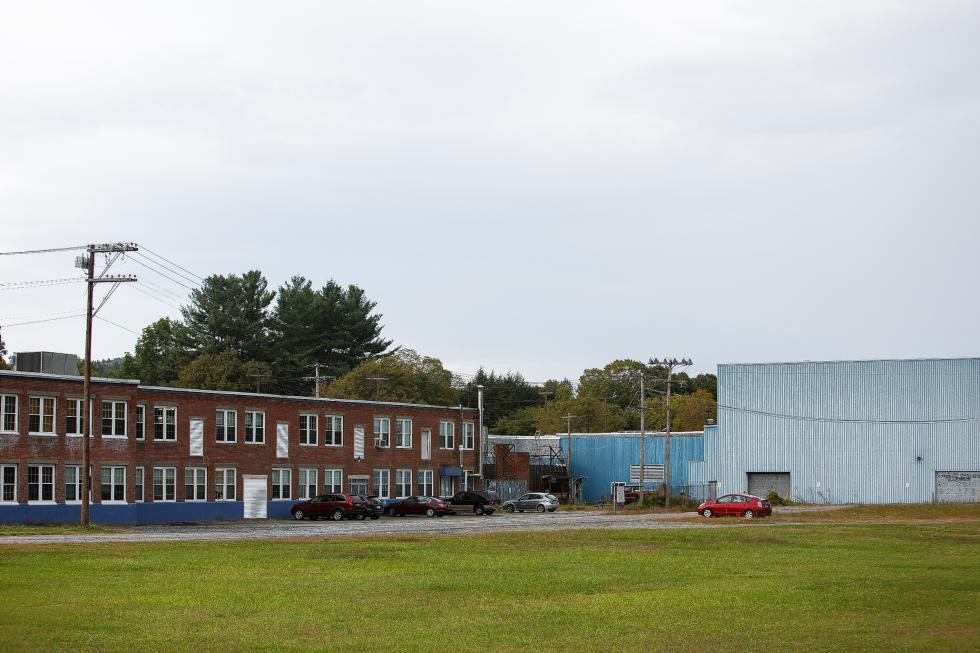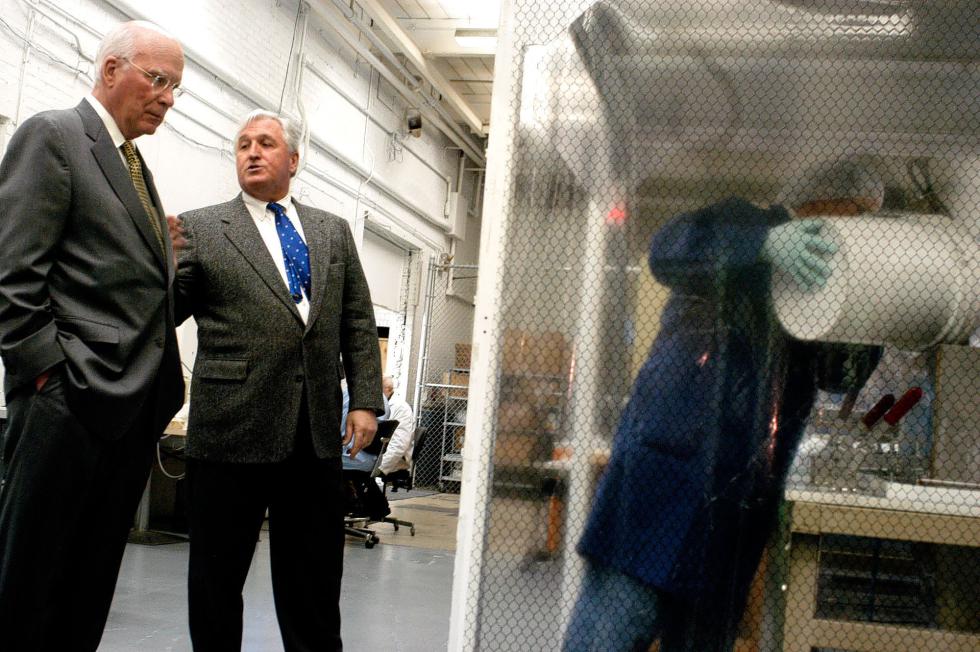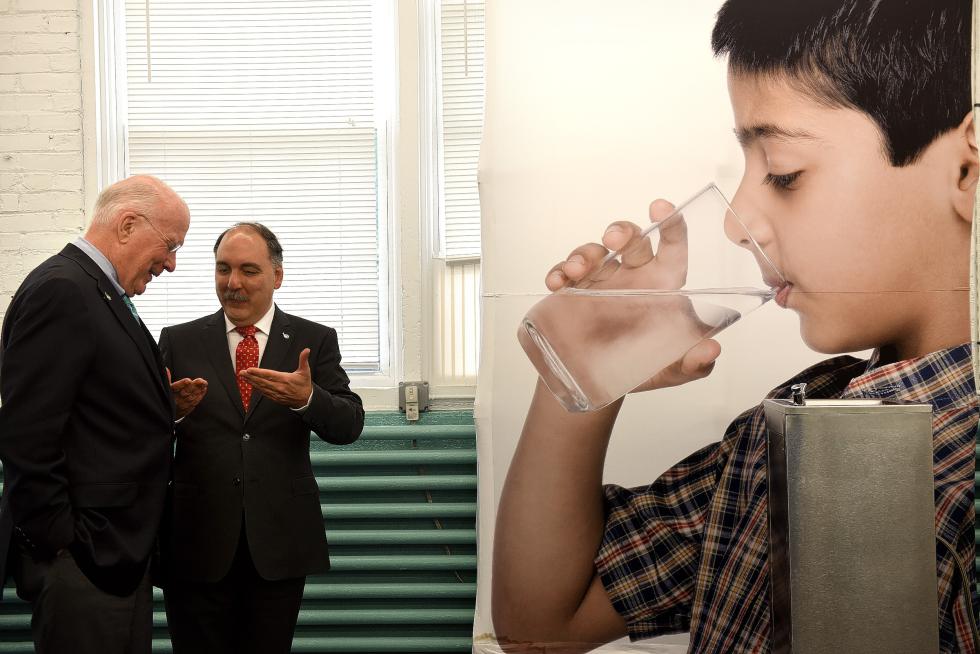 Windsor — If the public was taken by surprise by the Sept. 28 news that Seldon Technologies was shutting down, there was good reason: Just three months earlier, the Windsor water-filtration maker had announced a $20 million contract with a Mexican company to supply 500,000 filtration devices.
If the 32 Seldon employees who were laid off that day — without severance — were taken by surprise, there was also good reason: The week before, Seldon's board chairman, Jim Myers, had informed them he was "90 percent sure" a short-term loan would be secured that would give the company the time to find the longer-term financing being demanded by its South Africa-based owner, according to Charline Hagar, who worked at Seldon as a customer service representative.
"We were led to believe that everything was going to work out," Hagar said in a telephone interview last month.
It didn't.
"We didn't have the money," Myers said in an interview a week after the shutdown. "We thought we would have the financing."
The news brought to an abrupt halt to Seldon's once-grand ambition to make clean drinking water available around the world through patented nanotechnology adapted to portable water filtration devices that could be transported in a suitcase-sized carrier, backpack or attached to a water tap under a sink.
Developed from an idea pioneered by a Dartmouth College physics graduate student dropout, Seldon Technologies' nanotechnology water filtration process consumed more than $52 million in financing over nearly 14 years before its owner, Johannesburg-based Econet Wireless group, finally shut off the funding spigot.
Even had the company continued operating — and Myers said he hopes the company will find a way to survive — it would have had to address an issue that was first raised four years ago but not well-known outside the company: During an internal compliance review of the company's technology, Seldon scientists discovered that its signature innovation — super-small cylinder-shaped carbon nanotubes, or CNTs — "had little or no effect on performance" of the filtration "media" to remove contaminants, according to the company's confidential 85-page 2013 business plan, a copy of which was provided to the Valley News.
As a result, the authors of the plan wrote, the tests "have called into question both the validity and value of (Seldon's) patents."
The finding turned out to be both bad news and good news for the company.
The good news: Wh en reformulated to exclude carbon nanotubes, the filtration media was just as effective and no longer needed approval from the Environmental Protection Agency, meaning it could finally be sold into the U.S. consumer market.
The bad news: The discovery undermined the company's selling point as a cutting-edge nanotechnology innovator, the key to Seldon's industry positioning and marketing.
Seldon employees, many of whom asked not to be identified because they didn't want to jeopardize their chances of finding new jobs by talking publicly about their former employer, said the discovery forced Seldon to focus efforts on developing filter technology that did not employ nanotechnology.
"It looked as though carbon nanotubes were the cat's ass, but they were not," said one employee.
The reformulated filtration media works nearly as well, the employee said, but "is not that much of a secret sauce."
An 'Epiphany'
Seldon was launched in 2002 by Christopher Cooper, a Dartmouth College physics graduate school dropout, and Alan Cummings, a Woodstock attorney and former general counsel at Crabtree & Evelyn, a body products company.
In a recent telephone interview, Cooper, who now lives in New Mexico, said the idea came to him one day like an "epiphany": molecular nanotubes — a cylindrical structure made of carbon atoms — could be shaped to make a porous, lattice-like "filtration media" so fine it could block the passage of bacteria, viruses, cysts and other contaminants in water.
The "nano" scale is impossibly small: According to the website of the U.S. National Nanotechnology Initiative, "nano" means one-billionth, so one nanometer is one-billionth of a meter. Seldon's nanotubes have a diameter ranging from less than one nanometer to about 50 nanometers, according to the company's website. A human hair is 80,000-100,000 nanometers wide.
Cooper said he connected with Cummings through a mutual acquaintance when he was seeking a partner who could help raise money to fund research on using carbon nanotubes as the basis of a new super-filter that could produce clean water without chemicals, heat or a power source.
Cooper dubbed the company Seldon Technologies after Hari Seldon, a character in science fiction writer Isaac Asimov's Foundation series who discovers "psychohistory" as a method to determine the probability of future events. Using an initial $300,000 grant from the Department of Defense, Cooper set up a research laboratory in downtown Windsor, in the former Cone-Blanchard Machine Co.'s machine-tool facility.
Wiry and intense, the bantamweight Cooper kept Seldon colleagues off guard with a mad-scientist-like manner that unsettled those who couldn't tell when he was being serious. Employees say he frequently talked about aliens. One co-worker remembers looking through an office window with him, out to the Connecticut River and beyond, and Cooper remarking, in a tone the co-worker said sounded sincere, "I get my best ideas from the aliens in those hills."
The U.S. military plowed a total of $27 million into the company over 10 years, according to the 2013 business plan . In the company's first decade, "we were able to raise substantial funding and do massive material optimization to understand how to make a cost-effective filter," Cooper said.
By 2004, Seldon had its first working device: a portable, suitcase-sized water filtration unit, called the WaterBox, that used carbon nanotube technology to produce about one gallon per minute from any water source. It sold for about $5,000. A couple of years later, Seldon developed the WaterStick, a filtration device about the size of a tube of caulk that could be carried in a backpack.
The devices came in handy for the military. They were supplied to the Naval Special Warfare Command, the Army Special Forces, the Marine Corps and Air Force units. The Vermont National Guard took them when deployed to Afghanistan.
But while Seldon's carbon nanotube technology was allowed in water filtration devices for the military, the EPA still has not yet ruled on its use for the U.S. consumer market. Critics of the technology have warned of the unknown and possibly damaging effects if nano-scale fibers or particles are absorbed by the human body.
Those fears have subsided, Cooper said, but "from a business perspective, it became very difficult to get traction in any other global market due to the fact we didn't have EPA approval."
Money From Africa
Although the military provided the bulk of its funding for the first 10 years, the company also managed to attract smaller funding from other sources, including author and technology investor George Gilder, Bloomington, Minn.-based water filtration maker Donaldson Co., and the Fidelity Security Life Insurance Co. of Kansas City, Mo., according to former employees.
But the largest source of nongovernment funding came from farther afield: South Africa-based telecommunications giant Econet Wireless, which was using cash generated by its core mobile phone operations to diversify into an array of far-flung businesses.
As one of Africa's leading businessmen, Econet founder Strive Masiyiwa sits on the boards of such influential organizations as the Rockefeller Foundation and the board of advisers to the Council on Foreign Relations. He is also co-founder of the Carbon War Room, a Washington, D.C., policy center focused on climate change.
In 2011, during a trip to Washington to scout innovative companies in which to invest, Masiyiwa was directed by Carbon War Room staff to Seldon, according to Brian Steidle, a former manager of business development for Seldon who, along with Cummings, then Seldon's president, met with Masiyiwa in a Georgetown hotel room.
"We had one hour to present to Strive about what Seldon was and what type of investment we were looking for," Steidle said in a recent telephone interview. "His desire was to invest in a company that could help the people of Africa. That's what he wanted to do."
Econet dispatched a team to Windsor to look Seldon over and in short order loaned the company $750,000, said Myers, the Seldon board chairman . But Seldon's lackluster sales soon made it apparent that the company would need more Econet money, which it got. The loans later converted to equity, giving Econet partial ownership of Seldon. Early in 2012, Econet made its first direct investment — $10 million — including $1 million for distribution rights to Seldon's products in Africa.
With Econet's money came a change at the top. Cummings, who had led the company since its founding 10 years earlier, stepped down in May 2012. He was replaced by Roger Miller, who had joined Seldon four years earlier from Donaldson Co. and was head of the water division.
Miller lasted only 10 months in his new job.
The 2012 business plan for Seldon's water division, which was prepared in 2011 and titled "Go Big or Go Home," called for Seldon to ramp up quickly and hit $4 million in revenue by the end of the year, primarily through sales of the WaterStick to the sports and travel market, and the WaterBox, targeting the military and disaster-relief markets.
Those were aggressive targets for a company that had generated little in the way of sales.
To develop a new market for its filtration technology, Seldon pivoted toward selling its filters to other filtration device makers, including Unilever and Whirlpool. The 2012 plan identified 10 of these "original equipment manufacturers," or OEMs, that could generate a "potential" $125 million in "long-term" revenue to the company, although a specific time frame wasn't identified.
"Instead of trying to push our product into the market, we'd get our stuff sucked into the market by the OEMs," explained Andrei Burnin, a senior chemist who joined the company in 2005 and was laid off and rehired in 2013. But, he added, "the water purification market is very conservative" and manufacturers take a long time, up to three years, to test, engineer and incorporate a vendor's technology in their own products.
Meanwhile, parent company Econet had also set a high bar for Seldon to scale. A chart labeled "Econet Revenue Requirement" set a target of nearly $9 million in revenue for 2013 and $16.7 million for 2014, according to the 2012 water division business plan.
A Blistering Evaluation
Over time, Myers said, Econet's investment in Seldon grew to about $20 million, an amount that brought the South African company's ownership stake in Seldon to 85 percent.
One of the first things Econet did when it took control of Seldon was to curb the company's participation in the federal government's EB-5 program, which grants permanent residency in the U.S. to well-heeled foreign nationals in exchange for a $500,000 investment in private development projects. Seldon's previous management hoped to raise $20 million through 40 EB-5 investors, but Econet saw that as a liability because of the attending requirement that recipients must create 10 state-based jobs per investor.
"There is just no way that the company can support that level of job creation based on the level of sales we were generating," Myers said.
After renegotiating with state officials, Seldon took only 10 EB-5 investors, which raised $5 million for the company.
Yet, in some ways, money was the least of Econet's problems with Seldon.
What Econet found was a company with some promising ideas and technology but no ability to commercialize them and build a business, according to the 2013 business plan.
That plan, compiled by Econet staff, included a blistering evaluation: Seldon, it said, was "a company in major distress and in need of immediate change."
Seldon had already "consumed $39 million" during its first 11 years, the plan said. Yet the company at the time had only one commercially viable technology, Seldon Nanomesh, which incorporated carbon nanotube technology and was in use primarily by the U.S. military.
Despite the massive investment, Seldon sales totaled only $150,000 in 2012, the plan said, far short of the $4 million projected in the prior year's water division business plan.
"Market acceptance and sales of these products has been weak, primarily due to the company's inability to obtain full U.S. EPA and other regulatory compliance standards, poor marketing and sales strategies and poor product selection due to lack of market insight," the plan's author s wrote. "Currently the products cannot be sold to consumers in the U.S. and sales to U.S. government agencies are limited to the military until full U.S. EPA compliance on the technology is achieved."
It was that 2013 business plan that underscored, in two separate passages, the Seldon researchers' 2011 finding that the company's vaunted nanotube technology did not appear to be contributing in a significant way to the filtration properties of Nanomesh, the media used in Seldon's devices.
In other words, the material mostly responsible for filtering water in Seldon's filtration devices — Seldon says it's a trade secret — wasn't Nanomesh.
"Other materials used in the construction of the media were shown to have higher influence in the removal of biological contaminants in water than originally thought and the concentration of CNTs in the media was reduced," the business plan said.
The shift to other materials didn't necessarily signal that Seldon was abandoning its signature carbon nanotube technology, said Myers. A privately commissioned study by University of Florida "proved the properties (of carbon nanotubes) to attract and hold" contaminants, he said.
Seldon's purpose in reformulating the water filtration media was an interim step in order to have a product on the market until the EPA approved the use of patent-protected carbon nanotubes in the mesh, he said.
The 2013 plan went on to note that Seldon's employees were mostly involved in research and "have little or no skill in technology commercialization." Moreover, the company had "no formalized budgets, sales forecast, operating processes, HR policies, capacity scale-up plan, (or) understanding of the true cost of goods. …"
It also had "limited records and knowledge management, (and) ad hoc and disorganized intellectual property management. …"
Turnaround Strategy
Nonetheless, the plan's authors mapped out a quick turnaround strategy, forecasting nearly $19 million in sales by the fifth year — with $11 million of it coming from original equipment manufacturers — and a $2.6 million profit.
In the wake of Miller's departure, an Econet executive from South Africa was dispatched to Windsor on a temporary assignment to oversee Seldon. Vermont and South African cultures quickly clashed, according to former employees, as the new manager ordered desktops to be kept spotlessly clean. The offices were painted white and two different shades of blue with a graphic depicting water bubbles on one wall.
A white couch was ordered for the office area. Carbon dust carried in by the workers coming off the manufacturing floor soon turned it gray.
The executive pushed Seldon to market its non-nanotechnology filtration technology to other filtration device makers to comply with the board's directive to establish a foothold in the market until it could win EPA approval for the use of carbon nanotubes.
"We'll sell them a Chevrolet Nova until we can build the Cadillac," was how Myers, Seldon's chairman, framed the strategy to employees.
The interim executive, however, returned to South Africa and was replaced temporarily by another from Econet's Johannesburg headquarters. Some employees let go by the former executive were quickly rehired.
Finally, in the summer of 2014, Econet had found someone it believed had the background to lead the company: Shawn Montgomery, a seasoned project manager who most recently had been director of plant operations at Tiax LLC, a Lexington, Mass.-based firm that guides early-stage inventions through to commercialization.
Montgomery in turn sought executives to fill the two gaping holes in Seldon's management: marketing and business development, to help land big contracts.
He hired Stephen Snyder, who had a background in sustainability and green building, to develop Seldon's marketing department, and Paul Gallagher, a former vice president at White River Junction-based Maponics and founder of odor-neutralizing product maker Vermont Naturals.
Under Montgomery, Seldon focused on Nanomesh without the carbon nanotubes to make it acceptable for the non-military U.S. market, especially original equipment manufacturers.
To Windsor Via Helicopter
Although Econet founder Strive Masiyiwa initiated the investment in Seldon back in 2011, it wasn't until the fall of 2014 that he visited Windsor.
His arrival played out like a state visit, employees said. In what may have been a first for a Windsor business, Masiyiwa arrived in a helicopter and landed on the company's front lawn as a Secret Service-like convoy of black SUVs and limousines pulled up. The helicopter blades kicked up dust that blew through the open windows of the old Cone-Blanchard building, according to an employee who watched the arrival from his second-f loor office.
Disembarking from the helicopter with an entourage, Masiyiwa passed the waiting employees without greetings and disappeared into an upstairs office.
He soon re-emerged, got back into the helicopter and flew off, leaving rank-and-file employees bewildered, and more than a little offended, several people who witnessed the visit said.
Meanwhile, Seldon continued to be plagued by some of the problems identified in the 2013 business plan.
Within days of the June 30 announcement of the Mexico deal with Bebederos Ecologicos — orchestrated with great fanfare in the presence of U.S. Sen. Patrick Leahy, D-Vt., who praised Seldon's technology as a "world-class innovation" — the arrangement began to unravel, according to employees.
A delegation of Bebederos executives who had traveled to Windsor for the news conference concluded that Seldon was not equipped to fulfill the contract with the speed required, according to former Seldon employees.
The first batch of 1,103 filtration devices never shipped out and remains on pallets on Seldon's loading dock to this day, employees said.
Hector Campos, marketing director at Bebederos, said the contract with Seldon was suspended following "due diligence" conducted by Bebederos after the agreement was signed June 29.
"We put on hold our purchase order until they resolved their issues and problems," he said in a telephone interview from the Bebederos offices in Mexico City.
Campos declined to elaborate on the nature of problems.
Seeking a Buyer
Myers describes Seldon's shutdown as a "dormant phase" while the board figures out what to do with the company.
Econet itself is under pressure to cut corporate costs as the Zimbabwean economy, where the telecom historically has generated a hefty portion of its cash flow, is in shambles.
In a statement to the Valley News , Econet said its increasing investment in Seldon over the past two years reflected "its continued belief in the market potential for Seldon products." At the same time, Econet's "continued support for Seldon was predicated on Seldon being able to raise third-party funding in scaling-up production and enhancing business development efforts."
Despite "significant efforts" by the Seldon board and management to raise new financing by the Sept. 25 deadline, "no firm arrangements could be secured … and the Seldon board was forced to close the business on very short notice."
"We came close with a couple potential investors," said Bernard Chidzero, a business consultant from Johannesburg who is advising Econet on Seldon. But "the time it takes for a venture capital firm or other potential investors to do their due diligence took a lot longer than we anticipated."
Chidzero said Econet hopes some of the potential investors it talked with will "come back and make a bid for the business or the (intellectual property) for the business," and that "whoever does end up buying the assets does a great job at commercializing the technology."
But without the carbon nanotubes as the basis of its filtration technology, Cooper, Seldon's founder, questions the uniqueness of the company.
"There are a lot of people out there that have activated carbon filters, (so Seldon is) one of a thousand companies." That makes it "impossible to get product differentiation," he said.
Myers disputes that analysis, and said Seldon's non-nanotube technology is superior to any filter currently on the market.
Moreover, he said, he feels certain the EPA eventually will approve carbon nanotubes, enabling their use in filtration technology.
"We are still hoping to get the company financed, and we're committed to Vermont," Myers said, addressing a fear among former Seldon workers that Econet would simply use Seldon's patents to restart the company outside the U.S.
A handful of workers remain in Windsor to wind down operations, which Econet expects to occur by the end of November.
While some of Seldon's laid-off employees are bitter at what they saw as unfocused and poor management by the company's board and Econet managers, others accept the financial realities.
"You keep pumping money in, and not making a profit, who is going to do it forever?" asked Burnin, Seldon's senior chemist. "I understand this decision. … After all, it's about business."

John Lippman can be reached at jlippman@vnews.com or 603-727-3219.