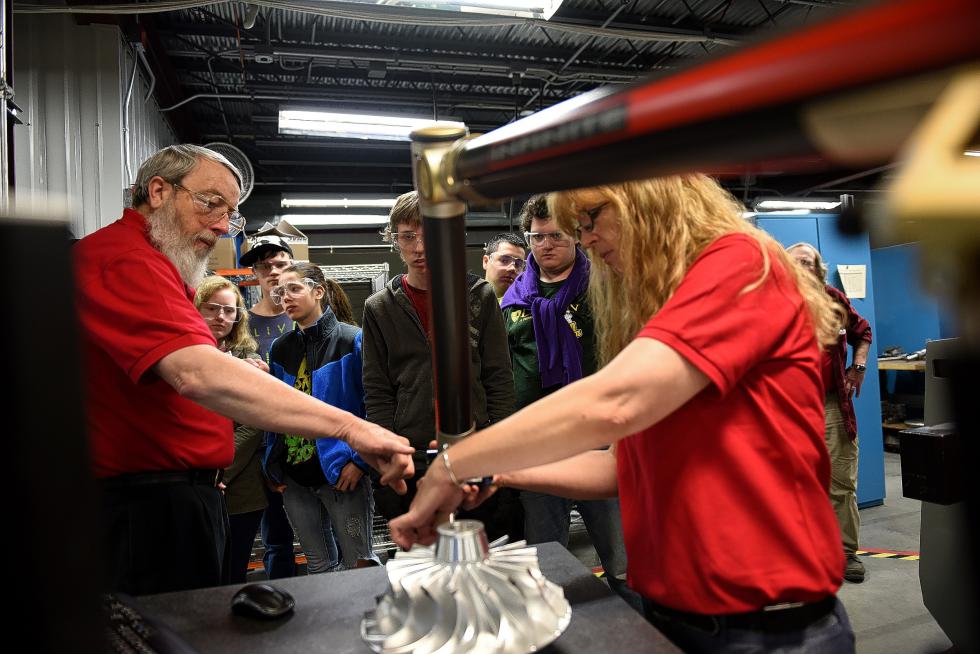 Wilder — Students from several Upper Valley schools were granted a rare glimpse into the world of high-tech manufacturing on Thursday when they had the opportunity to tour the shop floor at Concepts NREC, a designer and maker of precision turbomachinery equipment.
The tour was offered as an "open house" in connection with National Manufacturing Day and Vermont Manufacturing Month, national and statewide programs designed to give students an up-close look at careers in manufacturing and the role that manufacturing plays in the economy.
About 60 students from Rivendell Academy, Hartford Area Career and Technology Center, and River Valley Community College toured Concepts NREC's plant on Billings Farm Road off Route 5.
"There's a lot of misconception out there about manufacturing and this was an opportunity to show how manufacturing has reinvented itself by investing in new technology," said Sean McDermott, vice president of products at Concepts NREC, who reached out to the schools and organized the tour that included a 25-minute presentation about the company and its technology, followed by an hour walk-through on the factory floor.
Despite the steady downturn in U.S. manufacturing jobs over recent decades, McDermott said, the need for skilled, tech-savvy workers is expected to be acute, with 2 million openings anticipated in the coming years.
McDermott said the aim of inviting the students to Concepts NREC — it was the first time the company had participated in the education program — was to make them aware that manufacturing these days utilizes computer technology and that working on the factory floor frequently entails operating a computer and mouse, rather than with a wrench and a drill press.
"It's something that would appeal to kids who like computers and grew up with video games," McDermott said.
The climax: Students were treated to a peek at what it takes to build a Concepts NREC "air dynometer," a menacing-looking, car-size turbomachine used by the military and industry to test aircraft and industrial gas-turbine engines
And, of course, what's a factory tour without some freebies?
Students received Concepts NREC tote bags and some of the company's equipment manufacturers also provided souvenirs, such as pens and plastic vernier calipers.