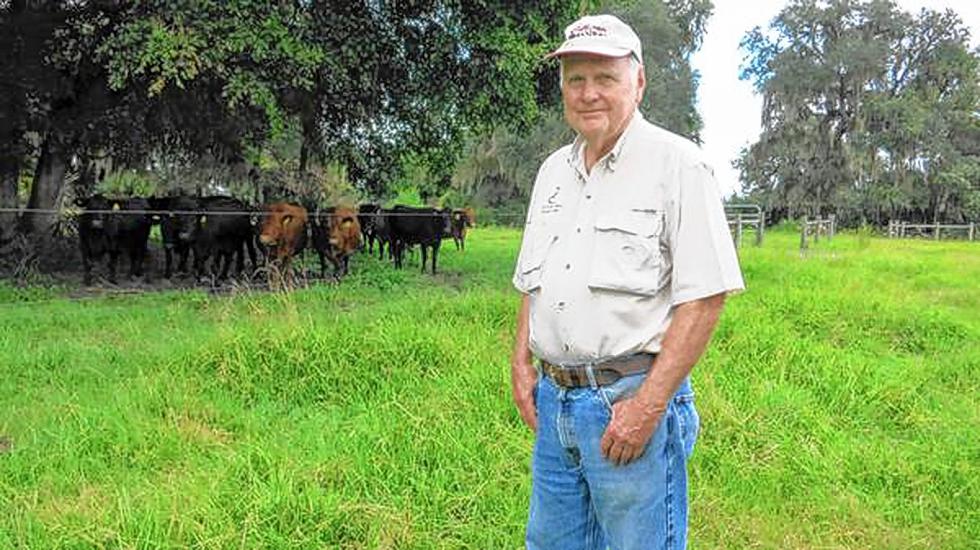 Deleon Springs, Fla. — Cow No. 150, her pregnant belly bulging, nosed around rancher David Strawn's pickup hoping to find something good to eat in the bed of the truck.
For decades, Strawn's family raised cows, lambs and pigs on this lakeside spread about 40 miles north of Orlando.
But when his father died in 2002, Strawn shifted the family business to grass-fed cattle, eventually eliminating the other animals. Strawn loves a good steak, but he insists on knowing that the creature it came from led the best life possible.
That means no antibiotics. No hormones. No grain. No confinement.
"These guys enjoy our pastures, the lakes," Strawn, 79, said recently as he gave a tour of his Deep Creek Ranch. "They get gentle treatment. Their bad moments are very short — at the end."
Advocates of grass-fed meat say it is leaner and contains a higher percentage of healthful fats, vitamins, minerals and antioxidants and fewer calories. It also is better for the environment, provides jobs in rural communities and is kinder to the cattle, goats, sheep and bison destined to wind up on a dinner plate, according to the American Grassfed Association, which was formed in 2003.
"Those animals that are raised in a pen are the cow equivalent of a couch potato," said Strawn, a retired circuit judge.
Not everyone agrees. The National Cattlemen's Beef Association, which represents beef producers, defends the use of feedlots, where cattle are fattened on grain in their final months after an initial diet of grass.
The animals receive individual attention from veterinarians and nutritionists and are protected from predators, spokesman Daren Williams said.
The association and a meat scientist at the University of Florida also say the purportedly superior nutritional benefits of grass-fed beef are overblown.
"There's little definitive data to suggest grass-fed beef is healthier for you," said Chad Carr, an associate professor in the university's department of animal sciences. "Both are an excellent source of dietary protein."
One thing is clear: Grass-fed meat usually is more expensive — sometimes twice as much per pound. That's because small producers need more pasture land and have higher operating costs than large commercial farms. Grass-fed cattle also grow to slaughter weight more slowly and yield less meat, requiring higher prices to make a profit, according to the U.S. Department of Agriculture.
It takes at least two and sometimes more than three years for grass-fed cattle to fatten as opposed to 15 to 18 months for commercial cattle, said Marilyn Noble, a spokeswoman for the American Grassfed Association.
At Strawn's 700-acre ranch, each of the 150 or so animals eats about 25 pounds a day of pesticide-free grass, sorghum, millet and clover, and, in the winter, hay and alfalfa.
No one is sure what percentage of the market grass-fed has captured, partly because it has no universally accepted definition. Estimates range from less than 2 percent to 5 percent.
Not all brands are certified by the American Grassfed Association, which has strict requirements. Deep Creek Ranch is not. In past years, before the grass-fed certification was available, the ranch was Certified Humane, Strawn said. The operation would qualify for both certifications, he said, but in semi-retirement he wants to avoid the complications of paperwork.
To qualify, animals must be fed only grass and forage from the time they are weaned until they are slaughtered. They must never be confined to feedlots, given antibiotics or growth hormones and must be born and raised on U.S. family farms, which are audited annually. The USDA's definition is less stringent.
Grass-fed meat has grown more popular in the past few years among consumers concerned about health, animal welfare and farm-to-table eating, said Emily Rankin, owner of Local Roots farm store in Orlando.
Elementary-school teacher Erika Maier has been buying grass-fed beef from Deep Creek Ranch for several years and said it's worth the long trip from her home. This month she split a 935-pound cow with several other families who shared the $2,571 cost, plus $300 for processing.
Maier freezes her portion and makes dog food out of the tongue, liver and heart for her German shepherd mix, Buddy. She picks up her meat, already packaged, at a small slaughterhouse.
Strawn used to sell to restaurants in South Florida, but he decided to scale back and deal directly with private parties only, getting to know his customers and advising them on cuts of meat. Strawn's love of the business extends to preserving the pine, oak and palmetto trees and deer, wild turkey and fox squirrels that share the land with the cows, steers and bulls.
"I really like growing things," said Strawn, whose boyhood jobs on the ranch were to drive mules and wagons and shoot cattle in the head. "I like caring for things."
It takes some people a while to get used to the firmer bite and reduced marbling grass-fed beef often has, but Maier said it is delicious and she feels healthier since she and her family have been eating it.
"We need to keep our money in the community," said Maier, a mother of a 10-year-old and a 12-year-old. "We need to help the local farmer and we need to do what's right for the animals."