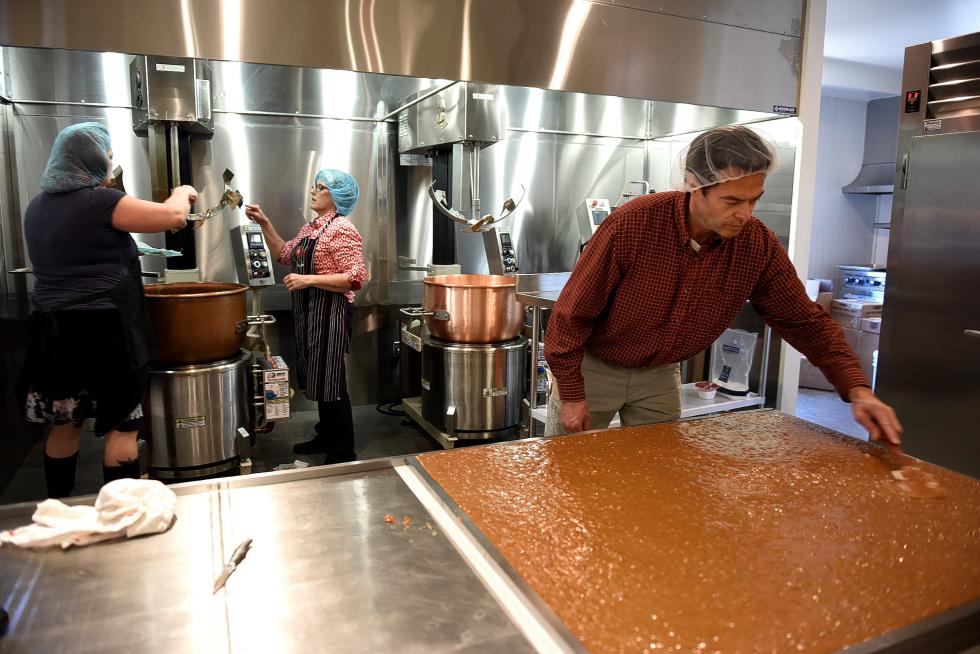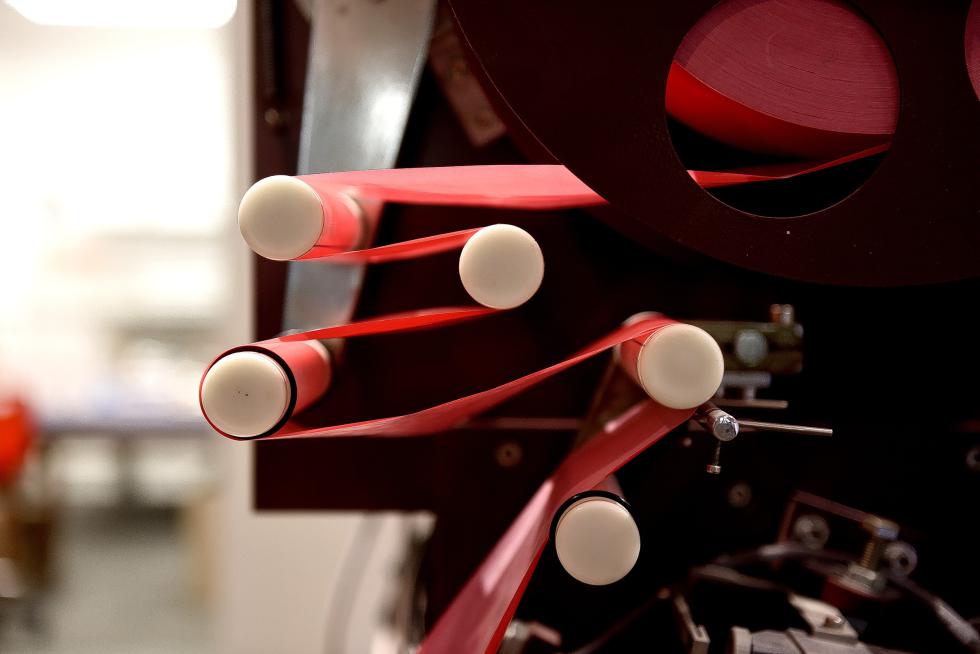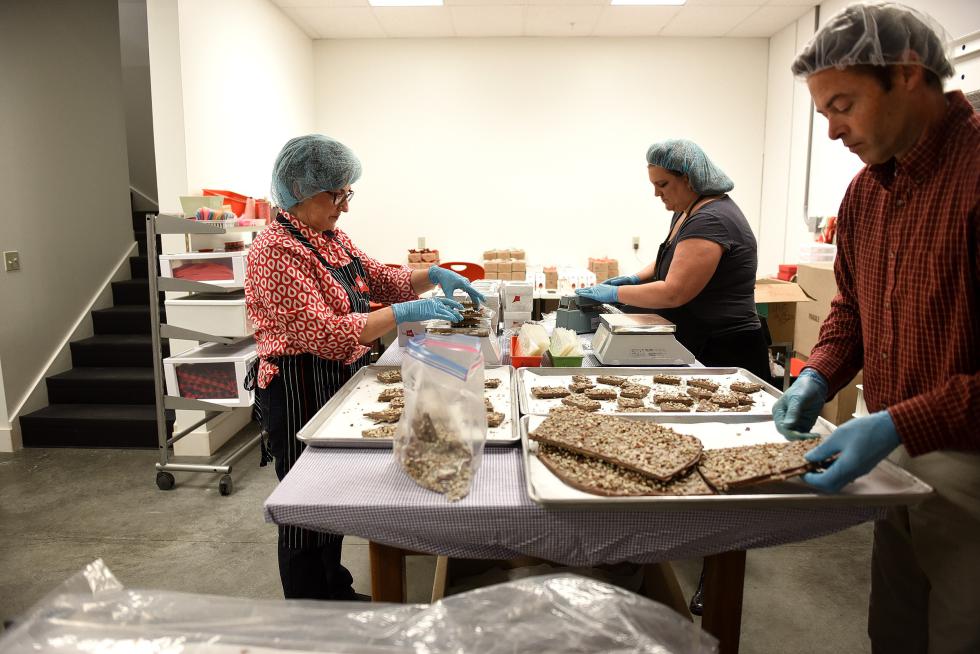 Bradford — The aroma rising from the bubbling copper kettle is the sweet smell of success.
Elaine and Mike McCabe are whipping up another 40-pound batch of sea salt caramels in a mixing machine, scraping the sides of the kettle with a spatula as the agitator swirls 37 pounds of milk and cream, 15 pounds of organic brown rice syrup and more than three pounds of butter into a thickening mass. After two hours of cooking and evaporation the reduced batter is poured into a stainless steel water-cooled table where it solidifies before being cut into 1,000 pieces, wrapped, packaged and shipped to Whole Foods stores throughout New England.
"If you do it the time honored way and cook out the moisture it gets you that rich, deep, caramel flavor," said Elaine McCabe as she dips the spatula into the rising froth while a few feet away her husband, Mike, stoops over to pour gallons of organic brown rice syrup from their containers into white buckets. The syrup is a binder that prevents the sugars from recrystallizing in the caramels.
The rice syrup the McCabes use for their caramels is imported from Brazil and costs three times as much as regular corn syrup — the favored binder among caramel makers — but because Red Kite Candy has built its reputation on using only organic and mostly locally sourced ingredients, "having corn syrup on your label doesn't look good," smiles Elaine McCabe with isn't-it-obvious humor.
Now what began as a cottage business is, literally, turning into a warehouse operation.
Last month, the McCabes moved their candy-making business out of the their Thetford home and into a 2,000-square-foot space in a former warehouse on Industrial Drive, a few hundred yards past the outfitter and clothing store Farm-Way at Exit 15 off Interstate 91 in Bradford, Vt. Elaine McCabe, a former merchandising manager, started Red Kite Candy in 2009 and had been running the business with her husband out of a commercial kitchen built in the basement of their home until the need to keep up with growing demand for their hand-made caramels, toffee and nougat forced them to find a larger facility.
The business "had basically taken over our house," Elaine McCabe said, starting out on the second floor before the couple built the commercial kitchen in their basement. "I get my house back."
They also get a loading dock. When they operated out of their home, the McCabes had to meet delivery trucks at the bottom of their driveway in winter because they couldn't make it up the steep climb, or they had to drive to the FedEx depot in West Lebanon to drop off packages for shipping. The loading dock on the backside of their Bradford facility eliminates those hassles. The McCabes have also built office and storage space on the second floor, and downstairs the walls can be expanded outward into empty areas of the warehouse in the event the Red Kite Candy requires more floor space.
Initially, when they started looking for expanded space, the McCabes had their eyes on the East Thetford Depot, a abandoned train station nestled alongside the railroad tracks, but were unable to reach an agreement with the owner. Moving to New Hampshire wasn't an option because Red Kite Candy's identity is linked to being a Vermont company and "can't move across the river," Elaine McCabe said.
Red Kite Candy is sold at 32 retailers in New England and at 27 Whole Foods markets in Massachusetts, Connecticut and Rhode Island, in addition to a rapidly growing online business, according to the company's website. Revenues have increased at a double-digit rate each year: The company now has sales of more than $250,000 annually — 15 percent from online orders, up from 5 percent 2012 — and has brought on a full-time employee in addition to part-time help during the busy fourth-quarter holiday season that accounts for about two-thirds of the company's revenue.
Its new Bradford location includes a retail shop, which is being managed by their daughter, Caila, a recent University of Arizona graduate. The store was designed with windows in the interior walls so visitors — some, with hope, stopping in on their Farm-Way expedition — will be able to observe the candy-making process at work.
The new commercial kitchen includes a $22,000 FireMixer Chief from premiere candy-equipment maker Savage Bros., a propane-powered mixing machine with two agitators capable of rotating in opposite directions (the copper kettle alone costs more than $1,800) for "stiff recipes," according to the company; a $9,000 Savage Bros. water-circulating stainless steel cooling table, and a $10,000 Traulsen refrigerator to store dairy ingredients — all top-of-the-line confectioner equipment.
With two FireMixers — the McCabes brought the other from their home commercial kitchen — Red Kite can make 10 40-pound batches of caramels per day — a total of 10,000 pieces. A "little cooker" that was brought from the home kitchen is used to make toffee, along with a table-top mixer in which nougat is prepared.
But the prize new equipment is a German-designed, Chinese-manufactured, rust-colored, fully automatic cutting and twisting machine that, with its spooled reels of wrapping material poking out of the side, looks like a movie theater projector. The two-ton machine, which cost $60,000, will wrap and tie 600 pieces in a minute.
"We're fine-tuning the process now," Mike McCabe said, noting that each piece of candy "has to be firmly dimensional in height and width" in order for the automatic wrapper to work properly. Mike McCabe understands a thing or two about precision: A former product manager at digital map company Tele Atlas in Lebanon, he has a graduate degree in geodetic science and surveying from Ohio State University, where he and his wife met.
Until now, the McCabes have been wrapping their candy by hand — some 1 million pieces over the past six years, Elaine McCabe and her husband estimated — the equivalent of two tons.
The entire move from home into the Bradford facility, Mike McCabe said, cost "in the low six figures," but will pay off as they now will be able to meet the increased demand for their product. Last year, Red Kite made 16,000 pounds of candy. This year, it expects to make 20,000 pounds. Sales break down to about 65 percent for caramels, 30 percent for toffee and 5 percent for nougat.
"We could sell a lot more nougat, but our methods are very small-scale," Elaine McCabe said. "We're fixing that this year."
Nougat was the third candy Red Kite introduced after starting with caramel and toffee. "We had friends in France who would send us nougat on occasion," she said. "We really grew to like it and believed it fit nicely in our lineup."
The McCabes say they are focused right now on keeping up with demand from their current customer base ,rather than initiating new accounts.
To be sure, the McCabes are not aiming to take on candy giant like Mars Inc. or Hershey Co., they said. By design, Red Kite Candy is a maker of craft candy and is likely will remain that way.
"We're not thinking about adding other lines," Elaine McCabe said. "We want all our products to be excellent and fresh and that would be difficult to achieve if we tried to do too much." The exception, she notes, will be "one-time or seasonal candies that leverage what we already know how to do" — such as chocolate barks, turtles and new caramel flavors like hazelnut mocha and gingerbread. Those variants don't require designing and ordering new packaging, she said, which can be costly.
As a small business, Red Kite Candy doesn't do much paid advertising or marketing and has relied mostly upon glowing media mentions Th e New York Times and Yankee magazine, emails to registered customers, word-of-mouth and social media through its followers on Facebook, Instagram and Twitter. Last week, the company was featured on the online product launch website Grommet, which promotes new products to retailers and consumers — and overnight received 39 orders, Elaine McCabe said.
Although they've been in business just six years, the McCabes, perhaps not surprisingly, given the fans of their candy, have already received the inevitable feelers from parties interested in acquiring their company. But they're sticking to their caramels.
"It's too early to think about selling," Elaine McCabe said.

John Lippman can be reached at 603-727-3219 or jlippman@vnews.com.