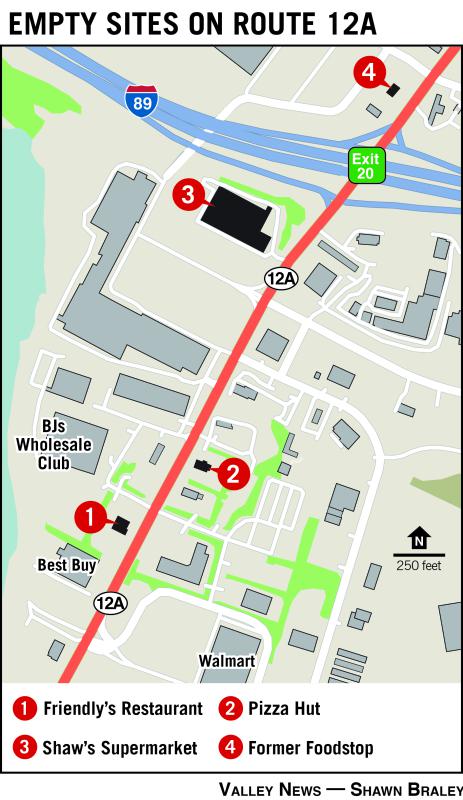 West Lebanon — When the Pizza Hut in West Lebanon closed it doors suddenly last week, it joined at least three other prime commercial real estate locations along the Route 12A commercial strip that are looking for new tenants.
The vacancies reflect the challenge of finding new tenants as both the retail and fast-food industries grapple with changes in consumer behavior, as well as financial pressures within the industries themselves, that are slowing expansion, commercial real estate brokers and property managers say.
Most significant, more shoppers are choosing to make their purchases online, rather than at traditional brick-and-mortar stores, reducing the demand for physical outlets for their goods. And fast-food eateries, a reliable presence along commercial strips like 12A, are facing slower growth as franchisees find it more expensive to operate and customers seek more healthful food choices.
Those shifts are a marked contrast from only two years ago, when Upper Valley real estate observers were expecting the hundreds of thousands of square feet of retail space that was opening up at the time to be filled with new tenants quickly.
It didn't happen — and the vacancies have only increased since then.
"West Lebanon is a very valuable and viable marketplace," said Tom Prieto, vice president at New Bedford, N.H.-based Granite Commercial Real Estate, which has been seeking a new tenant for the past 13 months to occupy the former Friendly's restaurant on 12A. "But the vacancies are a function of the macro national trends that are affecting retail all around the country."
Pizza Hut's closing is the third prime commercial property to become vacancy following the closing of Friendly's more than a year ago and the Shaw's supermarket in the Upper Valley Plaza in 2013. A fourth property, the Irving Oil gas station near the northbound entrance ramp to Interstate 89, has remained derelict since 2010 when it was closed — temporarily, Irving said at the time — to accommodate the reconfiguring of the Route 12A/I-89 interchange.
Excluding the former Shaw's supermarket — because its appraisal is hard to break out separately from overall assessment of the Upper Valley Plaza — the three other vacant properties represent more than $5 million in assessed value, according to Lebanon assessor department records. The Upper Valley Plaza is owned and managed by WS Development, of Chestnut Hill, Mass., one of the country's largest owners of shopping plazas.
Prieto said the push for higher minimum wages among workers is increasing the cost of operating fast-food franchises and curbing their expansion plans. At the same time, he said, big-box stores are increasingly "getting into each other's business." That means current retail tenants — whose contracts with property owners typically protect them from the owner leasing to a similar business — can be skittish about many potential tenants, even if they are not direct competitors.
"Stores are looking to protect their core business from bleeding around the edges," Prieto said.
For example, Shaw's, which still holds the lease on its vacant store in the Upper Valley Plaza, may not want to have the space occupied by a retailer that could draw customers away from the other Shaw's a half a mile away in the Powerhouse Plaza, Prieto said, adding that he did not have specific knowledge of the contract.
And the former Friendly's and Pizza Hut, both designed and built to be restaurants, likely would appeal only to another restaurant operator.
Demand for commercial real estate "is still here for the Upper Valley, but because each of these spaces has a little 'hair' on it, you can't put (a deal) together quickly," said Bruce Waters, a longtime area broker with Lang McLaughry Commercial Real Estate in West Lebanon.
'Revitalizing the Market'
On Monday, customers pulling up to the Pizza Hut found a notice posted on the door announcing that it "will no longer be open for business" and referring them to the franchisee's co-owned Pizza Hut 22 miles to the south in Claremont.
"Capital Pizza Huts is revitalizing the market and has plans to build and/or remodel restaurants throughout New Hampshire," the notice said.
Capital Pizza Huts is a unit of Wichita, Kan.-based Capital Enterprises Inc., which owns 86 chain restaurants in New Hampshire, Vermont, Maine and four other eastern states, according to the company's website. The privately held company was one of the early Pizza Hut franchise operators.
Officials from the company could not be reached for comment.
The nearly 1-acre property is owned by Augusta Bristol Pizza LLC, which in turn is owned by Portland, Maine-based Dead River Properties, the commercial real estate investment arm of Bangor, Maine-based fuel distribution company Dead River Co. The 2,679-square-foot structure was built in 1984 and is assessed at $1.7 million, according to city assessor records.
Dead River Properties also is a partner in the Kmart Plaza and North Country Plaza in West Lebanon and the western half of the Miracle Mile Plaza in Lebanon. Earlier this year, Dead River Properties sold the Powerhouse Plaza to investment firm Eastern Real Estate for $12.35 million.
Anne Littlefield, vice president of Dead River Properties, said Capital Pizza Huts notified her on Nov. 3 that it would be vacating the property. She said the property is still under lease with the franchisee but "we are communicating with them" and have already reached out to commercial property brokerage firm Kiely & Co., of Cotuit, Mass., to help enlist a new tenant.
In the five days since Pizza Hut closed, Rick Kiely said, he has already received a "number of inquiries" about the property. He attributed the closing to the broader issues facing the fast-food chain, in which a recent menu changes have not been enough to stop an ongoing revenue and earnings slide, adding that Capital Pizza Huts had also recently closed its Keene, N.H., location.
Moreover, Ki e ly noted, the Pizza Hut faced competition from four other pizza providers along the Route 12A strip: Ziggy's, Cantore's, Lui Lui and Little Ceasers in the Kmart store. A fifth — Ramunto's — operates out of the nearby Miracle Mile Plaza.
"The trend has been more for customized type pizza, like Ziggy's, Cantore's and Lui Lui, and less for order-off-the-menu like Pizza Hut," he said.
Vacancies Prompt Speculation
One new retail store that many expect to see soon in West Lebanon is Michael's, the craft and home decor supplier that has recently advertised on websites for staff and managers for a new outlet in the area. Some commercial property managers have wondered whether Michael's might occupy a portion of the vacant Shaw's space in the Upper Valley Plaza, which could be divided into two stores, with the other part being occupied by retail shoe giant DSW (formerly known as Designer Shoe Warehouse).
Lebanon has also approved a 26,000-square-foot addition to the Shaw's building, which at one time was going to be occupied by PetSmart before the company withdrew the plan.
WS Development, the owner of Upper Valley Plaza, did not respond to a request for comment. A spokeswoman for Michael's said the company had "no details to share at this time." DSW did not respond to a request for comment.
And passersby eager for something to be done with the idled Irving Oil gas station site near Exit 20 in West Lebanon will have to wait a while longer.
Commercial real estate brokers speculate that Irving Oil, which owns the lot on which the station is situated, is waiting for the lease to expire on the adjacent Kleen Laundry location so it can expand the footprint to build a super-size Irving gas station and convenience market. But Kleen has about two years remaining on the lease, so the site may remain derelict for a while yet.
Prieto, the commercial real estate broker who is handling the leasing of the former Friendly's on behalf of property owner Korpela Family Trust, said he is currently in discussions with "six to eight" potential tenants to occupy the building. "We're looking for a complementary tenant," he said. "It would not make sense for another hamburger place."
Although the Route 12A corridor is being buffeted by national trends in retailing and fast food, it remains an area that businesses want to locate and shows of becoming a strip mall ghost town, according to property managers and brokers.
"There is a lot that goes on with repurposing these properties, such as legal issues, that takes a whole lot to sort out," said Kiely, who handles tenant searches for several Route 12A property owners. "It doesn't mean they are any less viable for business than before. … I believe in the next 12 to 18 months we see most of these vacancies redone with high-quality (occupants). The West Lebanon strip is very desirable for retailers."
Potential commercial real estate tenants, with an eye to the long-term future, may also be holding out for the new infrastructure that would be created by Iron Horse Park, a mixed-use proposal that includes industrial, office, restaurant and retail space.
Iron Horse would encompass 92 acres bordered by Glen Road to the south and Route 12A to the west in West Lebanon. Currently home to a rock quarry, the proposed project earlier this year received a two-year extension from the Lebanon Planning Board as its principal in the project, Twin State Sand and Gravel Co. co-owner Warren "Bud" Ames, works to meet the conditions imposed by the board and negotiate with a developer to take on the project.

John Lippman can be reached at jlippman@vnews.com or 603-727-3219.