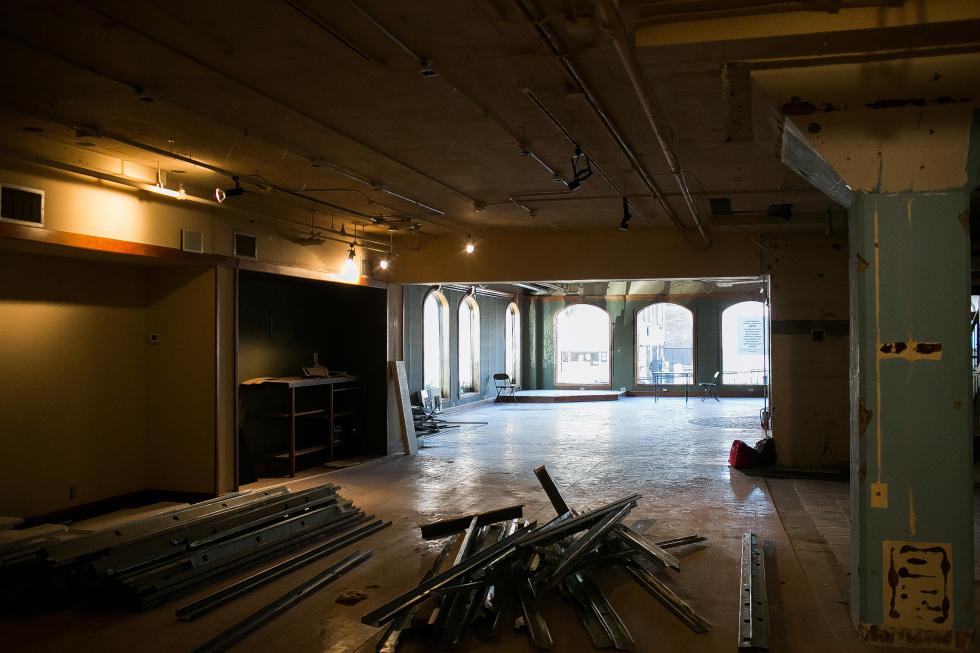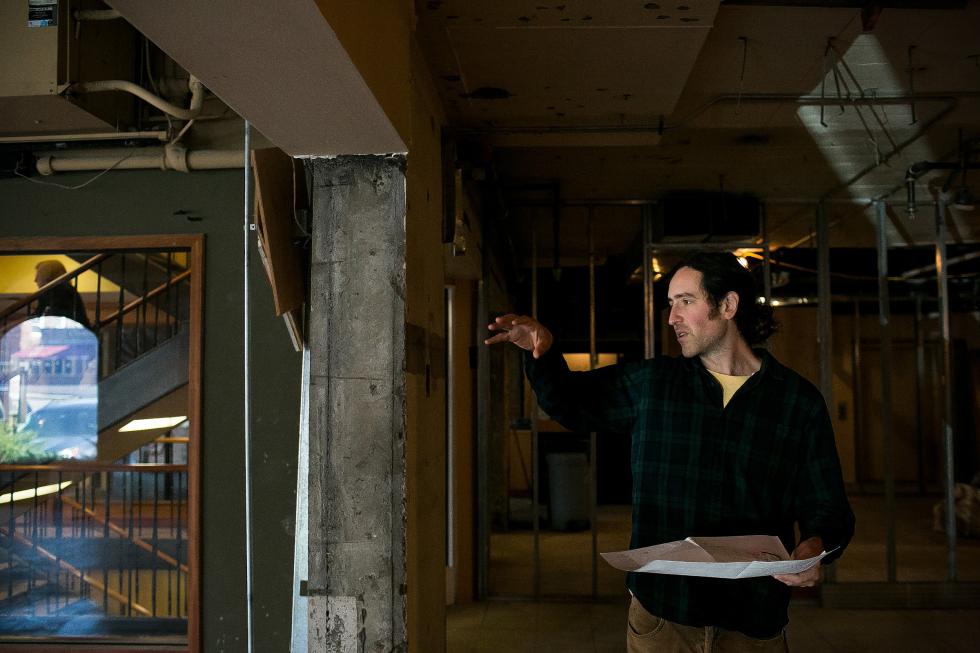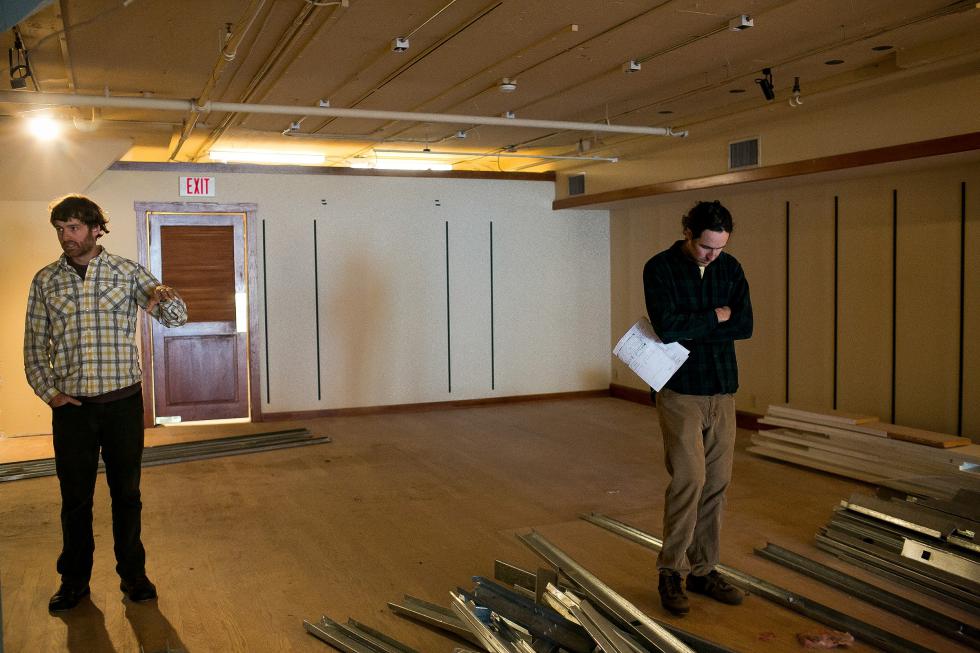 Hanover — Burlington's Skinny Pancake restaurant, which pioneered a Vermont twist on the French crepe, is coming to Hanover.
Skinny Pancake owners Jonny Adler and Benjy Adler have leased space in the Hanover Park building on Lebanon Street formerly occupied by the clothing store Essentials for Men and The Chocolate Shop.
The brothers say they hope to have their restaurant, which is known for its creative interpretations of the thin, curled French pancake prepared with ingredients sourced from local farmers, open by spring.
A construction permit with the town of Hanover to convert the spaces into an approximately, 4,000-square-foot, 125-seat restaurant will be filed Monday, the b rothers said last week in an interview.
The Skinny Pancake, which began with the Adlers peddling their crepes from a cart on the streets of Burlington in 2003 before they opened their first restaurant in 2007, currently has locations on the Burlington waterfront, the Burlington airport, campus of University of Vermont, and in Montpelier.
The brothers also operate a sister restaurant, The Chubby Muffin, in Burlington, in addition to a catering company and food truck that travels to summer music and arts festivals around New England.
"One of the main reasons we're coming to Hanover is because we got more unsolicited requests to come here than anywhere else," said Jonny Adler, 36, as he and his 34-year-old brother watched as workers reconfigured the walls of the two former stores into a single space. "This is a big deal for us. We're trying to make sure this is done right."
Another factor that weighed in Hanover's favor is the availability of produce suppliers on both sides of the Connecticut River — the restaurant business sources about 72 percent of its ingredients from Vermont growers or processors — to maintain its emphasis on serving local food whenever possible.
Although they eyed locations as far away from Boston, "ultimately we came back here because of the 'foodshed' and the available farmers to work with," Jonny Adler said.
The restaurant that prides itself on its links to the sustainable food and localvore movement is a natural draw for students from Dartmouth College, and Jonny Adler said he expects it also will attract workers from Dartmouth-Hitchcock Medical Center, tourists and Upper Valley residents at large.
"Hanover is more than a college town and medical center, and the Upper Valley is more than Hanover," he said.
In recognition that they will be operating out of the restaurant's native state for the first time, the Skinny Pancake's exterior sign and marketing will identify it as a "Hanover, N.H., Creperie" — instead of the "Vermont Creperie" language that adorns its signs and marketing in Vermont.
The Adlers have been exploring a move into Hanover for several years and initially had sought the Main Street space formerly occupied by Eastman's Pharmacy. But they withdrew those plans after a second-floor tenant objected to the ventilation that would come from a restaurant below. That space was later taken over by Lemon Tree Gifts, which relocated from around the corner.
The Skinny Pancake will feature a bar, a performance area for live music, and a view of the kitchen so customers can see the crepes being prepared on the spinning griddle. The bar, Benjy Adler said, will feature a "full list" of craft beers and ales in addition to specialities such as a "Vermont Old Fashioned," made from WhistlePig rye whiskey, Grand Marnier, bitters and Vermont maple syrup.
Staffing will require anywhere from half a dozen people on a slow day to 15 people on a busy day, the brothers said. They expect to hire a manager locally.
About 75 percent of Skinny Pancake's menu is consistent among the restaurants and it includes 15 different varieties of "savory" crepes and 11 different "sweet" crepes for customers who are accustomed to strawberries and whipped cream, banana or Nutella inside a folded sweet shell — what Benjy Adler refers as a "gateway crepe" to exotic creations such as the "Jonny Crepe" (pulled pork with sweet maple BBQ) or "Garlique Chic" (Misty Knoll chicken, Cabot cheddar, caramelized onions, roasted red peppers and basil sunflower seed pesto).
The Skinny Pancake works with more than 100 Vermont suppliers for everything from pork, milk, eggs, flour, basil for pesto (2,500 pounds of basil from a single supplier last year alone) and, of course, maple syrup.
Flour comes from King Arthur Flour in Norwich, which processes wheat grown elsewhere but nonetheless counts as a "value added" product to qualify as a local supplier.
Ingredients that the Skinny Pancake can't source locally typically include olives, avocados and strawberries, because the short northern New England growing season doesn't produce them in the quantity the restaurant requires.
The brothers said their business spends more than $1 million annually buying locally grown and raised food.
The Adlers will be enlisting on-the-ground help in the Upper Valley to help them connect with the area's produce growers and farmers who raise livestock on both side of the Connecticut River.
"We are most definitely interested in all locally sourced produce and would price out all options," Jonny Adler said.
Benjy Adler said the goal of the company since its inception has been "managed, sustainable growth" and the strategy means proceeding cautiously when it comes to opening new locations. Although they have made no commitments, logical markets in the future would include the five-college area of Northampton, Mass., in the Pioneer Valley and New York's Hudson River Valley.
The Adlers declined to say how they will be financing the opening of the Hanover location, but plan to launch a "crowdfunding" campaign targeted at loyal customers — the company's email list has more than 5,000 recipients — who in exchange for providing financing would be able to purchase items from the menu at discount.

John Lippman can be reached at 603-727-3219 or jlippman@vnews.com.