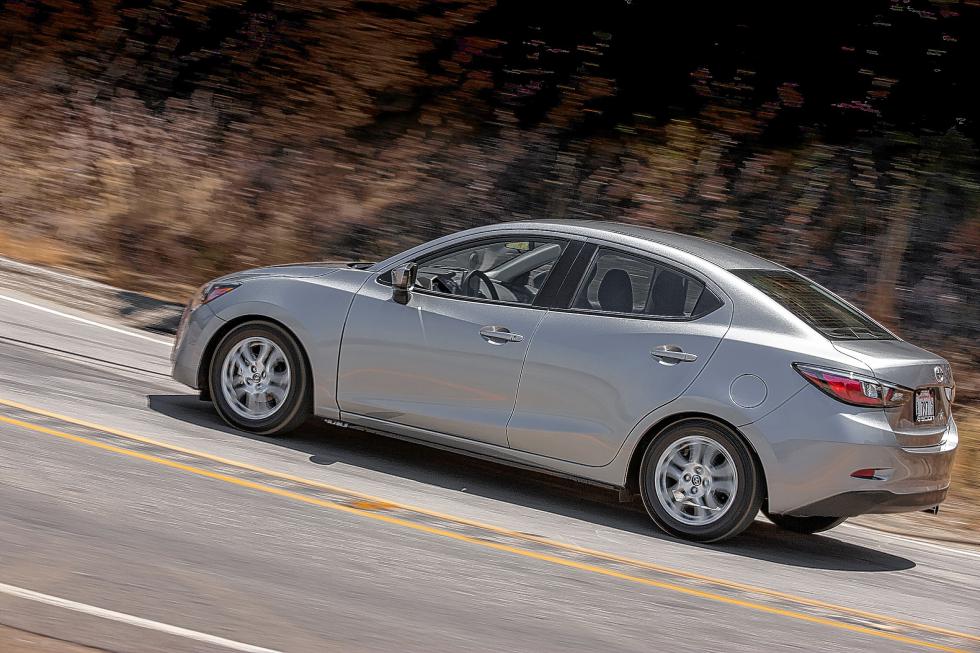 Quick question: What's your favorite Scion model?
Odds are, you'll probably have to stop and think about it.
Since its inception in 2002, Scion has produced a grab bag of models, from the forgettable (xA, xD), to the wonderful (tC, FR-S) and wild (iQ, xB). It's a lineup that seems irrational. The models share little except a badge, a low price, their use of front-wheel drive and four-cylinder powertrains and the desire to attract younger buyers.
But with the exception of its sportier vehicles, the line has slowly slipped off the radar of many buyers as the once-hot Toyota brand has struggled to maintain its relevance or reason for being. But if initial test drives are any indication, the 2016 Scion iA will solve that.
This entry level four-door sedan, Scion's first four-door offering with a traditional trunk, should do much to bolster the brand's appeal.
Once driving the car, you might think that Toyota is finally getting its act together. And it is, kind of.
For in reality, this is nothing more than the new Mazda2, a model Mazda has dropped from its U.S. lineup.
Though it wears a front fascia styled by Scion, this subcompact sedan possesses the appearance of a shrunken Mazda3 sedan — one with ungainly grille. And given that Scion doesn't have any defining styling characteristics, you would be forgiven for mistaking the iA for a new, oddly styled Mazda.
That feeling continues inside, where a 7-inch touch screen tops a horizontal instrument panel that should feel familiar to Mazda fans.
Happily, the car comes with a boatload of standard goodies, including keyless entry with push-button start; tilt and telescopic steering wheel; cruise control; power windows, locks and exterior mirrors; a six-speaker audio system; and a rear-view camera. Streaming audio and radio programs Pandora, Aha, and Stitcher all come standard, as do two USB ports, an auxiliary input, and voice recognition. The knob on the center console handles entertainment functions; climate controls consist of three simple rotary knobs.
The cabin feels roomy for a car of this size, with good legroom up front and adequate head and legroom in the back. Material quality is about what you'd expect in a car of this price, though sturdy and durable.
So while this car's standard features and spacious cabin are notable, it's this car's sprightly road performance that will delight you.
One engine is offered, a 1.5-liter four-cylinder engine that produces 106 horsepower, equivalent to that of the Toyota Yaris. It's mated to a standard six-speed manual transmission or an optional six-speed automatic.
If you want to change gears yourself, great. Just don't expect superior fuel economy.
The Environmental Protection Agency says the manual iA will get 31 mpg in the city and 41 mpg during highway driving, while the automatic will get 33 mpg in the city and 42 mpg on the highway.
The engine feels smooth and provides adequate power for dealing with the daily drudgery of commuting. It puts its power down through a MacPherson strut front suspension and torsion beam rear suspension, a fairy common, if inexpensive, setup.
Yet it's expertly tuned to deliver a deft balance of sporty handling and compliant ride, delivering a driving experience that you'd never expect from such a mundane set of mechanical bits.
The feedback experienced is rewarding, with a nimble, direct response that makes the cut and thrust of commuting wars something to look forward to.
The starting price makes the Scion one of the few cars worth considering in this class. In fact, it's better than the similarly priced, and identically powered, Toyota Yaris five-door hatchback.
Just as with the Subaru-engineered Scion FR-S sports coupe, the Mazda-engineered Scion iA provides an entertaining, economical driving experience in a class that's rarely been notable for its thrills. And it's the first Scion sedan to do so.
Evidently Scion buyers agree, as it has quickly become the brand's most popular model, and perhaps, one of its more memorable ones as well.
By the Numbers
Base price: From $15,700
Engine: 1.5-liter four-cylinder
Horsepower: 106
Torque: 103 pound-feet
Wheelbase: 101.2 inches
Length: 171.7 inches
Curb weight: 2,385 (manual transmission), 2,416 pounds (automatic)
Cargo capacity: 13.5 cubic feet
EPA fuel economy (city/highway): 31/41 mpg (manual), 33/42 mpg (automatic)