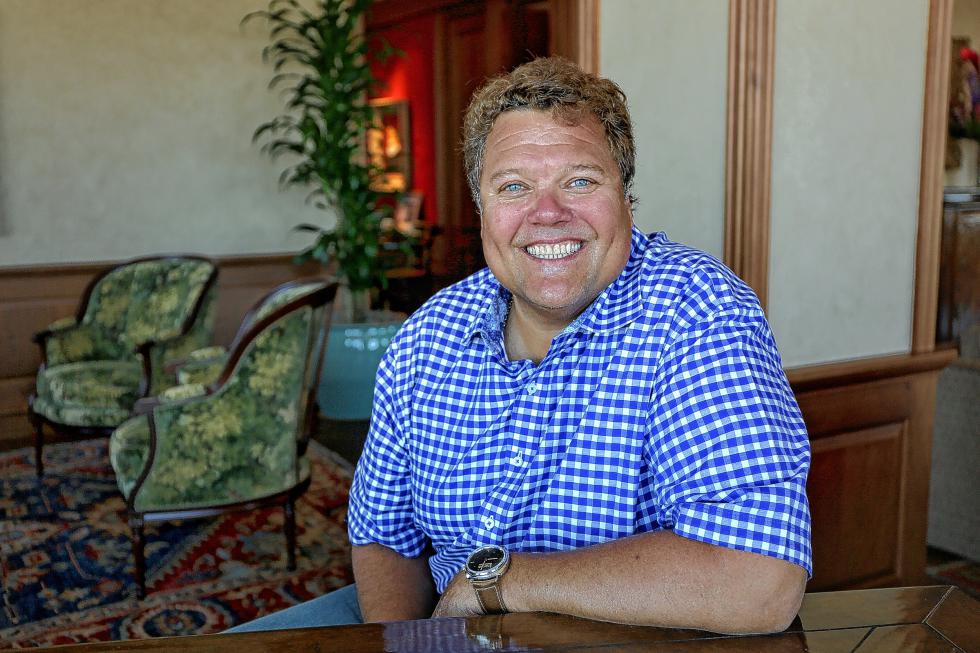 Chicago — Jimmy John Liautaud, the founder of the sandwich chain bearing his name, is a passionate salesman of a simple philosophy: Work hard. Push forward. Learn from mistakes.
It's a philosophy that has served him well since he took a $25,000 loan from his father in 1983 to open his first sandwich shop in the downstate Illinois city of Charleston after high school. He enrolled at Eastern Illinois University only to drop out before finishing the first semester to grow his business.
Today, that business has 2,300 locations nationwide and Liautaud hopes to double that in five years. He also wants to add international stores and may take the company public. The plans, and the hiring of a new public relations agency, led the executive to sit down for a rare interview earlier this month in his mother's high-rise penthouse condo in downtown Chicago.
"I've been around for 32 years and nobody knows who we are," he said.
An avid hunter, Liautaud acknowledges the biggest misconception about him is that people still connect him to 10-year-old photos of him posing with elephants, rhinos and other endangered animals he shot, photos which have prompted calls for boycotts in recent years. Just asking him about it makes his eyes well up with tears.
"I choose to hunt and I choose to fish," he said. "Everything I've done has been totally legal. And the meat has been eaten, if not by me than by someone I'm with. I don't hunt big African game anymore."
The air pumps back in his lungs and the intensity returns in his eyes when he talks about his business: The school of hard knocks, mixed with a crazy passion that even he admits few franchisees can match.
"I assumed when I was first selling the franchises that everyone would be as excited as I was to wake up in the morning to bake bread and slice vegetables," Liautaud said. "But I realized I was an anomaly as opposed to the norm, you know? I thought everyone was into this."
Liautaud marketed his sandwiches from that first store by bringing samples door-to-door at dorms. His father, James, owned 48 percent of the business at the onset, while Jimmy owned 52 percent. That first year, the shop had $155,000 in sales and $40,000 in profit. He bought his father's stake by year three. James Liautaud died last month.
Delivery, a significant driver of the business today, wasn't a result of shrewd business planning, but rather the only thing that Liautaud says allowed him to overcome a bad location of his first store. "Delivery was never a strategy. Delivery was really survival," he said.
After establishing a successful recipe of house-baked bread, house-sliced meats and a dose of that irreverent attitude that is evident on store walls, Jimmy John's started franchising in 1993. But growth exploded, and in 2002 the company had around 200 stores. Of those, about 10 percent were corporate stores that Liautaud oversaw himself, and sales at corporate stores were far outpacing the franchise locations.
"It was a really scary moment for me," he said. "I was running my stores really, really well and my stores were almost double what the franchise stores were doing."
So, together with his business partner (now president) James North, he hit the road and visited 70 underperforming franchise stores, bringing them back to basics and trying to instill some of that initial spark.
"How do you turn around a restaurant? I'll tell you how," he recalled. "You go inside the restaurant, pull all the equipment, pull it away from the walls, you scrub the walls, paint 'em, patch 'em, fix 'em or do whatever has to be done.
"You push everything back against the walls, you blow out the compressors, you replace your disposables and any of your cutting boards and whatever isn't good, you fix your refrigerators, you sharpen your blades, and you get back to business. And that's pure hard work. And doing it 70 times is really hard."
It took 18 months. "It was the hardest 18 months of my life," he said. "I'd already been working 100 hours a week for 20 years and I really thought I never ever wanted to go back and do that again."
But it was a lesson learned, he said. The company now goes through a far more rigorous process to screen potential franchisees. "The discipline has just paid us back in spades," he said.
The company now has 1,300 stores in the pipeline, and 90 percent of those are set to be opened by existing franchisees.
"Could we grow faster? Yes. But I don't want to be the biggest," he said. "I want to be the best at what I do."