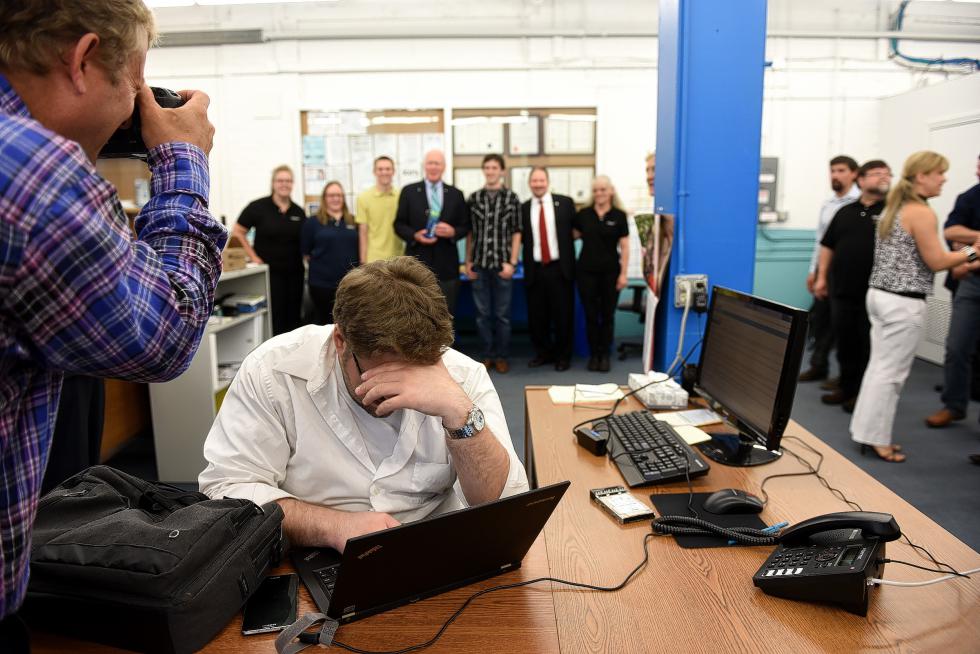 Windsor — In a move that likely signals a fire sale, the assets and patents of water filtration company Seldon Technologies are slated to be auctioned off next week, a deflating end for the startup that said it had achieved a technological breakthrough for making contaminated water fit to drink.
Seldon's majority shareholder, South Africa-based EcoNet Wireless, has hired Willisiton, Vt., auctioneer Thomas Hirchak Co. to solicit sealed bids that must be submitted by 5 p.m. on Dec. 3. On the block is "all intellectual and personal property" belonging to Seldon, according to an announcement on Hirchak's website. The floor price for bids is $1.5 million.
The announcement also quashes speculation among many former Seldon employees that EcoNet was looking to keep Seldon's patents and restart the company outside of Vermont.
Seldon was abruptly shut down on Sept. 28 and all 32 employees were let go after EcoNet decided to cease funding the company.
Since it was launched in 2002 by a Dartmouth College physics graduate student dropout, more than $53 million had been invested into the company, including $27 million in research grants from the U.S. military, which equipped soldiers with Seldon's portable water filtration when on deployment.
EcoNet initially invested in Seldon in 2012 and eventually put a total of about $20 million into the company before pulling the plug.
In addition to its patents — the auction notice lists three U.S. patents, 21 foreign patents and 20 more U.S. and foreign patent applications — Seldon's assets include laboratory equipment and manufacturing equipment at its plant in the former Cone-Blanchard Machine Co.'s machine-tool facility in Windsor.
It could not be determined if any of Seldon's patent licenses were transferred to EcoNet.
Who would be interested in acquiring Seldon's assets and patents is unclear because of problems surrounding the company's technology, which adapts the use of carbon nanotubes in filtering mesh. The use of carbon nanotubes for water filtration has not been approved yet by the Environmental Protection Agency, thereby prohibiting its sale in the U.S. market. (EPA approval is not required for military use or sale outside the U.S.)
More problematic, however, is that Seldon's scientists discovered during an internal testing review in 2011 that the company's signature innovation — super-small cylinder-shaped carbon nanotubes, or CNTs — "had little or no effect on performance" of the filtration media to remove contaminants, according to the company's 2013 business plan. As a result, the tests "have called into question both the validity and value of (Seldon's) patents," the plan concluded.
Seldon went on to develop and market non-CNT filtration media, but the discovery undercut Seldon positioning as a "nanotechnology company," thereby making it just another supplier of conventional water filtration media, a market already established with numerous players.
Jim Myers, the chairman of Seldon's board who has continued to champion the company's prospects, said in an interview that "we have had a lot of people who have spoken to us" about buying the company, "but all we can do is refer them" to EcoNet's financial adviser, Johannesburg, South Africa-based Agis Investments. He called the process "frustrating."
Agis did not respond to a request for comment. EcoNet previously said that its "continued support for Seldon was predicated on Seldon being able to raise third-party funding in scaling-up production and enhancing business development efforts." But since those efforts were not successful by the imposed Sept. 25 deadline, "the Seldon board was forced to close the business."
Myers has remained optimistic that Seldon CNT technology in water filtration will eventually win EPA approval. If that happens, the commercial prospects for the company's technology could improve, supporters say, because the CNT technology allows for faster filtration.
"With enough time, any filtration system can work," George Gilder, a well-known technology investor and Seldon board member, said in an email recently to the Valley News, about the non-CNT water-filtration media Seldon and others have developed and marketed.
However, "the key element in commercial success is flow rate, and the nanotubes greatly enhanced the flow rate, explaining the success with the military, which can't wait around for the water to dribble out."

John Lippman can be reached at jlippman@vnews.com or 603-727-3219.