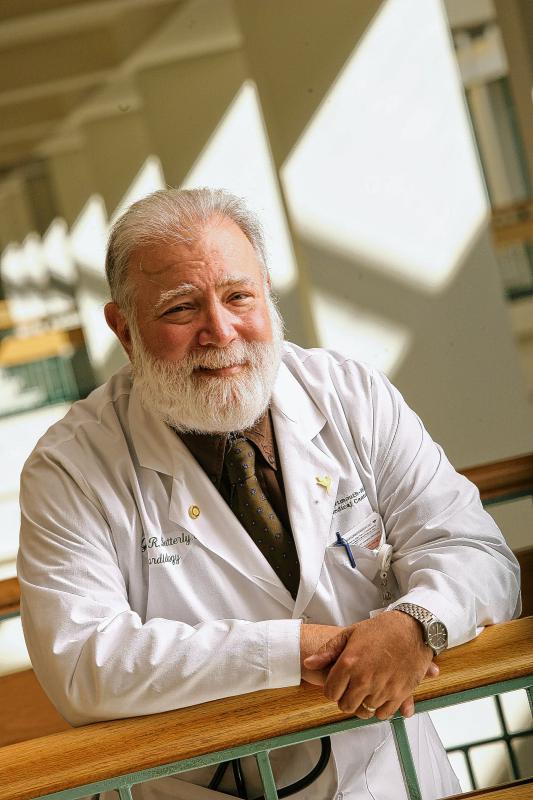 Dartmouth Cardiologist Will Lead Medical Society
Hanover — John R. Butterly, a cardiologist and a professor of medicine at Geisel School of Medicine and The Dartmouth Institute for Health Policy and Clinical Practice, has been elected president of the New Hampshire Medical Society.
"It is an honor to represent physicians in the state of New Hampshire," Butterly said in a news release from Geisel. "I think it's a very big responsibility both as the society's spokesperson and as an advocate on behalf of the patient population."
Butterly is the medical director of the Dartmouth-Hitchcock Global Health Initiative and teaches an undergraduate course on global health at Dartmouth College. For the past four years, he has served on the New Hampshire Medical Society executive council.
Founded in 1791, the society supports and advocates for patients, physicians, the medical profession, and the betterment of public health throughout the state. With more than 2,200 members, it plays an important role in helping to shape the future of medicine and recently turned its attention to the prevalence of opioid misuse and addiction, Geisel said. "The organization has been, and will continue to be, involved with drafting emergency rules for opioid prescriptions."
In his inaugural remarks, Butterly outlined two challenges deserving the society's attention — the number of underinsured or uninsured New Hampshire citizens who do not have access to basic health care, which he describes as "unacceptable in the wealthiest nation in the world," and the challenging process of health care reform that has become increasingly polarized, confusing, and potentially damaging to the health of the population.
"It is our responsibility, as the ultimate providers of care, to help see to it that all members of the population we serve have sustainable access to the care they need," he said. "This social imperative of sustainable access to affordable health care for the disadvantaged in our state is inextricably linked to the larger issue of how health care reform is eventually implemented for the population at large.
M t. Ascutney Hospital Names Director Of Psychiatric Services
Windsor — Dr. Jennifer Connors has joined Mt. Ascutney Hospital and Health Center as director of psychiatric services.
Connors is a general psychiatrist with "extensive experience in child, adolescent and adult psychiatry," the hospital said in a news release. She previously treated patients through her private practice and within the network of community mental health centers throughout Vermont and New Hampshire. Before joining Mt. Ascutney Hospital, she worked at Health Care and Rehabilitation Services in Springfield, Vt., and Brattleboro, Vt.; United Counseling Services in Bennington, Vt.; and Community Council of Nashua, N.H.
Connors is a 2003 graduate of the University of Vermont College of Medicine. She was a UVM Freeman Scholar, working to expand medical student awareness and opportunities to better meet the needs of rural Vermonters and promoted service-learning projects and mentorships, the hospital said. She served her pediatric residency program at University of Utah School of Medicine and then returned to Vermont to serve a second residency. She fulfilled her general psychiatry training for the departments of psychiatry at Dartmouth's Geisel School of Medicine, Dartmouth-Hitchcock Medical Center and UVM College of Medicine, University of Vermont Medical Center, formerly Fletcher-Allen Health Care.
Connors has served on the medical staff of Vermont State Hospital since her senior year of psychiatry training. She and her colleagues there were honored by the state for their duty and dedication to their patients during the night of Aug. 28, 2011, when Tropical Storm Irene ravaged the facility, Mt. Ascutney Hospital said. Until patients could be treated elsewhere in the mental health system, Connors continued as the treating psychiatrist for displaced patients at the provisional Vermont State Hospital location in Springfield.
Connors also has worked in medical research and delivered lectures and case presentations.
Armistead Honors Canaan Woman
Lebanon — Sherry Russell, of Canaan, has received the Rachel Lee Cummings Award for Excellence from Armistead Senior Care.
The agency presented the award at its 16th anniversary celebration on Nov. 5 at Catamount Country Club in Williston, Vt., where it honored its caregivers.
Cummings founded the agency in 1999 to address the needs of aging Vermonters and provide opportunities for professional caregivers, Armistead said in a news release. Russell is a caregiver through the agency's Lebanon office.
— Compiled by Aimee Caruso