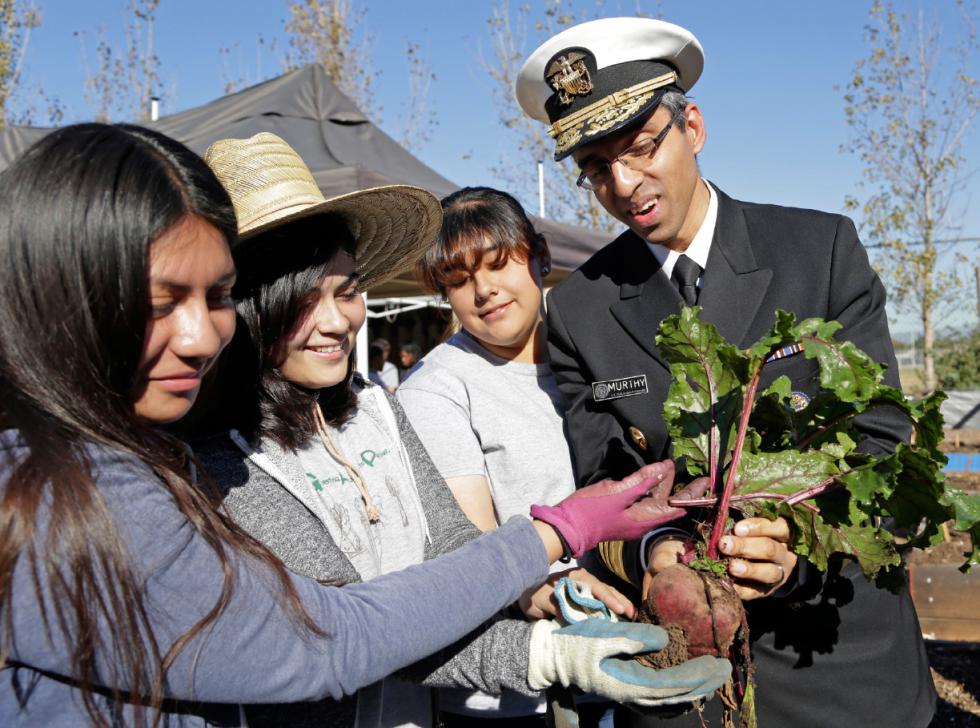 Los Angeles — Elizabeth Castro had never tasted beets or kumquats before she joined an after-school gardening program at her inner-city Los Angeles high school.
Now, the 15-year-old helps grow the produce on campus in an urban neighborhood filled with auto shops and fast food restaurants — and she's taken samples for her family to try.
"Many things that I experienced here, I had never experienced before," Castro told U.S. Surgeon General Vivek Murthy on a tour of the 1.5-acre site along with her fellow students. "Instead of going home and doing nothing at all, we come here."
Earlier this month, Murthy visited the partnership between community organizations and John C. Fremont High School to support healthy initiatives in neighborhoods starved for fresh produce and grappling with childhood obesity.
"These kinds of programs, they help build a demand for healthy foods," Murthy said.
At the South Los Angeles campus, students involved in the 12-week after-school gardening apprenticeship program learn to grow food and cook healthy dishes, pulling from kumquat and lime trees and planters filled with potatoes, peas and beets. A community health clinic run by University Muslim Medical Association that caters to students and neighborhood residents is located next door.
The Los Angeles Neighborhood Land Trust started the garden four years ago and plans to soon add a greenhouse. Those in the apprenticeship program have seen a jump in their grades and the amount of fruit and vegetables they eat, said Mark Glassock, director of special projects for the trust, which is designing a similar project at a nearby high school.
"Schools have a lot of property on their campuses, much of which is underutilized, so this is a great alternative to use that space," he said.
A 2013 report showed about 40 percent of the school's students were overweight or obese, Glassock said.
Across the country, the obesity rate in children age 2 to 19 has held around 17 percent for the last decade, according to the Centers for Disease Control and Prevention.
Azucena Lozoya, 16, said she signed up for the gardening program because she never had a chance to try anything like it where she lives. Since then, she's enjoyed tasting kale and a variety of melons, new additions to the rice, bean and chicken dishes she usually gets at home, she said.
"My mom never makes stuff like that," Lozoya said. "This helps us have a different range of food. This helps us have choices."