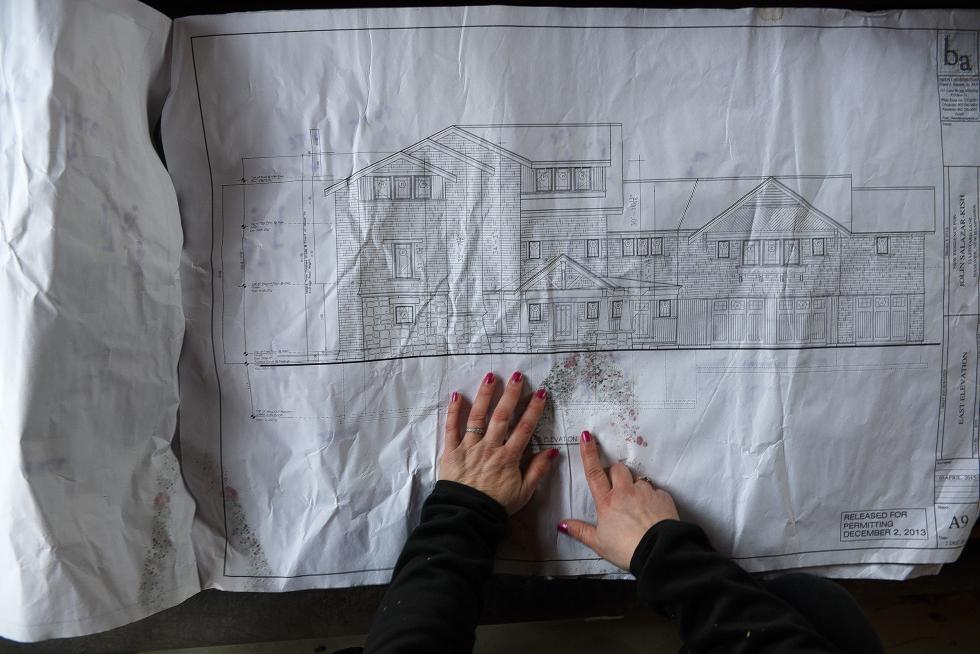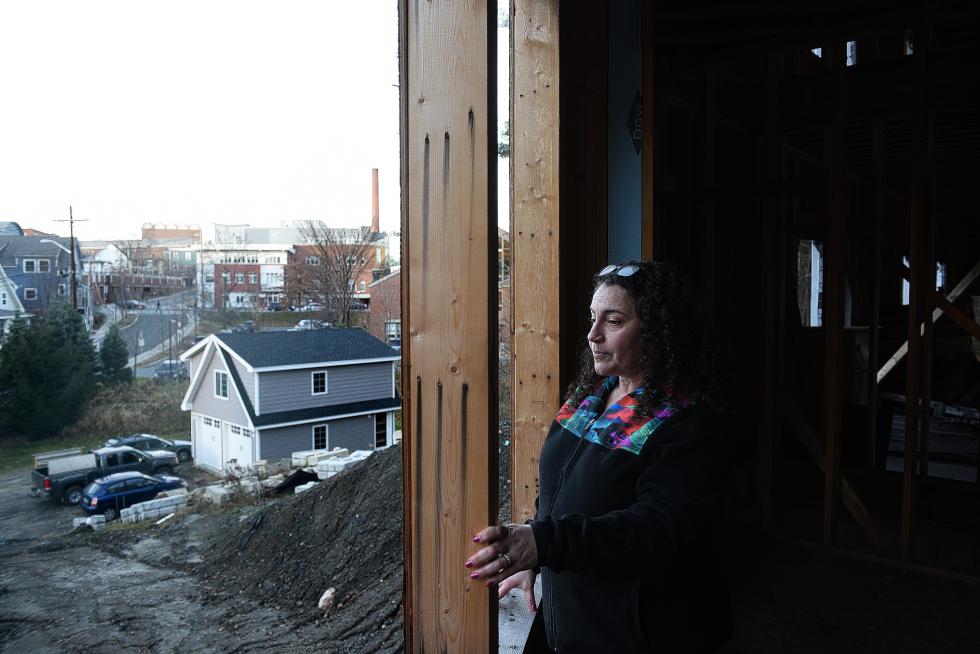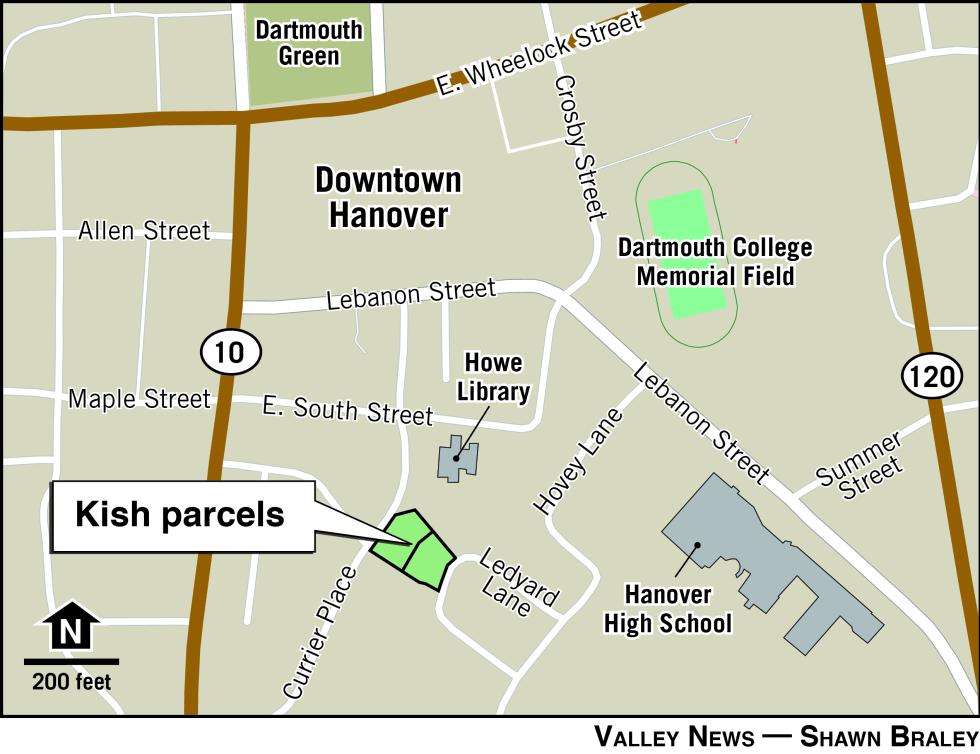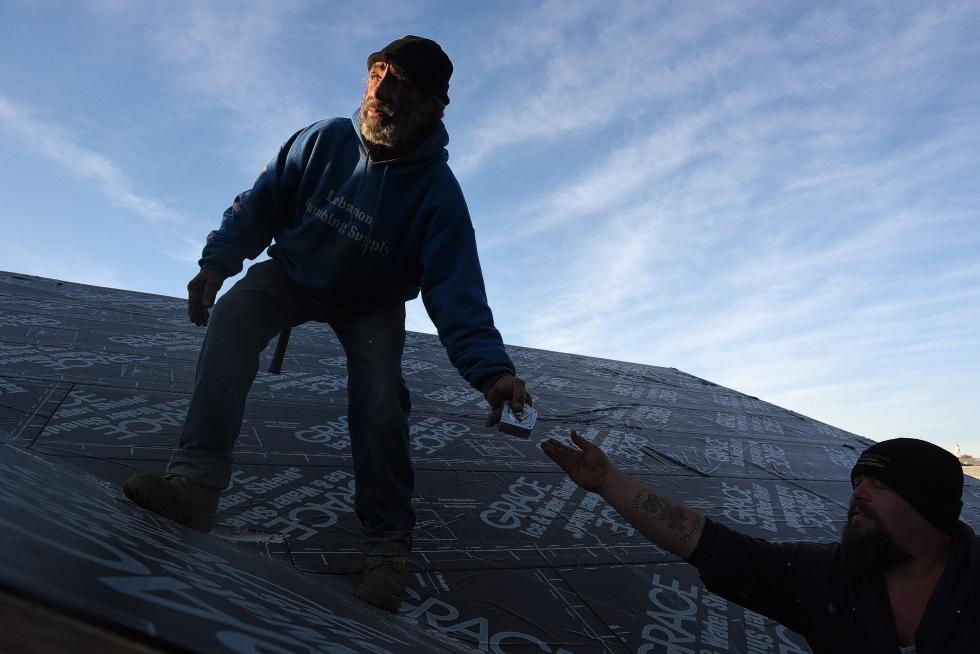 Hanover — For more than a decade, Hanover landlord Jolin Kish has had her eye on a certain plot of land.
It occupies the end of a quiet, shaded cul-de-sac overlooking downtown Hanover, where the chimes of the Baker Library bell tower ring across town to mark the hours. Small family homes stand at a respectful distance, shielded from one another by trees.
Now her dream house is rising on that property on Ledyard Lane. With three stories and a walkout basement, it takes up more than 9,000 feet on a third of an acre, and is twice the height of the house next door.
Kish owns 16 properties in town and manages even more, most of them occupied by rental tenants. A graduate of Dartmouth College and its Thayer School of Engineering, she has a reputation as a canny and assertive property manager; even her critics in the neighborhood describe her as "brilliant." She takes a dispassionate view of her business, and calls her rental designs "basic boxes" — which makes her attachment to this spot and to this house's design something unique.
"For me to pay for that land and sit on it for 10 years?" she said in a recent interview. "That means a lot."
Her neighbors have done their best to stop the house's construction, and they have failed.
As contractors make finishing touches to the roof, those opponents are coming to terms with a house that they feel mars the character of their neighborhood.
"This is our home," said Keri Craft, who lives a few houses away, "and I take it personally when someone does something — I can't even think of a word to describe it — so wrong."
Neighbors describe the building not just as an eyesore, but also an insult. Jim Barrett, who lives next door, called it an expression of ego, an "insensitive" design.
Craft, who can see the house from her kitchen window, found it "disrespectful" — the way the building stands, she said, "right there, in everyone's face." The neighbors also fear that Kish will rent out rooms and use the space as a business, both claims that Kish denies.
When the dispute began, Craft's children were toddlers; now they are looking at colleges.
According to town assessing records, Kish bought the land in 2002 for $395,000 from a couple who had lived there since the 1960s.
The neighborhood in that era was full of children; they roamed the leafy street in packs, just steps from Hanover High School and athletic fields. When that couple, the Biens, moved out, neighbors heard that "a young couple was moving in and looking forward to meeting the neighborhood," Craft said.
Shortly after, Craft and the family next door noticed that Dartmouth students were living in the Bien house. The neighbors say that at least five students lived there, in violation of zoning code, which limits the number of unrelated occupants to three. Kish denies this, saying she had student roommates but never more than the number allowed.
Some neighbors remain convinced that Kish will lease some of the new house's six bedrooms to tenants.
But Kish argued that it made "no sense whatsoever" from a financial standpoint to build a large and attractive house and then rent it out to strangers.
"I don't usually make emotional decisions about my real estate," she said, "so I'm not going to build something up there, in that perfect spot, for rental."
"I'm an engineer," she said. "I design buildings. I design boxes. My boxes are ugly; my boxes are efficient. For the first time I had someone else design this building because I didn't want to live in a box."
When Kish designed her first box, in 1988, she was a senior at Dartmouth. She remembers telling her math professor that she couldn't take her final exam as scheduled; contractors were pouring concrete in the wrong place, and she had to drive to Fairlee to stop them.
Over the years she has developed a thick skin. Being a woman in engineering and real estate means that "you put up with a lot of crap," she said.
And in some ways she appears to relish the butting of heads that her work requires.
A major complaint of her neighbors' has been that, several years ago, she cleared a number of trees that screened Ledyard Lane from the downtown district below. But Kish, sitting in her office on Nov. 23 — a single room in her house on Currier Place, where she and three employees sit together on computers, scores of rental keys dangling in boxes on the wall — grinned as she recalled why that had happened.
"They brought that upon themselves," she said.
The neighbors had tried to block one or another of her applications to the town, Kish recalled, and had failed.
But while refuting the claim, her architect discovered structural problems with hillside "undulations" that would have impacted whether Kish could subdivide the property and move a house from one plot to the other. Cutting down the trees resolved the issue.
In 2003, Kish obtained approval from the town to split the property in two, and in 2005, she moved the Bien house down the hill to its current location on Currier Place.
She lives there now with five relatives: her mother, father, grandmother and two children. Kish's family is from Venezuela, where, she said, it's customary to having living arrangements that accommodate extended families.
"In our hacienda we had our uncle and his kids, my other uncle and his kids, and my grandparents — and that's normal," Kish said.
The size of her family and their needs — her grandmother is 89, and her parents are estranged and need separate bedrooms — drive the desire for a larger home, according to Kish.
A gap of roughly eight years followed before Kish applied for a building permit, in February 2013. After moving the house, she went through a complicated divorce, and lacked the time, funds and energy to move forward.
Once she did, the opposition was fierce. Emails from Craft, the most active opponent, streamed into the inbox of Judy Brotman, the town's zoning administrator. The neighbors monitored every stage of the project, scanning for openings.
"Hi Judy," began message after message from Craft.
"… I am checking in regarding status of the Kish permit." "Do you have anything to report on the status of the Kish plans … ?" "I see some action at the Kish lot today …" "Not only are we concerned about the sheer size, magnitude and lack of natural barriers of this home, which was described by someone in your own office as 'a castle,' " said another letter from Craft, "but we are troubled by the idea that renters and a commercial business will move into our quiet setting and create more traffic and further compromise the character of our streets. … I ask that you delay approving her application until these issues are addressed to meet the character and quality of life on Ledyard Lane."
Despite being the most vocal of the neighbors, Craft was far from alone. Residents on all sides of the project, from Hovey Lane to Dorrance Place, wrote in to object.
During planning and zoning hearings, Kish was quizzed on the use of individual rooms in the house. Why, opponents asked, did her home need so many bathrooms and bedrooms, multiple laundry rooms, and space for a future elevator? And what was the purpose of a proposed workshop in the garage?
Kish remembers explaining to one man at a hearing that she needed that many bathrooms and bedrooms for her multigenerational family.
"That's not necessary," he responded.
"I said something not so nice," she remembered, "so I won't repeat that."
"It was awkward," she added. "I think there's definitely some resistance to cultural differences that folks don't necessarily want to admit to."
The neighbors formed the Ledyard Lane Neighborhood Association, hired Lebanon-based attorney Barry Schuster to represent them in hearings, wrote numerous letters to town officials and scheduled meeting after meeting.
The basis for the neighbors' opposition stemmed from lines in the town Master Plan regarding the "character" of neighborhoods ­— something that had little or no bearing on zoning decisions, as evidenced by the July approval of Kish's building permit.
Less than two weeks later, the neighbors appealed without success.
Once construction began the following summer, Kish's contractors regularly noticed people stopping to take pictures of the work or merely to point and stare. Some passing drivers, Kish remembered, slowed to give her a thumbs-down.
Complaints often followed those interactions.
"Hi Judy," read an August 2014 email to Brotman from Kish, "I just wanted you to know that someone was in front of my house taking photos this afternoon at a time when I had several visitors at my home. Usually cameras mean complaints are forthcoming, so just wanted to make clear that the hour of activity during which the photo was shot is NOT representative of the usual guest traffic at my home."
According to Craft's emails, at least some of those photos came from her, and were meant to document instances where vehicles at Kish's house were slowing traffic.
Early in the process, there were signs that even the most determined opposition would fail. In March 2013, soon after Kish filed for a permit, Town Manager Julia Griffin warned the neighbors that Hanover officials likely would grant it.
"I wish I could be more positive," Griffin wrote in an email to Craft and Hovey Lane resident Rebecca Troisi, "but unfortunately, this tendency to tear down older, smaller homes and replace them with much larger homes seems to be a trend that is on the rise in this community and in many others. Your neighborhood has already seen a good bit of home expansion and renovation and while the size of the proposed new home is very large, it is not a new phenomenon in Hanover."
"Clearly," Barrett, the next-door neighbor, said of current zoning ordinances, "what exists at the moment does not protect the character of a residential neighborhood like this — at all."
But town employees can do little more than enforce the rules. "If a proposed residential project meets the regulations (setbacks, height, coverages, etc.)," Griffin wrote in an email this month, "then it is issued a zoning permit."
Calls to Brotman, who for years fielded complaints from neighbors and handled adjustments and measurements from Kish, were not returned this month.
Projects like these, as Griffin noted, are by no means new to Hanover.
Over the years, several old houses in the affluent neighborhood around Occom Pond have been torn down and replaced by larger and more modern structures.
And in the mid-2000s, a group of neighbors on Weatherby Terrace, which lies southwest of downtown Hanover, fought the building of a large house all the way to the New Hampshire Supreme Court.
The owners, Clare and Jerry Strochlic, had made use of a quirk in the zoning ordinance to obtain a permit for a structure with smaller setbacks than usually allowed; the neighborhood, however, missed the deadline to appeal and argued in court for the right to do so — unsuccessfully.
The Ledyard Lane neighbors, too, considered bringing Kish to court, Barrett said, but decided against it. If she had waited all these years to build the house, he reasoned, another two or three years in legal delays would make little difference.
What may distinguish the Ledyard Lane residents is that their struggle did change something, though not in a way that benefits them.
At the 2014 Hanover Town Meeting, members of the neighborhood association put forward amendments to the zoning ordinance to lower the acceptable lot coverage in certain areas of town and increase setbacks for accessory structures. Those measures passed.
Under the amended ordinance, the largest building footprint allowed on Kish's 15,000-square-foot lot would be 3,750 square feet — far smaller than the house nearing completion.
But since changes to zoning ordinances do not retroactively affect permits, the Ledyard neighborhood could not stop her from building it.
The Planning Board deemed a third amendment, which would have changed how the height of proposed buildings would be measured and regulated in zoning districts near downtown, too sweeping in its scope, and voted not to include it on the warrant.
This year, the neighbors brought it to the Town Meeting ballot by petition; it failed by a wide margin, in part, Craft said, because few people understood what it would do and because town officials and developers opposed it.
Earlier this month, Craft said it was unclear whether the height amendment would return in another form.
Now that the battle is over, Kish said she hoped the neighborhood would warm to the house.
"I think in general that when you're doing something a little different than what people expect, they're going to be a little uncomfortable with it," she said, "and Hanover, especially, is a place that's quite resistant to change and to differences. I was disappointed at how much resistance there was to building a multigenerational house, but I wasn't surprised."
When it's finished, she said, "It should be something that people look at and think, 'Wow, that looks really nice.' "
The neighbors are not holding their breath. Craft, for her part, said she would be waiting to see just who moved in there.
Barrett doubted that the house or the use of the house would in any way break zoning ordinance — "She's not stupid in that way," he said — and lamented what he called the "hypocrisy" of the town in enforcing its rules.
Long before Kish bought the land next door, Barrett wanted to expand his one-car garage toward the property at 12 Ledyard.
He applied for a permit and at first was rejected. The garage stood too close to the property line, and the Biens ended up having to sell him a narrow strip of land.
Though it was decades ago, Barrett still remembers what an official told him about the project.
"It would change the character of the neighborhood," he said.
Rob Wolfe can be reached at rwolfe@vnews.com or 603-727-3242.