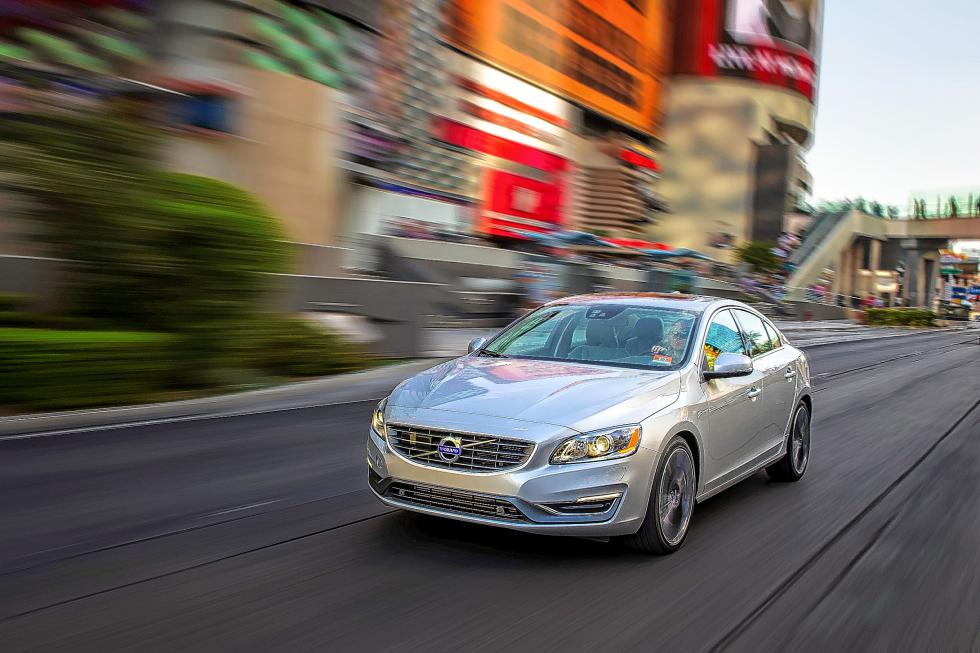 Traffic-safety advocates have long regarded Volvo as the gold standard of driver and passenger safety in automobiles.
The reason can be found in the company's guiding mantra: "Cars are driven by people."
That being the case, the corporate thinking goes, it is best to make people as safe as possible within the womb of a Volvo automobile.
That mission, a hallmark of the Volvo car company since its inception in 1927, continues under Volvo's current ownership, Zhejiang Geely Holding Group of China.
If anything, Geely seems determined to re-establish Volvo's reputation as the world's safest car, standardizing components such as blind-side safety information and its City Safety low-speed collision-avoidance system.
That technology, offered in the extended-wheelbase, front-wheel-drive S60 T5 Inscription sedan driven for this column, is especially helpful in avoiding car-pedestrian collisions in cities such as New York and the District of Columbia, where people often walk into flowing traffic.
At speeds of about 20 mph, City Safety automatically brakes the S60, sparing pedestrian injury — or worse — and allowing the driver to complete his or her day without intervention by emergency medical technicians, law enforcement officials or lawyers.
This is good news. It shows that Volvo remains on track toward the development of autonomous driving vehicles despite its many corporate upheavals and ownership changes in recent years. It also sends the message that Geely has every intention of owning a major share of the global automotive future.
An aside: The quest for autonomous driving isn't science fiction. Nor is it an attempt to skewer the "joy of driving" or take the responsibility for good driving from the hands of motorists.
Instead, it is a deliberate effort by governments, global car companies and their suppliers to greatly reduce, if not eliminate, the carnage that characterizes so much of driving on the world's roads.
Movement toward this future motoring reality is occurring slowly.
It is manifested by a series of technologies made available under the rubric "driver assistance technologies." When fully developed — industry speculation is by 2025 to 2030 — it will include cars that "talk" to one another and to infrastructure-mounted transponders, obviating the need for traditional traffic monitors such as red lights.
It is a long way off, but it's coming.
The S60 T5 Inscription sedan offers many clues as to where we are going — emergency crash notification, rear cross-traffic alert system, active dual xenon headlamps with washers, forward collision monitoring, electronic brake distribution and assistance, automatic parking assistance, and more.
And the car remains a joy to drive. The model used for this column came with a turbocharged (forced air), two-liter in-line four-cylinder gasoline engine — 240 horsepower, 258 pound-feet of torque. With an eight-speed automatic transmission, there is more than enough oomph for pleasurable long-distance highway runs.
Complaints? One that's noteworthy, particularly in urban congestion. Volvo, like many of its rivals, in an attempt to comply with governmental mandates for improved fuel economy, has adopted start-stop technology, activated during routine traffic stops, in the S60 T5 Inscription. It works, but not smoothly.
Still, there is much to recommend here. And I look forward to the company's latest iteration of the XC90 sport-utility vehicle.
Nuts & Bolts
Bottom line: The S60 T5 Inscription sedan is a buy if you are looking for a near-luxury midsize sedan with outstanding safety, a longer wheelbase and more rear legroom.
Ride, acceleration and handling: Ride and handling are excellent. Acceleration suffers a tad with the start-stop technology.
Head-turning quotient: You will be taken seriously as an adult on any church, school or corporate parking lot.
Body style/layout: The S60 T5 Inscription is the long-wheelbase version of the front-engine S60 T5 sedan. It is available with front-wheel or all-wheel drive. There are four trim levels — T5 Inscription, T5 Inscription Platinum, T5 AWD Inscription and T5 AWD Inscription Platinum.
Engines/transmission: The T5 Inscription comes standard with a turbocharged 2-liter, 16-valve in-line four-cylinder gasoline engine with variable valve timing, linked to an eight-speed automatic transmission that also can be shifted manually. A 2.5-liter turbocharged engine and a 3-liter six-cylinder model are also available.
Capacities: Seating is for five people. Cargo capacity is 12 cubic feet. The Inscription model affords more rear legroom. Fuel capacity is 17.8 gallons (regular-grade gasoline works fine).
Mileage: I averaged 36 miles per gallon in highway driving.
Safety: Standard equipment includes four-wheel disc brakes (ventilated front, solid rear); four-wheel anti-lock brake protection; emergency braking assistance; pre-collision safety system; post-collision safety system; traction and stability control; and side and head air bags.
Recommended: All available advanced electronic safety systems. They can save you much more than money.
Pricing: The 2016 Volvo S60 T5 Inscription sedan starts at $38,700 with an estimated dealer's invoice price of $36,500. Price as tested is $45,925 including $6,285 in options (advanced electronic safety options and glass roof) and a $940 factory-to-dealer shipment charge. Estimated dealer's price as tested is $43,500.