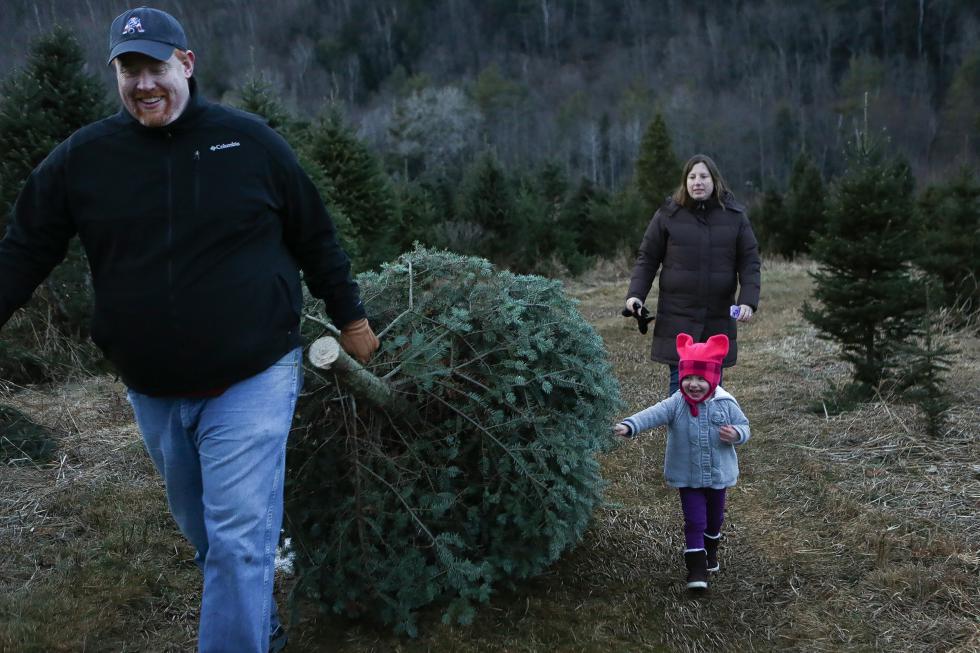 If there's one piece of New Hampshire and Vermont agriculture that stands out for stability and profitability in recent years it's the Christmas tree sector, and this year the mojo continues with solid demand on the wholesale side and expectations for continued strong consumer interest on the retail "choose and cut" side of the trade.
But if there's any worry that a lot of new production suddenly will appear to capture what seems like good money to be made and then trigger a glut-inducing decline in prices, that's not likely to happen for one simple reason: It takes eight to 10 years to grow out a market-ready holiday tree and the costs steadily pile up over the decade or so it takes to get a salable product.
As Jim Horst, executive director of the New Hampshire-Vermont Christmas Tree Association, said, "Don't quit your day job if you go into the Christmas tree business."
For the past 20 or so years, armchair experts have been forecasting eventual doom for the producer of natural Christmas trees at the hands of the artificial tree, the plastic and wire ersatz trees imported from Asia and cheaply priced to sell in large volumes. But it hasn't happened — not, at least, to the growers in New Hampshire and Vermont, Horst said — and in the retail choose-and-cut part of the industry, demand actually is expanding and prices have been increasing.
Consumers wanting to go green are shunning the artificial tree, and the idea of buying something produced locally is attracting more and more buyers to come out to the tree plantation, pick out a tree, cut it and bring it home for their holiday celebrations.
A term has been coined for this kind of activity — "experiential agriculture" — and it's akin to picking apples at a pick-your-own orchard or gathering a pumpkin right out of the farmer's field.
Many Christmas tree growers are aggressively courting the choose-and-cut customer, offering inducement such as horse-drawn hayrides through the tree plantation, hot cider and treats at the checkout shed and even singalong caroling. While most retail growers draw the bulk of their business from within a radius of a few miles, some have developed tie-ins with nearby motels and restaurants and draw loyal customers from southern New England.
Attracting and maintaining a base of reliable buyers is contingent on having high-quality trees to sell year in, year out, and that means trees that are intensively managed. Shearing the tree to foster luxuriant branch development and the ideal overall shape of the tree is a time-consuming annual task.
Keeping harmful pests at bay, mowing the aisles between rows of trees to assure accessibility and having a choice of sizes and of tree species, such as spruce, balsam fir and Fraser fir, all are key components of successful choose-and-cut operations. Growers aiming at the high-end trade can command prices of $60 for a small tree up to $300 or more for a tree suitable for a mansion's cathedral-ceiling living room.
But there also are choose-and-cut growers who manage on a much less aggressive scale and let nature take a greater role in shaping the tree, and they charge less money and avoid considerable management costs. Some offer trees for as little as $5, so it's the buyer's sense of tree aesthetics that usually determines the fair price in the end.
The wholesale side of the New Hampshire and Vermont Christmas tree industry is dominated by quality requirements. In a word, trees have to be managed for appearance in order to sell, and that means they need to be sheared annually to develop an attractive shape and they need to be healthy at the time of harvest in order to retain their needles and fragrance through a holiday sales season that can last six to eight weeks.
In the large plantations of Coos County in New Hampshire and Essex and Orleans counties in Vermont, the Christmas tree harvest begins in mid-October and concludes in about four to five weeks.
Crews with chain saws cut the trees, load them on tractor-drawn trailers and haul them out to roadside landings. The trees are pushed through a funnel-like contraption that compresses them and wraps them in nylon mesh before they're loaded by the hundreds onto tractor-trailers for shipment to markets primarily in southern New England, New York and New Jersey.
Harvest labor is a chronic challenge for growers. It used to be that woods workers welcomed having a few weeks away from logging crews , but with the advent of mechanized timber harvesting, those workers no longer are around.
The wholesale tree growers of northern New England and New York face heavy competition from the Quebec Christmas tree industry, and that competition is especially tough this year as the Canadian dollar has fallen to about 70 cents against the U.S. dollar, making Quebec trees a cheaper alternative for down-country brokers and volume buyers.
But Horst said most wholesale growers in New Hampshire and Vermont were sold out by early November despite the price pressure from north of the border. He attributes this to their developed reputation for good quality trees supplied at reasonable prices, which in turn has cemented strong loyalty between producers and buyers.
While the average consumer typically views a Christmas tree basically as a generic commodity, there are several growers in New Hampshire and Vermont who actively are engaged in the quest for strains of trees that offer some differentiation in color, appearance and fragrance.
Some are deeply engaged in grafting scions of one strain onto rootstock of another in hopes of getting a new and different tree.
Others hunt for cones that will yield seeds of exotic evergreens from as far off as Korea to try to find a new and unusual tree to offer the market. And some just are looking among existing strains for the potential to grow bigger and faster than other trees on the farm.
In recent years, some of the two states' growers have developed thriving sales based on the Internet and package delivery services. They're promoting top-quality, freshly cut trees delivered in just two or three days anywhere in the country, and they're finding buyers ready to put up $200 or more on their credit card to have a fragrant balsam fir at their doorstep in short order.
Horst rates labor as the New Hampshire and Vermont Christmas tree industry's biggest current challenge. Much like the maple sector, it requires people in top physical condition who don't mind working outdoors in severe climatic conditions, and it isn't apt to afford year-round employment opportunities.
And the other major challenge, he said, is the barriers to entry. It's an enterprise for which there is no income for up to 10 years, only expenses. But it also is a challenge that works to the great benefit of those who already are in.