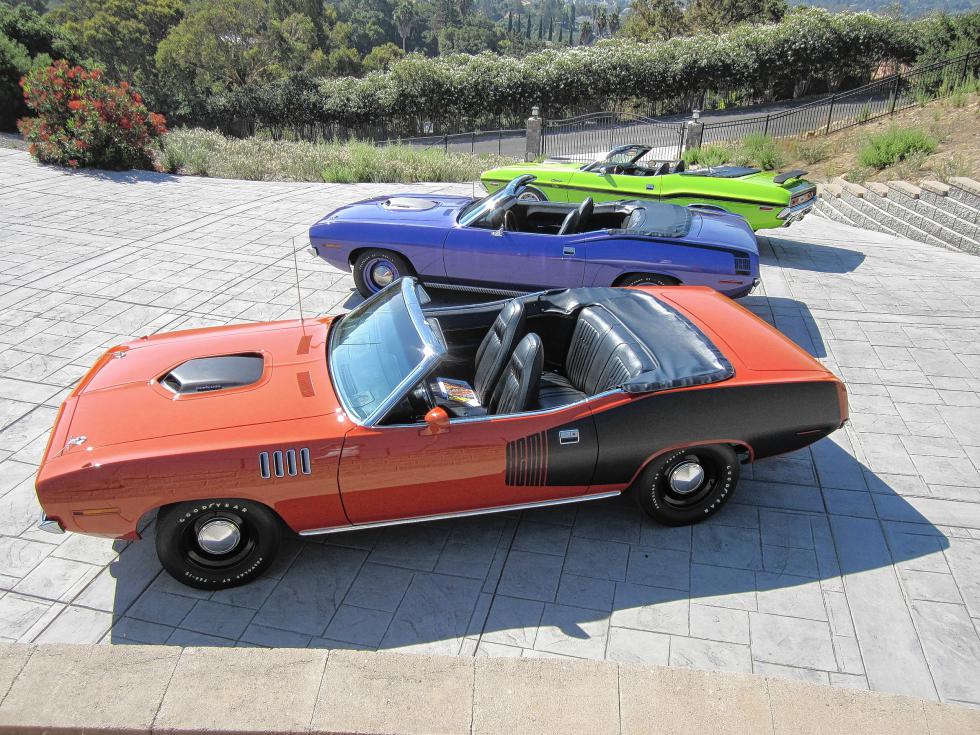 "For love or money" may be a phrase as old as capitalism, but it acutely applies to the resurgent collector car market, where record-breaking valuations have fueled a hobby best known as a labor of love.
"Our bidder registrations are up 20 percent this year," said Donnie Gould, president of Auctions America. "In years past, we saw a 5 percent gain. There's an increase in new people enjoying the hobby. With volatility in the stock market and money earning nothing in the bank, enthusiasts are spending their money on cars and enjoying them."
The collector car world was rocked last year when a 1971 Plymouth Hemi Cuda four-speed convertible, one of only 11 made, fetched a record $3.5 million at a Mecum Auction in Seattle.
As exceptional as that Cuda class is — one of finite supply and growing demand — most classic car investments bleed on the balance sheet to reap dividends in happiness.
Finding a winner is personal.
You may find yourself behind the wheel of a large automobile, and you may ask yourself, "What's the investment potential? Does it matter? Where would I store it? How would I maintain it? Am I out of my mind?"
These were the questions I considered in the purchase of a 1987 Mercedes-Benz 560SL.
I turned to collector Lou Secari, president of Carolina Muscle Cars Inc., at the Auburn Fall Collector Car Weekend in Auburn, Ind., to determine why collectors buy what they buy.
Secari's collection focuses on midcentury American cars and includes a 1953 Cadillac Eldorado, 1953 Corvette, 1967 Pontiac GTO and 1967 Corvette 427. His favorite is the '67 Vette.
"Some are museum quality, but I prefer the ones I can drive," Secari said. "They are investments to me. Appreciability is the best part of the hobby. Buy an 80-point car, take it to 90 points, then drive it!"
Collectors tend to fall in one of two categories: those who buy because they love cars and those who expect to make a profit. Secari is both.
"It has to be a good investment, without a doubt," Secari said. "But you have to love what you collect. The market for cars is more stable; people feel the collector car market is stable. There are not many investments that appreciate and that you can have fun with too."
As somebody who has bought and sold many cars, what advice would he give to collectors?
"Do your research; buy cars that are well-documented," Secari said. "Look for models less common, more rare, because they create a better investment.
With such a limited supply of muscle cars and rare exotics, analysts question whether the market can continue to grow.
A story titled "America's Once Magical — Now Mundane — Love Affair With Cars," posted Sept. 2 in The Washington Post, questions the future of collector cars with the aging of Generations X and Y. It mentions that only half of today's drivers get their licenses by age 18 and that car culture is "an old guy's game."
According to Hagerty, 58 percent of the 5 million collector cars in the U.S. are owned by baby boomers with a median age for collector car owners of 56.
Boomers prefer to collect muscle cars that hark back to their youth. The same could be said of the next generation.
"Look at kids involved in tuner cars — a different type of auto but still a passion," Gould said. "As they go through life, their businesses become stable, they have a home, more money . we'll see the next generation of collectors."
It's no surprise what Gen Xers are starting to collect. The biggest increases in searches on Hagerty's Valuation Tools Search involve the BMW M3, Acura NSX and Mercedes-Benz 560SL — icons of Gen Xers' youth. My personal garage includes a 1989 Corvette that first tugged my heart when a buddy's dad bought one during my freshman year of high school.
"In the last two to three years, it's been Porsche, Mercedes, Ferrari and also great American classics," Gould said. "All the guys who watched "Miami Vice," with Ferrari Testarossa posters on their walls, are getting serious. They have a house, family and can now go out and get the car they dreamed about as teenagers. There's a finite number of those cars."
Investment values will shift. Cars that meant a lot to baby boomers — '57 Chevys, '55 T-Birds and American muscle cars — may have peaked. There will never be a substitute for their style and power, but younger generations will covet the '80s and '90s cars to which they have emotional attachments.
Beyond the emotional attachment, knowing how you plan to use the car will help determine its worth.
"Do some research about the car you like," Gould said. "Know if you want to tour in it or just drive it to the local ice cream. Have support locally to keep the car maintained well."
Even in excellent condition, old cars require constant maintenance to retain their value and remain road-worthy. Seals leak, starters fail to start, fuel pumps quit pumping, paint ages, transmissions need to be rebuilt, engines get overhauled and electrical systems malfunction. And these things will happen on tour in the middle of a rainstorm.
Car and Driver contributor Jamie Kitman offers these points: Buy what you like. Buy the best there is. Mechanical repairs are preferable to rust repairs. Buy original. Don't be cheap. Don't expect to make money on old cars. Keep it indoors. Make sure all safety equipment works. Drive your car.