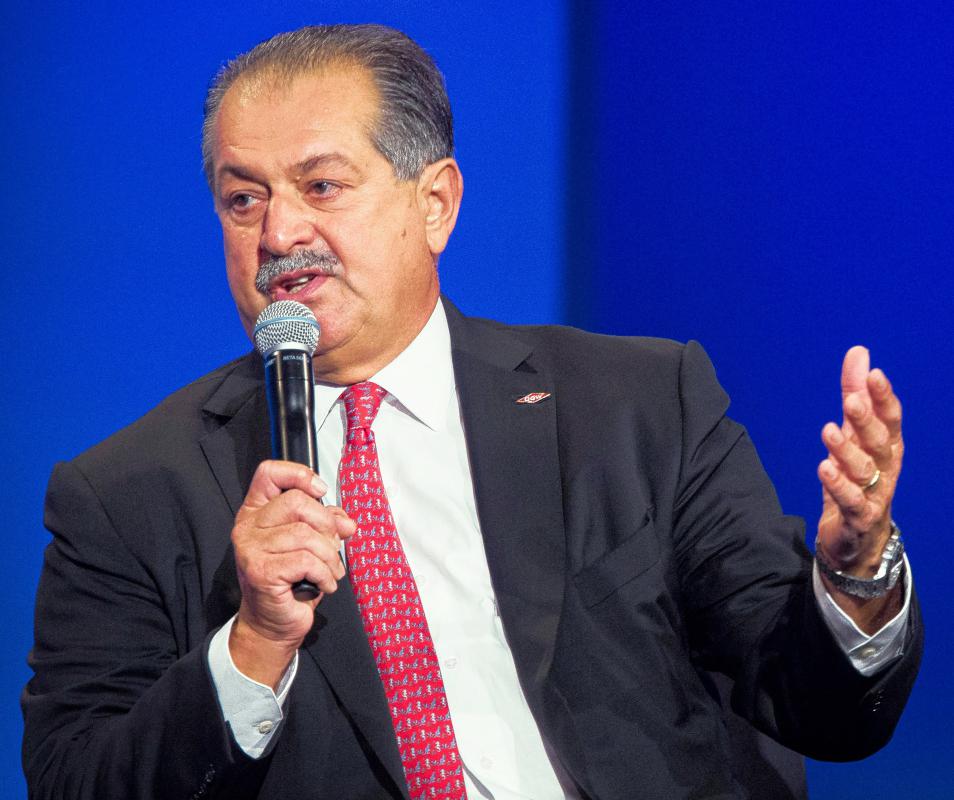 There was the ill-timed merger that nearly sank Dow Chemical Co. with too much debt. Before that there was the time two trusted lieutenants plotted in secret to sell the company. And more recently, there was unwanted attention from a notorious Wall Street activist.
Yet despite the tribulations faced by Dow over the past decade, its chief executive officer, Andrew Liveris, has survived to close the deal that had eluded him for almost a decade.
Dow and DuPont said Friday they will merge in what would be the biggest ever deal in the chemicals industry. The transaction, valued at about $120 billion, would make Liveris the executive chairman of the combined company, which will later be split into three new businesses.
Liveris, the fast-talking Australian-born Dow lifer, has become the well-known public face of the company during his 11 years as CEO. He's become a regular on business television, publicizing a succession of deals that have seen Dow gradually become more focused on higher-margin chemicals rather than the more cyclical, commodity-like businesses like plastics and chlorine.
Privately, however, Dow recognized the need for more radical change. Early on in his time as CEO, Liveris said Friday in an interview, the Dow board realized that the company "was not going anywhere." Its commodity divisions couldn't compete with state-owned and subsidized rivals. One answer, they thought, was to combine with its biggest U.S. rival.
Liveris pitched the idea of a merger in 2006 to DuPont's then-CEO Chad Holliday, but the proposal went nowhere. It came up again during the tenure of Holliday's successor, Ellen Kullman. According to current DuPont boss Ed Breen, it was being discussed by the company's board when he joined as director in February. Breen said he "seriously" studied the deal over the following months. Then, in October, Kullman stepped down. Breen, the first chief drawn from outside the founding Du Pont family and the DuPont executive suite, got a call from Liveris on his first day in the top job.
"We both were on the same wavelength," Breen said Friday in an interview. "We put this together between the two of us."
Liveris is no shrinking violet. In addition to his media appearances, the 61-year-old has advised President Obama on manufacturing and authored a book on the same topic. He joined Midland, Mich.-based Dow in 1976 when he took a job as salesman in Australia. He would later work for Dow in Thailand, run its giant performance chemicals business before becoming CEO in 2012.
In 2006, Liveris flew into New Castle airport, just outside DuPont's home town of Wilmington, Del., to meet Holliday, according to a person familiar with the matter. Liveris handed him a letter that spelled out his merger proposal and they discussed the idea, according to the person, who asked not to be identified because the meeting was private. Holliday, reached by email Thursday, declined to comment on the meeting.
That was both the first and last time the two would meet to discuss the deal, the person said. The next year, Dow would be distracted by an embarrassing scandal after two executives were fired. Both men later admitted participating in unauthorized discussions about a leveraged buyout of the company that would have been backed by Oman.
Prior to Friday's merger, the biggest and boldest deal of Liveris's career was the $15.7 billion acquisition of Rohm & Haas Co., which was completed in April 2009 as the global economy swooned in aftermath of the financial crisis. The transaction almost sank Dow: committed to the deal, it was blindsided when Kuwait pulled out of joint venture that would have helped it finance the acquisition.
Liveris said at the time he didn't include a clause in the merger agreement that would have let Dow out of the deal if the Kuwait venture failed, because no one had anticipated such a global financial collapse.
Dow negotiated new terms with Rohm & Haas shareholders and got an extension on a bridge loan to get the deal done. It then sold assets to pay down debt.
In subsequent years, Liveris tried to reshape Dow into a producer of more profitable products by selling off volatile, commodity-like businesses. The company's quarterly earnings have beaten analysts' estimates for earnings since the start of 2014. Dow posted record third-quarter earnings in October as cheaper raw materials boosted margins. The shares have gained about 67 percent in the past five years, while the S&P 500 Index has risen 76 percent.
Still, there have been some dark clouds. A former fraud investigator for Dow sued the company last year, claiming she was fired after uncovering millions of dollars in company funds that Liveris allegedly spent improperly, including money funneled to a charity he co-founded and family trips to the Super Bowl, World Cup and an African safari. Dow said in February it "reached an amicable settlement" of the whistle-blower's claims.
And also last year, Third Point, a hedge fund founded by Daniel Loeb, started a campaign against the company for failing to meet financial targets and called for a breakup of Dow into a commodity-chemicals business and a plastics business. In November, Dow allowed Loeb to nominate two members to the board, averting a proxy fight, and the two sides agreed to refrain from disparaging each other publicly — a standstill agreement that's set to expire today.
Amid the pressure from Loeb, Liveris would probably have seen what was going on over at DuPont. Trian Fund Management, another activist investor, took a stake and argued that the company should be broken up to save costs. Trian would go on to fight — and lose — a proxy contest. But despite that victory by CEO Kullman in May, Trian, co-founded by Nelson Peltz, remained a thorn in DuPont's side. The company's failure to deliver on earnings commitments led to her resignation, said Jim Sheehan, an analyst at Suntrust Robinson. Kullman couldn't be reached for comment.
Breen, who started as DuPont CEO on Nov. 9, is perhaps best known as the architect of the Tyco International Plc breakup. Just two weeks into his role as interim CEO at DuPont, Breen told investors on a conference call that he was already looking at options for the company's largest business, its seeds and crop chemicals unit.
At Dow, with the clock running out on the standstill agreement with Third Point, Liveris said he too was looking at options for his company's agriculture segment.
The merger agreement "is really what the activist investors of both companies ultimately wanted, which is to break up these companies into the component parts that have superior growth opportunities, and those that are more commodity, cyclical type of businesses," Sheehan said by phone.
The Sunday after Breen took the phone call from Liveris, the two CEOs spent the afternoon at a restaurant in the Hyatt Regency in Princeton, N.J., discussing their respective visions.
"We talked about putting the companies totally together, not just" combining their agriculture divisions, Breen said. "This didn't start as an ag conversation. It actually started as, 'Let's do the whole thing.' "