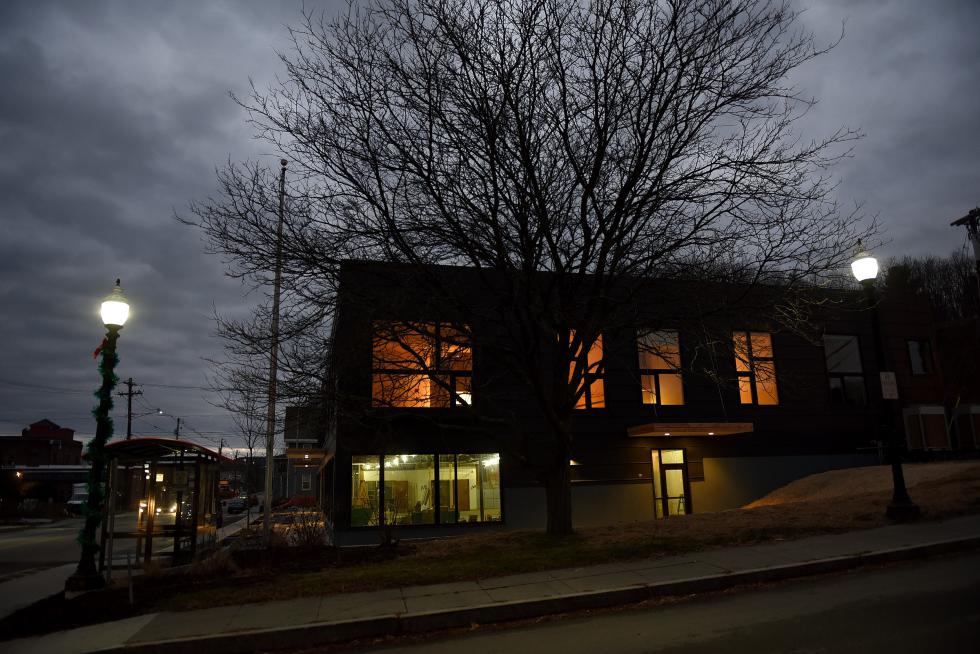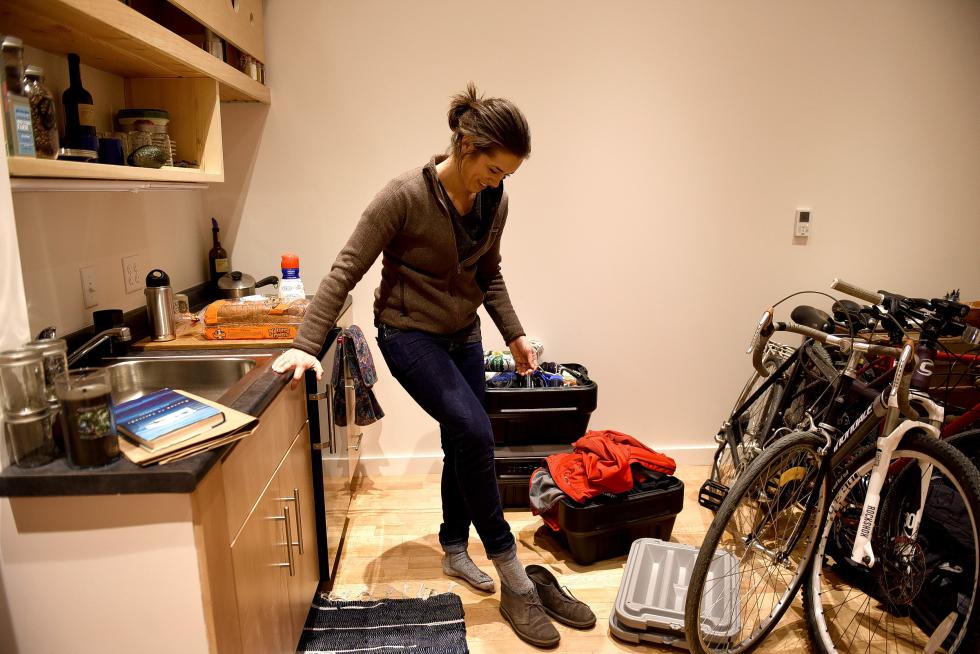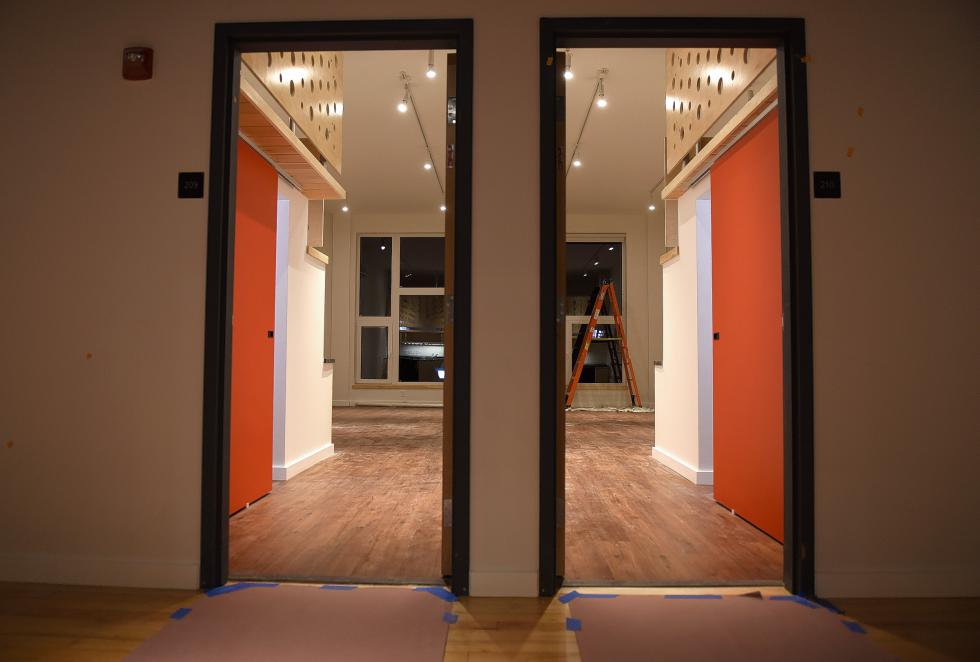 White River Junction — Former New York City resident Eric Love knows how hard it can be to find an apartment.
Still, when the new assistant artistic director at Northern Stage set out to find a place to live in the spacious Upper Valley, he was surprised by the lack of available rentals.
"There were very few options and most were old rooms in someone else's house," he said.
Then Love noticed that the building across the parking lot from Northern Stage was being renovated into a sleek apartment complex. He asked the workers at the site whom to call and they referred him to Matt Bucy, the White River Junction commercial real estate developer and Hartford Selectboard member whose office in the Tip Top Building was two blocks away. Love walked over.
"I just hung around in the Tip Top until someone showed up," he recalled.
"Someone" turned out to be Bucy himself, who gave Love a personal tour of the new apartments , which Bucy has spent the past two years and $2.5 million converting from the old American Legion Hall. Tenants began moving into their apartments earlier this month.
"I was in love with it instantly," Love said about his new studio apartment with a sleeping loft and "good price" of $775 per month, utilities included. "My two priorities were high ceilings and great light, so when I stumbled across Matt's apartments, I couldn't believe it."
Open less than two weeks, Bucy already has rented 14 of the building's 22 units, with their 12-foot-high ceilings and barn-door size windows, all within steps of downtown's restaurants, funky shops, Center for Cartoon Studies, Northern Stage and the village's sole remaining bar. Five of the rented units already are occupied and tenants will be moving into the other nine by month's end. Bucy is reviewing applications for the eight other units, which include two one-bedroom apartments that will go for $1,500 a month.
Bucy's new residence complex at 129 S. Main St. — which he simply calls "129" — is meant to address, in an economical and aesthetically compelling way, the chronic workforce housing shortage in the Upper Valley, where the vacancy rate for apartments hovers between zero and 1 percent.
"There are not enough nice and affordable places to live in the Upper Valley if you're a renter," said Bucy, who has a degree from the Yale School of Architecture and designed many of the elements of the building himself, including the floor plan, which he first sketched out on a napkin at a restaurant one day. He said he had New York loft apartments, with their high ceilings, in mind when conceptualizing the spaces at 129, which can run as small as 350 square feet for some of the studios.
Part of a Revival
Once a lively railroad hub with more than a dozen bars and a bustling working-class population, the downtown village of White River Junction fell on hard times during the last quarter of the 20th century as area factories shut down and trains were overtaken by automobiles and trucks.
For the past 15 years, however, Bucy has helped to lead a downtown village revival that has brought new life and economic activity with an arts-and-crafts vibe.
Now, after three commercial real estate projects, Bucy has turned his hand to housing.
But at 129, occupants will have to accept modern minimalism in their living space: the kitchenettes are equipped with half-size, box-shaped refrigerators and only two electric stove burners; there are no ovens. Residents ascend to sleeping lofts on wooden ladders.
And the studio units don't have any closets.
"Women say, 'You can tell a man designed this,' " Bucy offers sheepishly.
The building also is designed to be as close to "net-zero" energy efficient as possible, with a $250,000, state-of-the-art heating, cooling and air filtration system in which each unit can be remotely controlled by logging into the system via laptop. Renovating the structure required stripping it down to its foundation, steel frame and roof.
"Everything else got torn out," Bucy said.
In the end, the cost averaged out to about $100,000 per unit, driven up in part by window frames that ran into the tens of thousands of dollars for each apartment — $50,000 each for the two one-bedroom units — and by Bucy's desire to cut the floorboards separating the apartments and drop a wall between them to reduce vibration and sound from walking. The walls also have been extra insulated to muffle sound.
Where Everybody Knows Your Name
Downtown village eateries are looking forward to having new neighbors, and they hope it will mean a steady flow of customers to the nearby Tuckerbox, Tip Top Cafe, Boho Cafe & Market, Elixir, Big Fatty's BBQ, C&S Pizza, and local watering hole The Filling Station. In the past year, the downtown has lost two establishments, The Polka Dot diner, which closed, and the bar CJ's at Than Wheeler's, which moved to Quechee. Tuckerbox plans to expand into the adjacent space formerly occupied by the bingo hall in the Gates Briggs Building this fall.
Boho manager Erica Van Alstyne said she hopes the new residents of 129 will be coming in for morning coffee and breakfast when the cafe opens at 7 a.m., or to purchase bags of Boho's homemade, thick-cut potato chips ("they're selling like hotcakes").
Business slows down in the winter, she said, "so we could use them, especially this time of year."
And around the corner — only 128 steps from 129 — Robert Prior, who has been the bar manager at The Filling Station for 23 years, said he's been "watching the building every day — I think it's great," and wants his new neighbors to know The Filling Station "is like Cheers," a good place to meet up with friends after work to have a beer and shoot the breeze.
"We're a bar-bar," Prior said. "We have a juke box, a billiard table." Then he volunteers, "You may hear a swear word now and then."
Last-Minute Details
Work crews last week were painting and putting the finishing touches on unoccupied units as Bucy attended to last-minute details.
"This has been the most stressful project I've ever undertaken," Bucy said. "The amount of paper this project consumed is immense. The specifications document alone is 2 ½ inches thick."
Bucy, 52, is behind three other downtown White River Junction revitalization projects: The Tip Top Media and Arts building, a former bakery that he bought in 2000; the Dreamland Building, an old office building now used for commercial and real estate space; and the Hartford Woolen Mill.
In total, Bucy said, his properties — he's a minority investor along with other unnamed partners — are occupied by about 80 tenants and total 90,000 square feet of space.
He avers, however, this will be his last real estate project.
"I think I've done enough," Bucy said . It's not a good practice, he said, for too much space to be under a single individual's control.
He also said his chief interests — filmmaking, painting, traveling and, recently, flying — have had to take a back seat as the commercial projects have become bigger and more complicated.
A Colorado native who studied visual arts at Middlebury College before graduate school at Yale, Bucy said his original plan was to have his commercial real estate projects support his artistic avocations. (Bucy has made numerous independent short features and has a side business producing and filming music and commercial videos.)
But it didn't — or at least hasn't yet — worked out that way.
"These buildings have a way of taking over your life," he said.

John Lippman can be reached at 603-727-3219 or jlippman@vnews.com.