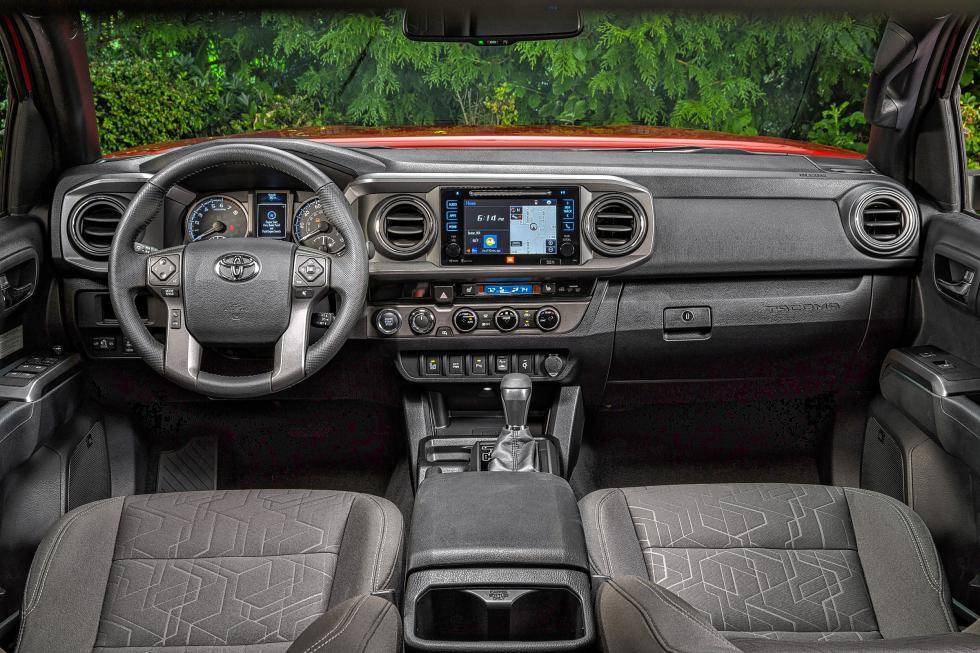 Mean-spirited midsize pickups shook me into a denim and tie-dyed froth in the '70s .
I looked like some sort of wobbly hippie-dippy milkshake when I poured myself out of those trucks — and that was after just a 10-minute trip to the grocery store.
My first puny pickup — a tinny, mustard-colored '77 Datsun that I bought after extended exposure to the Grateful Dead and Elvis Costello — bounced and vibrated so badly that I could not see out of its rearview mirror.
So call me skeptical about the recent resurgence of the midsize pickup segment, prompted mostly by the splashy arrival of GM's well-conceived Chevy Colorado and GMC Canyon trucks.
Look, full-size pickups still offer far more of everything than the midsizers and these days, they can squeeze out fuel economy almost comparable to the midsizers.
But now with the arrival of the mostly new 2016 Toyota Tacoma, I'm starting to get it.
The extremely orange Tacoma TRD Pro Off-Road model I had recently didn't look much smaller than Toyota's full-size Tundra, but it was shorter and narrower and moved more nimbly through traffic.
Like the creaky model it succeeds, the new Tacoma looks a bit exaggerated, but in a familiar way.
Its blunt, trapezoid-shaped grille seemed larger than ever, complemented by big headlamps and a long, flat hood that, as a whole, formed a glaring presence up front.
As a double cab, the four-wheel-drive Taco offered four large doors and lots of fairly flat sheet metal on its sides, livened up some by a well-placed character line down low.
With black cladding around the wheelwells and knobby, off-road-style 265/70 tires on mostly gray wheels, the truck appeared plenty ready for the meek urban challenges I could throw its way.
The big news with this $37,000 truck is its 3.5-liter V-6, which replaces the tired 4-liter V-6 that I think has powered the Taco since George W's boots started scuffing up the White House.
Though the new engine is somewhat smaller, it produces 278 horsepower, a substantial 42 more than the old engine.
Moreover, it is smoother and more refined, continuing the recent trend among midsize trucks to provide some of the polish found in full-size pickups.
The engine pulls well from stops, generating good low-end torque and a decent exhaust note. And with Toyota's unusual combination of port and direct fuel injection, the Taco can muster 18 miles per gallon in town and 23 on the highway.
While fairly lively for a 4,500-pound pickup, the Tacoma needs to be spurred hard for serious acceleration, responding to a heavy foot with an estimated 8-second run to 60 mph. The engine is tied to a well-sorted six-speed automatic that nonetheless left me wondering why cash-rich Toyota didn't step up and offer an eight-speed automatic in the new truck.
At 278 horsepower, the Taco has about 30 fewer horses than the V-6s in the Colorado and Canyon, and it can't tow quite as much — 6,400 pounds vs. the GM twins' 7,000.
But that may be less relevant than the fact that the Tacoma seems to ride about as well as the GM trucks, rolling over city streets with heavy-footed firmness but no shudders or harshness.
As you might guess, the Taco felt a bit clumsy going around corners, but real pickups are built to move up and down, not side to side, cowboy. Likewise, the steering felt fairly numb, but that's pretty common in a truck.
Besides spending time under the hood, Toyota devoted a lot of attention to the interior. Plastic surfaces still dominated my truck's black interior, but a 7-inch display screen teched up the square-shaped dashboard.
My truck also featured interesting orange trim around the center stack.
Knobs below the screen controlled the air-conditioning and heat as well as the differentials — and Toyota gets points for that.
For those deeply into selfies, the Tacoma even had a mount near the rearview mirror for a GoPro camera so you can videotape your stunned expressions as you charge off the side of a 20-foot bluff.
Meanwhile, the black cloth seats in my truck were stitched in orange, and the plastic door panels featured black cloth inserts to soften the armrests. In addition, the truck had a classy black headliner that almost offset the limited legroom in back.
It's easy to like the new Tacoma because it does many things reasonably well.
At a Glance
2016 Toyota Tacoma TRD Pro Off-Road
Type of vehicle: Five-passenger, four-door, four-wheel-drive pickup
Price as tested: $37,610
Fuel economy: 18 miles per gallon city, 23 highway
Weight: About 4,500 pounds
Engine: 3.5-liter V-6 with 278 horsepower and 265 pound-feet of torque
Transmission: Six-speed automatic
Performance: 0 to 60 mph in approximately 8 seconds