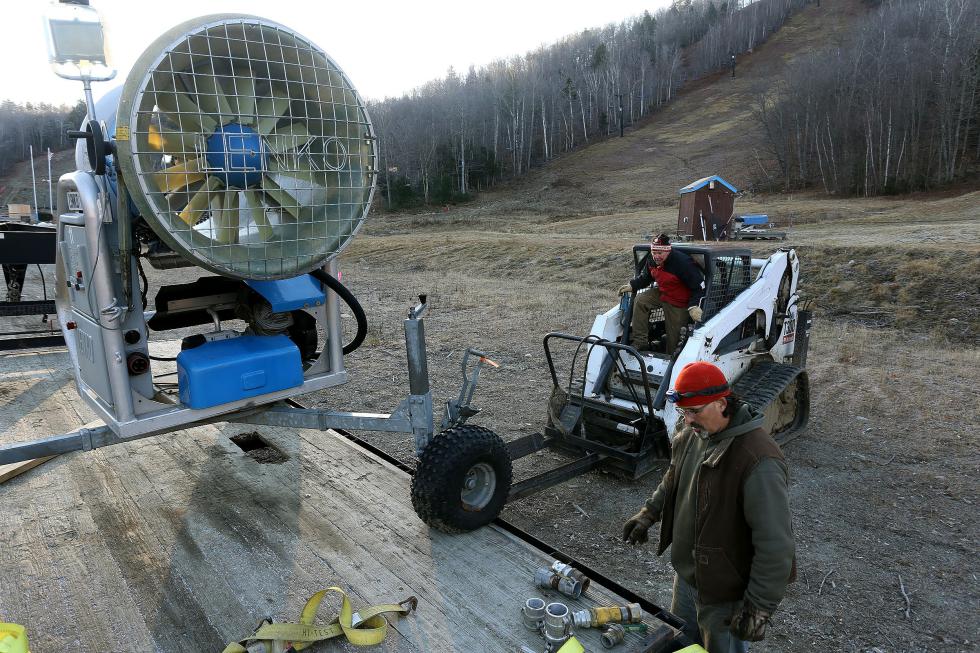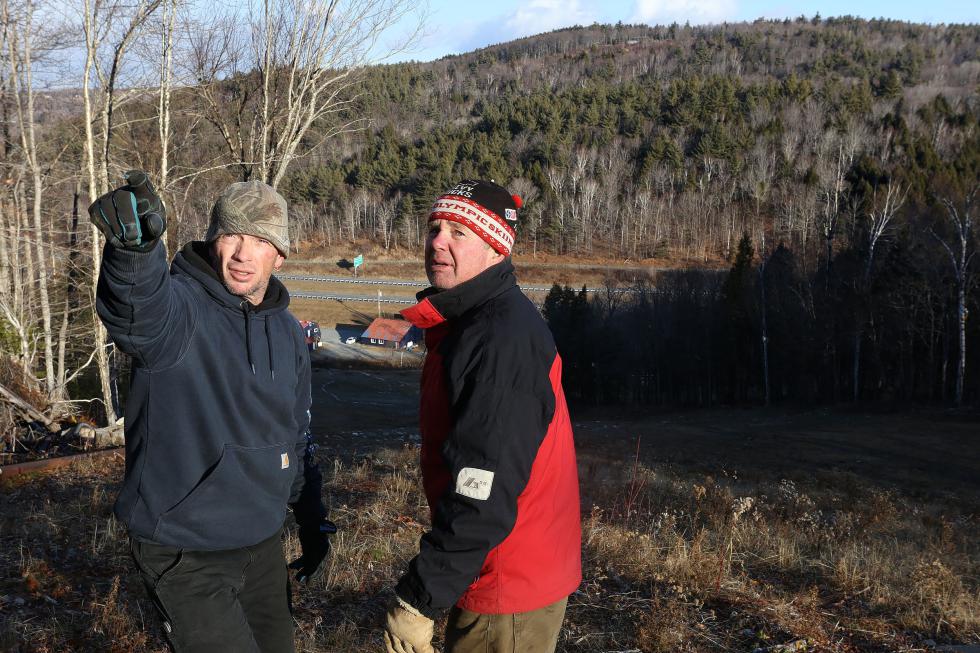 Enfield — On a gray, overcast afternoon last week Whaleback Mountain was bare. Rocks poked out of the mud, the water of Stony Brook at the mountain's base rushed with the torrent of a spring thaw. Ski chairlifts dangled motionless from their lines.
"I've been in the ski business since my youth in the late '50s and early '60s. I've seen some pretty lean years," said Gerd Riess, mountain manager at Whaleback. He recalled "one year back in the '70s" when there was so little snow that Dartmouth Skiway was open only three days all winter.
The warm temperatures in the last two months of 2015 are raising concerns for those who rely upon cold weather and snow to generate business — ski slopes, snow removal operators, equipment sellers, winter apparel retailers, hotels, restaurants, and even general stores that serve as pit stops for convoys of snow-sport enthusiasts.
What can be a bummer for many — scraping snow off rooftops, high heating bills and treacherous driving conditions — is a boon for others.
"It's not like we haven't had a situation like this before," Riess said of the unseasonably warm temperatures that have stalled openings at ski areas throughout the Twin States. "Although it's real unusual we've had it at the beginning of the season."
Riess said he expected the temperature to drop low enough this weekend to begin making snow in the hope of opening the nonprofit Whaleback after Christmas. Until now, he's been using the opportunity of the snowless slopes to repair water-line pipes that otherwise would be hard to access.
"It's almost a blessing to get an extra two to three weeks to get things done," he said.
Thirty-two miles south of Enfield, in Newbury, N.H., monthlong warm temperatures have led to only one productive night of snow-making at Mount Sunapee Resort, which after being open the prior weekend closed a couple days later until today. Jay Gamble, who has run Mount Sunapee for 18 years, said operations this year are "significantly behind" normal patterns. As of midweek, Mount Sunapee had only five trails open and one lift operating, compared with the at least 30 trails and four lifts it would expect to have this time of year. "Every 10 years we'll see a slow-start year. but this is one of the slowest," he said.
It is a stark contrast to last year when a cold early December made for a robust season opening before a warming spell kicked in — it rained in the Upper Valley on Christmas — for the second half of December before turning bone-chilling cold for the remainder of the winter to make it a record snow year.
Climatologists are ascribing the record warm temperatures to El Nino, a periodic warming in the Pacific Ocean that brings sorely needed rain to California (and snow cover in the mountains) but leads to above-average temperatures in the East. Climate change could be factor in New England's warm winter, too, although its effects are measured over long periods of time and difficult to assess for any particular year.
Gamble said Mount Sunapee has "tremendously powerful snow-making equipment and every time we have the opportunity we will be making snow."
But in a sign of how difficult a start to the season Mount Sunapee is facing, Gamble said, the resort is planning to reopen the overhead rope course, typically a summer activity, for pass holders during the holidays.
Doug Holler, skiway manager at Dartmouth Skiway in Lyme, joked that the current climate for skiing is like "selling ice cream in 40-degree weather. How would your business be then?"
He said the warm temperatures has forced the slope to push back its opening from its planned Dec. 19 date. The skiway can make snow to cover about 65 percent of its area, he said, although so far it's only been cold enough on four nights to turn on the guns. As of now, he plans to open for season pass holders only beginning Dec. 22 for three days, closing Christmas, reopen the day after and then daily from Dec. 28 forward. The skiway had been hovering in recent years to between 1,300 to 1,400 pass holders annually.
"I'm sure those places that are open are doing OK, not stellar," Holler said. "You've heard it a thousand times: If there's no snow in somebody's backyard, they're not thinking about skiing. It's not happening."
So far, only 11 of Vermont's 30 ski areas are open, including nine of 20 alpine and two of 10 Nordic areas, according to Ski Vermont, the industry's promotion and marketing organization.
"We had almost every resort open this time last year," said Sarah Wojcik, director of public affairs for Ski Vermont. "But last year was a record year, so we're comparing it to something very successful." And in New Hampshire, only six of 16 alpine ski slopes were open this weekend and none of the 17 cross country ski areas, according to Ski New Hampshire, the industry's state trade association.
The lack of snow is also distressing for other snow-related businesses. At Joe's Equipment Service in West Lebanon, more than three dozen orange and red walk-behind snowblowers remain neatly lined up on the lot.
Owner Mark Houston declined to say how many blowers he typically sells during a season, although he acknowledged the lack of snow so far is "slowing us down a little bit." Houston, however, said the bigger problem with a weak snowfall winter is the ripple effect it has for the snow-removal businesses that he sells to and services.
"If we don't see snow for this year, it affects our sales and repairs for next year. They're not breaking it or there's no need to buy a new one. These guys also mow in the summer. If they are not plowing, they are not making money, and then they have no money to start the mowing season," he said.
That's the case for Trevor Edson, who runs Teddy's Lawn Care in West Lebanon. He operates two snowplow trucks during the winter and has been in business for 12 years. He said during a strong snow season, like last year, when "it was night and day work, 24/7, from Thanksgiving on," he earns more from snowplowing than lawn cutting.
But if it continues to be a dry winter, then Edson expects he'll work for his uncle in construction, he said, and also use the opportunity to "make sure all the mowing equipment is winterized and repaired so I don't have any problems next year."

John Lippman can be reached at 603-727-3219 or jlippman@vnews.com.