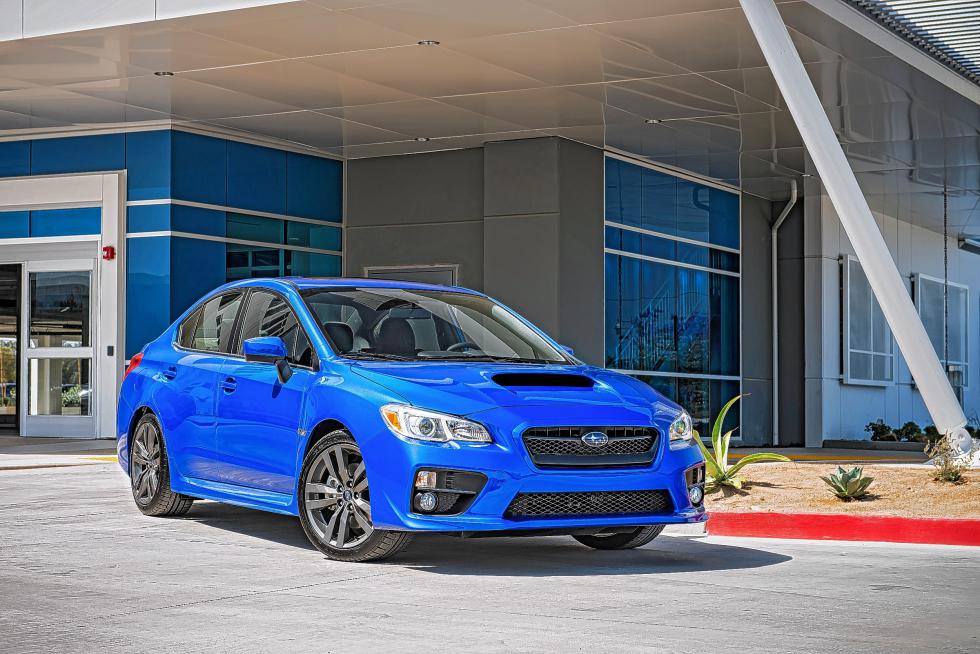 Cornwall, n.y. — It is a car beautiful in appearance and performance. It is small, gifted with a terrifically improved suspension and symmetrical all-wheel drive, meaning it is wonderfully maneuverable in weather fair and foul.
Just one note on the latter point: It is a sports car usually shod with summer high-performance tires. Winter demands compromise. To wit: For improved winter traction and safety, sacrifice some handling and performance prowess by changing the summer rubber to winter tires.
At its manufacturing birth in 1992, the Subaru WRX was conceived as a toy for young men. It was stripped of amenities and lacking in almost anything suggesting soft comfort, adhering to the mantra that "less is more" as long as "less" is less weight and "more" is more horsepower and sharper handling.
Why is that important? Easy. Talk to practically anyone in automotive marketing. They will tell you that women "influence" 85 percent of vehicle sales in the U.S. market. Women are directly responsible for at least 45 percent of those sales, meaning their vehicle-purchase decisions are theirs and theirs alone.
You can look at this two ways:
One, women control the new-vehicle market in this country.
Two, what they don't directly control, they influence with strong veto power. To wit: If the woman in the house does not want a certain car or truck in the garage or driveway, it most likely will never be parked there.
Designers and marketers at most vehicle manufacturers are keenly aware of actual female auto-market dominance.
Thus, we have SUVs (in truth, wagons) sold by more-macho-than-thou sports car manufacturers such as Porsche; and we have last year's extensive redesign of the WRX, putting in all of the things that the philosophy of "less" once demanded left out.
The 2016 WRX Limited is a kinder version of its former self. It is — egads! — prettier inside and out, sensibly, and greatly appreciated here, borrowing many styling cues from the redone Subaru Impreza compact car.
Interior material quality is no longer a seeming afterthought. The cheap "it's here because something has to be here" feel of cabin materials has been jettisoned in favor of discernibly quality stuff — leather seat coverings, even better vinyl. And it all fits perfectly.
The model driven for this column came with an optional seven-inch Multimedia Navigation Screen with smartphone connectivity and weather and traffic alerts, the latter requiring a subscription fee, happily paid by the manufacturer in this case.
Other welcome options included a full suite of advanced electronic safety systems — EyeSight driver-pedestrian collision mitigation, vehicle-to-vehicle forward collision mitigation, blind-side monitoring, lane-departure warning and pre-collision throttle management.
These extras in no way turn the WRX Limited into a nanny mobile or make it less fun to drive. Equipped with a 2-liter, horizontally opposed four-cylinder, turbocharged (forced air) gasoline engine, the WRX Limited delivers 268 horsepower and 258 pound feet of torque.
It moves. I know. I was stopped by a traffic enforcement officer for going eight miles over a 55-mile-per-hour limit.
I dutifully, respectfully apologized and vowed not to make that error again. He excused me.
It helps to have gray hair, lots of it, and be accompanied by a pretty wife and daughter.
Nuts and Bolts
Bottom line: The WRX Limited is a "buy," especially for small families — we're talking three people here for maximum comfort, although the WRX Limited has decent space for five.
Ride, acceleration and handling: It gets excellent marks in acceleration and handling. But the WRX Limited is a short-wheelbase car. Despite improved suspension work, the ride suffers on bumpy roads.
Head-turning quotient: Unbelievably good for something Subaru.
Body style/layout: The Subaru WRX Limited is a compact, front-engine, all-wheel-drive sedan also available in base and premium trims. It is not to be confused with the WRX STI.
Engine/transmission: The sedan comes standard with a turbocharged 2-liter, gasoline, horizontally opposed, 16-valve, four-cylinder engine with variable valve timing, 268 horsepower and 258 pound-feet of torque. A six-speed manual transmission is standard. The model driven for this column had a continuously variable automatic.
Capacities: Seating is for five people. Cargo capacity with all seats in place is 12 cubic feet. The fuel tank holds 15.9 gallons. Premium unleaded gas is required for best performance.
Actual mileage: I averaged 23 miles per gallon in highway travel. The federal mileage rating is 18 miles per gallon in the city and 24 mpg highway.
Safety: Standard equipment includes four-wheel disc brakes, four-wheel antilock brake protection, electronic brake-force distribution, emergency braking assistance, stability and traction control, ring-shaped reinforcement frame, post-collision safety system, side and head air bags, driver's-side knee-bolster bag.
Recommended safety purchase: All advanced electronic purchase options — WRX Limited options package 23, cost $4,095.
Pricing: The 2016 WRX Limited starts at $30,395, with an estimated dealer's invoice price of $28,000. Price as tested is $36,858, including $5,668 in options and a $795 factory-to-dealer shipment charge. Estimated dealer's price as tested is $34,200.