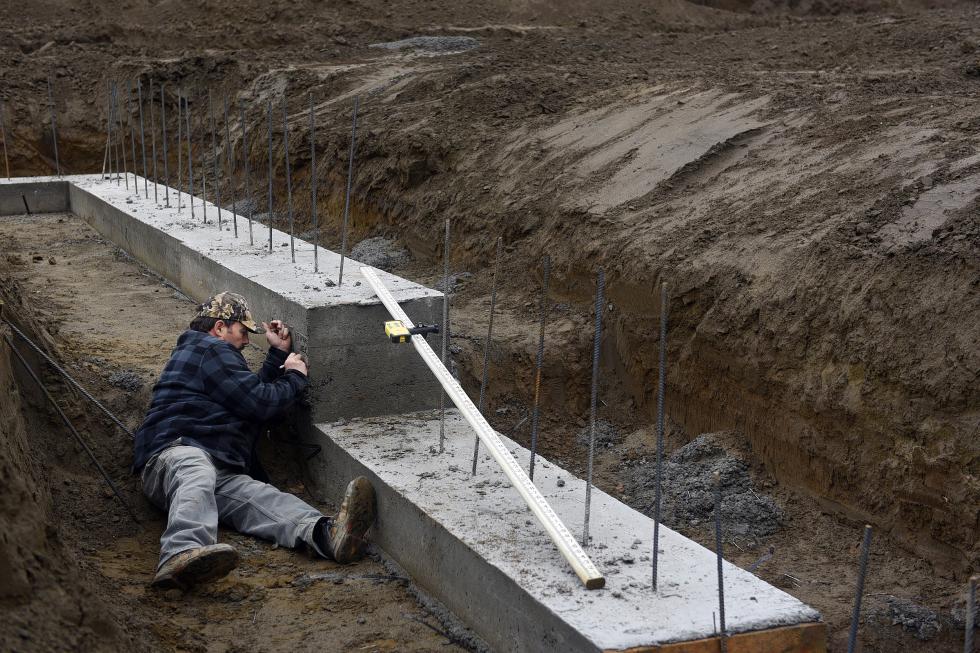 Windsor — This town on the banks of the Connecticut River used to be known for manufacturing and mechanics. Now it is becoming a home of the sweet and savory.
Blake Hill Preserves, a maker of specialty preserves based in Grafton, Vt., next year will move its production plant to Artisans Park on Route 5 in Windsor, joining a cluster of other Vermont food and beverage producers that are helping to transform this former factory town.
Thanks to a $877,500 loan obtained by the Springfield Regional Development Corp. from the Vermont Economic Development Authority, Blake Hill Preserves will move into a newly built 6,000-square-foot facility that will enable the growing company to double its production capacity. It will be the sixth business to be based at the park, following Vermont Farmstead Cheese, Harpoon Brewery, Silo Distillery, Simon Pearce and Great River Outfitters.
"Given how our business is growing we realized how we are going to need additional space," said Vicky Allard, who runs Blake Hill Preserves along with her husband, Joe Hanglin. "We've loved being in Grafton, but we wanted to find a place that would be right for some time to come, a new permanent location."
Allard and Hanglin, who began their food company in 2009 as a "weekend business," opened a 2,500-square-foot commercial kitchen in 2012 on their property a few miles outside the village of Grafton in southern Vermont from where they prepare and ship their award-winning lines of hand-crafted preserves, conserves, marmalade and chutneys. But as their business grew, they quickly outstripped the capacity of their current facility and required a larger space.
In 2014, only two years after it opened its commercial kitchen, three of the company's preserves — raspberry and hibiscus jam, grapefruit, lemon and thyme marmalade, and plum and fennel chutney — were finalists in a blind-taste test among 1,450 entries in the Good Food Awards, a project of the San Francisco-based sustainable food organization Seedling Projects that recognizes the best products in the craft food industry.
Last year, Blake Hill Preserves also became the first U.S. producer to win two gold medals at The World's Original Marmalade Awards in England — the equivalent of a California cabernet beating out a French Bordeaux at the Jugement de Paris wine competition — and followed that up this year with a second consecutive gold medal award for its orange, lime and ginger marmalade, along with another gold medal for its Seville orange marmalade.
"For us in Vermont to go and win gold with our marmalade in England was a little bit exciting," Allard said, with understatement.
The company's preserves are now available in more than 800 stores around the country, including Whole Foods markets in the Northeast and Northern California and Central Markets in Texas, as well as the Upper Valley Co-op and King Arthur Flour in Norwich.
Sales have taken off: Allard said that, two years ago, Blake Hill produced 2,500 jars of preserves a month. This year, it will produce 16,000 jars a month "and we're expecting to double that next year," Allard said. The company does not disclose sales revenue, but Blake Hill's preserves retail for between $5.99 and $7.99 per 10-ounce jar, and the company produces 30 different varieties of preserves, most under its own brand, although some are produced as "private labels" for other retailers.
Recently, the preserve maker has teamed up with Vermont cheesemaker Jasper Hill Farm to market "pairings" of Blake Hill's preserves and Jasper Hill's cheeses.
When Blake Hill Preserves determined it would need a larger facility to meet the growing market for its products, Allard and Hanglin reached out to the Springfield Regional Development Corp., which serves 10 towns in southern Windsor County, for help in locating and arranging a new location. The business wanted to be near the Interstate 91 corridor for shipping, but also in a "real foodie location" among "top quality artisan" purveyors, Allard said.
Artisans Park in Windsor, which includes a craft beer brewer, a craft vodka distiller, and a craft cheese maker — and just off I-91 — provided an ideal location.
But despite its skyrocketing growth, Blake Hill Preserves is still a relatively small business, and seeking a traditional building loan from a bank would be costly, even in an era of low interest rates. Since the nonprofit Springfield Regional Development Corp. qualifies for below-market financing provided by the state's economic development authority, it was able to negotiate a loan on highly favorable terms, said Bob Flint, the nonprofit's executive director. Flint said a traditional building loan requires 30 percent equity from the borrower, compared with 10 percent equity with state-provided financing. The interest rate is below 3 percent.
"It makes the numbers work," said Flint, who noted the arrangement is similar to the financing structured a couple of years ago to enable Vermont Farmstead Cheese to move into Artisans Park.
The Springfield Regional Development Corp. negotiated a ground lease with the property owner, Great Bear Realty, and in turn obtained a loan for construction of the building that the nonprofit will own and lease-to-purchase to the occupant.
"In both cases, we had fledgling businesses that are growing quickly and outgrowing the facilities where they are," Flint said. "They needed to be in (Artisans Park), but financially it didn't quite make sense for them. We are able to qualify for financing from VEDA that makes the deal work."
Construction on the $975,000 plant has already begun, and the company hopes the new building will be ready by Memorial Day.
Having Blake Hill Preserves as an occupant in Artisans Park is a good fit with the other businesses located there, said Terry McConnell, president of Great Bear Realty. McConnell advanced the idea of Artisans Park 20 years ago to cluster together manufacturing, recreation and an "art component" (the park has a sculpture garden) as a way to "help the public learn about small business in Vermont."
Each of the businesses offers the opportunity for the public to watch it product being made as part of its retail space.
"Blake Hill has an extremely high-quality product and commitment to opening to the public," McConnell said. "They are going to be a great addition to the Park."
Allard said the retail space will include viewing windows where customers can watch the preserves being made in the kitchen — some of the recipes requires slow-cooking a batch for two days.
"We love the idea of providing people an opportunity to see how we make our preserves. We believe in that kind of transparency," Allard said.
Allard is a third-generation preserve maker from Hampshire, England, who learned the craft from her mother, who in turn learned it from her mother, who both made preserves for a living. Hanglin was raised in Gibraltar. The couple previously lived in Connecticut, where they each worked as risk managers in the banking industry, before moving to Vermont in 2004.
"We loved the idea of living in Vermont," Allard said.
Although they worked in finance — "we know how to manage risks and to have really great controls in place," Allard said — the couple had a "huge foodie background" as a result of their global business travels. "I spent a lot of time in Asia and Latin America and my husband in Latin America and Europe" Allard said. "So we developed a diverse palette and love for food and that gave us the confidence to go out there and work as what we loved."
They stocked their pantry with homemade preserves that were given to friends and family. Nonetheless, turning their love of food into a business came about unexpectedly.
A house guest who was staying with Allard and Hanglin in 2009 "snuck a jar" of their homemade preserves, made from wild blackberries grown in their field ,to the Grafton General Store one Sunday morning when he went to get the newspaper. He returned, with a newspaper — and Blake Hill Preserves' first order.
The preserves quickly sold out. Then the Grafton Village Cheese Shop "snapped it up," Allard said. Next the Brattleboro Food Co-op place an order.
"It just sort of snowballed from there," Allard said.

John Lippman can be reached at 603-727-3219 or jlippman@vnews.com.