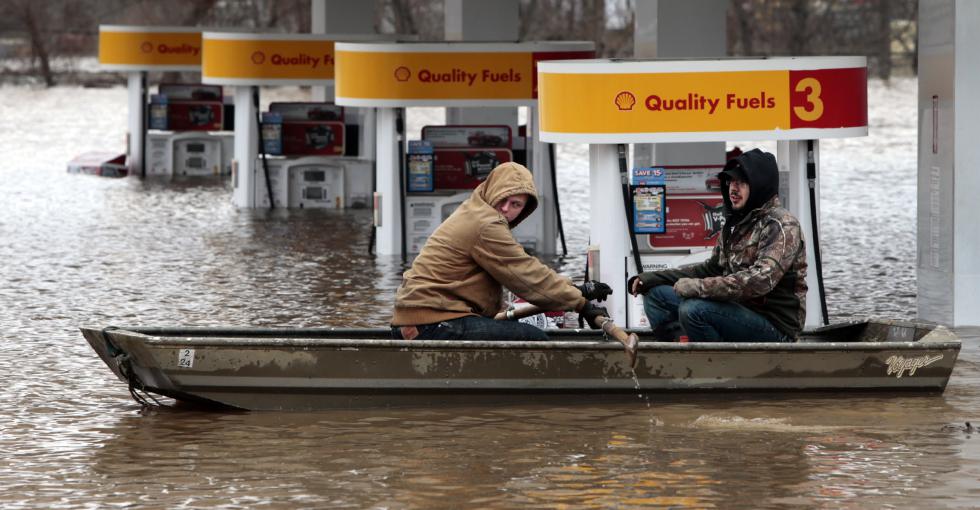 St. Louis — Floodwater was starting to recede at some water-logged Midwestern communities Thursday, but hundreds of homes were damaged, hundreds more remained evacuated, and getting through St. Louis by car, boat or train was increasingly difficult.
The Mississippi River neared record levels at many places, and a tributary, the Meramec River, surged 4 feet beyond previous records before finally starting to fall. The rare wintertime flooding was spurred by 10 inches of rain or more over a three-day period across a wide swath of Missouri and Illinois.
Twenty deaths were blamed on flooding — nearly all of them from motorists driving onto wet roads — and searches continued for two missing men in southwest Missouri and two missing teenagers in southern Illinois.
Some flood-weary communities were getting relief: The Missouri, Meramec and Mississippi rivers were cresting throughout the St. Louis region. The Mississippi River was slowly dropping at St. Louis after peaking about 7 1/2 feet below the 1993 record. A floodwall offered solid protection, but as the waters flow south, points in southern Missouri and Illinois were awaiting the crest.
The Missouri River leveled off about 5 feet shy of the record in St. Charles, Missouri, and was on the way down at Hermann and Washington, two German heritage towns in Missouri's Wine Country region.
The Meramec, southwest of St. Louis, continued to be the biggest problem, even as it began to drop after reaching record levels in the Missouri towns of Eureka, Valley Park and Arnold. Hundreds of homes were damaged in Eureka, an estimated 100 homes in Arnold were damaged, as well as dozens more in nearby Pacific.
Flooding from the Meramec forced closure of a 3-mile stretch of Interstate 55 south of St. Louis, snarling traffic for the few commuters working on the eve of the new year.
"We were out there all night sandbagging trying to hold it back as much as we could, but it was just so much," MoDOT spokeswoman Marie Elliott said.
The only north-south alternative to I-55 was an already-congested local road.
"The other alternates that we would have sent motorists to basically have water on them as well," Elliott said.
Adding to the road woes was the closure a day earlier of a 24-mile section of Interstate 44 just a few miles away, hampering east-west traffic, too.
A 5-mile stretch of the Mississippi River itself remained closed by order of the Coast Guard, idling barge traffic on the busy waterway.
Train service was also derailed, both passenger and freight. Amtrak suspended its St. Louis-to-Kansas City route until flooding subsides. Meanwhile, Union Pacific took two sections of track in Missouri and two in Illinois out of service due to rising waters. The Missouri stretches span from Jefferson City to St. Louis and St. Louis to De Soto; The Illinois stretches are from Mount Vernon to Percy and Springfield to Nelson.
In Eureka, firefighters and their boats have been in high demand, accounting for roughly 100 rescues of people in their homes, businesses or vehicles since Tuesday, said Scott Barthelmass, a Eureka Fire Protection District spokesman.
Nine levees — five on the Mississippi River, three on the Missouri and one on Illinois' Kaskaskia River — were topped by water, but those earthen barriers protect farmland and otherwise unpopulated areas.
Nearly a dozen other levees considered at risk were holding, though people were evacuated just in case. Valley Park officials had ordered residents of nearly 400 homes evacuated. City leaders were weighing whether it was safe for them to return as the water had already dropped nearly a foot since its crest.