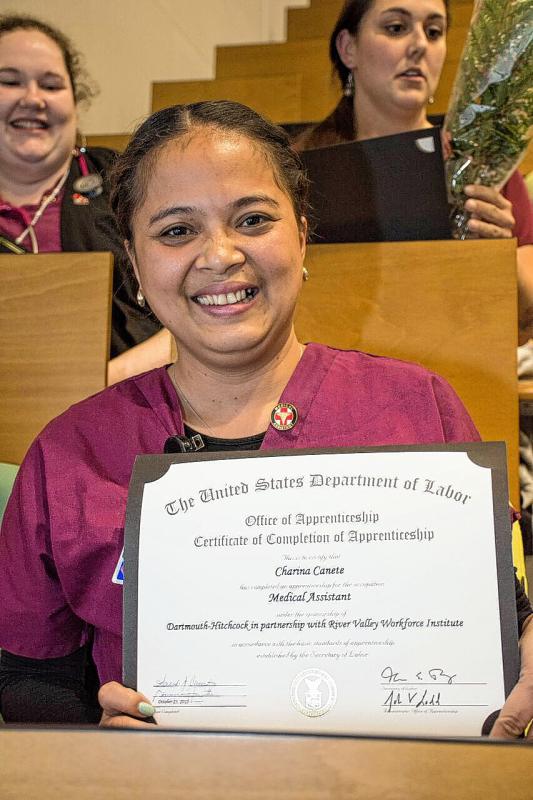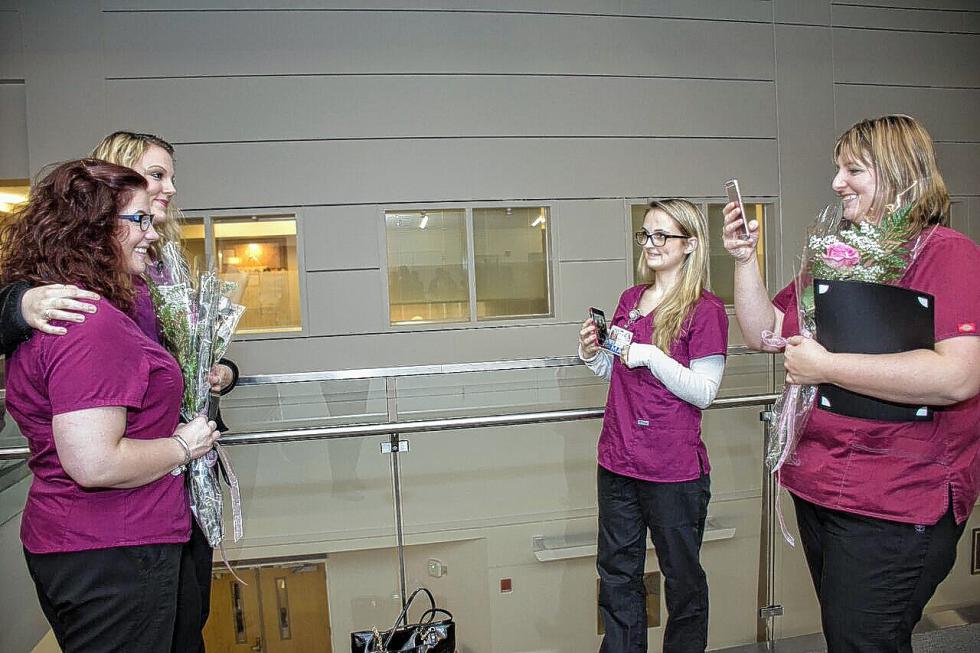 An incomplete transcript. A layoff notice.
For Ashley Williams and Charina Canete, the adversity they experienced in summer 2014 became, as the saying goes, the seed of opportunity.
Today, Williams and Canete are medical assistants at Dartmouth-Hitchcock Medical Center who can look back at the bad news they received as opening the door to a new career with good pay, benefits and unlimited career growth potential.
They were among the first class to complete the medical center's 10-week medical assistant course, followed by a one-year paid apprenticeship. They graduated in early November.
"It has changed my life," said Canete, 29, of Lebanon, who arrived in the Upper Valley from the Philippines in 2013 to be with her husband and now works in the general internal medicine department.
For Williams, 20, of Windsor, who works in pediatrics at the medical center, the change has been equally profound.
"I was living with my parents when we started and had a pretty run-down car," she said in a recent interview. "Now I have my own apartment and a new car. My whole life is now on track because of this program. And I have no (college) debt. We can further our education in nursing. Eventually, that is my plan: to go four years and get my bachelor's in nursing."
Though she had gone to school in her native country for nursing, Canete did not complete the requirements for a diploma and came to the United States with no intention of working in health care. Instead, she was holding down two jobs — factory and retail — to help support her family, which included two children who arrived six months after she did. Then, in April 2014, came the layoff notice from the factory. At the time, Canete thought she would be forced to take a second job in retail, with no benefits.
But a flier from NH Works, an information center for job seekers and employers, on the DHMC apprenticeship program caught her eye.
"I thought, 'Oh, I think I can try this,' but I wasn't 100 percent sure I could get in the program," Canete said.
Mike Barwell, DHMC's media relations manager, said about 700 people initially applied online to be medical assistants, pharmacy technicians or medical coders. Of that number, 400 were selected to attend two orientation programs.
After interviews and aptitude testing, Canete and Williams were two of only 20 people selected for the first medical assistant course, designed and taught by Vermont HITEC, a workforce training and consulting firm in Williston, Vt.
Then came the hard part.
"It is very intense," Williams said. "For our class it was 40 hours a week in a classroom, four to six hours of homework a night, eight hours on the weekend, quizzes every single day and tests just about every other day."
Williams, a 2014 Windsor High School graduate, had planned to earn her two-year degree in respiratory therapy, but was denied acceptance at Vermont Technical College because the transcript sent was incomplete.
"I was kind of at a loss on what to do when my guidance counselor sent me an email with the medical assistant program," Williams recalled. "At first I thought, 'This is way too good to be true. There is no way this could be a free education with a guaranteed job.' But I have always been drawn to the medical side of things."
Williams in high school knew she would pursue a career in health care, and while the medical assistant program sounded ideal, her focus the summer after graduation was working to save for college. Then she mentioned the program to her father.
"He said, 'This is like college. … This is an incredible opportunity. We'll support you through it,' " she said.
"They were really great and supportive," Williams said of her parents. "It is because of them I even took a shot in the class."
The women immersed themselves in the program, which began Sept. 2, 2014, finished on Nov. 10, 2014, and was followed by a one-year paid apprenticeship.
"The first week was really hard because English is my second language," Canete said.
"I was not working and was worried about finances, but at the end of the day, I knew that a good thing would happen for me."
Both woman emphasized the strong support they received from the instructors and DHMC staff when the material became difficult; when the end felt like it was months, not weeks, away; and when they questioned whether they could finish the program.
"At the fifth or sixth week, I said, 'I am going to give up. I can't do this,' " Canete said. "But they really helped me, telling me, 'You can do this.' "
Vermont HITEC instructor Juliane Hegle, who taught a pharmacy technician course, said leaving struggling students to fend for themselves defeats the program's objective and would be counterproductive after carefully screening applicants.
"We don't want to set people up for failure," Hegle said.
Williams said anyone thinking about studying for a medical assistant certification should be prepared to give up normal life for 10 weeks, but noted that once the arduous course is completed, there's a job at the end in the medical field with limitless opportunities.
"This program is not for the faint of heart," Williams said. "It is not for someone who thinks they might be interested in medicine.
"This is for someone interested in helping people who wants to make a difference and learn and be right there with the (latest) in medicine. It is really, really difficult, but it is really worth it in the end."