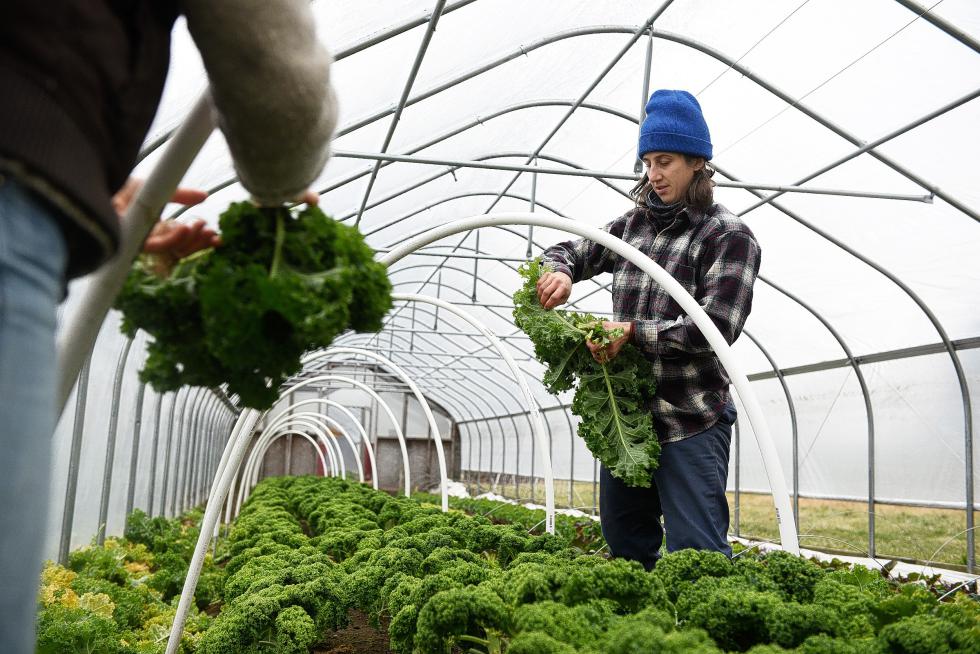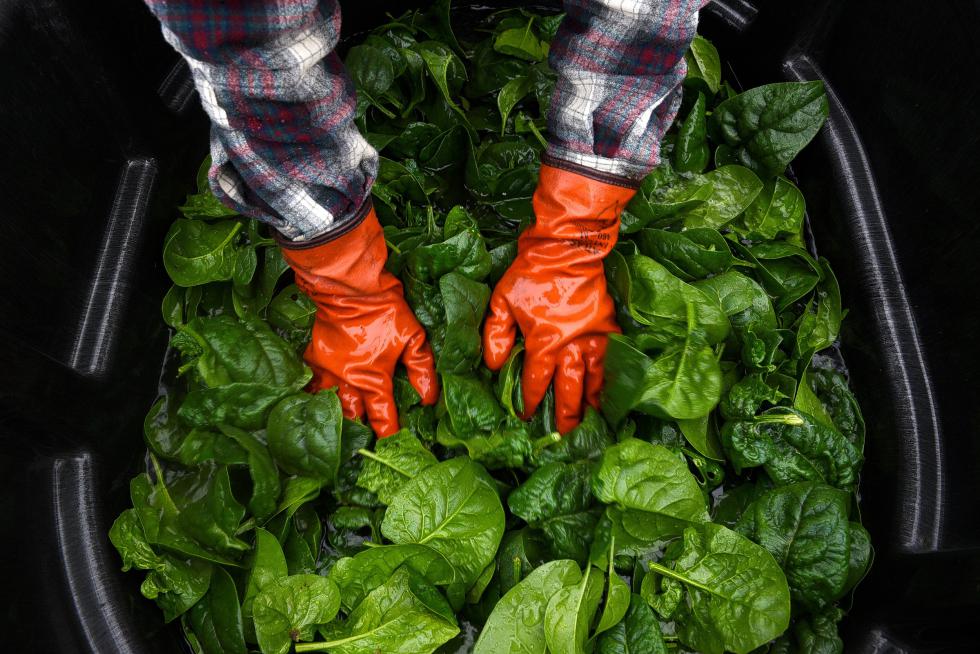 We're experimenting with growing greens like kale and spinach on our farm this winter, and right about now, I'm thinking I should have my head examined. If the door to the greenhouse isn't frozen solid on a typical morning, I know my fingers soon will be.
Despite an occasional frozen thumb, the experiment is showing signs of life, not just on our farm but on farms across the valley and the country. Primarily this is thanks to the success of the local food movement and the ever-increasing desire of people in cold climates to continue eating fresh, leafy greens throughout the winter. Partly it's new technology that helps vegetables survive in the deep cold. And partly it's farmers willing to push into new markets as the more traditional "warm weather" markets become saturated.
Here's how winter production works. Starting in August and continuing into October, farmers in climates like the Upper Valley's plant hardy varieties of spinach, kale, lettuce, and other greens that have been specially selected for winter production in regular succession. The plants grow normally in the early fall and then begin to slow down as day length decreases. By late November, growth ceases altogether and the plants become semi-dormant. At this point, technology kicks in, and the plants are protected by row cover — lightweight polyester blankets that sit just above the plants on wire hoops. Any plants that weren't initially sown inside greenhouses now are covered with temporary tunnels made of greenhouse plastic and PVC hoops. For those in greenhouses, the doors are closed and the sides are sealed up.
No supplemental heat is used, and the greens freeze solidly whenever the temperature drops below about 28 degrees F, which is most every night. The farmer waits for midday sun to thaw the plants before removing the blankets and attempting to harvest them. If no thaw happens, no harvest is possible that day. As luck would have it, many of our coldest winter days in the Upper Valley also are the sunniest, and sealed-up greenhouses quickly can warm, even when the ambient temperature is below zero.
Harvest begins in December and lasts into January, depending on how much plant growth was "cached" during the fall growing season and how many successions of each variety were planted. Unlike in summer, when fully mature plants quickly become tough and woody if their harvest time is missed, in winter, the plants stay fresh and ready for many weeks in the low light conditions. In fact, the greens become sweeter over time as the plants' sugars slowly concentrate in the leaves.
By late January, with day length rapidly increasing, the plants start to grow again, and the spinach crowns and kale stems that earlier were stripped now will grow new leaves. The harvest of second growth can continue into April or May, assuming the farm doesn't need to clean out the greenhouses to make way for spring veggies or early tomatoes.
The market for local winter greens is very strong right now — wholesale prices for winter greens are twice as high as those for the same greens grown in mid-summer. Valley Food & Farm, a program of White River Junction's Vital Communities, has identified winter greens as the biggest unmet market for local produce in the Upper Valley based on its 2015 market survey.
But farmers' barriers to entry are significant. New greenhouses designed for winter growing, with tall sides that roll down instead of up (to ventilate on sunny days when the snow is deep) and automatic gable vents to shed moisture as the sun comes up, can cost $5 per square foot or more, or north of $25,000 per greenhouse. Existing greenhouses, meanwhile, may still be producing high-value crops like tomatoes and peppers in the early fall, and replacing them with spinach and kale seedlings for January harvest is, at the very least, bad for cash flow.
The farm also needs to build heated, indoor space to wash and store greens, since it's too cold outside for summer's typical open-air washing sheds. Snow removal is a constant chore, both to keep greenhouses from collapsing and to maintain access between buildings. If it takes too long to carry the harvested greens from greenhouse to wash house, the greens will freeze solid within minutes. Once the plants are cut from their roots, they no longer are freeze tolerant.
Finally, and perhaps most challengingly, you need someone willing to do the work. Most vegetable farmers work 50 or more hours per week during the summer growing season on the understanding that the workload will be half that in the heart of winter. January often is set aside for vacation, for planning and ordering, or for repairing equipment in a heated shop, not for fumbling around with a sharp knife in deep snow. And the summer veggie farm's seasonal help either has gone back to college or off to the ski lifts.
This past fall, I stopped into a lobsterman's supply shop on the coast of Maine. A diversity of waterproof, insulated gloves lined an entire wall. There were thin rubber gloves with dexterity and thicker versions for immersing your hands in the freezing ocean; short gloves for fitting under a jacket and elbow-length ones for keeping high tide at bay. Who knows more about wet winter hands than Maine lobstermen? If market trends continue, perhaps Vermont vegetable farmers.
I bought a pair of each.