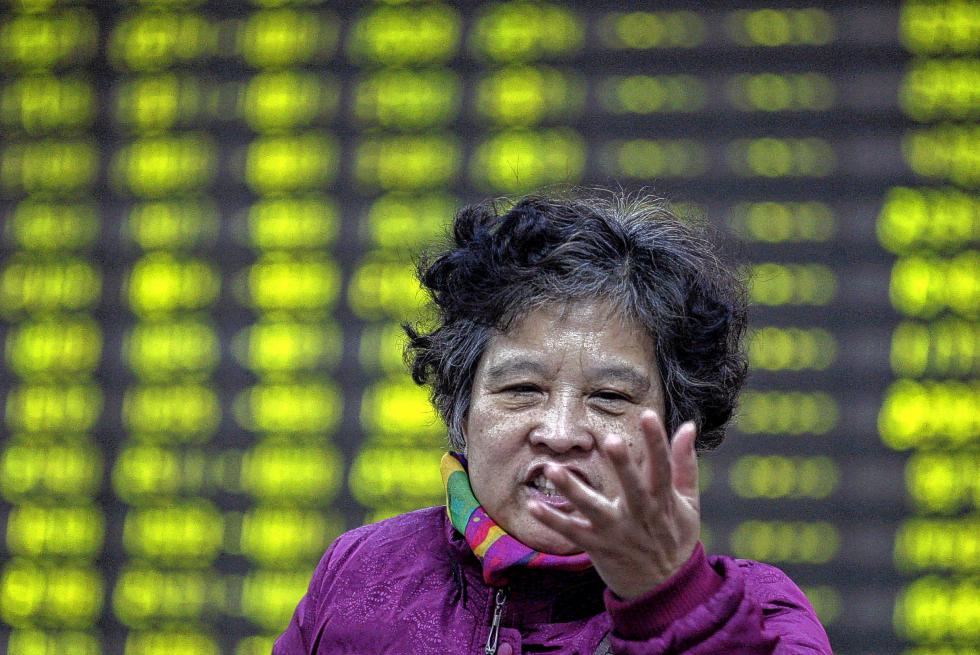 Washington — Stocks on U.S. exchanges plunged Monday in the wake of an overnight sell-off in China that was triggered by fears of a weakening global economy and heightened Middle East tensions.
The Dow Jones industrial average fell more than 450 points before recovering somewhat to close down 276.09 points, or about 1.6 percent, at 17,148.94. The Standard & Poor's 500 index closed down 1.5 percent while the technology heavy Nasdaq composite index fell 2.1 percent.
That Dow industrials were on track for their fourth-worst percentage decline in history for the first trading day of the year, according to S&P Dow Jones Indices.
Adding to the anxiety, a key private indicator of U.S. manufacturing fell in December for the sixth straight month.
The Institute for Supply Management said Monday that its purchasing managers index for manufacturing companies declined to 48.2 from 48.6 in November. A reading of less than 50 indicates the sector is contracting and November was the first time the index fell below that level in three years.
The decline of a similar private purchasing managers index for China released over the weekend helped fuel a nearly 7 percent drop in that nation's benchmark Shanghai composite index on Monday.
The report said China's manufacturing sector has been contracting for five straight months.
A slowdown in China hurts U.S. exporters and could further weaken the global economy.
"U.S. manufacturers are really feeling the heat from the worldwide slowdown in growth," said Chris Rupkey, chief financial economist at Union Bank in New York.
Growth in China has been declining steadily the past several years as leaders in Beijing try to transform the economy to suit a more mature, developing nation.
China wants to shift to a consumer-driven economy from one largely fueled by exports.
The transition has been difficult.
The Chinese economy expanded at a 6.9 percent annual rate from July through September, well below the torrid double-digit pace of a few years ago and undershooting the overall 7 percent target Beijing set for the year.
In its most recent forecast, the International Monetary Fund projected China's economy would expand at a 6.8 percent annual rate in 2015 and decline further to 6.3 percent this year.
Those growth rates are the envy of much of the world – they are more than triple those of the U.S. economy and more than double the world's overall production. But they are well below the levels that vaulted the Chinese economy to the world's second largest and a major driver of global growth.
"Significant policy adjustments are required in order for China's growth to be sustainable," the World Bank said in assessing the nation's economy last year. "Experience shows that transitioning from middle-income to high-income status can be more difficult than moving up from low to middle income."
The growing pains were evident in the summer, when Beijing's leaders began loosening their grip on the Chinese currency — a key sign of a developed nation that was long advocated by the U.S. and other countries.
The value of the yuan quickly tumbled, triggering financial market turmoil in China and around the world.
The release of a closely watched private report on China's manufacturing sector fueled new concerns. The purchasing manager's index produced by Caixin Insight Group indicated China's factory sector has been contracting for five straight months.
"This shows that the forces driving an economic recovery have encountered obstacles and the economy is facing a greater risk of weakening," said He Fan, chief economist for Caixin Insight Group. "The government needs to pay more attention to external risk factors in the short-term and fine-tune macroeconomic policies accordingly so the economy does not fall off a cliff."
Ian Shepherdson, chief economist at Pantheon Macroeconomics, said the U.S. manufacturing report wasn't as bad as the top-line number. He noted an index for new export orders increased by 3.5 points to an eight-month high of 51.
That figure indicates a return to growth in new orders for exports after six straight monthly contractions, ISM said.
The weak U.S. manufacturing report "is not a recession warning for the overall economy, but factory output is clearly sputtering and will not be one of the much-needed engines for growth this year," Rupkey said.
"Buckle your seat belts, as the markets and manufacturers say 2016 could be a bumpy ride," he said.
Adding to investors' concerns were new tensions in the Middle East that could threaten oil supplies.
On Sunday, Saudi Arabia cut diplomatic ties with Iran amid an escalating dispute over the execution of a Shiite cleric.