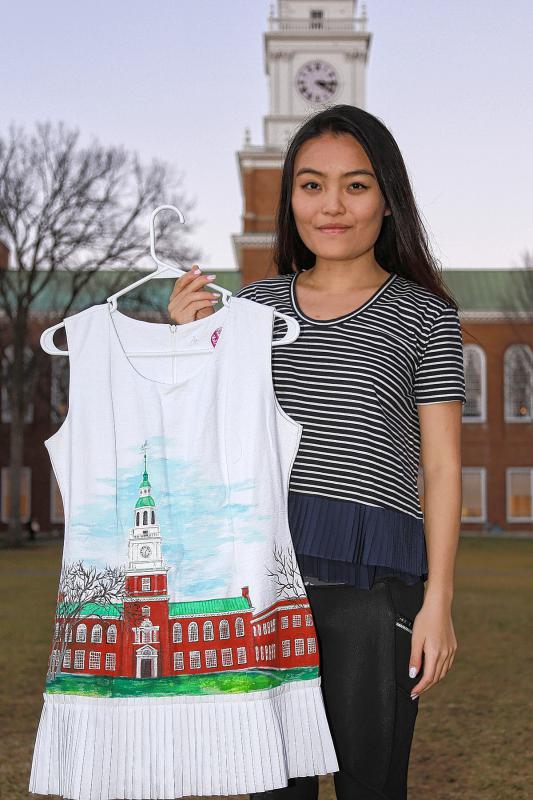 What better way to start the New Year than with a resolution to improve your business pitch?
For that matter, even if you do not have a business to promote, you still need a pitch. You may have to introduce yourself at a social gathering, for example. How do you make yourself interesting?
In my research for last month's column on business networking, I discovered Dartmouth College's DEN Innovation Center and its Digital Arts, Leadership, & Innovation Lab. According to Eileen O'Toole, external program manager at DEN, these two organizations host an event for people affiliated with Dartmouth called The Pitch, in which participants have two minutes to present a project, explain why it is important and describe who will benefit. (There's a "pitch clinic" the week before the event during which applicants may hone their ideas and show the visuals they plan to use in their presentations.)
The sponsors of The Pitch want to support projects that "benefit society, the natural world, or offer a new way of understanding data/information," according to the registration form. And, a little like Shark Tank meets Dancing With the Stars, the public can even watch the event and vote for the winners — first place earns $3,000, second wins $2,000, third gets $1,000 and the audience's choice winner receives $2,000.
These contests are held each semester for members of the Dartmouth community. The next contest that the public may watch and vote in is planned for the last week in February. There's more information about The Pitch at dali.dartmouth.edu.
The 'Perfect Pitch'
The winner of the November contest was May Nguyen, a sophomore at Dartmouth, who was pitching her clothing brand, Artwear, which specializes in hand-painted dresses and tops.
Nguyen, who is from Ho Chi Minh City, Vietnam, found artists in her city who created works of art by painting on dresses. She was especially impressed by a man who, despite having artificial limbs, could paint beautifully. He inspired her to seek a way to hire him to paint images of Dartmouth buildings on dresses. She could employ him with a good income and also provide students with lovely, original clothes at a reasonable price, about $150-$200 per dress.
According to the judges that day, she had the "perfect pitch."
Learning to Pitch
PJ Stanwood of Open Journey Coaching in Norwich called the pitch a "sales manager minute." She was a member of the Twin State Business Networking International Club for four years and said it was a good place to learn the pitch because "we are not all good at public speaking and articulating our thoughts."
Stanwood recommends practicing your pitch in front of a mirror. For more help, she suggests joining a Toastmasters International club for communication and leadership development. One Upper Valley Toastmasters club is Toast of the Valley (www.facebook.com/toastofthevalley), which meets at the Kilton Public Library in West Lebanon.
Women interested in learning to pitch also should look into SheKnows Media (corporate.sheknows.com), which produces a video series called The Pitch.
"The Pitch gives women with great ideas the resources, mentorship and audience they need to gain a greater piece of the $14 trillion market women represent," the SheKnows website says. "A 60-second video is the most straightforward way to create a vehicle for female entrepreneurs that's helpful to them and their possible clients, our community."
With 80 million users a month at SheKnows, the exposure could be just right.
On the Other Hand
Despite its widespread use, not everyone is a fan of the pitch.
I spoke with Leslie A. Sturgeon, president of Women Inspiring Women, which pitches itself as New Hampshire's largest organization for women's empowerment, personal development, business resources and networking.
Sturgeon's group recently held a daylong workshop at the Radisson Hotel in Manchester that was attended by about 500 women who paid more than $100 per person to hear well-known motivational speaker Jack Canfield, author of the Chicken Soup for the Soul series and, more recently, The Success Principles, lead the sessions.
Interestingly, Sturgeon was not that enthusiastic about the pitch.
"People need to be succinct," she said, "but relationship-building is first. In a casual conversation, you craft how to explain your organization. Initially it is all about the person you are meeting. If (the speech sounds) canned, I tune it out."
Even so, Sturgeon's group does hold speed networking events, so there is merit to the idea.
Questions, Questions, Questions
The DEN Innovation Center and Digital Arts, Leadership, & Innovation Lab ask applicants for The Pitch contest what type of support they would like or need: Design and development collaboration? Team members? Financial investment? Mentorship? Connections? Space to work in?
The questions don't stop there: How long will it take to design and develop your idea? How will you get your content or data? How will you get your idea into the world? What is the ideal tagline for your project?
The SheKnows website has even more questions: "Why is your pitch a game changer? What was your light bulb moment? What is your favorite female-led entrepreneurial venture outside your own?"
Women who want to pitch a business idea have to take all those questions into account and be ready to answer them in just a few minutes.
A business card no longer is enough.